Last updated on January 18th, 2017 at 11:44 pm
Mauritius, Munich, Oktoberfest, Berchtesgaden and Paris: Mauritius Airport Lounge and Air France Coach Class
Trip Summary: Back in January of 2012 I decided to put my frequent flyer mileage knowledge, skills and learnings to the test and book the honeymoon of our dreams for my wife and me. While it took several months for the plans to fully materialize, the result was an amazing, while not always seamless trip. This is not only a recap of the trip we took and how we got there, but also the beginning of more formal travel blogging to showcase my adventures in the United States and abroad.
This trip will be summarized in the following topics:
After 5 wonderful nights in Mauritius, it was time to leave the wonderful island and kick off our European leg of the trip. That meant an end to golfing on the Indian ocean, the Four Seasons hotel and the other sights of the island. It also meant that we were in store for the part of the trip I was dreading the most: 12 hours in coach class flying back to Paris.
While the rest of the flights on the trip were in Business class, I was unable to secure a business class seat on the lone Air France flight from Mauritius to Paris. At first we were unable to secure business class seats because the Delta agents were unable to see any business class availability several months out (I booked in January for a flight in September), so I booked the seats in coach hoping for a future upgrade. Even while calling religiously every month until the flight took off, I was still unsuccessful in my attempts to change from coach to business class. My last resort was to try at the airport.
When we got to the airport to check in, we saw that Air Mauritius and Air France shared a check in kiosk, and we were greeted by a very nice agent from Air Mauritius. We explained our situation and asked that if we could not get placed into business class, could we at least get placed into premium economy for the flight? While the airplane was only configured to have 12 business class seats in a 2-2-2 configuration of 2 rows, there were 5 rows of premium economy seats in a 2-3-2 configuration, with several empty seats in premium economy.  I figured this would be a problem, since I was a platinum Delta flyer and this is usually a free upgrade.
All was going well with the Air Mauritius agent until an Air France agent poked her head in and said that it was not possible to put us in premium economy because we were on an award ticket. She didn't budge when I showed her my Platinum Delta card (it just seemed to make her resent us more), showed her the iPhone app stating that our ticket was in business class (a Delta mistake that we tried to take advantage of), told her our whole other itinerary was in business class, played the honeymoon card and every other tactic in the book. This lady wasn't budging. I'm not surprised, because my experience with Air France staff has been overwhelmingly negative to this point.
At this point, we were pretty much resigned to our fate of coach class, even with 5-10 seats still open in premium economy. After going through security, I gave it one last effort from the Air Mauritius lounge.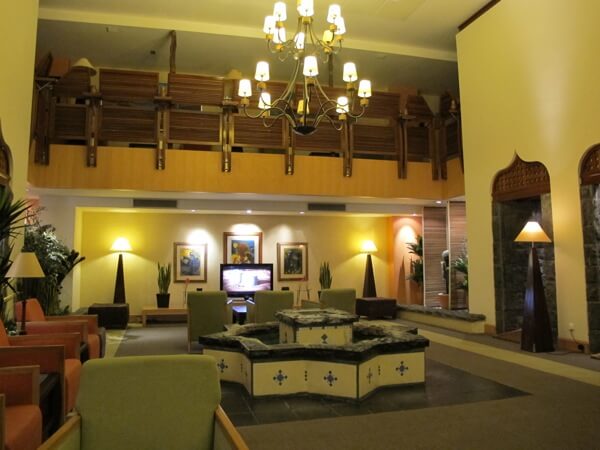 After negotiating our way into the lounge with only a coach ticket in hand, I took advantage of the free wifi offered in the lounge to place a Skype call to the Delta platinum support line to see what they could do. The agent was very kind and did all she could to help, but said that within 24 hours of the flight taking off, they couldn't do anything – we would need to test our luck at the gate. After the trip concluded, I learned that the reason for our problems with getting a proper seat on the flight was likely due to a Delta computer issue with Air France.
While the agent was unable to get the flight switched, she did help us modify the flight on our last leg home from IAD-MSP to be a more favorable flight. Well, she booked us into a better flight, but my Skype connection dropped the call before we could confirm. More on this later.
Our last effort was trying to talk to the gate agent, who made it clear that there was no way we'd get into premium economy. Apparently they would rather have those seats sit empty than have a frequent flyer from their "alliance" airline sit in those seats. It's like the alliances that these airlines dream up are similar to those in the show survivor: befriend you out of necessity to survive at first and then stab you in the back the first opportunity you have
Or to put it another way, there is no sportsmanship banner hanging from the rafters at Air France arena. They have been the worst.
I finally accepted my fate of a 12 hour flight cramped into a coach seat in an airplane with a 3-4-3 configuration. That means 10 seats across the cabin as opposed to 7 seats in business and 8 across in premium economy. That's a lot less room on each side and in front. Not ideal for sleeping.
Unfortunately, I must have been too annoyed to take a picture of the seat, but I did get a fun one of the flight camera. Here we are on the runway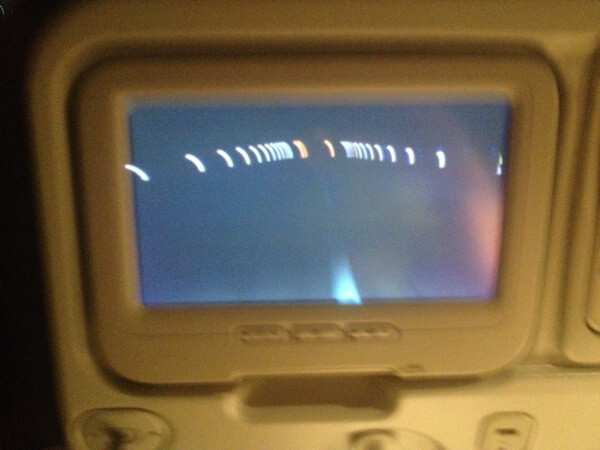 Shortly after takeoff we had meal service, which was actually a fairly nice meal, even with the blurry photo. I was especially impressed that the wine was included in the meal without asking. At least they get some things right.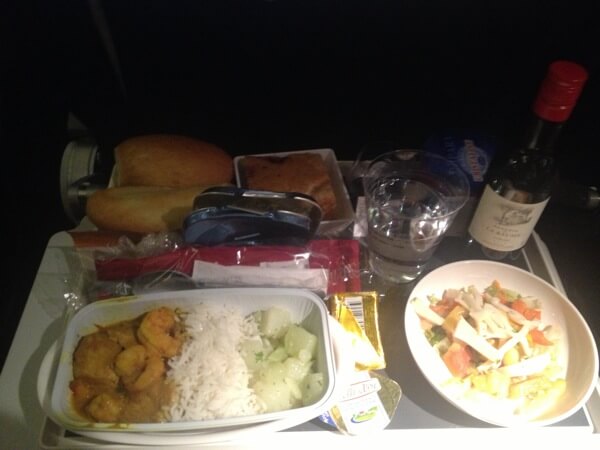 Not long after eating, it was time to attempt to sleep. At 6'2″, the act of sleeping in these seats is a disaster. The seats recline about 4 inches from their upright position and there is a metal bar underneath the seat in front of you to put your feet on. The problem for me is that the bar they have is built for someone about 5'8″ or shorter, so I couldn't use it.
Amazingly, I was able to sleep about 6 hours on the flight, effectively cutting the flight time in half.
It's also amazing how spoiled I have become with seat selection on flights. Once you have a taste of business class, it's very difficult to go back. I realize that this is a #firstworldproblem, but I really don't care at this point. The whole point of reading travel blogs and sharing my knowledge with the world here is to talk about the aspirational aspects of travel and not the inglorious parts like sitting in coach. As Danny Glover might say, I'm getting too old for that coach class $hit.
We touched down in Paris on time and had about 2 hours to make our connection to Munich for Oktoberfest.
This is my last complaint of our honeymoon experience. The rest of the trip went smoothly and I will have the rest of the reports soon.