Last updated on February 13th, 2020 at 12:44 am
As you'll recall, the premise for my recent trip to the Big Island was our anniversary. So, of course, I had to schedule a great dinner or two. And the first of our two anniversary dinners was at Merriman's Waimea.
Why Merriman's Waimea?
The Big Island has a lot of great casual and mom & pop spots to eat at. But, fine dining is where the island falls short. That's slowly changing, of course, but it does make figuring out where to have a celebratory dinner a little difficult. Luckily, the Big Island is home to one of the originators of Hawaii Regional Cuisine, Peter Merriman. So, it only seemed fitting to pay his namesake restaurant, Meriiman's Waimea, which is also the original location, a visit.
Location
As its name suggests, Merriman's Waimea is, the restaurant is in the town of Waimea. That's an interesting place to have an upscale restaurant, in my opinion, as Waimea is a rural town. Heck, Waimea is a cowboy town, which is home to Parker Ranch, one of the largest and oldest ranches in the U.S.
Waimea is also pretty high up. In fact, the 30-minute drive from our hotel took us half a mile up the Big Island's oldest (and extinct) volcano, Kohala. So expect cooler temperatures up there than down on the coast.
Service + Atmosphere
Right off the bat, service at the restaurant was good. In fact, when we were pulling in, one of the employees came out to guide us into a stall. Then, he escorted us inside and introduced us to the host. Our wait staff was also very friendly, attentive, and helpful.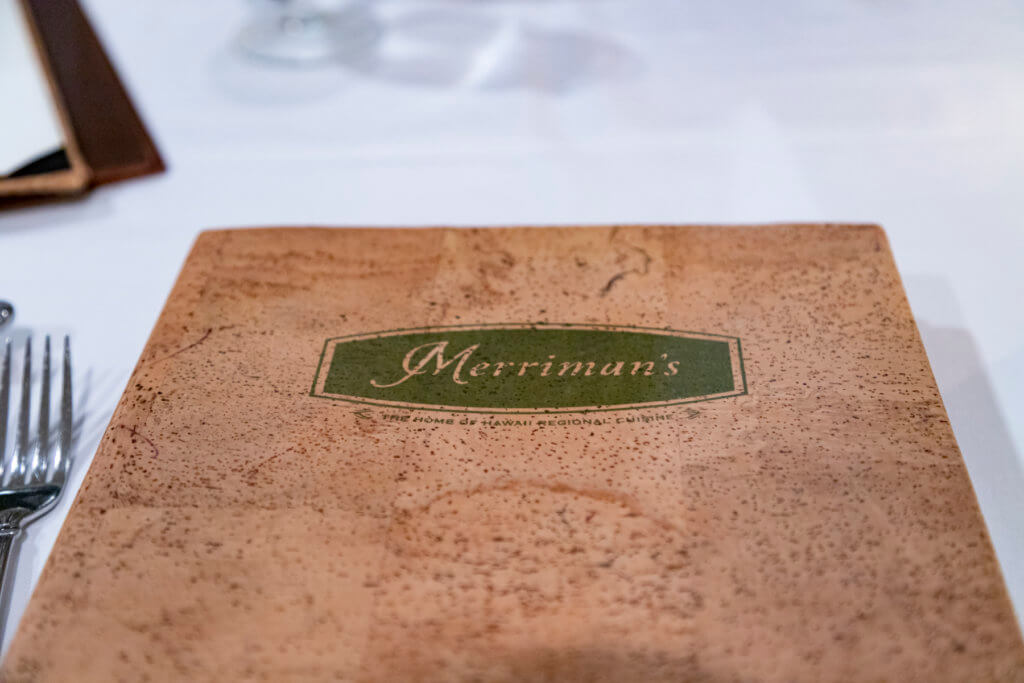 Though Merriman's Waimea is an upscale restaurant, it does have a rather lively atmosphere. It's a popular spot that's always packed, so don't go in expecting a tranquil dining experience.
Drinks
Thanks to the dark, somewhat twisty drive, back to the hotel, I decided not to drink that night. Luckily, Merriman's as a zero-proof cocktail menu. Mrs. Island Miler decided to go with the zero-proof version of Merriman's Mai Tai, while I got a Calamansi Soda.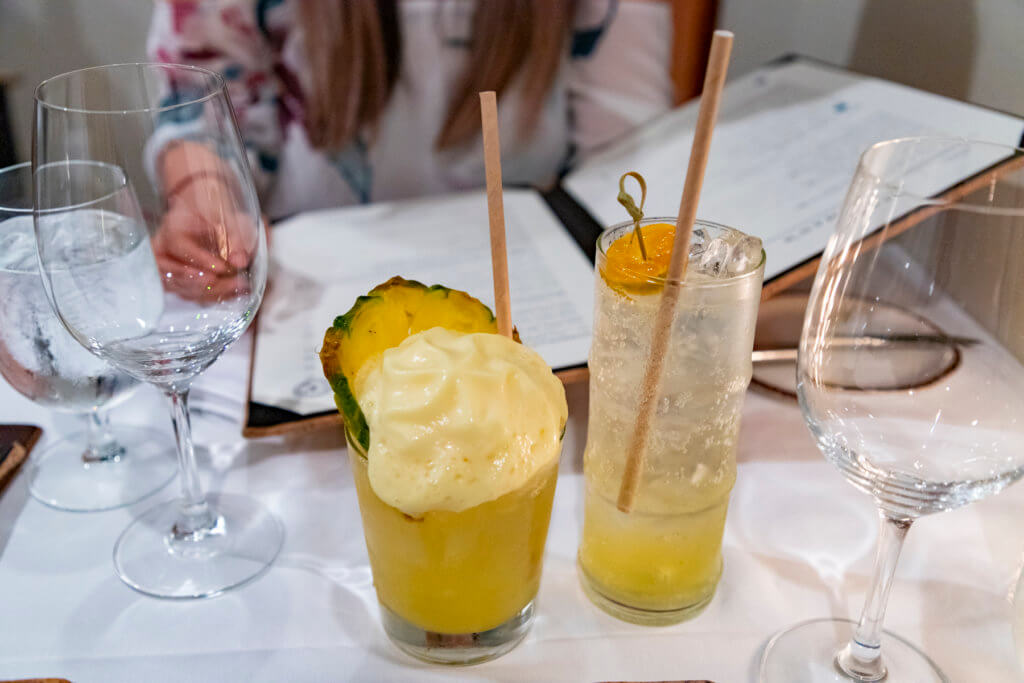 Both were tasty and refreshing, though the honey-lilikoi foam on the Mai Tai made a bit of a mess. Look! It's fizzing over the cup and we just got it. But the foam is tasty too, so…
Small Bites
To start, we ordered the Vine Ripened Tomatoes from Hawaii Island ($16) and the Ahi Ginger Poke ($23).
The tomatoes arrived first and came with baby fennel, arugula, Point Reyes blue cheese, crispy capers, and basil-lemon vinaigrette, and was presented like an Insalata Caprese.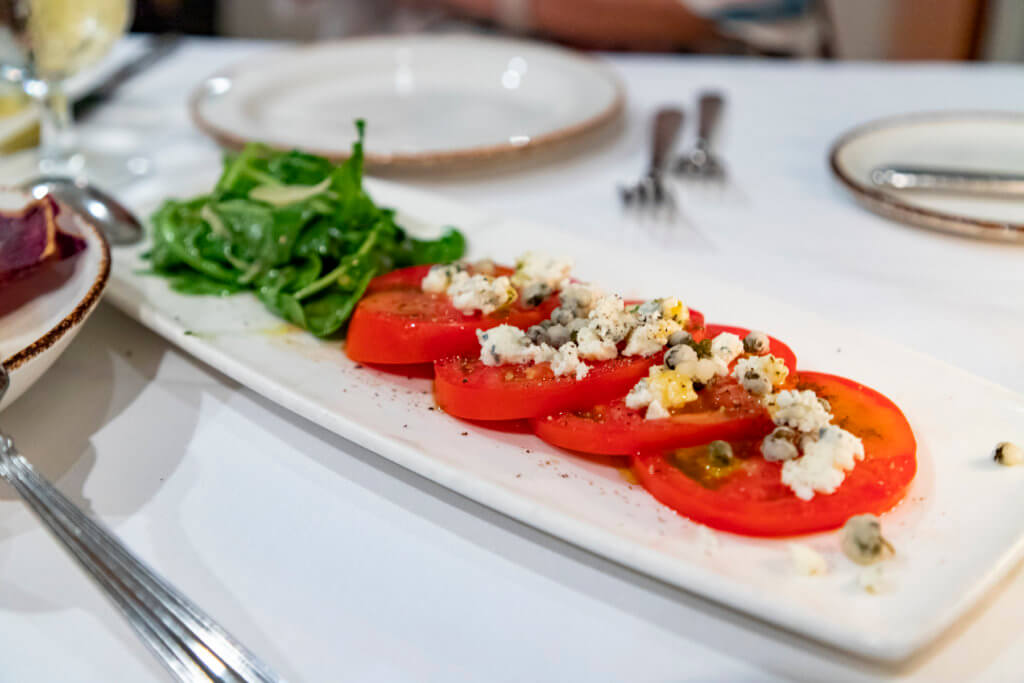 Despite its looks, the tomato dish had more in common with a roast beat salad. We both loved it, especially because of the addition of the crispy-fried capers.
The poke was also great, which came with crushed avocado, ogo, Maui Onion, and Molokai sweet potato chips.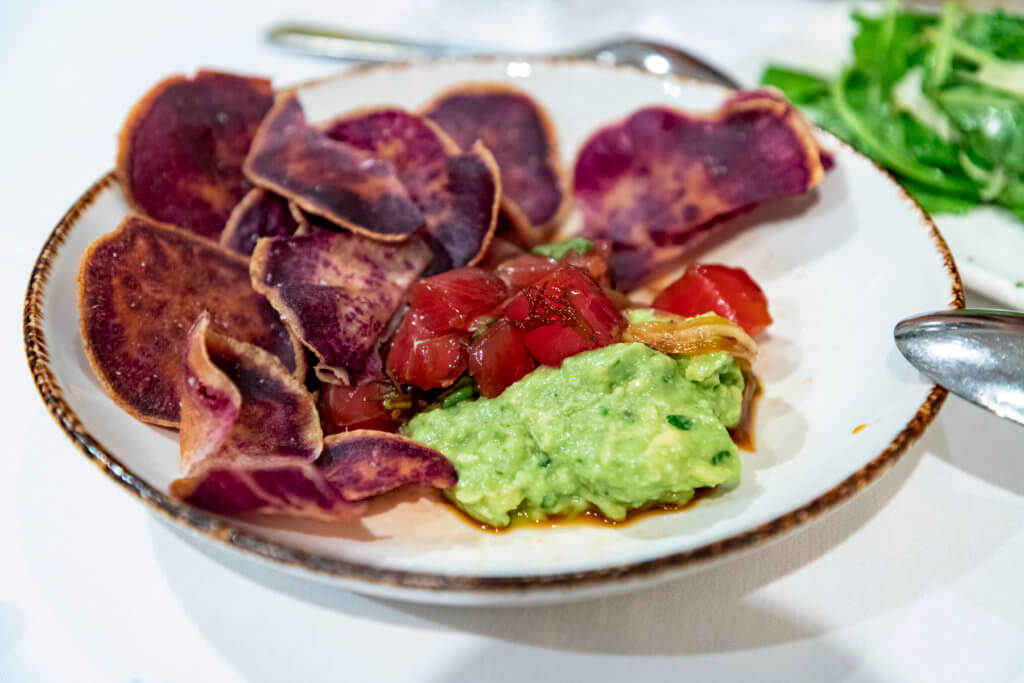 As you'd expect, the poke was fresh and melt-in-your-mouth. Everything was nicely seasoned and balanced too. But, I couldn't help thinking that $23 was a bit much to pay for this. I mean, Roy's charges $15 for a poke appetizer at his Turtle Bay location, $27 for an entree-size poke bowl at Eating House Waikiki, and MW charges $26 for their uni and inure laden version. Hell, the poke at Merriman's Honolulu is $16!
Anyway, moving on, a basket of bread, house butter, and local salt arrived shortly after our appetizers.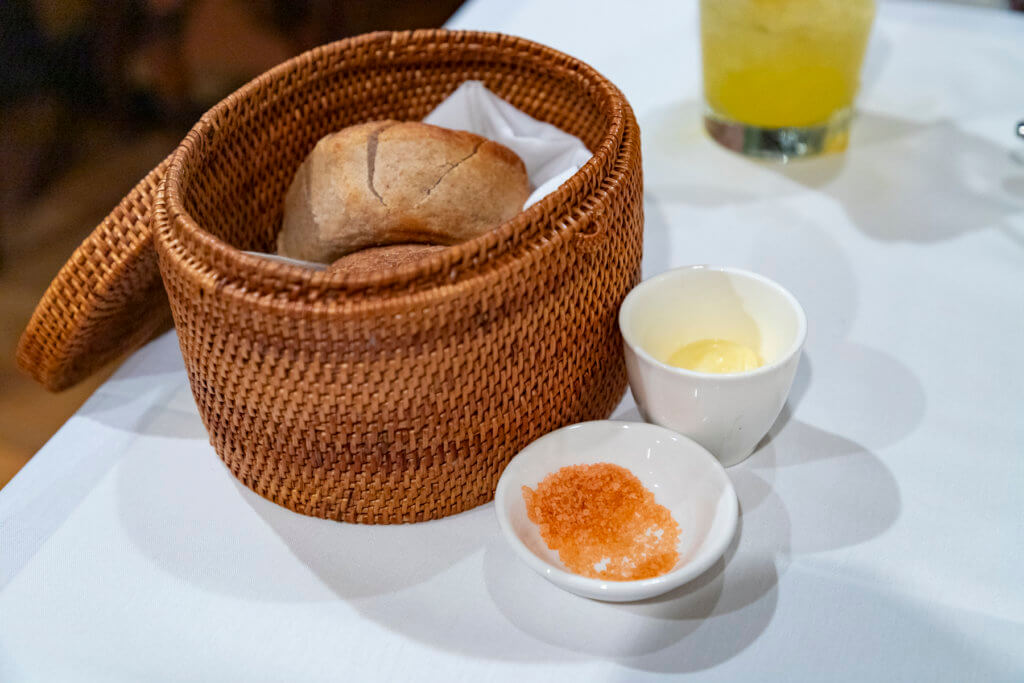 Big Bites
For her main, Mrs Island Miler ordered the day's special, which was sautéed catch of the day with Kauai shrimp, mashed ulu, mango salsa, and a coconut cream.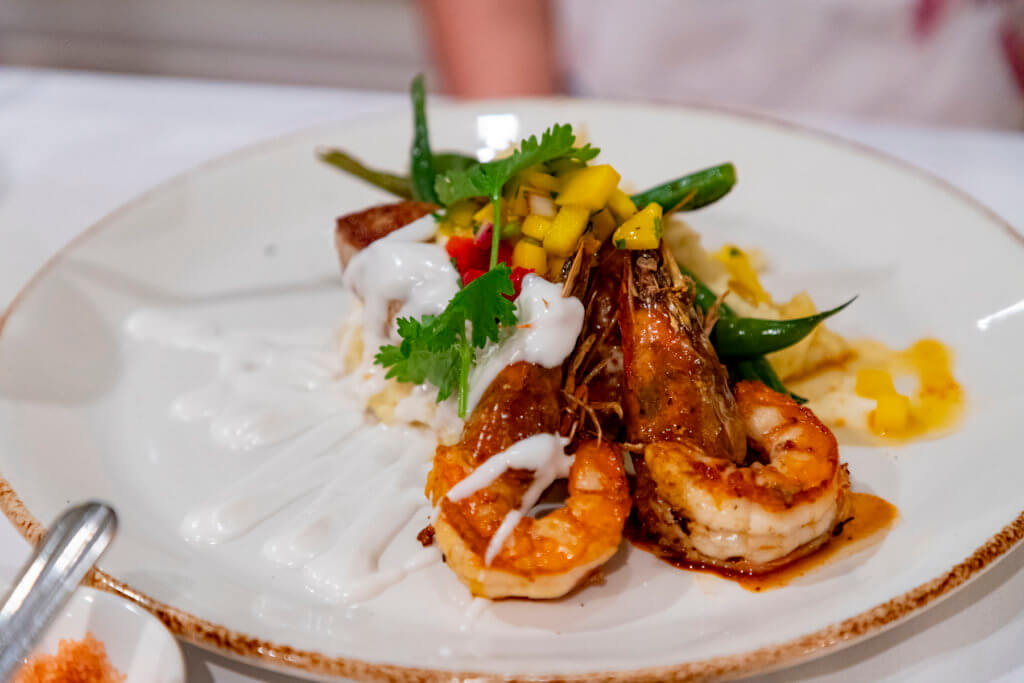 There's a lot going on on that plate, but she liked it a lot. It was tasty and unique for sure, while remaining relatively light.
For my main, I went with the 1 1/2 Pound Butter Poached Kona Lobster ($64).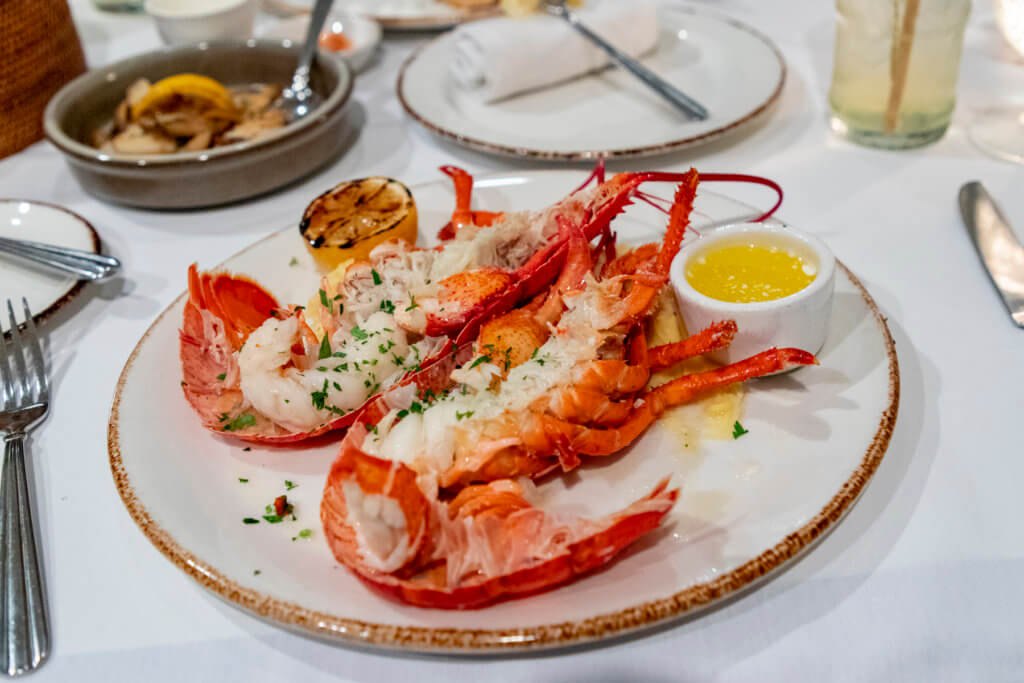 Served on a bed of mashed potatoes, the lobster seemed a bit small, in my opinion. There was very little meat on the thing; probably the equivalent of four 13/15 colossal shrimp. But the grilled lemon on the side was a nice touch.
To accompany our entrees, we ordered a side of Pan Roasted Hamakua Mushrooms ($8).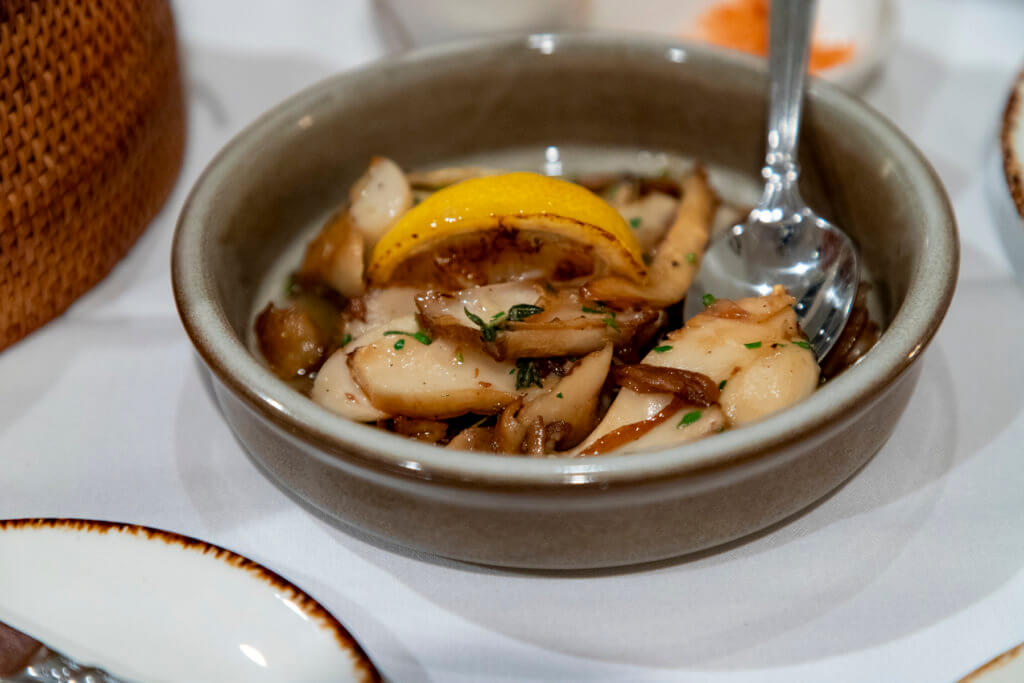 The mushrooms were delicious, with just the right amount of browning, seasoning, and some acid from the grilled lemon.
Sweet Endings
Though I really wanted to try the signature Waialua Molten Chocolate Purse ($16), we were way too full. Luckily, it is available in Honolulu for less ($11). But, being our anniversary, the restaurant wouldn't send us away without a sweet ending. So, they presented us with an off-the-menu Flourless Chocolate Cake.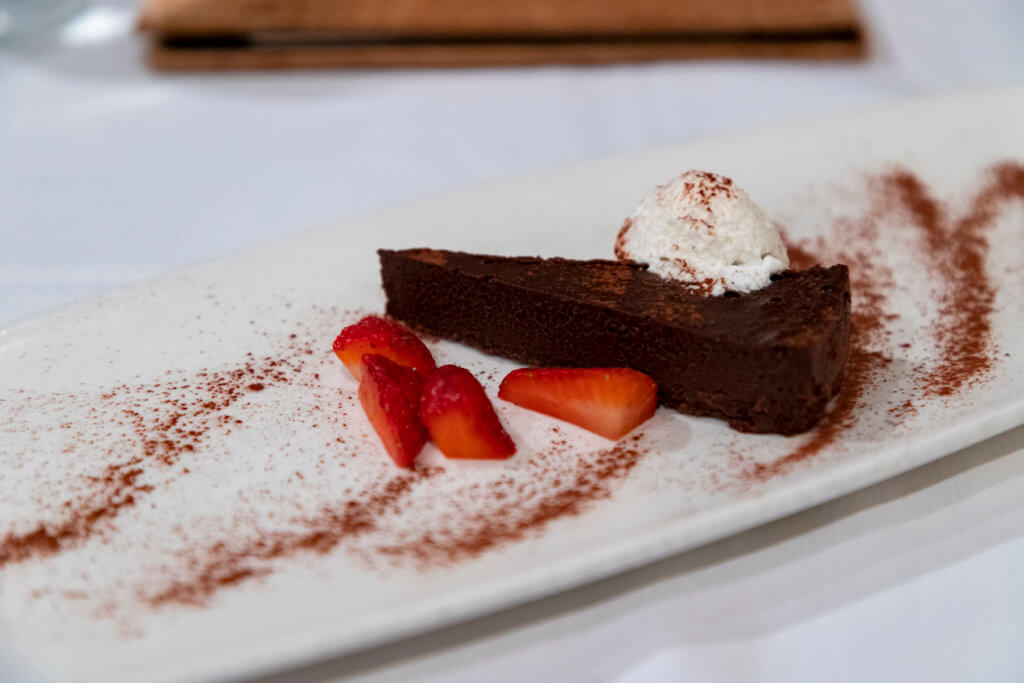 The dense, dark chocolate cake was decadent. A chocolate-lover's dream come true! The addition of the whipped cream and tart Kula Strawberries, though, helped to cut the intense richness of the cake.
Merriman's​ Waimea, Final Thoughts
The service and food are what you'd expect at Merriman's Waimea. Which is to say, that the overall experience was nice. But was the overall value worth it? I'm going to say no. Our total, inclusive of tax, tip, and a mandatory 2% kitchen service fee came out to $223. That's A LOT of money for what you get. Especially when you consider I spent far less ($177) at the Michelin-starred Mister Jiu's in San Francisco for a menu that included things like Wagyu Beef. You can also get a more inventive meal of equal or higher quality for less at Restaurant Senia in Honolulu too. Heck, even our dinner the following night at our hotel, which was another fine establishment, was less expensive. I guess the point is that, while good, Merriman's Waimea certainly isn't worth the price. At least in my opinion.
Big Island LUV