I've been an Apple user for almost 15 years now.  So when it came time to replace my last laptop, naturally the MacBook Pro topped my list.  I had my reservations, though, due to a variety of reason, but ended up moving ahead with a purchase for a Mid-2018 MacBook Pro.
Selection
My last laptop was a 15-inch unibody MacBook Pro (non-retina), and before that, I had a first generation 15-inch MacBook Pro, as well as a 12-inch PowerBook.  So, I do love my Apple notebooks, especially given their durability.  In fact, my unibody MacBook Pro was around nine years old and had significant case damage as a result of me dropping it and it tumbling down a flight of stairs (in my bag).  And, aside from the SuperDrive not working, the laptop continued to work well up until the last year or so.  Since then it's become extraordinarily sluggish and can only barely run Adobe Lightroom.
Given the poor performance of my old MacBook Pro, it was time to buy a new laptop.  The problem is, Apple laptops are very costly.  Further, there's been issues with Apples more modern MacBook Pro keyboards.  The butterfly key mechanisms are prone to foreign object intrusions which completely disables the key.  Further, the 2017 and newer MacBook Pro models are severely lacking when it comes to peripheral ports.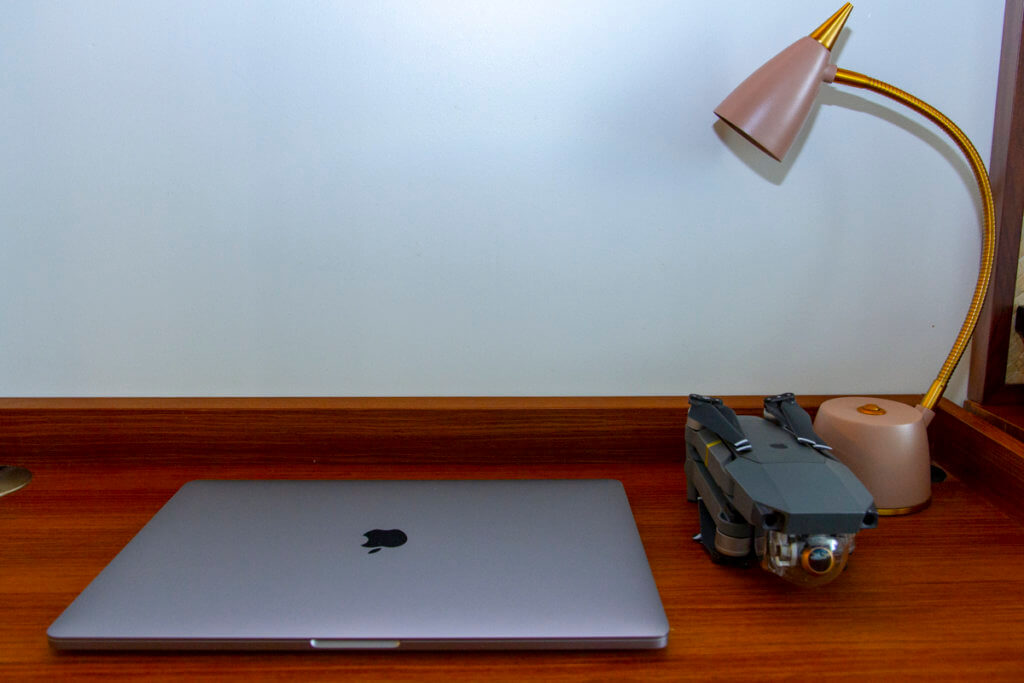 But, despite these issues, I decided to go ahead and purchase a Space Gray Mid-2018 MacBook Pro anyway.  I based my decision on the durability and reliability of my previous machines, as well as the addition of silicon barriers to the butterfly key mechanisms for the 2018 MacBook Pros.
Size
Straight out of the box, the first thing I noticed about the Mid-2018 MacBook Pro is its size.  I knew going in that it is significantly thinner than my old MacBook Pro and lighter too.  But, man, it is THIN and light.  The difference in weight is remarkably different, even though the weight difference is only one pound.  So I'm looking forward to the laptop making my personal item lighter when traveling.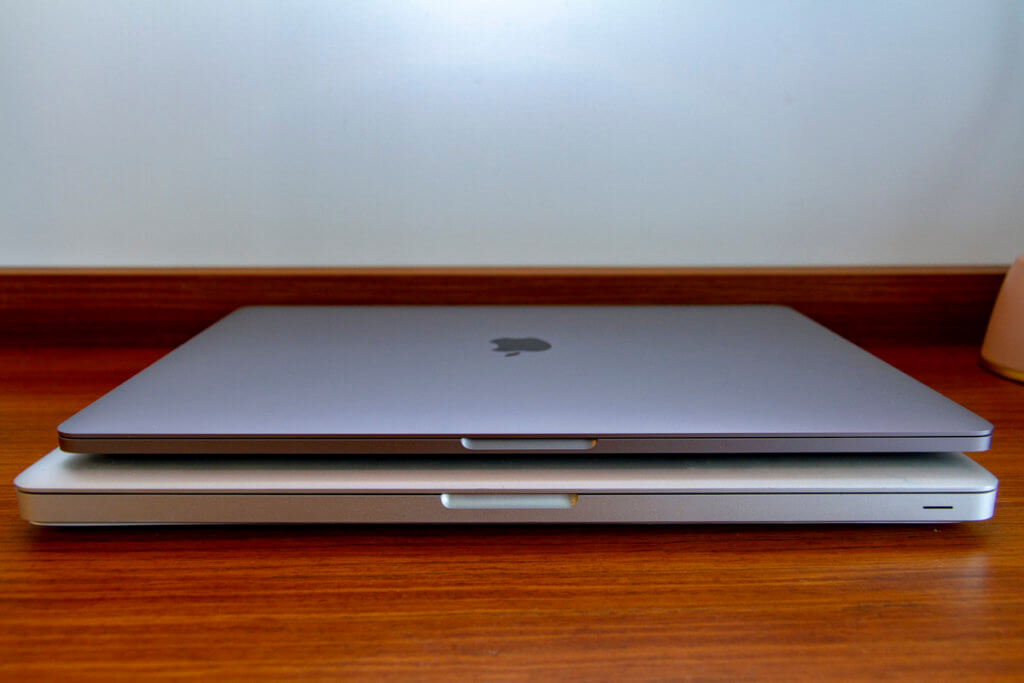 Beyond the thinness, the overall dimensions of the Mid-2018 MacBook Pro are significantly less than my older one too.  That's thanks to thinner bezels around the screen, though many complain about the thickness of Apple's laptop bezels in comparison to other manufacturers.  What's not smaller on this laptop, though, is the size of the trackpad.  It's massive, and frankly, it sometimes causes erroneous inputs, as your palms touch it when typing.  But, overall the palm rejection tech works well.
Screen
Though the overall laptop is smaller than my previous one, the dimensions of the screen itself remain the same.  But, the resolution of the screen is two times higher than that of my old MacBook Pro.  Yeah, it's not a 4k display, but I like it; it is a lot better than what I came from.  Plus, the screen is brighter (500 nits), more color correct, and supports more colors (25% more than sRGB).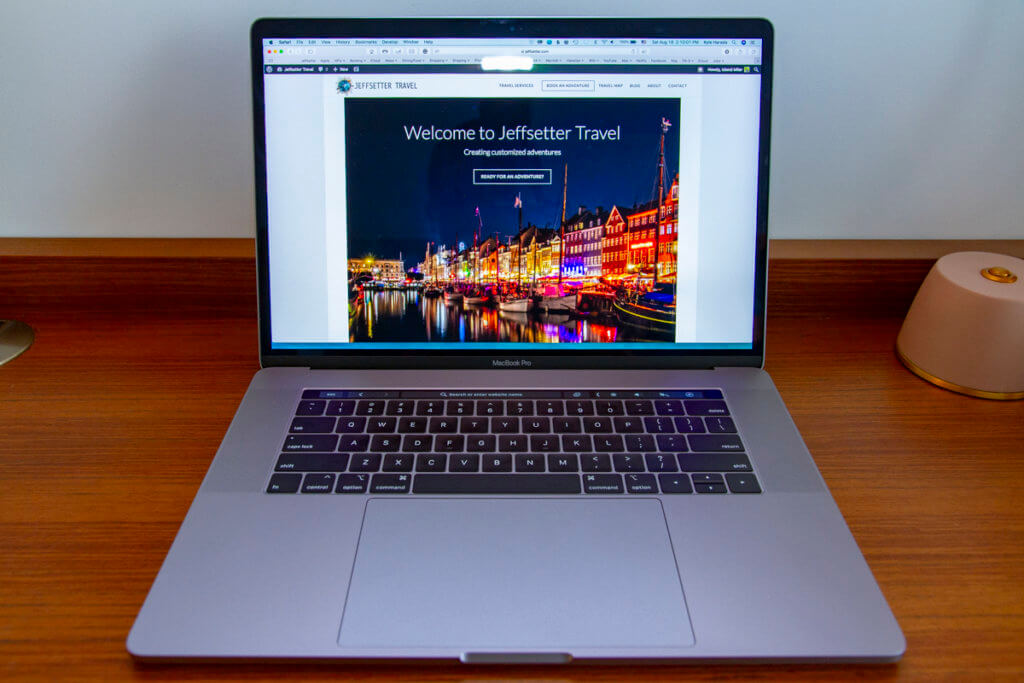 Inputs
Like I said above, the trackpad on the Mid-2018 MacBook Pro is massive!  It does take getting used to, but as long as palm rejection keeps working reliably, it's all good.  I just wish the multi-touch gestures this trackpad has would be the same as those on the 2017 iMac I use at work.
Now, the keyboard.  I know this is probably the single most controversial feature of the MacBook Pro.  There is, after all, a class action lawsuit against Apple due to the catastrophic failures some users experienced on the 2017 models.  But, Apple's inclusion of a silicon barrier around the key mechanisms on the 2018 models may help prevent this.  Even without the key failure, though, many hate the keyboard because of the limited key travel.  I, however, love the keyboard.  It makes it difficult to jump back to my old machine and even my iMac at work.  The keystrokes are so clean and crisp; typing feel excellent to me.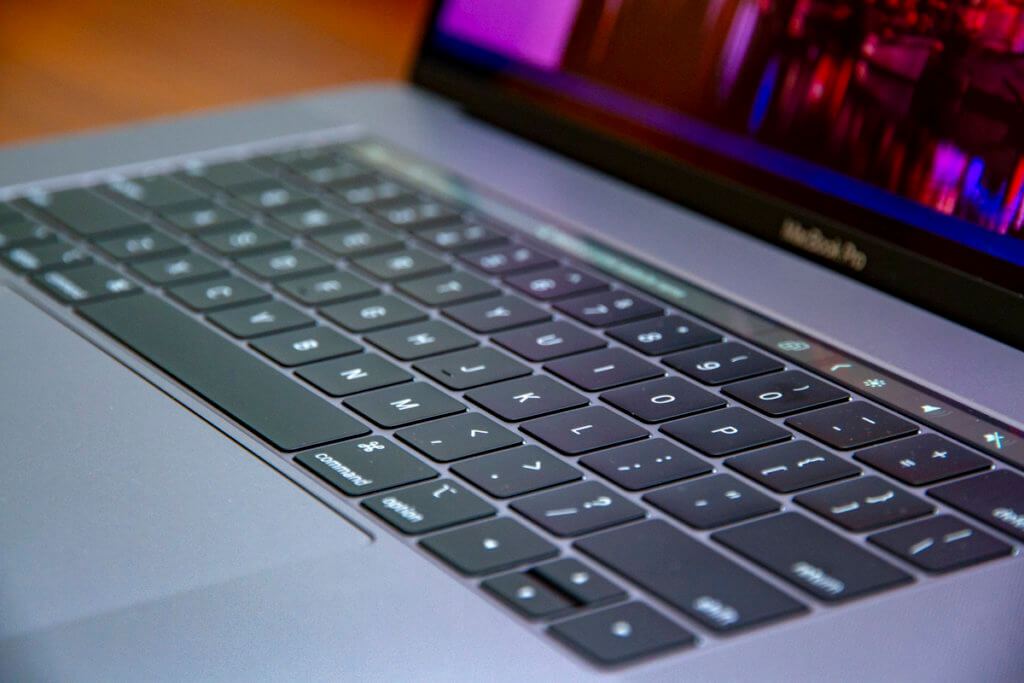 And then, of course, there's the Touch Bar.  It's another controversial feature of 2017 and up MacBook Pros.  I'll admit the thing is somewhat gimmicky, but I've found it very useful too.  It makes inserting an emoji and using passwords from keychain in Safari easier.  But the best feature of the Touch Bar, in my opinion, is the Touch ID.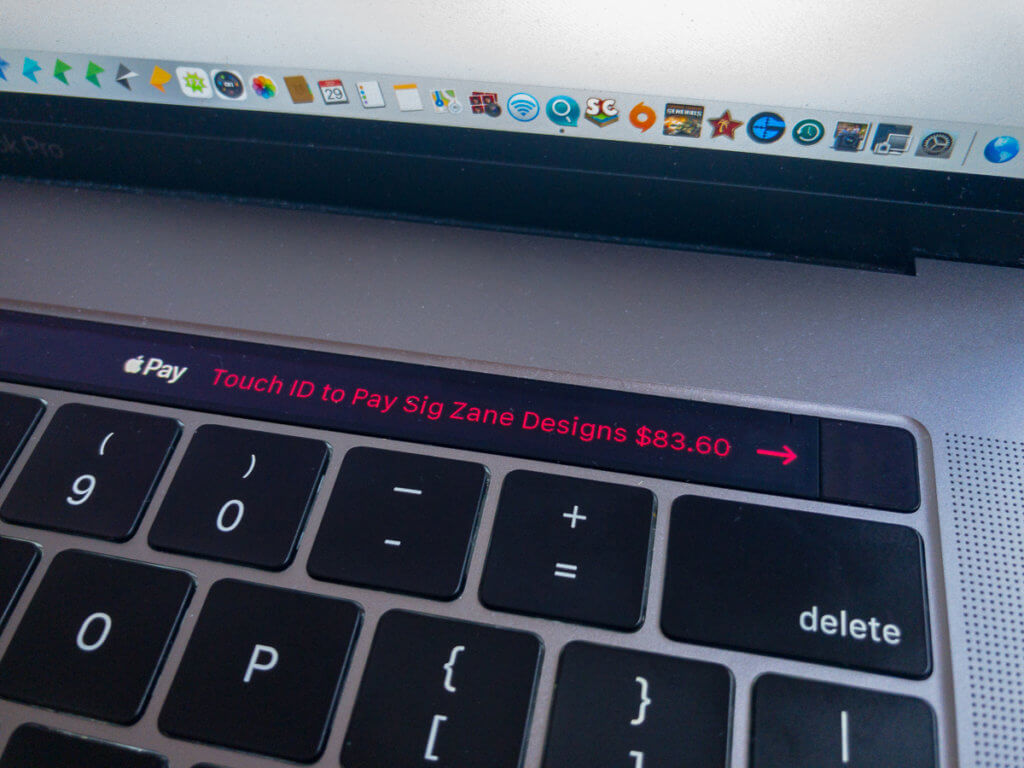 I love using it to make Apple Pay purchases on compatible websites and for unlocking my laptop when not wearing my Apple Watch.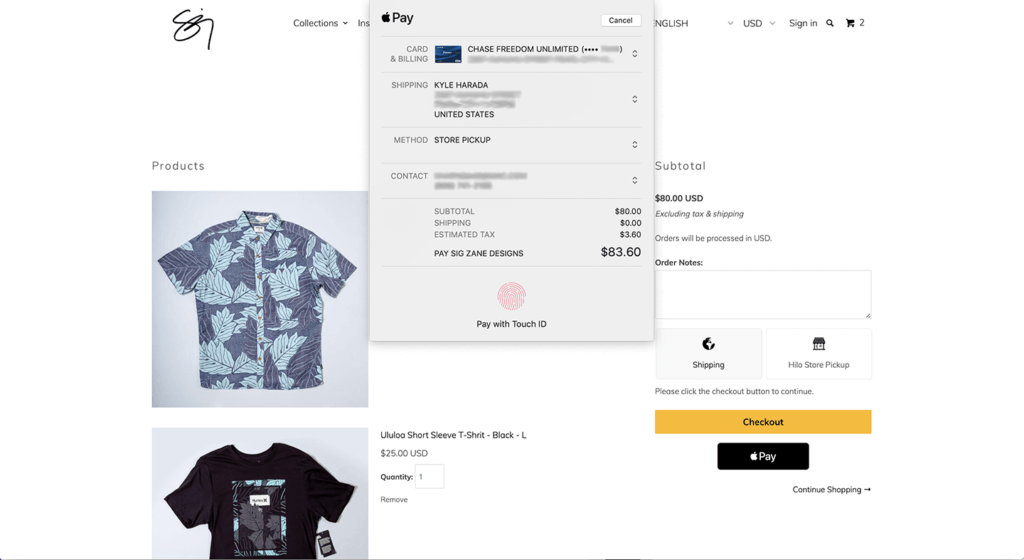 With that said, though, I'd like to see more uses for Touch ID.  For example, it would be great if Touch ID authentication were more common online and within the system, much the way it is on iPhone.
Performance
The performance of my Mid-2018 MacBook Pro is, not surprisingly, a MASSIVE upgrade over my old machine.  Where my Mid-2009 MacBook has a 2.8 GHz  Intel Core 2 Duo, the new one has a 2.6 GHz Intel Core i7 with SIX cores!  Oh, and 32GB of RAM plus 4GB of video memory versus 8GB and 2GB, respectively.  Plus the SSD drive, while significantly more expensive than traditional HDDs, makes a HUGE difference too.
So, under real-world tasks, the difference for me is night and day.  The Mid-2018 MacBook Pro boots in seconds, whereas my old machine could take up to 10 minutes to boot.  Likewise, where the old MacBook Pro would take 15 to 20 minutes to do a five photo merge in Adobe Lightroom, the Mid-2018 can do it in under a minute.  It's an insane difference for me.  Plus, the computer runs a lot quieter and cooler than the old MacBook Pro doing the same tasks.  And even when it does spool up its fans when I'm running high-load applications like Final Cut Pro, it's still quieter than my old machine.
Connectivity
Aside from concerns regarding the keyboard, connectivity is another area of concern with the 2017 and new MacBook Pros.  Like I said earlier, the only I/O these machines have are Thunderbolt 3/USB C ports and, ironically, a headphone jack.  And because most of my peripherals are on the older side, that means I need to carry dongles or a hub.  Not ideal, but this is what you signup for when you purchase Apple products.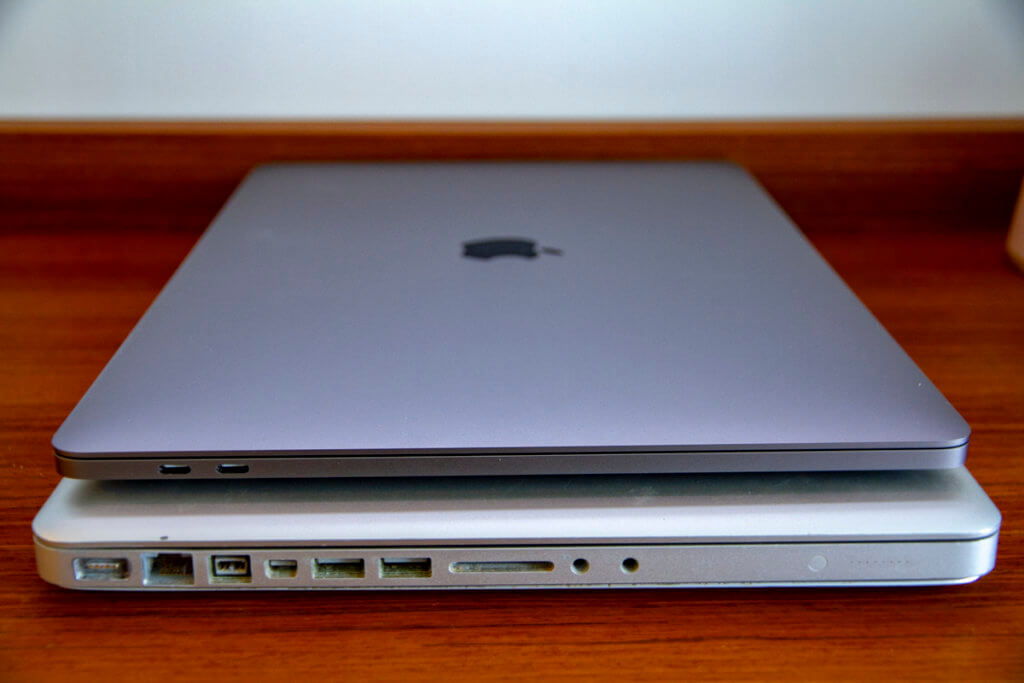 On the plus, side, though, I love how it integrates seamlessly with my iPhone and Apple Watch.  I can accept calls on my MacBook Pro now, which, yes, has long been a feature, but one I couldn't take advantage of with my old machine.  And while I haven't used it yet, I do love the ability to handoff task between my iPhone and my MacBook Pro.
What I Like
As is apparent, I'm in love with the performance of my new MacBook Pro.  Honestly, anything is better than my old laptop, but since all my software is modern, purchasing the most up-to-date model made sense.  Plus, I didn't want to chance it with the 2017 keyboards and 13-inch is too small for me.  And, say what you want, but I do like the Touch Bar too.
Other things I like are, of course, the lighter weight of the Mid-2018 MacBook Pro, as well as the strong battery life.  If all I'm doing is blogging, the battery lasts a very long time.  And even with Lightroom running, I can get two to three hours out of a full charge.  Then, of course, there's also the display.  The color and brightness is a world of difference, which is essential for photo editing.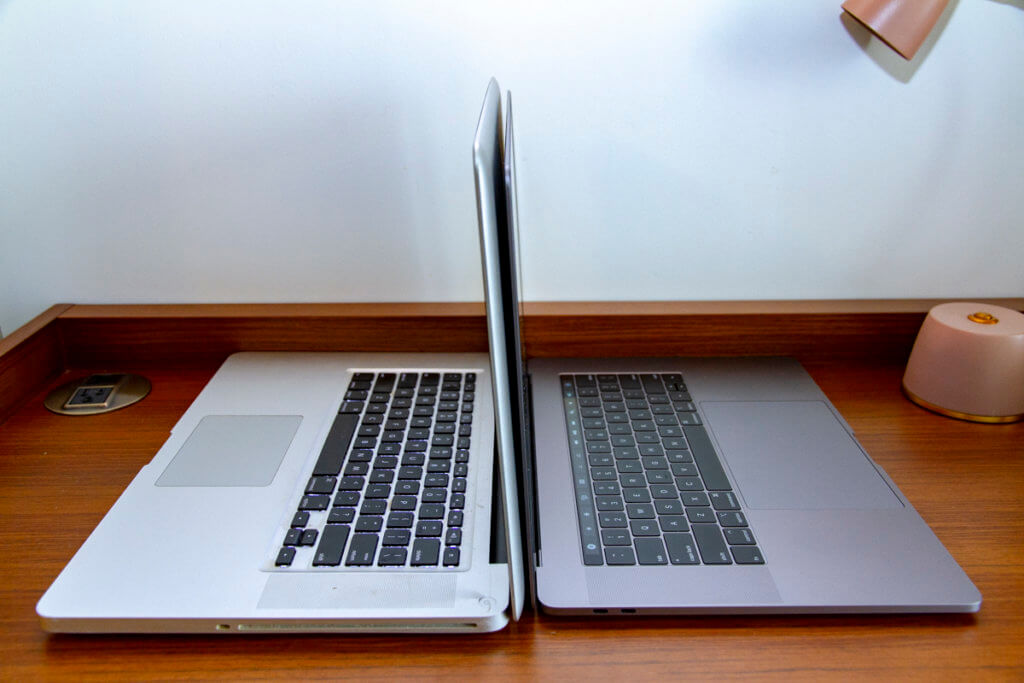 Annoyances
Unsurprisingly, my biggest annoyance with the Mid-2018 MacBook Pro is the connectivity.  I hate having to carry around dongles, especially since they're easy to lose.  And it would have been especially helpful to have a built-in SD card reader.  But, it is what it is.  Of course, the issues don't stop at needing to carry around dongles.  There are issues with many third-party dongles causing WiFi connectivity to cut out.  Plus, many hubs out there require power, which in turn powers the computer too, but almost none of them provide enough power for the 15-inch MacBook Pro.  So that's made committing to a hub difficult, especially since many of them are so expensive.
Mid-2018 MacBook Pro, Final Thoughts
Overall, I'm delighted with my purchase.  My Mid-2018 MacBook Pro allows me to be a lot more productive.  I don't have to wait 10-15 minutes for a single photo to export, nor do I have to wait that long to merely launch Lightroom or Photoshop.  Plus, it's easier to carry around thanks to the lighter weight.  Oh, and the purchase has been helpful with my points and miles strategy.  I put the purchase on my Marriott Rewards Premier card, earning me Marriott Points and an Elite Qualifying Night.  However, I did make the purchase through the Chase Ultimate Rewards portal, giving two points per dollar.  Win-win!