With travel to Hawaii surging back to levels higher than before the pandemic, Hawaii's airport inadequate infrastructure is becoming increasingly evident. So it's good, then, that most Hawaii airport modernization projects are nearly done.
One of the biggest complaints cited by visitors to Hawaii is the state of our airports. For years now, the state Department of Transportation has been working to fix at least some of these issues.
Daniel K. Inouye International Airport (HNL)
A few projects are happening at HNL. One of the largest of these is the Mauka Concourse. Slated for completion in September 2021, the new concourse adds gates for up to six widebody aircraft or 11 narrow-body planes. Since it's attached to Hawaiian Air's existing terminal, the Mauka Concourse will see use exclusively by the airline. That, of course, will allow Hawaiian to consolidate its gates further and makes room for their upcoming Boeing 787s.
Also happening at HNL is the completion of their all-new consolidated rental car facility. Located to the east of the current overseas rental car facility, the new facility will house all on-airport agencies. With space for 4,500 cars, the facility is more convenient for renters and operators alike. The expected completion date for this project at the end of the year.
Smaller projects at HNL include bathroom updates, which for Terminal 2 (Central Concourse) is scheduled for completion in early 2022. The final project impacting passengers at HNL is the addition of new pedestrian bridges connecting the overseas parking structure and terminal. Officials expect all bridges to be installed by the end of 2021.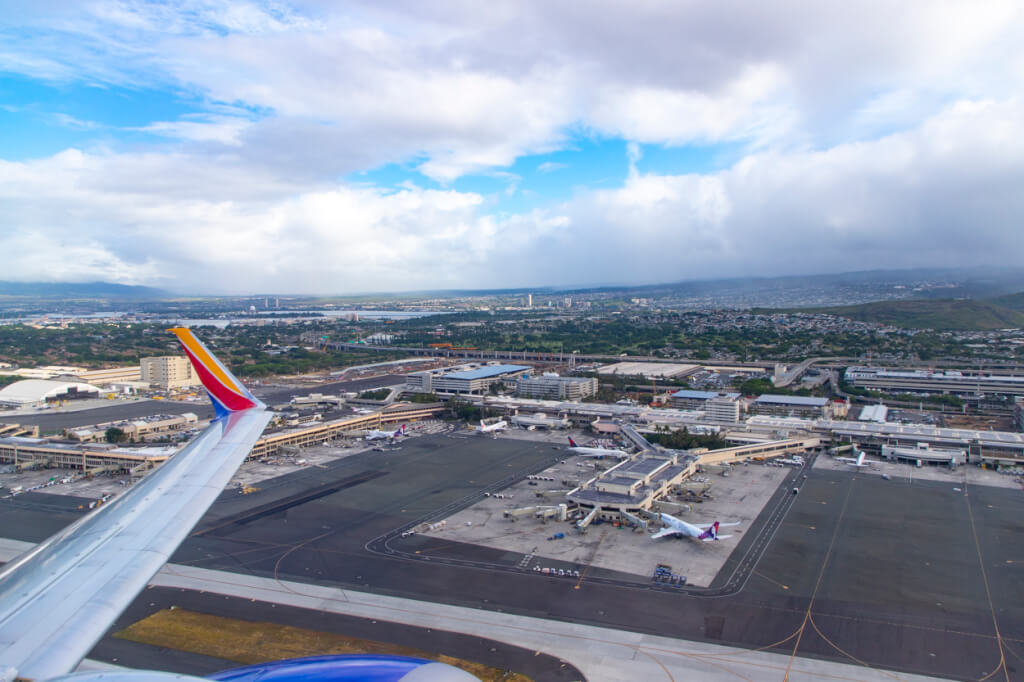 Kahului Airport (OGG)
Over on Maui, Kahului Airport has been beyond its capacity for a long time now. Originally, it served primarily as an inter-island gateway. But, with more and more direct service to the airport, the strain at OGG continues to worsen. The biggest issue is, of course, that holding rooms aren't big enough for the volume of passengers passing through. To help rectify this issue, the Hawaii DOT is expanding the holding rooms at gates 1 through 15. The walkway in this area is also being enclosed, while restrooms are being enlarged. A new gat is also going into the area.
Officials state that this project, unfortunately, won't finish until sometime in 2023. For the time being, officials say the worst times at the airport remain between 10 am and 2 pm.
Ellison Onizuka International Airport (KOA)
I hate KOA. Kona is blazing hot, yet it's a 100% open-air airport. Bleh. Unfortunately, that isn't changing any time soon. However, improvements are on the way – namely, a new security screening area. The new, air-conditioned screening area sits between the two existing terminal buildings. Not only does this eliminate the need for two separate checkpoints, but also provides for a sterile pathway between the terminals. That's not something that exists today. New restrooms are also going in both before and after security.
KOA improvements should be in use by the end of 2021.
Most Hawaii Airport Modernization Projects Nearly Done, Final Thoughts
It encouraging to finally see the projects come to fruition. These improvements have been a long time coming. They will not, however, rectify all of the outstanding issues at Hawaii's airports. At least they're a step in the right direction, though. And thank goodness for that. While it's no secret that I hate KOA, OGG was miserable when I got stuck there last year too. HNL is bad too but is nowhere near as bad as the others.