Last updated on August 30th, 2015 at 09:31 am
We are currently on the US leg of our one-way neverending trip, driving from San Francisco to Seattle where we will catch a plane to Hawaii. While this is easily driveable in 2-3 days via interstate, we decided to take the long way and see the heart of Oregon along the way.
This choice has proven to be a good one, as we have seen many awesome parts of Oregon already. Here is a recap of our travels so far.
We started out day two in Eureka, California. This was a nice town that I'm not sure I plan on visiting any time in the future. While I could elaborate on that statement, I will just say that it reminded me of a mini-San Francisco and not for the good parts. There is a reason why we don't feel a strong sentimental attachment to San Francisco, and those elements appear to have "drifted" their way to Eureka as well.
But on the bright side, Amanda was able to find this:
Next we headed through Redwoods national forest. I mounted the GoPro to the sunroof of the car and we video taped our drive through the trees. I would post it here, but getting media off of the GoPro and into a usable video takes way more time than I have available. I also mounted the GoPro to my head and took some video of our hike through the Redwoods. That hike ended prematurely, with our first injury of One Way Neverending! Good thing we brought multiple first aid kits!
As we left California, our last photos were taken on a one-way road appropriately named Coastal Drive just outside of Klamath, CA. The coastal drive was one of those spontaneous turn-off points that we often do on our road trips and it was gorgeous. The one-way road took us along the coast and had a few photo opportunities. The best photos came at the turn of the road. These views were amazing, even with the coastal fog. 
Then without much fanfare we were in Oregon. It was still very green with trees and the temperature rose about 30 degrees as we left the coast behind to head inland to Ashland, Oregon.  We drove along rivers, up mountains and everywhere in between. 
We stopped for an early dinner in Ashland, enjoying some excellent BBQ in 97 degree weather. Apparently we arrived in the city during an unseasonably warm time. At least I hope that's the case, because it was so unbearable that we had to cut our Ashland visit short. I melt above 95 degrees.
We stayed at the Green Spring Inn and Cabins, and I can't recommend this place more highly. It is a family-run place with nice but rustic cabins and awesome food. We would love to come back again for a longer stay in the peaceful forests of the Cascade mountains. During breakfast I downloaded the Periscope app from Twitter and did a livestream of the area. It wasn't great, but I guess decent for a first attempt. I am not even sure how you can follow our travels on periscope, but my username is @jeffsauer.  After an excellent breakfast, we hit the road. The drive to Crater Lake was gorgeous, with forests, mountains and lakes everywhere.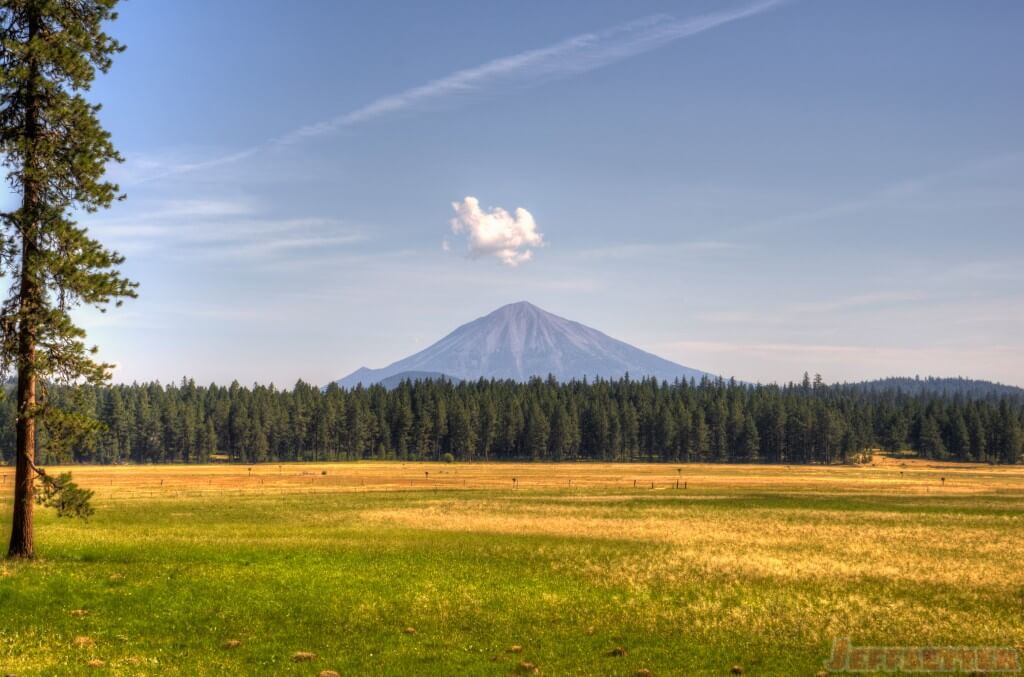 Again, I have extensive GoPro footage of the drive, but not much for processed photos. Well, other than this gorgeous shot of Mount McGloughlin. The camera did come out in full force when we hit Crater Lake. After the thunder and lightning storm wrapped up, of course. We arrived at Crater Lake just in time for a downpour, which seemed out of place as well. Thankfully the rain cleared after about 30 minutes and we were able to get some good photos.
We left Crater lake and headed for Bend. The first part of the drive was beautiful, and the second part of the drive was white-knuckled thunderstorm weather. The rain was coming down so fast that you could hardly see the car in front of you. Just like the big peanut in the sky.  The odd part was that all of this rain was happening in a national forest, and the forest fires were listed as "extreme" danger levels. I really hope that this rain provides the relief that they need. Finally we made it to Bend and checked into the Hampton Inn and Suites. This time we got the day right and were checked in without issue. From there we did what everyone would do in our situation. We went to Deschutes Brewery and Public House to try every beer on tap. We didn't drink every beer of course, but did enjoy some of the finest ales Oregon has to offer.
I write this from the breakfast area of the Hampton Inn before I take a business phone call. Everything is going well right now on all fronts. Today we head to wine country and hopefully tomorrow we will have an excellent story to tell about a chance wine connection as well.