The Chase Sapphire Reserve is the darling card of the points and miles community.  But the card, and especially its annual fee can be scary to beginners.  So let's go over why the fee isn't so bad and why the card is so great.
As I mentioned in my 2018 credit card strategy, the Chase Sapphire Reserve is the card I'd choose if I could only have one.  And that's because of the card's outstanding benefits.  However, it's large, $450 annual fee can be intimidating to the uninitiated.  So let's go over what benefits the card comes with, what the out-of-pocket expense of owning the card is, and how to maximize Hawaii travel with Chase Ultimate Rewards.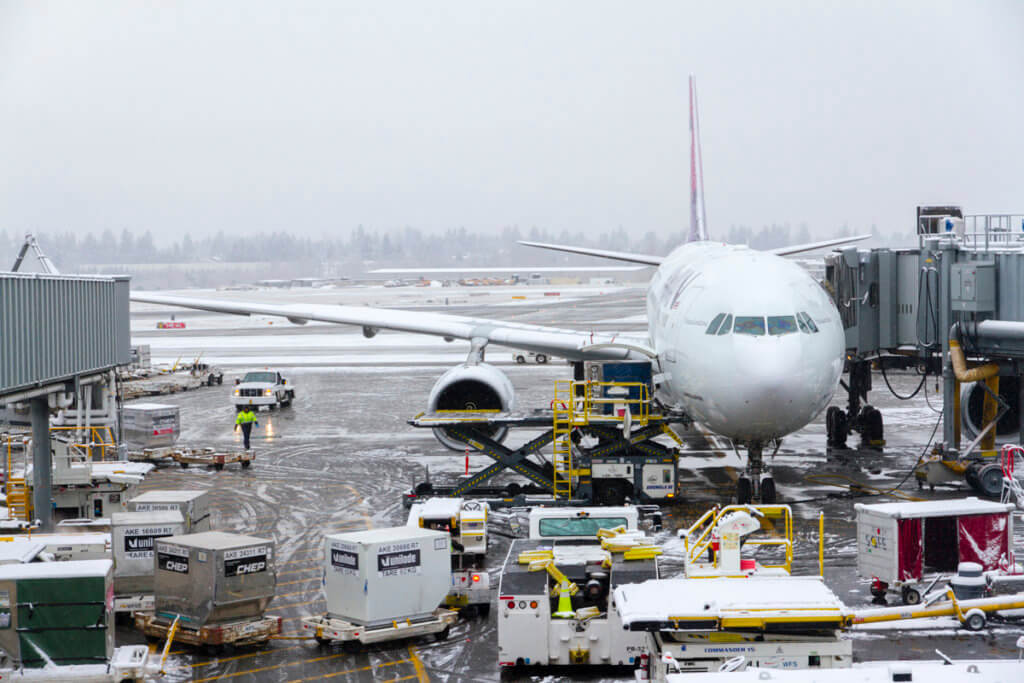 Card benefits
When looking at credit cards, we often focus on the points, and for good reason; the Chase Sapphire Reserve earns 3 points per dollar on all dining and travel spend.  Travel, in this case, even includes everyday spend like parking.  But the points are only the tip of the benefits iceberg.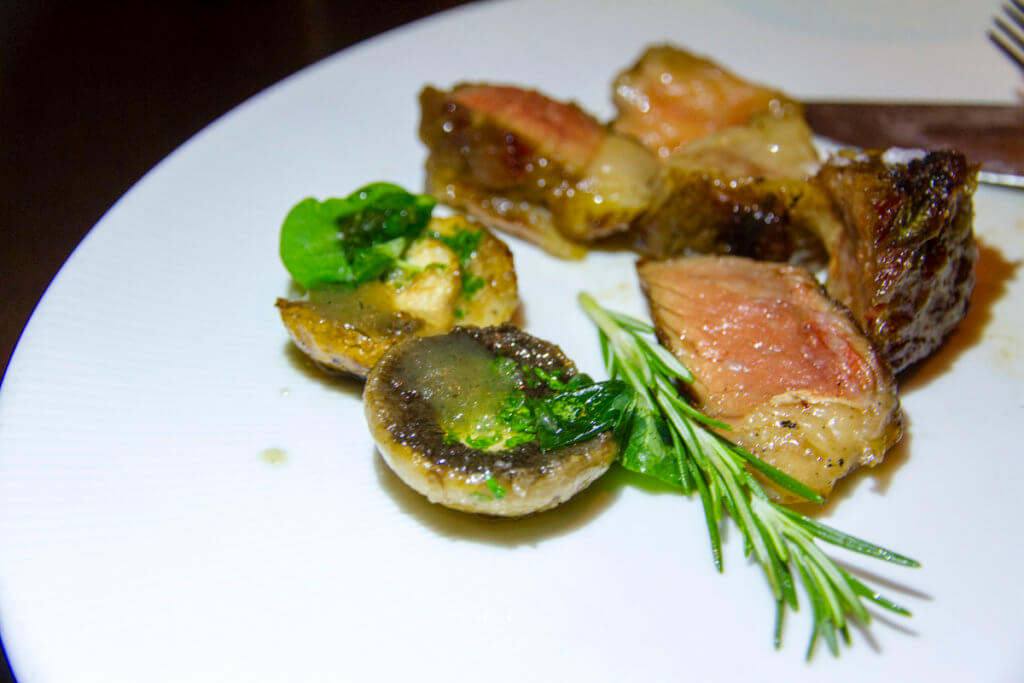 Other benefits include:
$300 annual travel credit
1:1 points transfer to airline and lodging programs
$100 application fee credit for Global Entry of TSA Pre-Check
Priority Pass Select membership with unlimited guesting privileges
Access to Luxury Hotel & Resort Collection
National Car Rental Emerald Club Executive Level membership + 25% discount on rentals
30% discount on rentals with Avis Car Rental
30% discount on rentals of two days or more with Silvercar
Primary Auto Rental Collision Damage Waiver – kicks in before your own insurance
Trip Cancellation/Interruption Insurance
Baggage Delay Insurance
Trip Delay Reimbursement
Roadside Assistance
Lost Luggage Reimbursement
Travel and Emergency Assistance
Travel Accident Insurance
Emergency Evacuation & Transportation
Emergency Medical & Dental Benefit
No Foreign Transaction Fee
50% more value when Ultimate Rewards points are redeemed directly for travel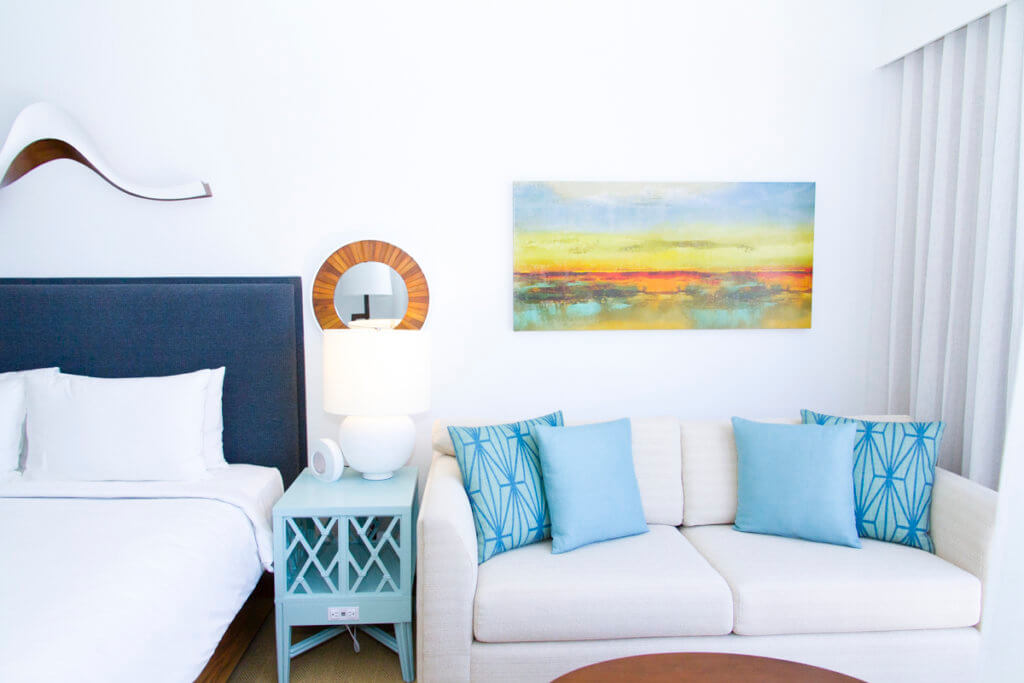 That's a lot of benefits!  And while you may not use many of these often (or ever), just using a few of them regularly can bring you great value.  Typically, when I travel, I take advantage of Priority Pass and the Silvercar benefits.
My Most Used Benefits
The Priority Pass benefit on its own is of great value, as it grants you access to participating airport lounges worldwide.  And, a standard membership that includes no-fee lounge access costs $249 (10 free) to $399 (unlimited free) per year.  And, yes, Priority Pass does have lounges in Hawaii, the best of which is the Hawaiian Airlines Plumeria Lounge, though it has poor hours of operation.  But, personally, I do use Priority Pass at other airports like SEA-TAC.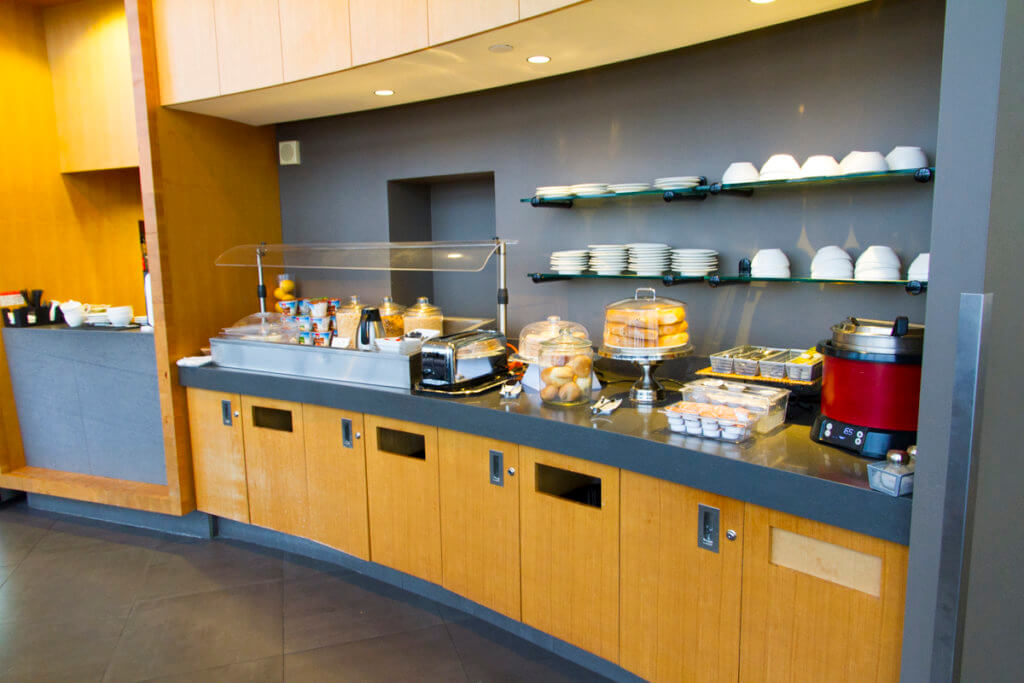 As for Silvercar, a 30% discount is a 30% discount.  Just take a look at an upcoming reservation I have in Vegas.  The rental is supposed to cost $381.22, however, with the discount, it comes out to $285.89.  For an Audi A4 that includes in-car WiFi, navigation, Sirius XM, fair price gas + $5 refueling fee, etc.  And these aren't stripped down A4's; these are nicely optioned models.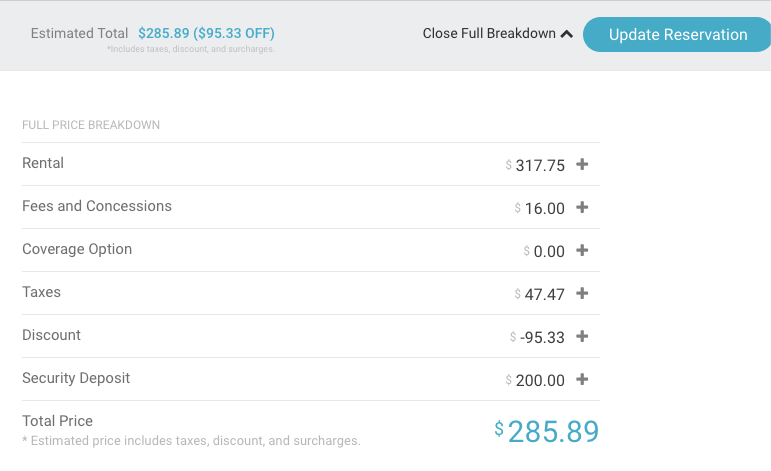 Annual Fee
There's no question that the Chase Sapphire Reserve comes with a lot of great benefits, so now let's talk about that annual fee.  $450 is a hefty annual fee, and you do have to pay it every year.  But that $300 annual travel credit takes a lot of the sting out of the fee.  You see, the travel credit is automatically applied to your statement as you incur travel expenses.  And, as previously stated, this includes parking, among others.  It's an easy statement credit to maximize, even if you don't travel and brings the actual out-of-pocket annual fee down to $150 per year.  That's just $51 more than the Chase Sapphire Preferred, which includes all the above benefits.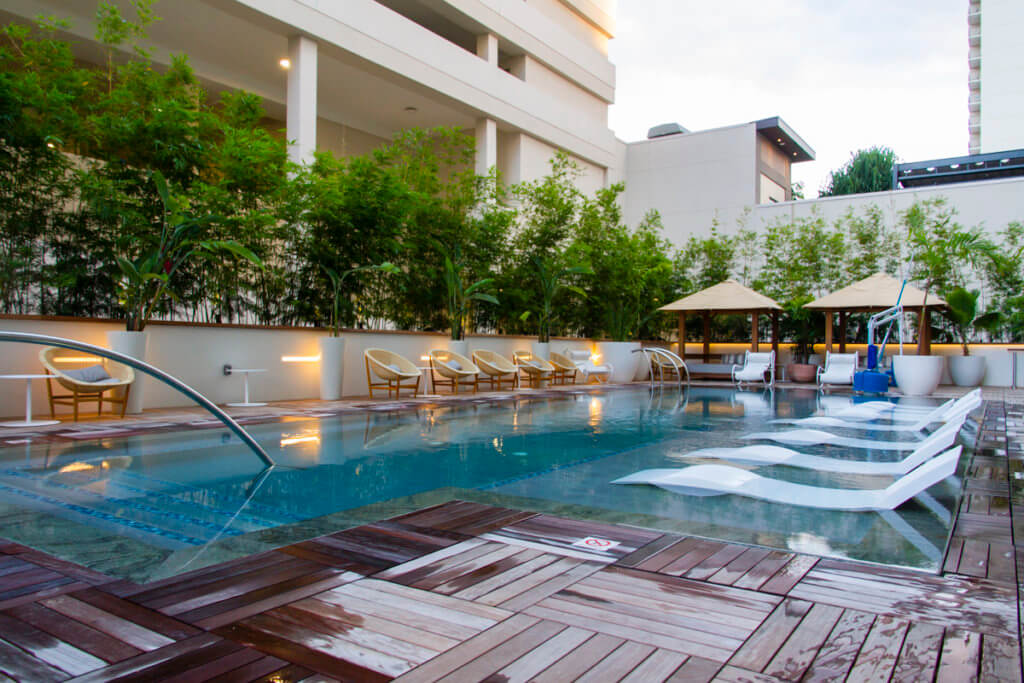 Of course, there's the Global Entry Fee statement credit too.  You get this statement credit once every five years and is worth up to $100.  Mrs. Island Miler and I both have Global Entry which will need to be renewed soon, so when that happens, my effective annual fee comes down to just $50 that year.
As mentioned above, this year I have one Silvercar rental booked, and with that one rental, the Sapphire Reserve will save me $95.  Later this year I have an even longer trip on which I plan on using Silvercar again too, so the card will save me over $200 in rental fees this year alone.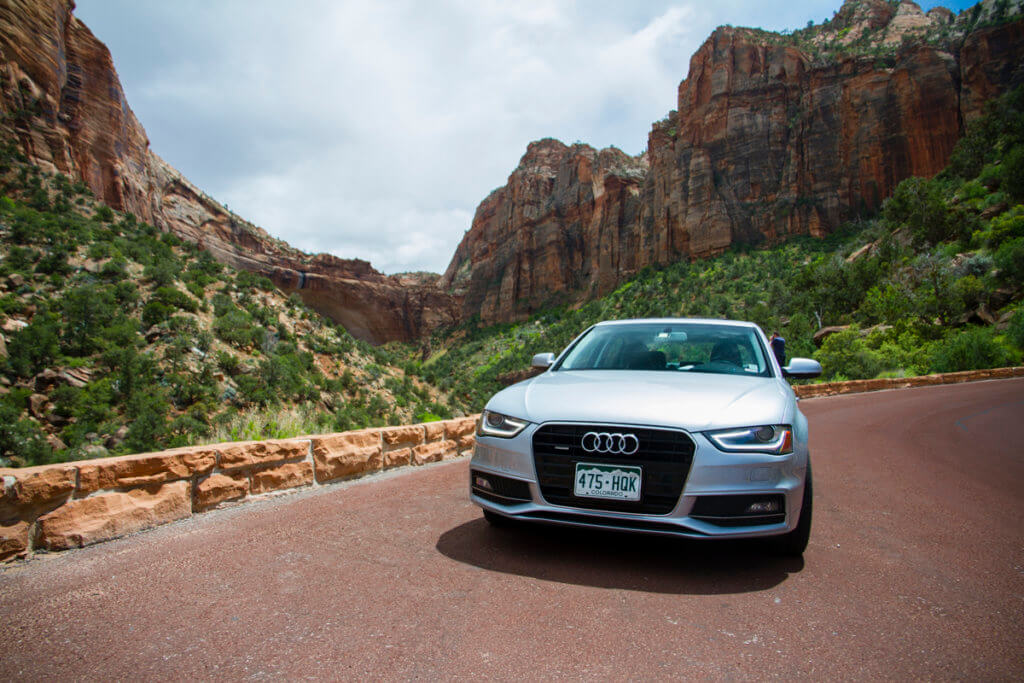 And if you're asking why I'd spend so much money on a car rental, Silvercars isn't that expensive.  In fact, when I went to Seattle this past December, Silvercar was significantly cheaper than renting a subcompact car from Avis, Enterprise, etc.
Ultimate Rewards + Hawaii
Now, I know what some of you are thinking, especially my readers in Hawaii.  You have a Hawaiian Airlines World Elite Mastercard that costs $89 a year, and you don't want another annual fee card.  Well, consider this: award flights on Hawaiian Airlines cost LESS with Chase Ultimate Rewards.  Here's how.
One of the Chase Ultimate Rewards transfer partners is Korean Airlines, meaning you can transfer points 1:1 to Korean SkyPass.  And, if you didn't already know, Hawaiian Airlines is a codeshare partner of Korean Airlines, meaning you can earn and redeem HawaiianMiles or SkyPass miles on both airlines.  But not all miles are created equal.  Korean SkyPass has much better redemption rates between Hawaii and the U.S. Mainland than Hawaiian does.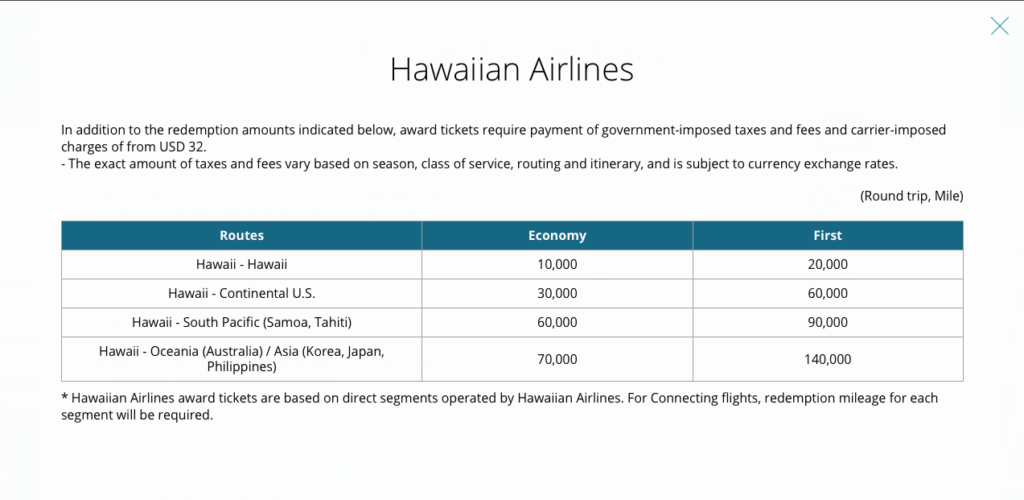 As you can see a roundtrip award flight on Hawaiian via Korean will cost you 30,000 miles, versus Hawaiian's 35 to 40,000 miles in economy.  And it's just 60,000 miles for first class, which is much lower than Hawaiian's 80,000 to 260,000 miles.  But if you're willing to fly Delta instead, your mileage redemption rates can be even lower.

Using Korean miles you could fly Delta between Hawaii and anywhere in North America for just 25,000 miles roundtrip in economy and 45,000 miles roundtrip in first class.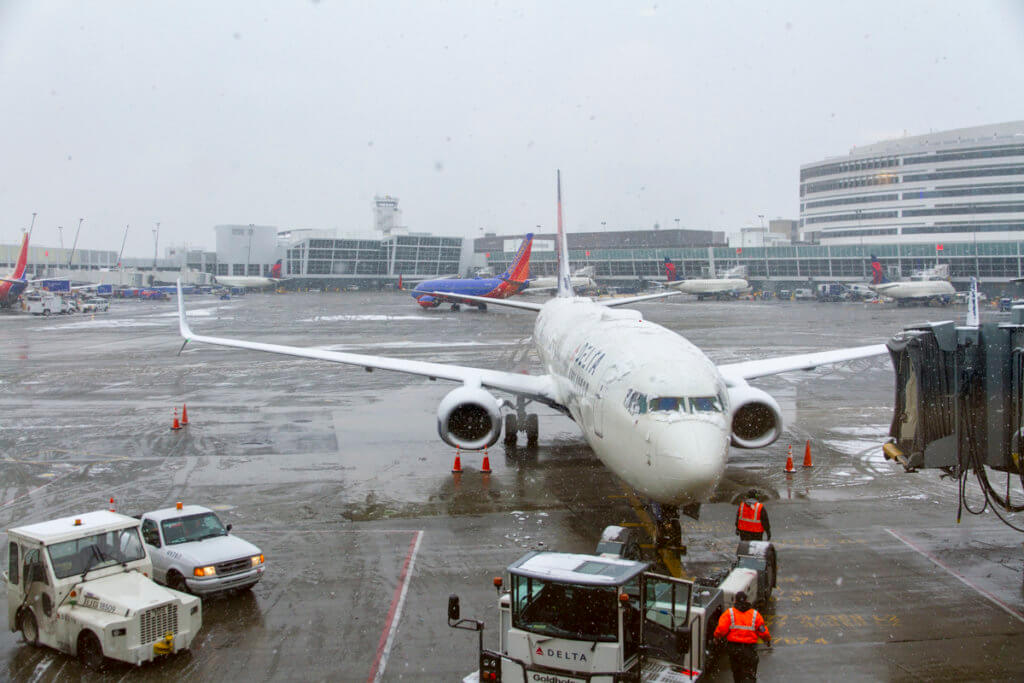 And guess what?  The Sapphire Reserve's current signup bonus offer is 50,000 points for spending $4,000 in the first three months of account opening.  So off the bat, you'll already have enough points for an economy class award ticket on Hawaiian between Hawaii and the Mainland.
Chase Sapphire Reserve, Final Thoughts
As can be seen, the Chase Sapphire Reserve is a fantastic card with a lot of benefits.  And, what's more, the annual fee isn't all that bad in reality.  At minimum, the net expense to cardholders is $150 per year, so long as you take advantage of the annual travel statement credit.  However, if you travel once or twice a year, you could extract even more value that offsets the annual fee with discounts.  So this card is a no-brainer, especially for those that travel, even if it's just once a year for vacation.  And, of course, the card provides much better award redemption benefits than the Hawaiian Airlines World Elite Mastercard for travel on Hawaiian Airlines.
And if you do choose to get the Chase Sapphire Reserve, might I recommend getting one or both of the Chase Freedom cards as well.  Both have no annual fee and earn Chase Ultimate Rewards points.  However, the Freedom card earns 5 points per dollar on rotating quarterly categories, while the Freedom Unlimited earns 1.5 points per dollar on all spend.  With Freedom, your bonus earnings are capped at 7,500 points per quarter ($1,500 in spend per quarter), while Freedom Unlimted has no restrictions.  That being said, just remember that Chase has a 5/24 rule, meaning you can only open five cards during 24 months from any issuer.  Any more than that and you'll receive an automatic denial.