Two of my favorite restaurants in Hawaii came together again to produce another uniquely Hawaiian dining experience. Following up a similar dinner put on earlier this year, the Na'au Hilo + PAI Honolulu collab 2021 part 2 was a pleasant, late summer surprise!
Na'au Hilo
If you haven't read my initial Na'au Hilo + PAI Honolulu collab post from 2020, I highly suggest doing so. That post provides some important background on Na'au Hilo and what they stand for. The short of it, however, is that Na'au's mission is to "showcase coveted, wild, and overlooked local ingredients to preserve Hawai`i's food culture, progress the local cuisine, and perpetuate our culinary heritage in Hawai`i, while providing guests with an authentic, cultural experience, bringing global awareness to Hawai`i's cuisine, and educating the public."
Chef-owner Brian Hirata certainly accomplishes this each and every time he puts a plate in front of you. Without a doubt in my mind, he is one of the most innovative chefs in Hawaii – if not the world. In fact, as I've said before, Chef Hirata is our very own Rene Redzepi. And, despite his growing fame, Chef Hirata remains one of the nicest, humble people you'll ever meet.
PAI Honolulu
PAI Honolulu is another innovative restaurant I know well and love. Husband-wife duo Chef Kevin Lee and Justine Kadokawa-Lee are two of the kindest people I've ever met who also run a fabulous restaurant. Though Mrs. Island Miler and I have been here primarily for the collab dinners lately, we've been PAI fans from the very beginning. Chef Kevin Lee masterfully fuses Asian, Hawaiian, and humble local influences to produce a cuisine you rarely see.
I could go on and on about these two fantastic restaurants and their restauranteurs, but let's get on with the focus of this post – their third collab dinner.
Na'au Hilo + PAI Honolulu Collab 2021 Part 2
Much like earlier this year, the Na'au Hilo + PAI Honolulu collab 2021 part 2 dinner took place at PAI Honolulu this past Sunday. Unfortunately, we're still battling the damn pandemic, which means this dinner is still far from normal. Contact tracing and temperature checks remain in force, while tables remain spaced generously apart. Each table even continues to have its own bottle of hand sanitizer. And like all previous collaborations, you absolutely must book and pre-pay your meal ahead of time. Now, as far as pricing goes, these dinners are quite up there – I'm over $400 for two. That's about 2 to 3 Michelin Star pricing. But, it's totally worth it.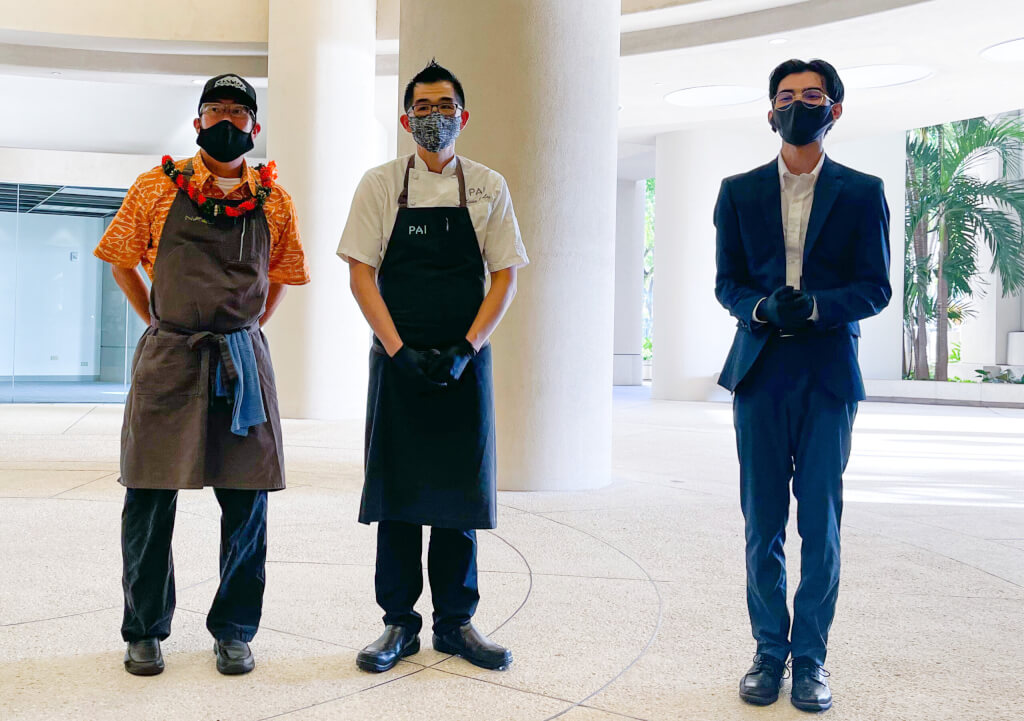 Dinner
Counting the unique bread course, the Na'au Hilo + PAI Honolulu collab 20201 part 2 featured one more dish than the first dinner this year at seven courses. The menu was also quite a bit different from what we saw earlier this year. This time around, the dinner was more fish-heavy and featured dessert by Chef Hirata for the first time.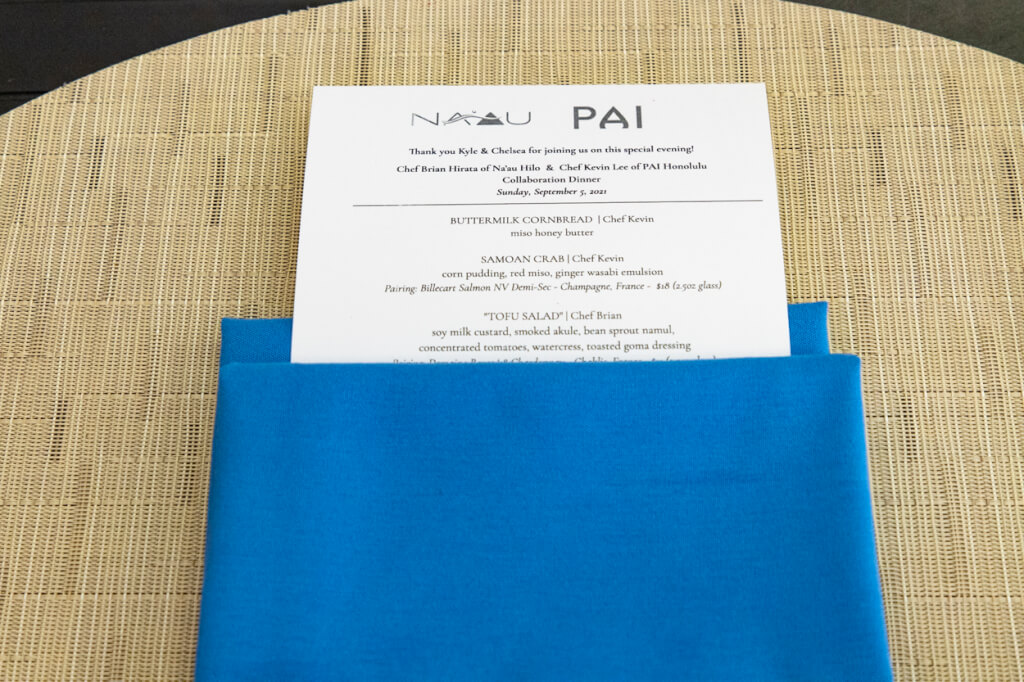 Drinks
Before we get into the food, let's talk about drinks. While wine pairings were available, I didn't do this cuz I'm a lightweight. I did, however, order the first wine on the pairing menu, which was a Billecart-Salmon Demi-Sec non-vintage champagne.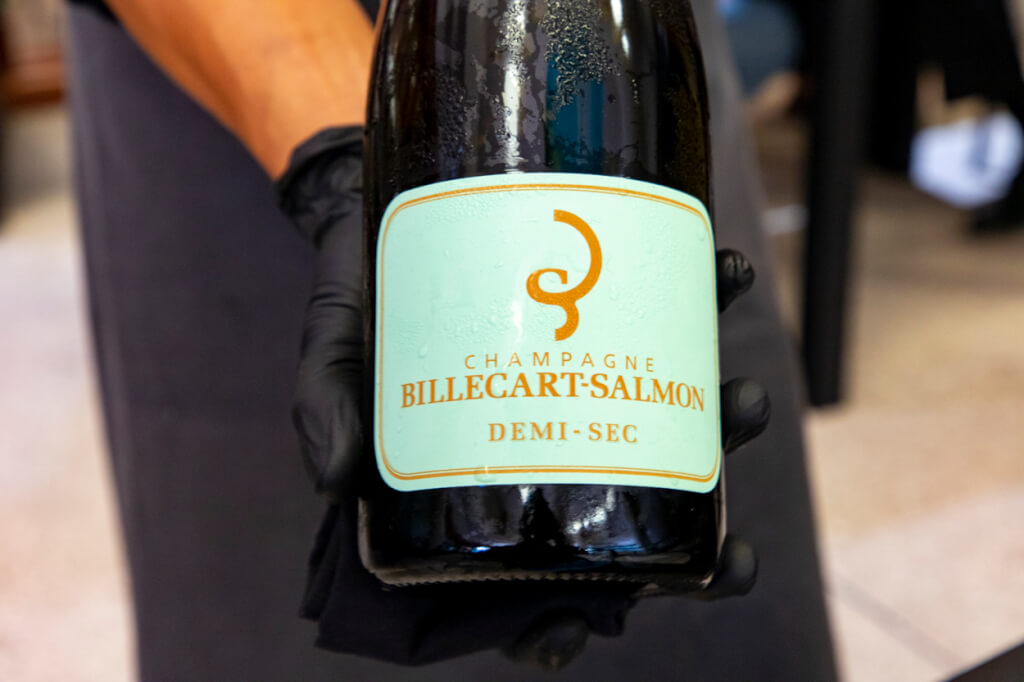 Our sommelier explained that the higher sugar bubbly plays well with the rich, subtly spicy first course. And, indeed, he was right. It was a fantastic drinking wine that wasn't sugary at all. It did, however, work well to help enhance the luxurious first dish.
Mrs. Island Miler went with a housemade soda, in this case being calamansi (Filipino lime). For those of you that don't drink, PAI's calamansi soda is a perfect pairing. It isn't too sweet, or even sweet at all. Plus, the acid from the lime helped to cut through what was a decidedly rich dinner.
Buttermilk Cornbread
The first item on the menu for the Na'au Hilo x PAI Honolulu collab dinner 2021 part 2 was the buttermilk cornbread. Now, instinctively, this doesn't sound like a dish that belongs on this menu. However, for his cornbread, Chef Kevin Lee sources his cornmeal from a farm in Waimanalo. In fact, this golden variety of corn was bred specifically to thrive in Hawaii's climate. What's more, this corn is both locally grown and ground!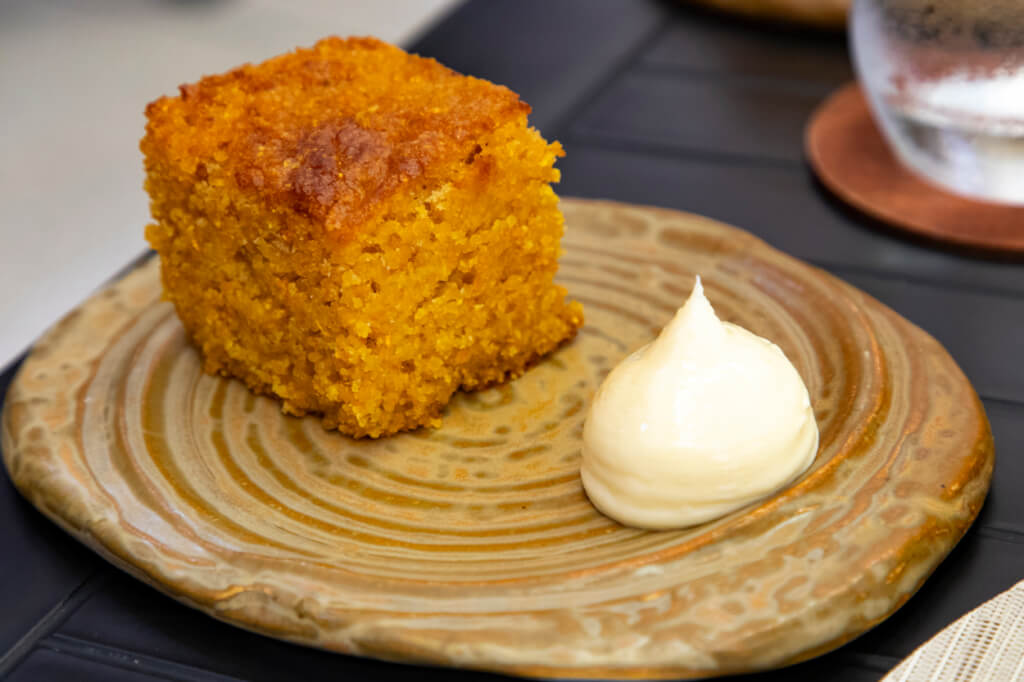 Accompanying the cornbread is a whipped miso honey butter—the sweet-salty-umami butter pairs nicely with the rich, moist cornbread. In fact, I found that the more you put on the cornbread, the more the butter helped enhance its flavor. Yum!
Samoan Crab
The first official dish of the night was a local delicacy – Samoan Crab. Originally introduced from American Samoa, Samoan Crabs are a HUGE type of mud or mangrove crab. On this night, Chef Kevin Lee paired the crab with a corn pudding, red miso,  a ginger wasabi emulsion, and micro shiso.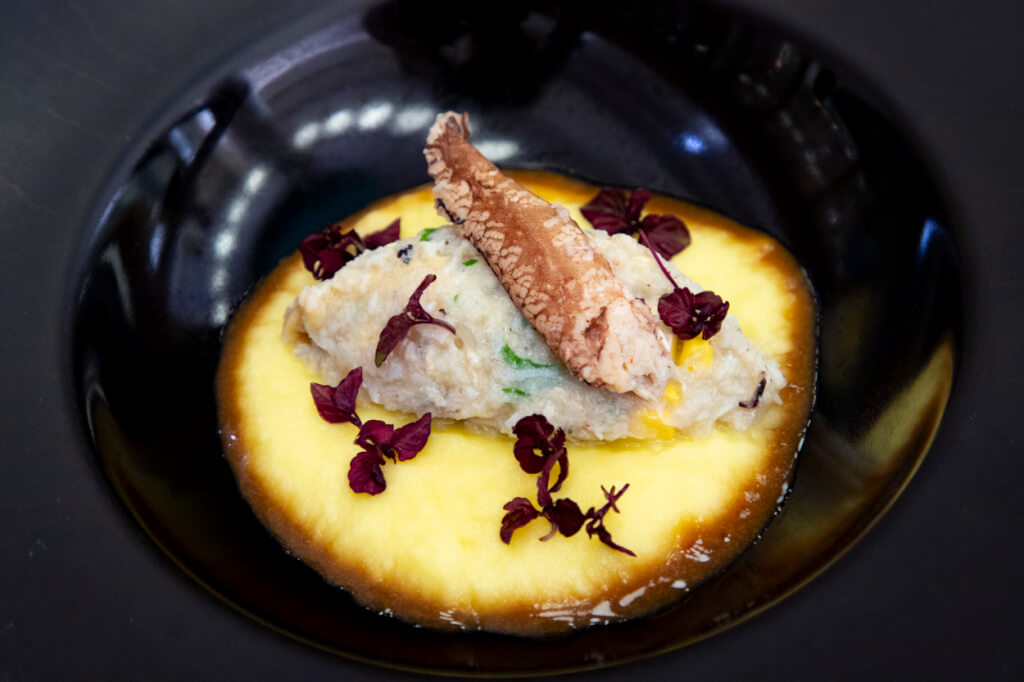 The crab itself actually came in two forms – a quenelle of crab meat, almost a dumpling with corn and herbs inside, along with a piece of leg meat. The sweet, sweet, oceanic crab meat is accentuated by the creamy, sweet corn, with the salty, umami miso further punching up the flavors. While the ginger and micro shiso ads some nice sharpness to help balance things out a bit.
"Tofu Salad"
Chef Brian Hirata's first dish of the night was a play on a local party/potluck favorite – tofu salad. In this case, however, he uses eggs to create a soy milk custard and tops it off with smoked Akule (big-eye scad), bean sprout namul, concentrated tomatoes, watercress, and toasted goma dressing.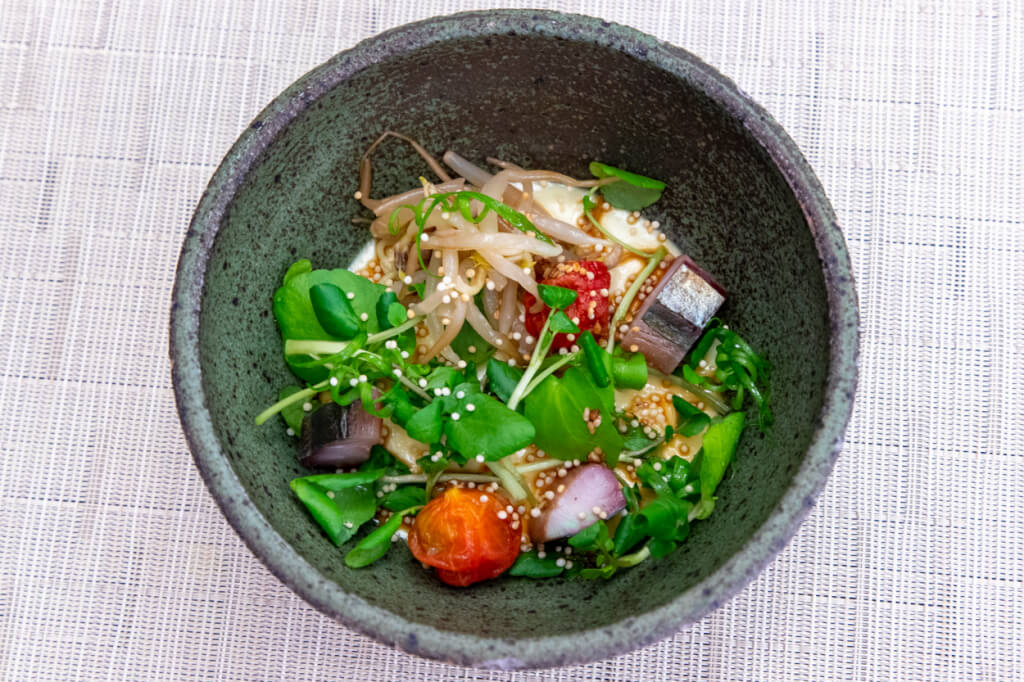 The tofu salad is as flavorful as it is colorful, evoking familiar flavors while also elevating them. The hot smoked Akule was artistry in itself, being both tender and meaty yet full of great smokey flavors. Of course, the richness of the fish and the soy milk custard is countered by the acidic tomatoes and the mild watercress. Superb.
'Nduja & Goat Cheese Arancini
Course four was prepared by Chef Kevin Lee and featured giant arancini. Unlike the usual bite-sized balls of deep-fried risotto, Chef Lee's interpretation wraps a whole soft-cooked egg inside a shell of crispy, crunch nduja & goat cheese risotto served on a bed of mentaiko mouse.
This was one of the richest dishes of the night. A mix of Italian, British, French, and Japanese influences, the crispy rice shell gives way to soft white and a liquid egg yolk. The yolk spills out into the mousse, thinning it a bit and helping to make a sauce. Now, I don't think this dish would've worked if Chef Lee didn't incorporate the 'nduja or mentaiko. The spiciness of the two ingredients really helped to balance the richness, as did the microgreens. If I had one complaint, though, it's that I wish there were more risotto. A thin layer of creamy rice under the perfectly crisp shell would've been great!
Local Pork & Tako Ragu
In the first collab, Chef Kevin Lee made a wonderful tako and luau lasagna – he's known for making excellent pasta. However, this time, Chef Brian Hirata flexed his pasta-making muscle, whipping up a pork & tako ragu over 'uala (sweet potato) garganelli. The pork in the dish is a local pork bacon paired with Hawaiian tako in a sauce made from Wiamea-grown tomatoes,  pasta made with sweet potato greens, and garnishes of wild fennel. The tako was caught by Chef Hirata's friend down in South Point on the Big Island, while Chef foraged the wild fennel from the same area.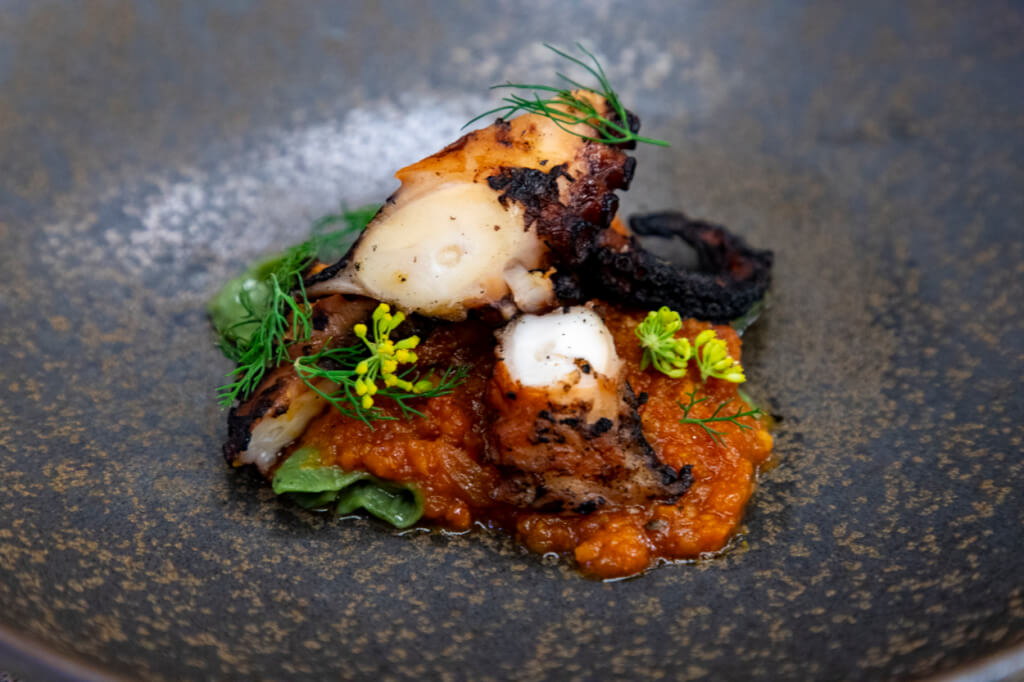 You know, I thought the tako pasta at et al was good, but this version puts that one to shame! Don't worry et al, I still love your pasta, though. The tako, despite its deep char, remains incredibly tender – almost buttery tender. The umami-packed tart tomato ragu fortified with lardons of locally-made bacon really helps to enhance the meaty smokiness of the tako.
Helping to cut through these assertive flavors and, in its own way, add some additional cohesiveness, were the mild fennel fronds and flowers, along with the punch-you-in-the-face green fennel seeds! I love fennel, but this was my first time trying fresh fennel seeds. And, while they're STRONG, when properly used, they really help to tie things together. Oh, and the pasta? It was perfectly toothsome and wonderful. This, by the way, is how green veggie pasta is supposed to look – very different from the one I got from Adela's.
Kampachi
Don't let the simple name of Chef Kevin Lee's final dish of the night fool you – this was a delicious, nuanced dish! Here, Chef Lee presents us with a seared piece of locally-raised Kona Kampachi served atop a luxurious taro gratin in a pool of hibiscus beurre rouge with purred luau leaf and Lee's signature smoked fire water – chef's riff on Hawaiian Chili Pepper Water.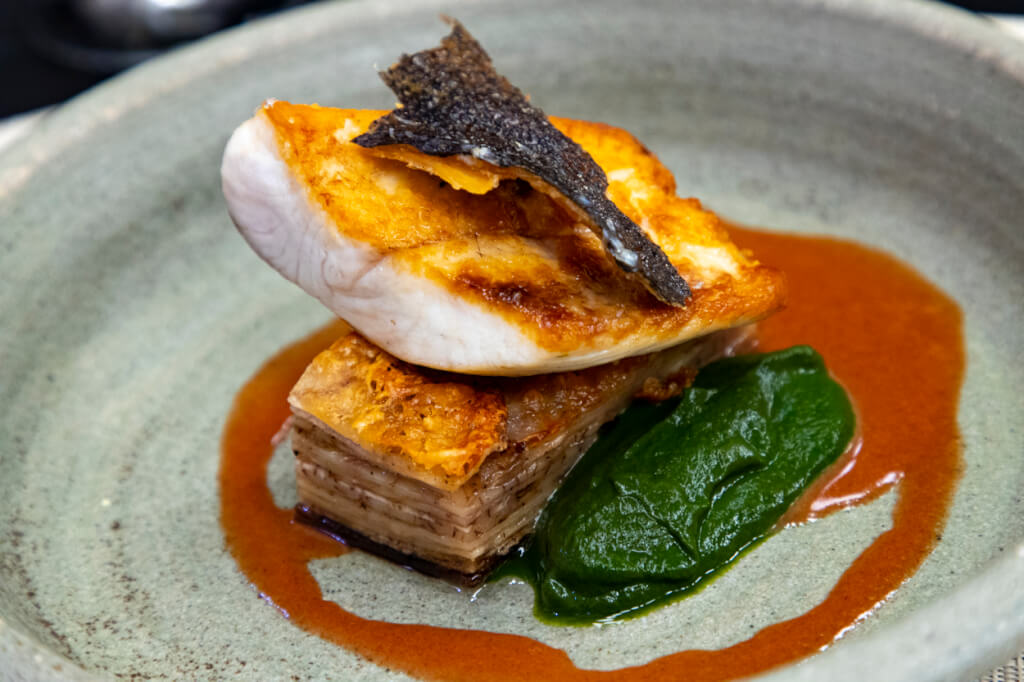 The fish was, without a doubt, perfectly cooked. A nice hard sear on one side gave way to succulent meat on the inside. I also loved the kampachi chicharron with its little bits of meat clinging to the skin and perfect saltiness. The super buttery taro gratin was both familiar yet different, the taro lending a more complex, nuttier flavor than standard potatoes. The pureed luau leaf's sharp vegetal bitterness helps to offset all the richness from the buttery gratin, while the slightly spicy beurre rouge had a slightly fruity-floral note that helped to bring further balance to the dish. Did I mention this was good? No steak is required when you've got a dish like this!
Mom's 'Ohelo Berry Cheesecake
Now, I have to admit, the cheesecake is about half the reason why I booked a table at the Na'au Hilo x PAI collab 2021 part 2 dinner. It's a dish of Chef Hirata that I've been wanting to try for a long time now. And, when his publicist told me that he was featuring it because of my and my friend Stars_Beards_and_Diamonds constant asking, I knew I couldn't pass up this dinner.
A Quick Lesson on 'ohelo berries
For those of you that don't know, 'ohelo berries are an endemic berry uniquely adapted to live in harsh volcanic environments from about 2,000 to 12,000-foot elevation levels. They are related to cranberries and very much taste like them! What's more, 'ohelo berries are deeply engrained in the culture of the Kanaka Ma'oli and are an important food source for the endangered Nene goose.
A popular endemic food item in Hawaii, it's a bit of a rare treat, especially if you don't live on the Big Island. Most of us have never tried 'ohelo berries outside of preserves. So to have this cheesecake featuring a fresh 'ohelo berry compote, 'ohelo berry fluid gel, and foraged sheep sorrel was a rare and delicious treat.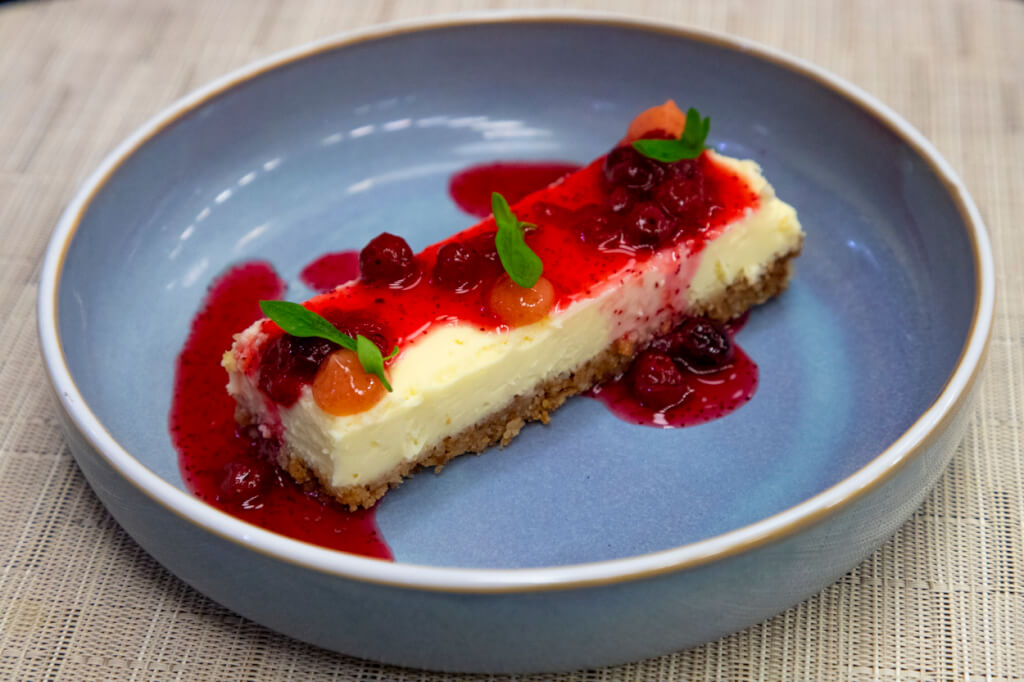 The 'ohelo berry compote, made with the red berries (they range in color from saffron to magenta to periwinkle) tastes like a sweet-tart-bitter cranberry compote, though with a more subtle, nuanced flavor. The fluid gel, made with yellow 'ohelo berries, helped to enhance the flavors with a little more sweetness. The sheep sorrel, further tied things together by lending a lemony-vegetal component.
As for the cheesecake itself, the recipe developed by Chef Hirata is an homage to his mother and tastes a lot like the cherry/blueberry cheesecake tarts you often see at local gathers. The primary difference here was the use of a graham cracker crust rather than a Nilla Wafter. It's a very rich, decadent dessert, but one I liked enough to shove into my already ready-to-rupture belly.
Na'au Hilo + PAI Honolulu Collab 2021 Part 2, Final Thoughts
I think I said this before, but, outside of maybe Noma, I doubt you'll pay as much for a meal without your typical luxury ingredients like truffles, wagyu, foie gras, etc., and still come away amazed. You truly won't find flavors like these anywhere else, particularly with Na'au. While both restaurants seek to channel the flavors of our diversity here in Hawaii, Na'au also seeks to present flavor of the islands. Nowhere else will you ever get to literally taste the REAL Hawaii. So, whether you're a resident or a visitor, I encourage you to seek out these two excellent restaurants. Not only will you come away with a wonderful experience, but you'll be supporting great people, and may even learn something from your time with them.
Oh, and for those of you that live in the New Jersey/New York area, Chef Hirata is coming to you! Even better, tickets are now available for the Na'au Hilo x Elements collab dinners in Princeton, NJ, on October 8 and 9. Plus, Na'au will be popping up at Lawrence Township in Lawrenceville, NJ on October 10.