Just over a year ago, I got to attend one of the most remarkable culinary experiences I've ever had – the Na'au Hilo x PAI Honolulu collaboration dinner. And this past Sunday, I got to do it again at the Na'au Hilo x PAI Honolulu Collab Dinner 2021.
It feels as if years have gone by since the first Na'au Hilo x PAI Honolulu collab dinner. That event took place on January 12, 2020, just over two months before the reality of the COVID-19 pandemic set in across Hawaii. It was a joyous event that packed PAI Honolulu's cozy downtown restaurant to the brim! There, local foodies intermingled with one another, listening to the chefs reciting the inspirations behind their dishes and enjoying their groundbreaking cuisine. Fast forward to just over a year later, though, and the world is an entirely different place. That this dinner would even be possible was by no means a sure thing. But, the teams at Na'au Hilo and PAI Honolulu persisted and made it happen. So, here's how this revolutionary new-age dinner went down in what can only be described as strange and difficult times.
The Na'au Hilo x PAI Honolulu Setting
For the Na'au Hilo x PAI Honolulu Collab Dinner 2021, guests still had to secure their seats in advance. This time, though, we got a choice of the dining room or outdoor seating. What's more, there were two seatings with strict control capacities for both health-safety and strategic reasons. With all the health concerns and travel restrictions, there would be no stages this year, nor anyone from Na'au Hilo's team aside from Chef-Owner Brian Hirata. The dinner was prepared and served exclusively by Chef Hirata, PAI Honolulu Chef-Owner Kevin Lee, and PAI's excellent wait staff.
Health checks were also in full-force with mandatory temperature screening and contact tracing forms. Table spacing was more than the recommended six feet apart. And, each table had a large bottle of hand sanitizer available for us to use.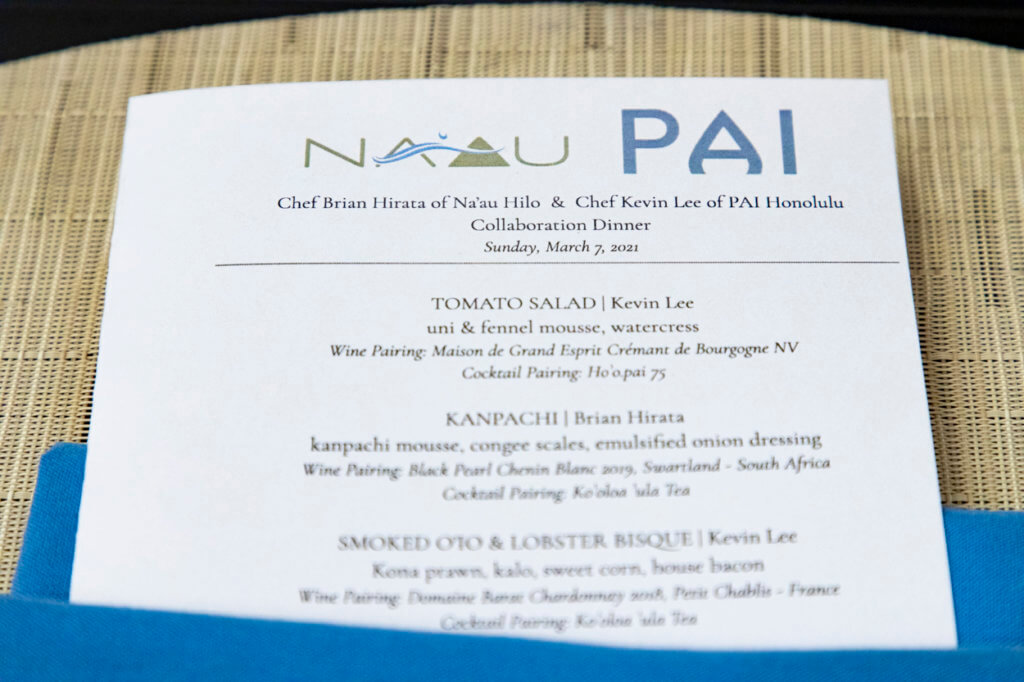 Na'au Hilo x PAI Honolulu Service
It goes without saying that the service was fantastic – it always is at PAI. But, the major difference this year was the lack of recitals by the chefs. Part of what made the first dinner so special was hearing about their inspirations. That said, the split dining situation and health concerns meant that this wasn't possible – and I'm ok with that. The servers did a good job explaining the dishes nonetheless, and the lack of a back story didn't make the dishes any less enjoyable.
With that, let's got on to the important part of this write-up – the food.
Mocktails
To start, the wife and I ordered PAI's excellent mocktails – hey, I'm a lightweight, our seating was at 7:30 pm, and I had to work the next day, lol. My wife went with the Strawberry Ume Soda while I got the Yuzu Sparkle. The soda has a nice, light, natural strawberry flavor cut with a mild salty/sour flavor from the ume. The Yuzu Sparkle, on the other hand, is far more assertive in flavor. Both worked great as palate cleansers for what turned out to be a fairly rich meal.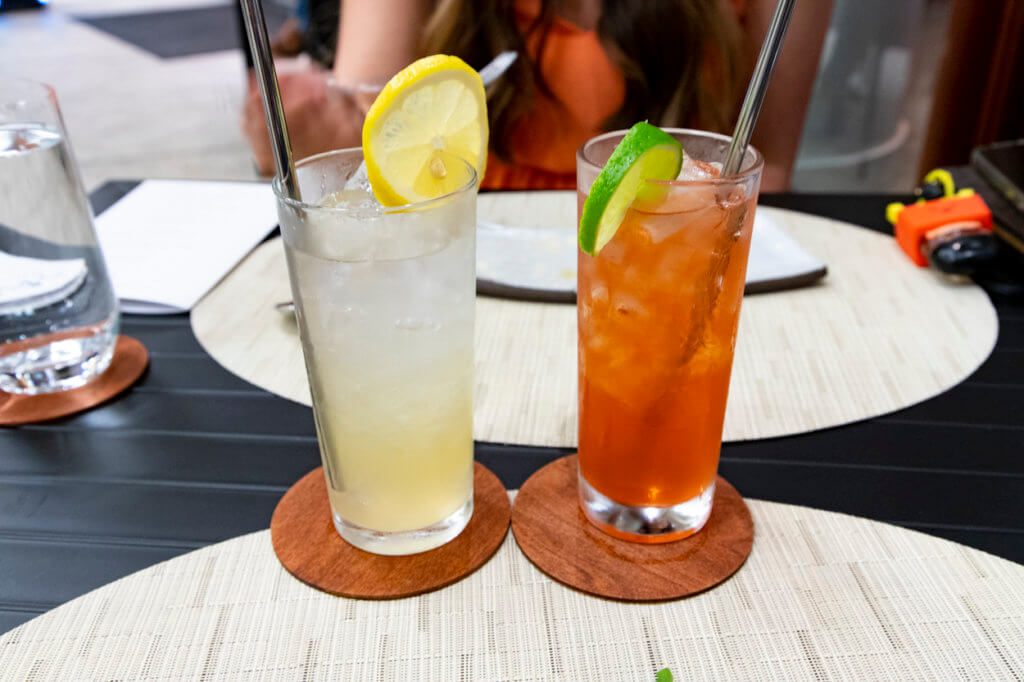 Tomato Salad
The first dish of the night came from Chef Kevin Lee – Tomato Salad. Here, the chef combines what I think are roasted tomatoes with rich uni & fennel mousse, fresh watercress, and crispy croutons. The result is a perfectly balanced dish with the sweet/acid/umami of the tomato undercutting and enhancing the rich, creamy mousse. Honestly, this dish was akin to eating a tomato bisque in salad form and was a nice, refreshing way to kick things off.
Kanpachi
Course two was Chef Brian Hirata's first of the night – Kanpachi. Farmed on the Big Island, Kona Kanpachi is a fantastic, sustainable fish. Last year, we got a sous vide preparation of this delicate fish, but this year Chef decided to sear it instead. However, to take the dish to the next level, Chef Hirata painstakingly made over 1,500 "scales" from congee (Chinese rice porridge). Then, each scale was meticulously placed on the fish one-by-one by local marketing guru and my friend, Gem, over the course of five hours that day! Pan-seared right before service, the crunch/chewy scales pair nicely with the succulent fish. The emulsified Maui onion sauce poured tableside compliments the fish without overpowering its delicate flavor, while the single leaf of bok choy helps to counter the richness of the dish. Superb.
Smoked O'io & Lobster Bisque
Dish three was another Chef Kevin Lee creation – Smoked O'io & Lobster Bisque. This dish is a special treat because of its use of O'io, or bonefish. As its name suggests, O'io is a very bony fish – too much to cut filets from normally. As a result, O'io is often scraped off the bones and made into fish cake here in Hawaii. But Chef Lee took it upon himself to do the arduous task of deboning O'io filets for this special dinner. The filets are then smoked and seared for service with his Lobster Bisque alongside perfectly cooked Kona shrimp. But Chef Lee didn't stop there. He gave us a perfectly fried shrimp head to go along with the bisque, makes his own bacon, and draws inspiration from Chinese cuisine to give us taro puff-like croutons. The resulting dish is an ode to umami.
The soup itself is full of savory, smokey, roasted flavors, which is further amplified by the smokey, meaty, crisp O'io filet and bacon chunks. The sweet, meaty shrimp adds yet another layer of umami to it all, as does the shrimp head, which also adds some crunch. Fresh kernels of corn add additional sweetness and texture, while the aforementioned taro also lends some airy crispiness. Finally, the pea tendrils add yet another sweet, vegetal counter to the dish.
I was tempted to pick up the dish and lick it clean.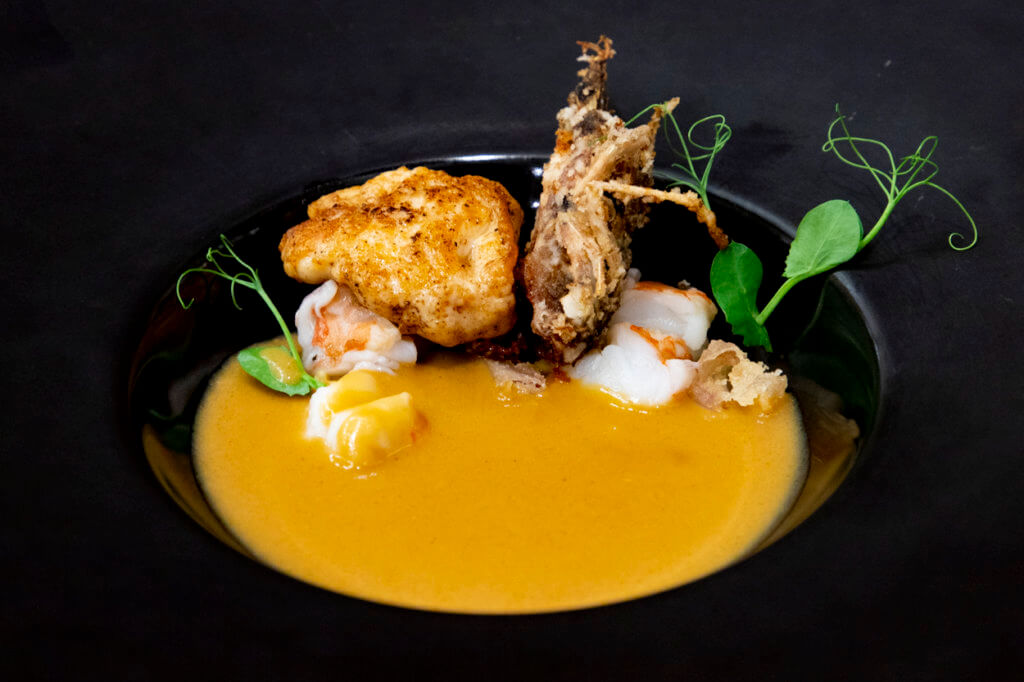 Mauka to Makai
Course four swings the spotlight back over to Chef Brian Hirata with his interpretation of a surf & turf – Mauka to Makai. Rather than serve us the standard steak and shellfish one would expect, Chef Hirata, takes inspiration from Chinese cuisine for this dish. Here, Chef serves up Hon Sao Rou (braised pork belly) utilizing pork belly from an invasive wild hog. This is then paired with braised Kona abalone and served with cheung fun, jicama, and pork chicharrones.
Immediately, the flavor of the pork was familiar to me – it tastes like char siu! But prepared this was as a braise made of pork belly, it's much more unctuous. The abalone provided a nice counter to the melt-in-your-mouth pork thanks to its sturdier texture, while the jicama and chicharrones added crunch. The jicama also served as a counter to what was an otherwise very rich dish. Oh, and that cheung fun? This was far more dense and chewy than I'm used to, but I really enjoyed the texture. In fact, I think it needed to be that almost mochi-like consistency to stand up to everything else in this dish.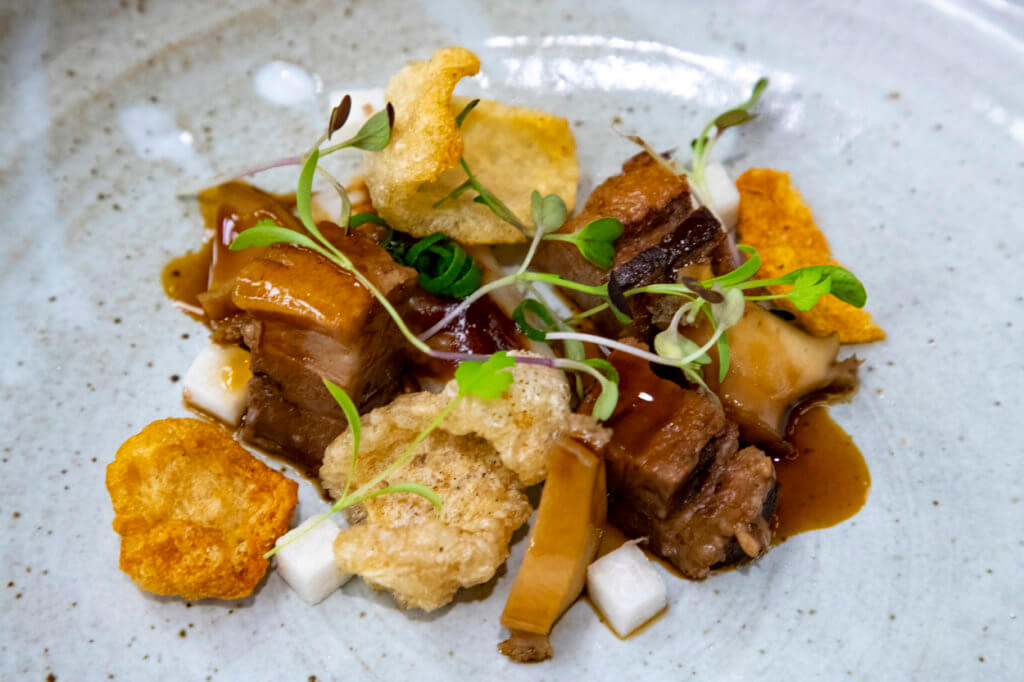 Kona Lamb Pastele
Serving up the final savory course of the night, Chef Brian Hirata returns with Kona Lamb Pastele. What can I say? This dish tastes like pastele taken to the next level. Chef's achiote garlic oil really ratchets up the dish's savoriness, as does the inclusion of crispy fried garlic bits. In a testament to his skill, though the lamb featured in this dish has no hint of gaminess at all. What we get instead are nice, clean, perfectly tender hunks of meat accompanied by perfectly cooked baby carrots.
From last year's Fish & Poi dish, the crispy poi makes a return the Kona Lamb Pastele, standing in from the traditional banana preparation. And, you know what? It works exceedingly well here. In fact, I think I like this interpretation better than the traditional one. Mallow foraged from the slopes of Mauna Kea and turned into a powder adds some color to the dish.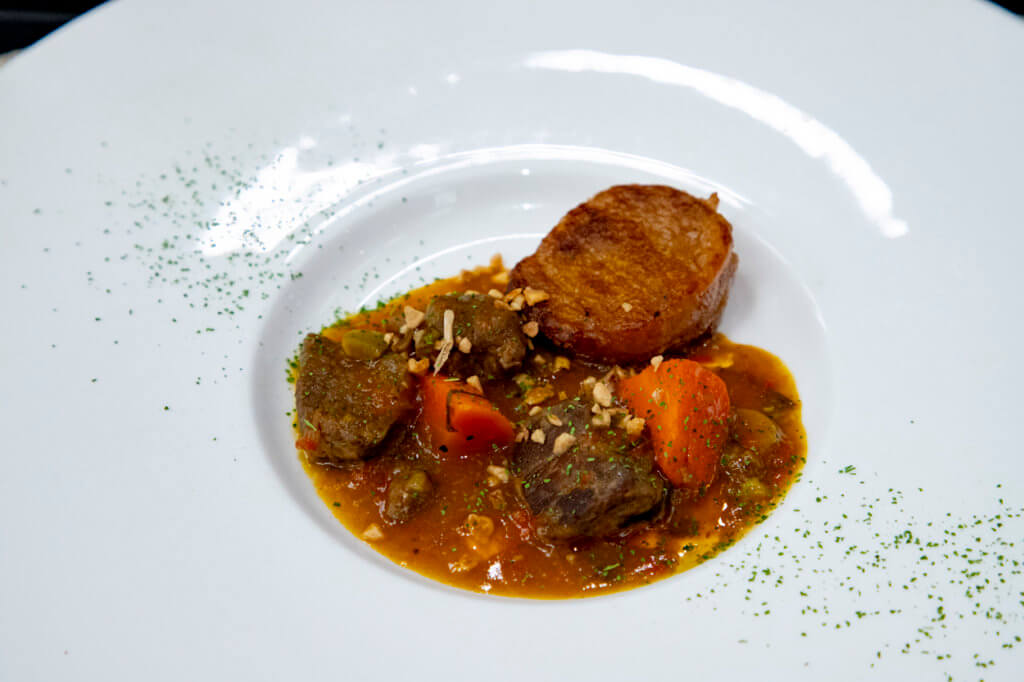 Mango Panna Cotta
As was the case last year, Chef Kevin Lee closed out the night with dessert. However, instead of serving us his iconic Chocolate Haupia, he served up an ode to small kine kid time flavors – Mango Panna Cotta. Now, mango panna cotta on its own isn't usually anything out of the ordinary. But, in Chef Lee's preparation, it comes paired with pickled mango gelato with a healthy sprinkling of bright red li hing powder. Yes, you read that right, PICKLED. MANGO. GELATO. Literally, a gelato that tastes like sour green mango that's been pickled – quite unusual for a creamy frozen treat like gelato. And the li hing powder only helps to reinforce this. But, it's a familiar most that grew up in Hawaii are familiar with.
The mango panna cotta itself is wonderful. Silky smooth, creamy mango goodness is paired with shards of crunch, nutty, toasty, sweet, slightly bitter black sesame brittle. It is, again, a very well-balanced dish and a fine way to close out a spectacular meal.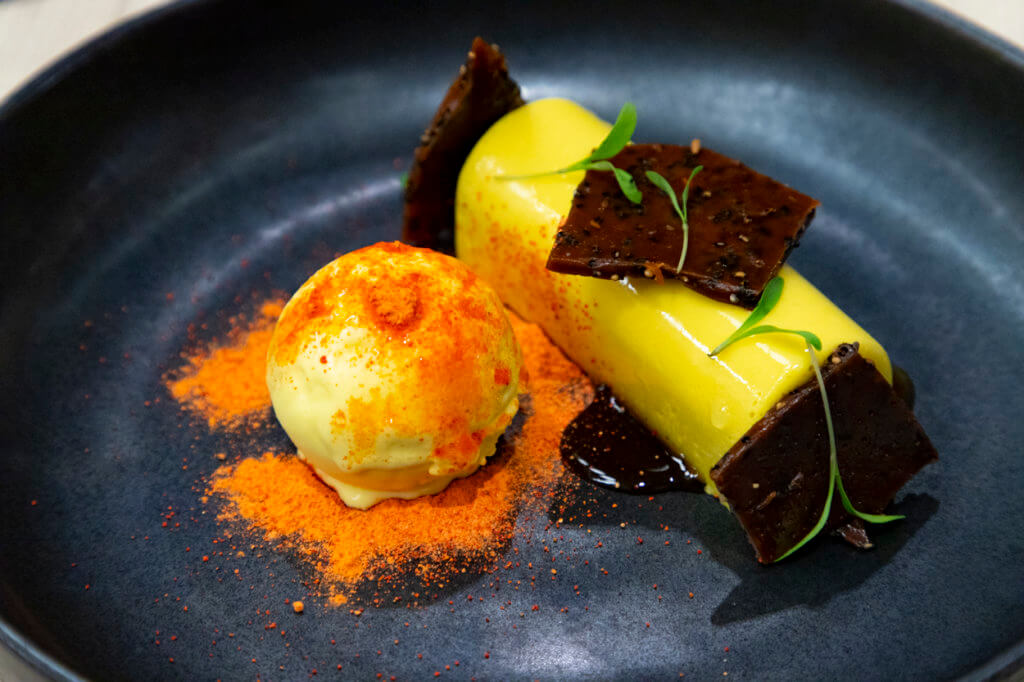 Na'au Hilo x PAI Honolulu Collab Dinner 2021, Final Thoughts
While the format change for 2021 was involuntary, it didn't detract from the fine cuisine put on by these two incredibly talented chefs. And while their dishes were all excellent and intriguing, I think they both made a conscious effort to tap into comforting flavors more this year. After all, we could all use some comforting after the year we've had. Either way, though, I can't wait to dine with these two again – both at their respective restaurants/pop-ups and at another collab in the future. I suggest you give them both a shot as well if you haven't already.