Last updated on January 25th, 2017 at 09:56 pm
Kaikoura was our first scheduled stop on our 2015 New Zealand Road Trip. 
New Zealand Road Trip – 5 Days in a camper van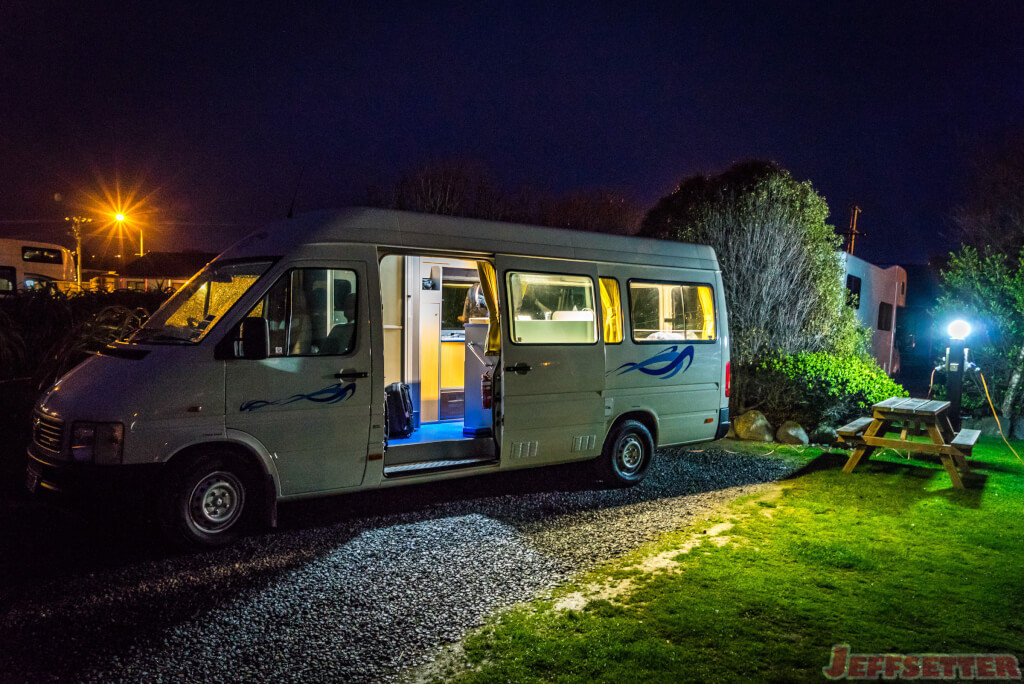 You may have read about our camper van rental. In this series of posts, I am sharing our route for our New Zealand road trip from Christchurch to Auckland.
Christchurch Camper Van Pick-up
In our review of our camper van, I told you a little bit about the pick up (my spaz and refusal to drive the camper van).
After picking up the van, we headed to Kaikoura our first stop on the road to Auckland. Our first day can be summed up in this video montage and the Drone Video at the end of this post
Here are the details of Day 1. If you have the attention span, then there is a bonus drone video at the end of this post.
We stopped for lunch just outside of Christchurch at Mainline Station Cafe.  This was a fun little stop with a kitschsy store to browse for trinkets. Great coffee and food!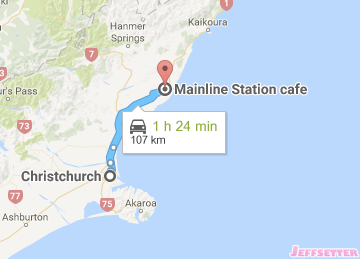 After lunch and cursing the camper van (first gear was horrible until we realized we could just start in second), we were on the road again.
Stop 1 – Kaikoura
We decided to stop in Kaikoura for the night.  Kaikoura is a quiet beach town during the spring. There is a great boardwalk trail and a wonderful seal colony.
Lodging
We stayed at the Kaikoura Top 10 Holiday Park at a powered site.
We bought a membership to Top 10 which gave us a discount and other benefits. The benefits have changed since our stay, so I would recommend just checking to see if the membership offer at the time is worthwhile for your trip.
Eating
Given our stressful first day learning the camper van mechanics, we decided that we earned a stress binge aka drinks and nachos.
We started at The Sonic Bar after a nice walk to destress. The Sonic serves beers from Mac's Brewery. They had a flight of beers, so obviously I had to order that.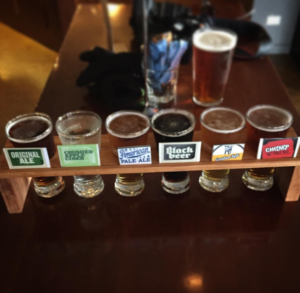 My favorite was the cider. I love New Zealand ciders – they are crips, not overly sweet and down right refreshing. Mr. J's was the Hop Rocker
After downing the flight of beer and nachos, we started our walk back to the holiday park. I demanded we have one more at  the Strawberry Tree.  A great little venue with a fireplace and real fire. We sat by the fire and had a pint.
We grab some groceries for breakfast, and the called it a night.
The next day for lunch we chose a food truck by the ocean, Kaikoura Seafood BBQ. Nothing like fresh lobster and fish stew to get your day going. Lobster is called Crayfish in Kaikoura. Highly recommend!
Experiences
Being in Kaikoura in early spring meant the beach was a little too cool to enjoy. We did walk along the beach through town and then over to the seal breading grounds to see the baby seals.
The best way to see what we did is in the photo montage video and this fun drone video flying over the seal colony.
Recommendation
Definitely check out the seal colony, springtime time all the babies are out and adorable, and eat some fresh lobster (crayfish).
Unfortunately, the most recent 2016 earthquake caused significant damage around the lovely seaside town.
The town and its people, itself weather fairly well – all things considered. However, Hwy 1 is closed in places on both sides of the town toward Christchurch and Picton.
You should check road conditions before venturing to Kaikoura.
Read about our other stops:
Stop 2 – Picton, ferry ride to the North Island
Stop 3 – Martinborough, pleasant surprise wine region