Aside from visiting the Starbucks Reserve Roastery & Tasting Room, we did a few other revisits and small, new things.  So here's our Seattle repeats and minor new experiences.
Besides the Starbucks Reserve Roastery & Tasting Room, there are three other places that I like to go to when in Seattle.  And our visit this past December was no exception.  So here are my Seattle standbys.
Rachel's Ginger Beer
I love ginger beer, and Rachel's Ginger Beer is, by far, the best I've ever had.  Not only is it not too sweet, but it has good flavor and a pleasant burn.  Ok, well some flavors are too sweet for my liking, but most aren't.  My favorite is the Passion x Vanilla for the extra twang given by the passion fruit and the roundness provided by the vanilla.
But, since there were so many of us this time around, we did make two separate visits and tried an assortment of flavors.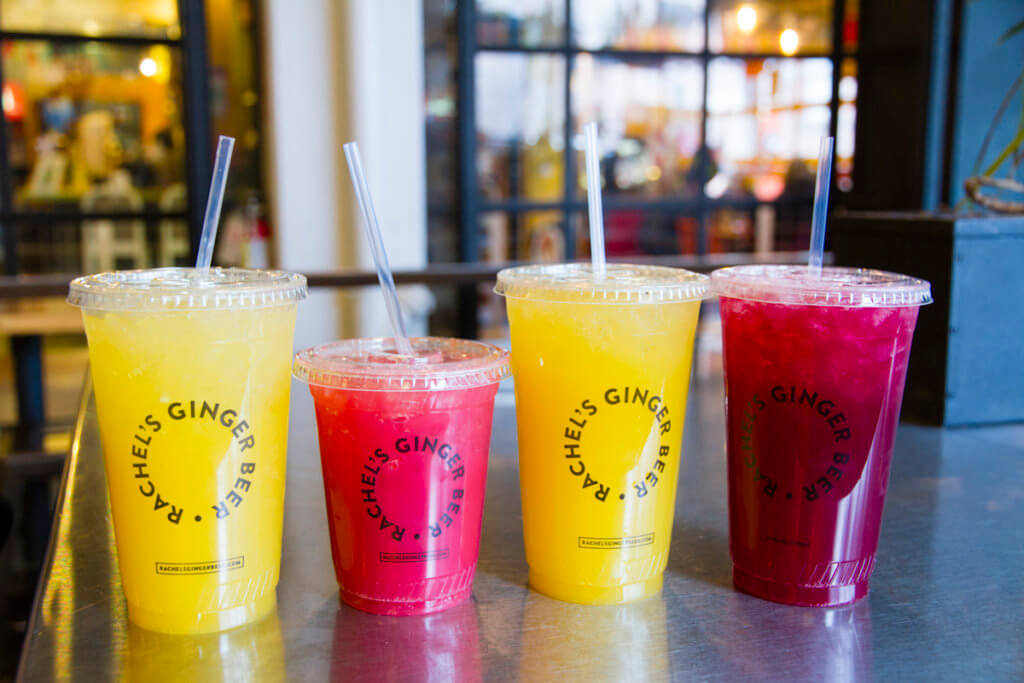 Serious Pie & Biscuit
Serious Pie is something I always have to have when in Seattle too.  I just love their crispy, chewy, thin crust pizzas, especially the mushroom version.  And, fall/winter is the perfect time to order this pie, as Chanterelles are in season.  The pizza comes loaded with these luxurious mushrooms, making it a great value.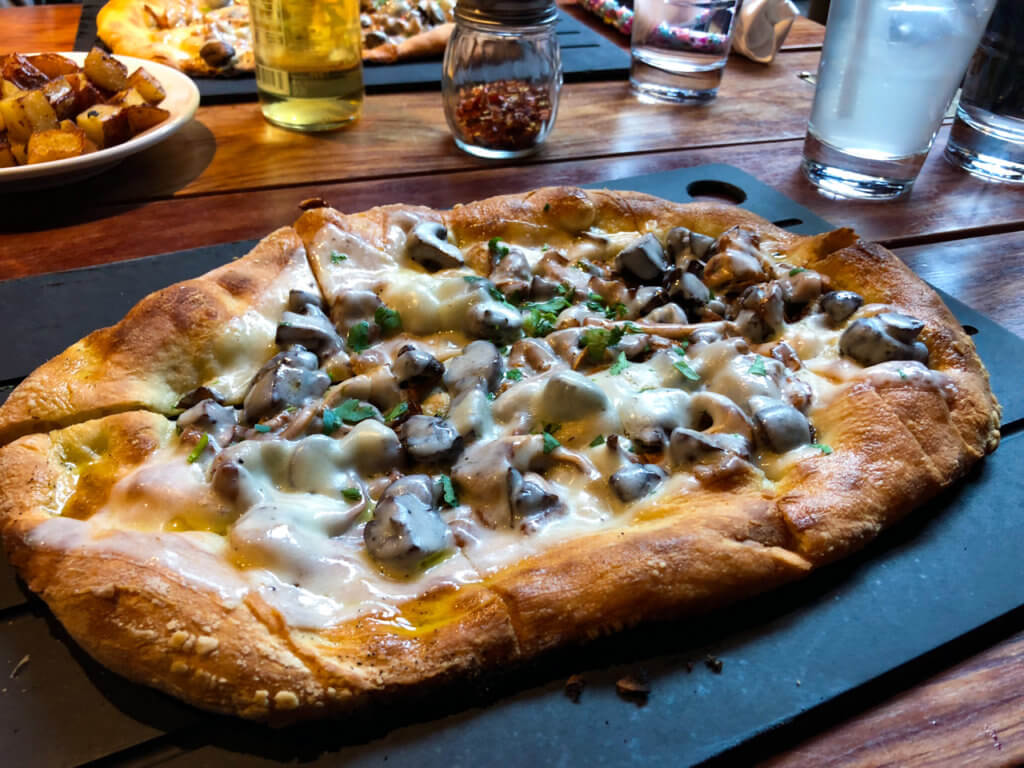 But with the Starbucks Reserve location gone, we headed over to the Serious Pie in Westlake.  This location also serves as a commissary for the rest of the Tom Douglas Empire, with a huge bakeshop downstairs.  Too bad we could order Dahlia Bakery's fantastic pumpkin pie here.  Next time I'll just have to order a whole one from the bakery.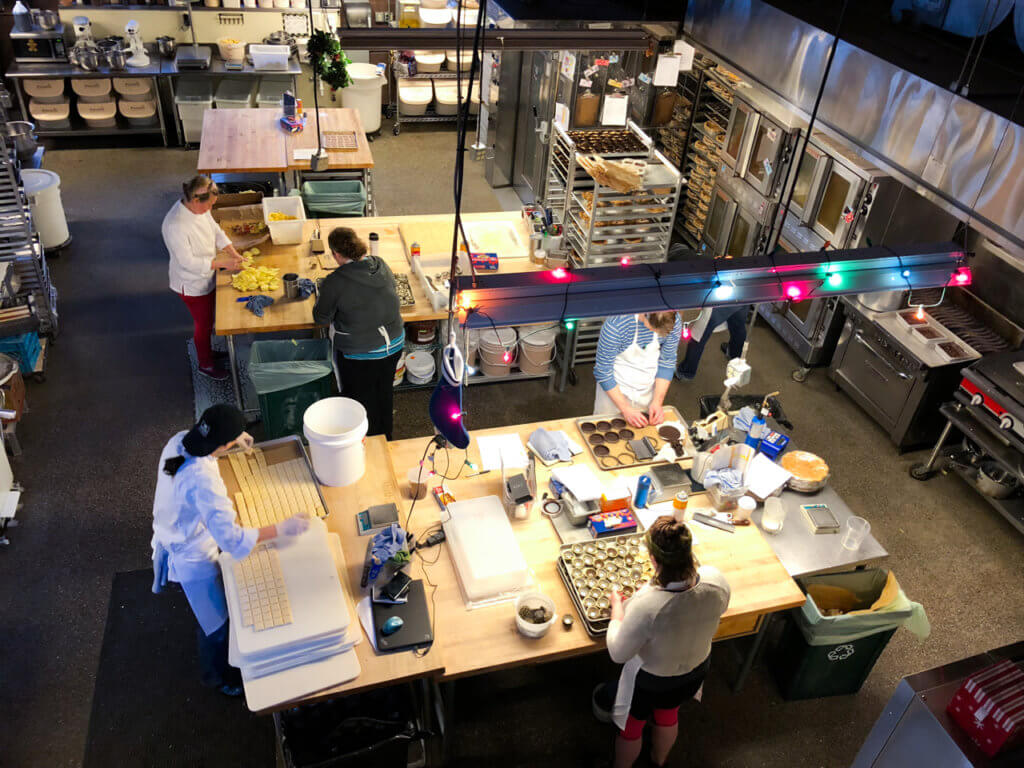 And, unsurprisingly, with two locations left, this Serious Pie was jampacked.  The wait wasn't too long, though, at around 30 minutes.  Service, however, suffered.  Though not outright rude, service was very cold and intermittent.  I'm hoping this isn't always the case, as I really do love that mushroom pie!
Goldfinch Tavern
I was on the fence about visiting Goldfinch Tavern this time around, but we did.  And it was a great place to have a holiday meal (a few days before) with the family.  I suppose this also meant that I technically had a third Rachel's Ginger Beer since I ordered by standard Market Mule.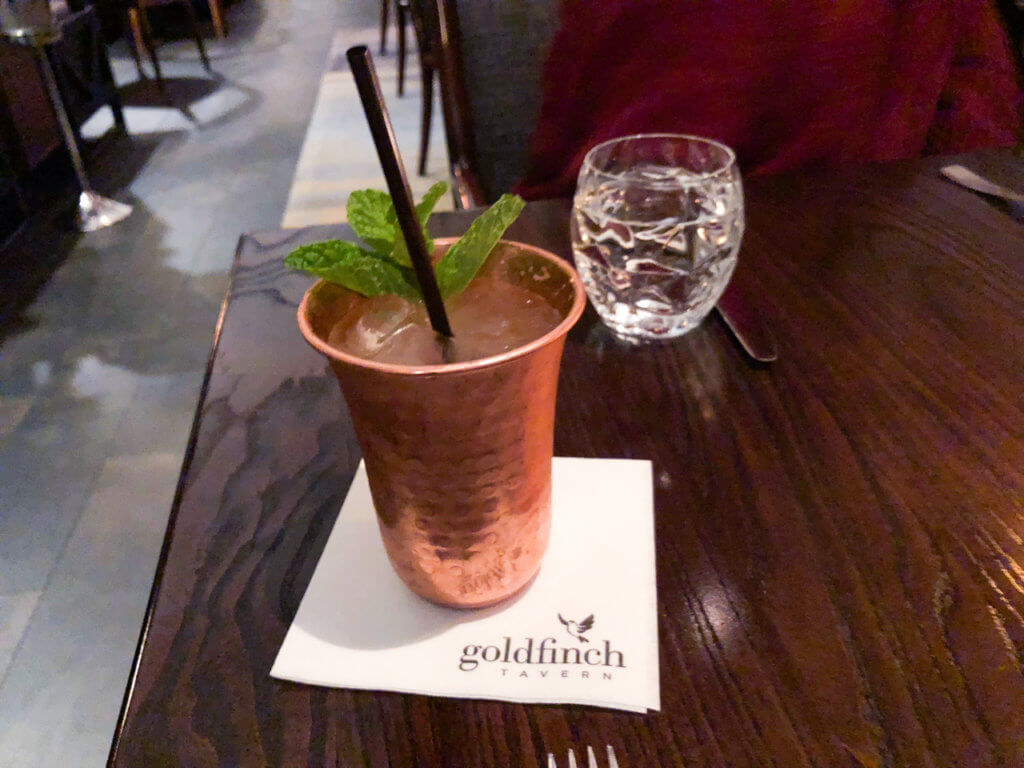 Unlike Serious Pie above, service at Goldfinch Tavern was fantastic.  We had more questions than usual, due to health concerns with some in our dining party, and our server handled everything without hesitation and with extreme care.  She was pleasant throughout, and even went above and beyond.  For example, Mrs. Island Miler and her sister were both debating between two dishes.  And when they decided to each order and share both, our server took note of that and brought out four plates with the two dishes already split.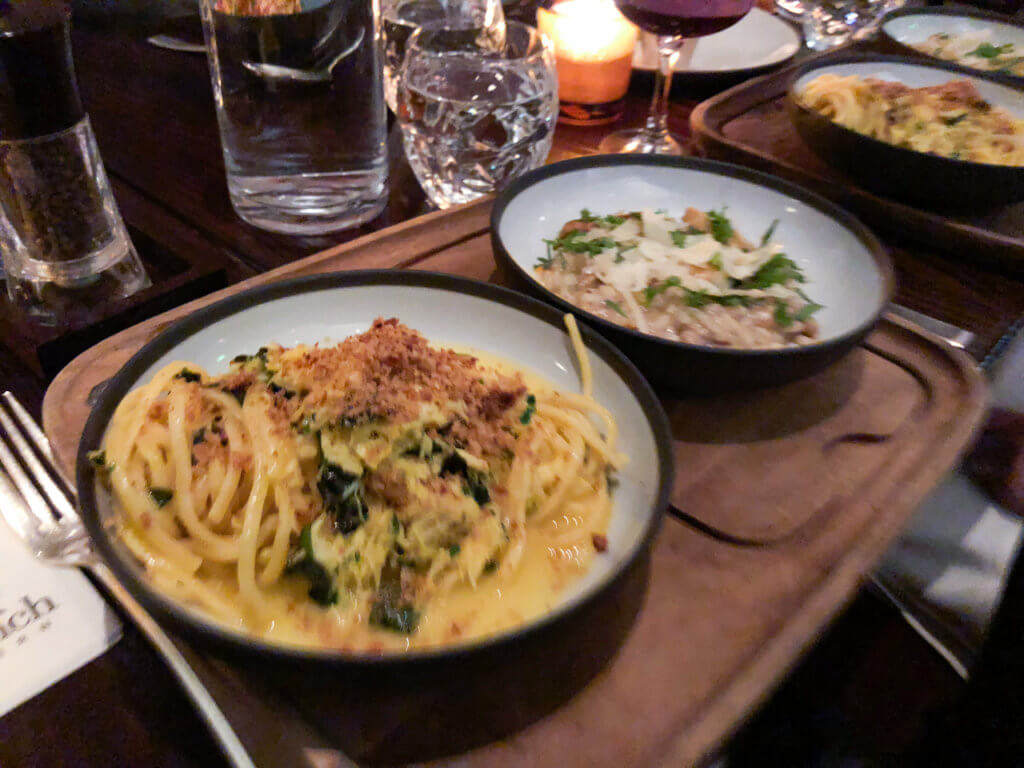 Sorry for the blurry picture, but they came on their own tray and were presented just as if they had ordered the full-size dish.  For example, below is what the Dungeness Crab Pasta looks like normally.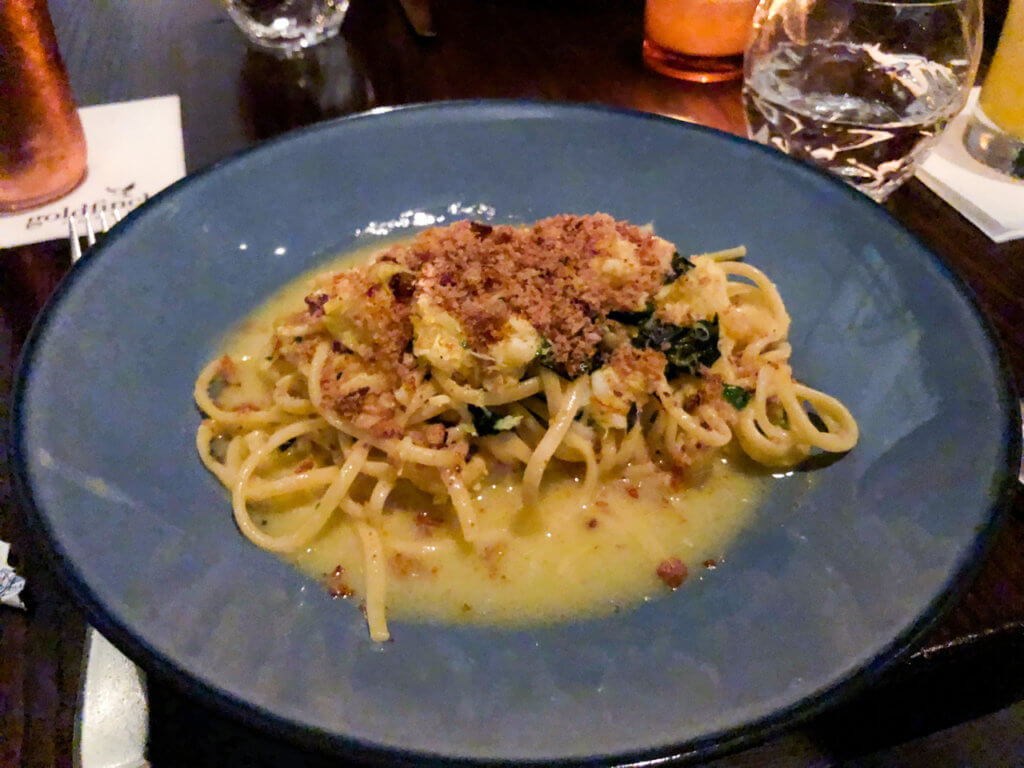 What was different about this visit, though, is we saw Conan walking through the restaurant.  It took me too long to figure out that was him, though, so, sorry, no picture.
We did do one repeat that isn't something we do all the time.  But with another AvGeek that had never been before, we decided to go again.
Boeing Factory Tour
There really isn't anything new to talk about here.  It's the same experience as last time, though it was just as exciting as last time for me.  Oh, and they began assembly work on the next gen 777.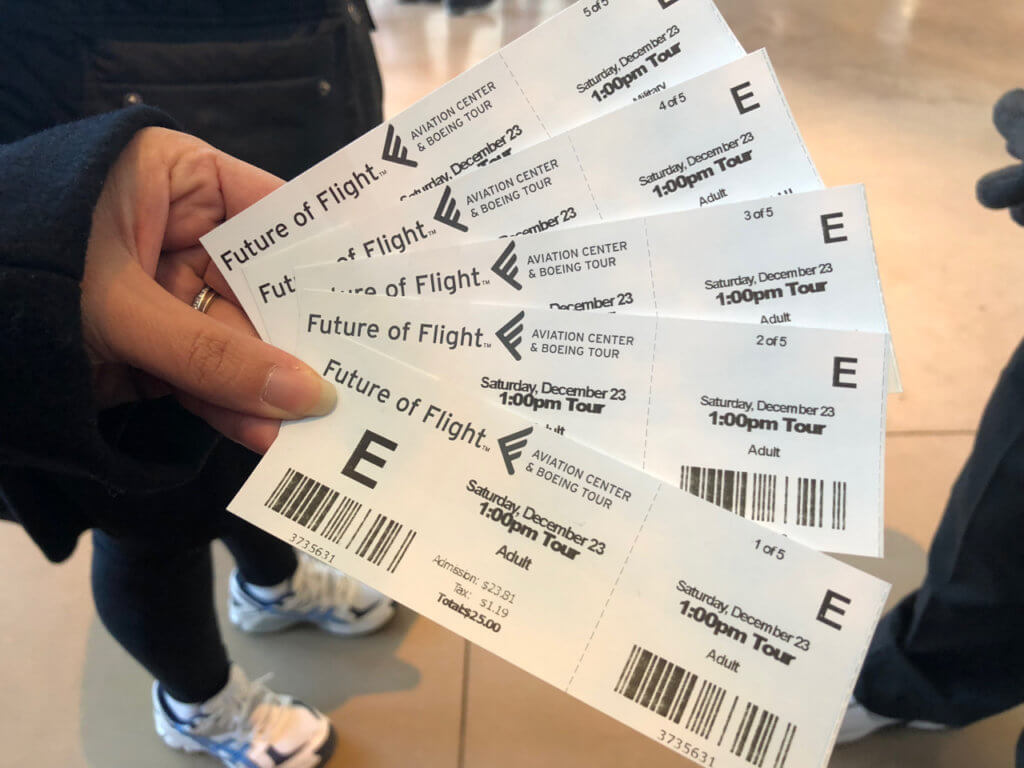 It's worth noting, though, that Boeing was on a holiday break during our visit, so the factory was very quiet.  So if you want to experience the noise of the assembly line, be sure to plan your visit outside of the holiday season.  If this doesn't bother you, it still is an excellent experience while quiet.  The planes are still there and the buildings are still overwhelmingly large.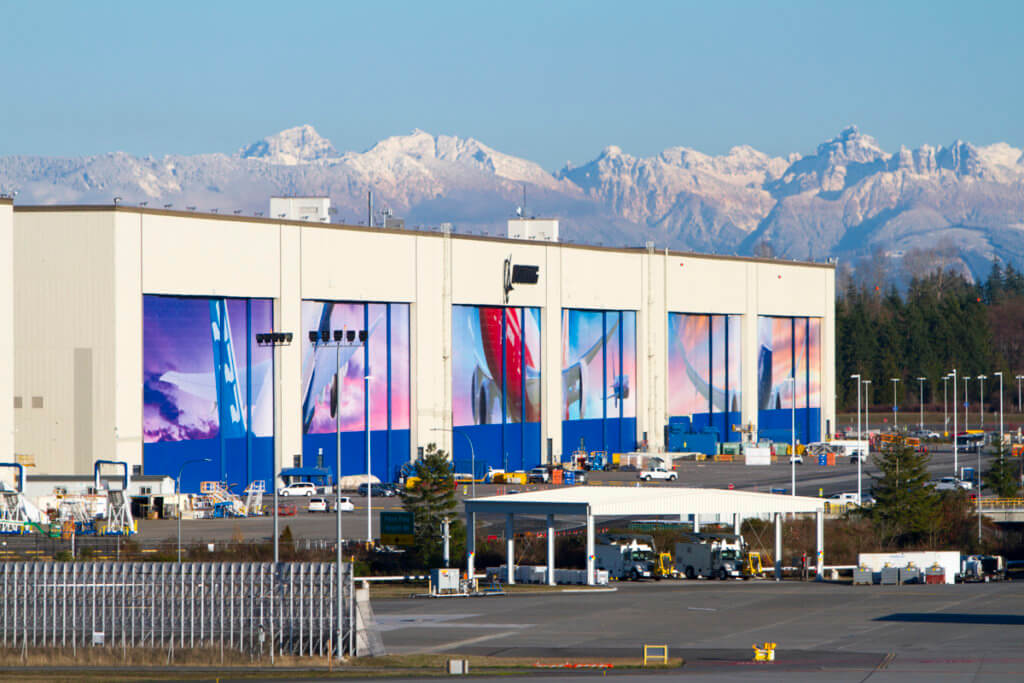 Oh, and I lied.  There was one new thing, though it isn't opened to the public.  The new delivery center opened since our last visit.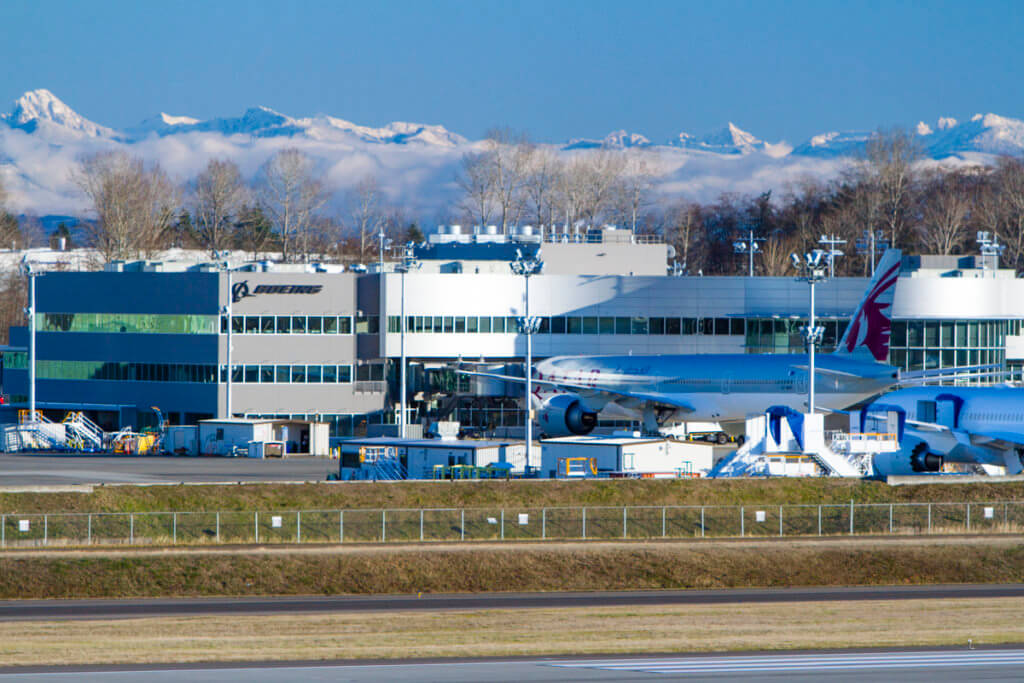 And, on the bus ride to and from the factory, we did see the USAF's new Boeing KC-46 Pegasus too.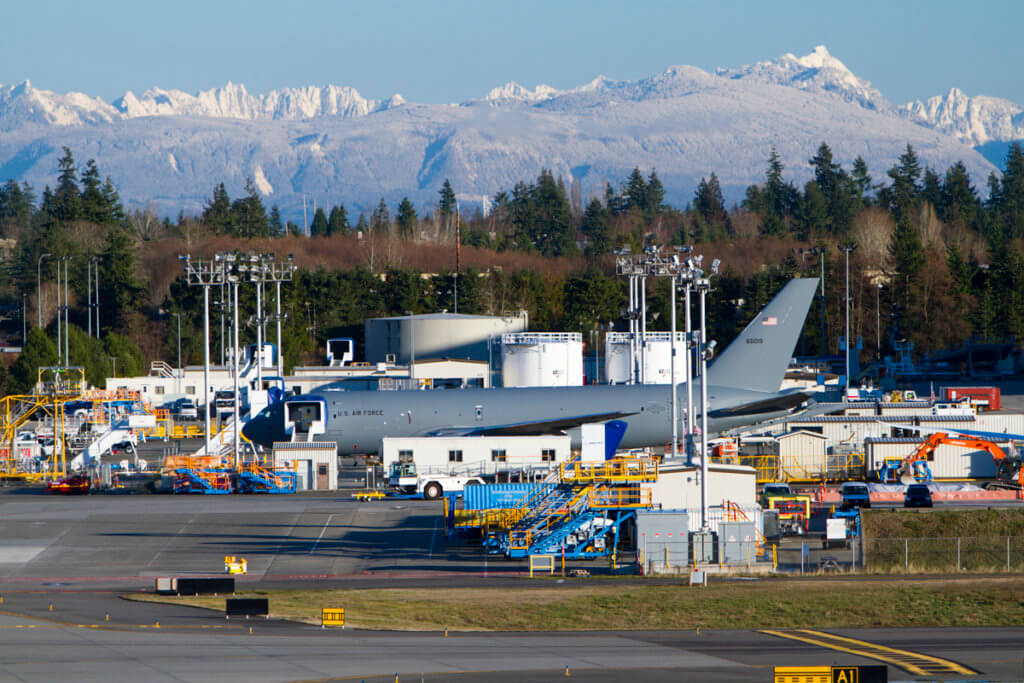 And that's it for the repeat stuff.  The remaining stuff in this post is new to me, and its, not surprisingly, all food-related.
Maneki
By the time Mrs. Island Miler and I had arrived, those we were visiting were already in Seattle for a month.  So familiar foods understandably become a craving, which is how we found ourselves at Maneki.  Located in the International District, Makeni is a Japanese food restaurant with a fairly broad menu.  However, it's popular and reservations are a must.  Reservations aren't something we had, though, luckily, they were able to squeeze us in.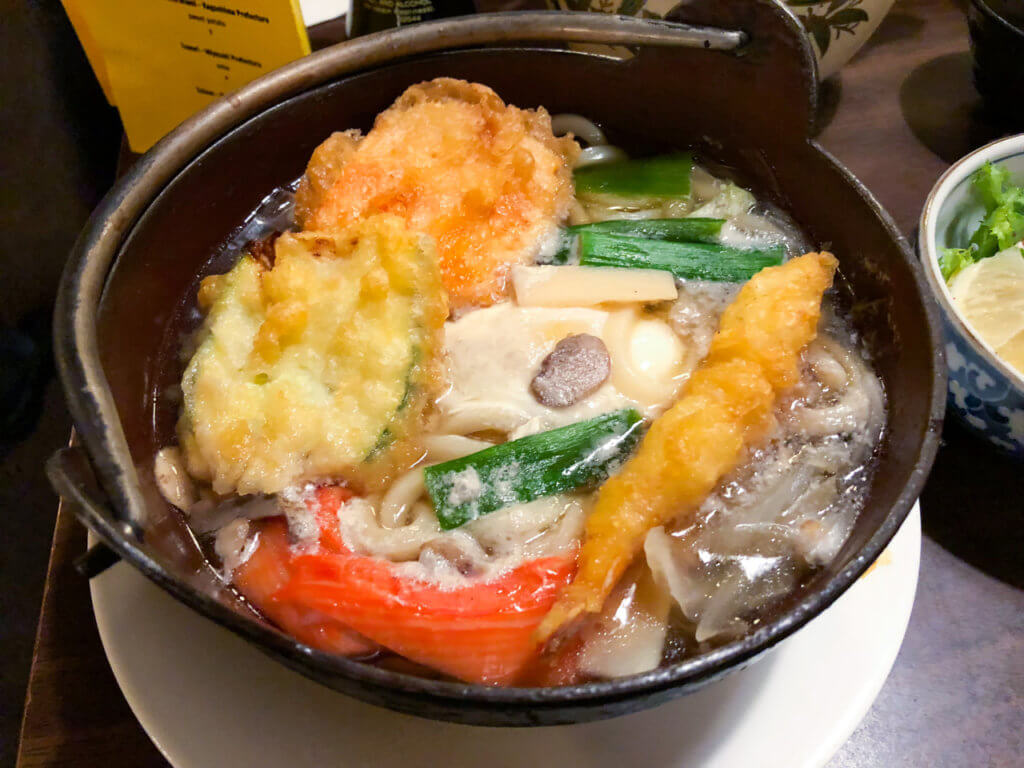 I had the Nabeyaki Udon, which I enjoyed, but the addition of button mushrooms threw me off.  The ochazuke also threw me off, as a $7 bowl was simply rice, a single ume, a pot of tea, and a packet of Nagatanien ochazuke mix.  Seriously?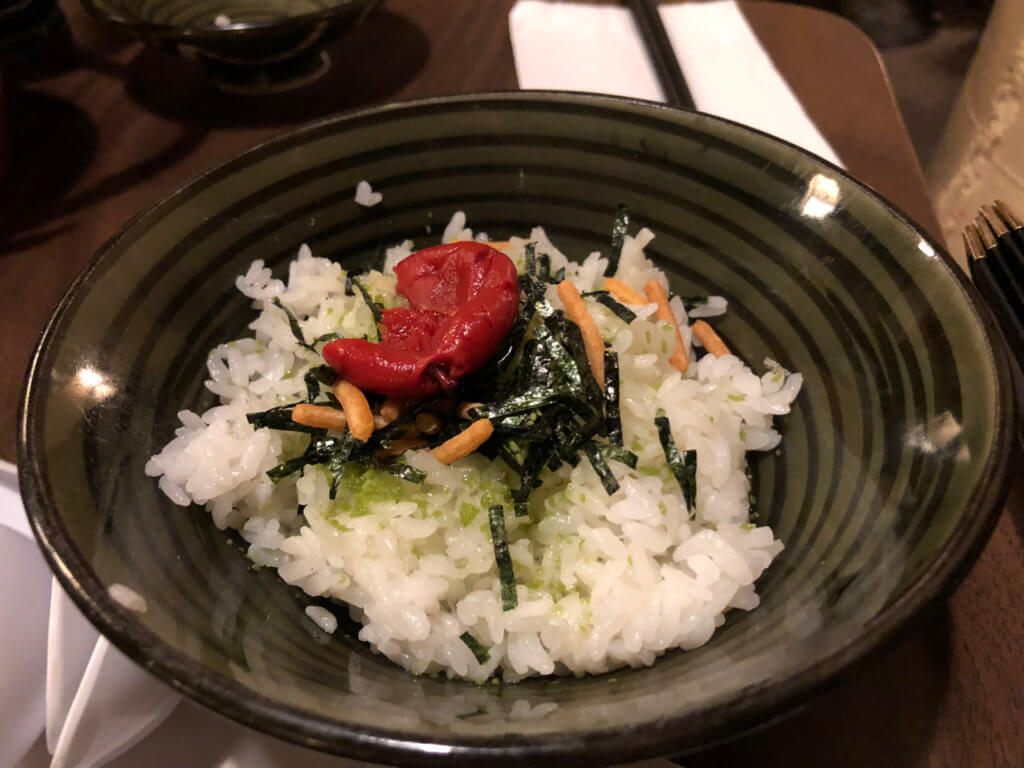 Service was courteous but reserved, and some items were forgotten.  Those forgotten items, though, would appear quickly once reminded.
Lunchbox Laboratory
This place was convenient for us while at the SCCA House.  And while the name sounds snazzy, Lunchbox Laboratory is really just a sit-down burger joint.  The menu, however, sounds promising and I was really hopeful going in.  I ordered the Psychedelectable, which is a "super-beef" patty topped with swiss, grilled onions, sauteed cremini and oyster mushrooms and black garlic truffle mayo.  own.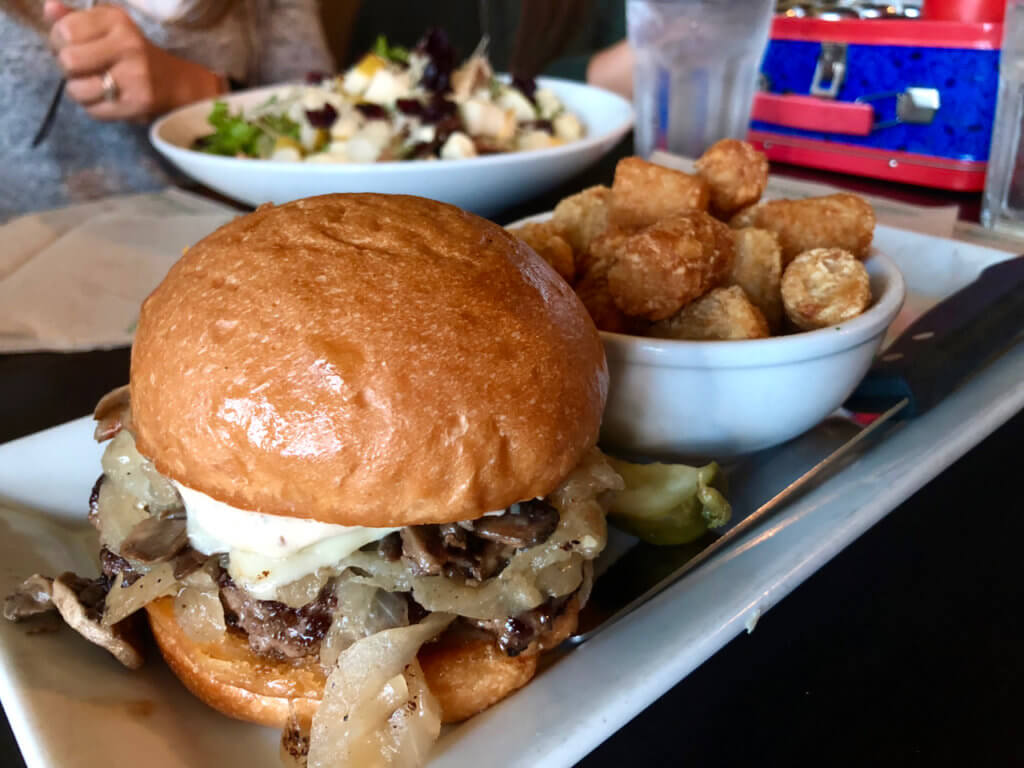 It was a total let down.  I thought the burger was under seasoned, while the mayo really didn't add anything to it.  Also, I doubt there were any oyster mushrooms in the thing.  The tater tots were crispy at least, though they were also under seasoned.  Nothing a few dashes of rosemary and garlic salts couldn't fix!
Cupcake Royale
We went grocery shopping at the Trader Joe's in Queen Anne.  And across the street from Trader Joe's is a place called Cupcake Royale.  They specialize in preservative-free cupcakes with a nice variety of flavors.  Liking cupcakes, Mrs. Island Miler wanted to give the place a  try, so we did.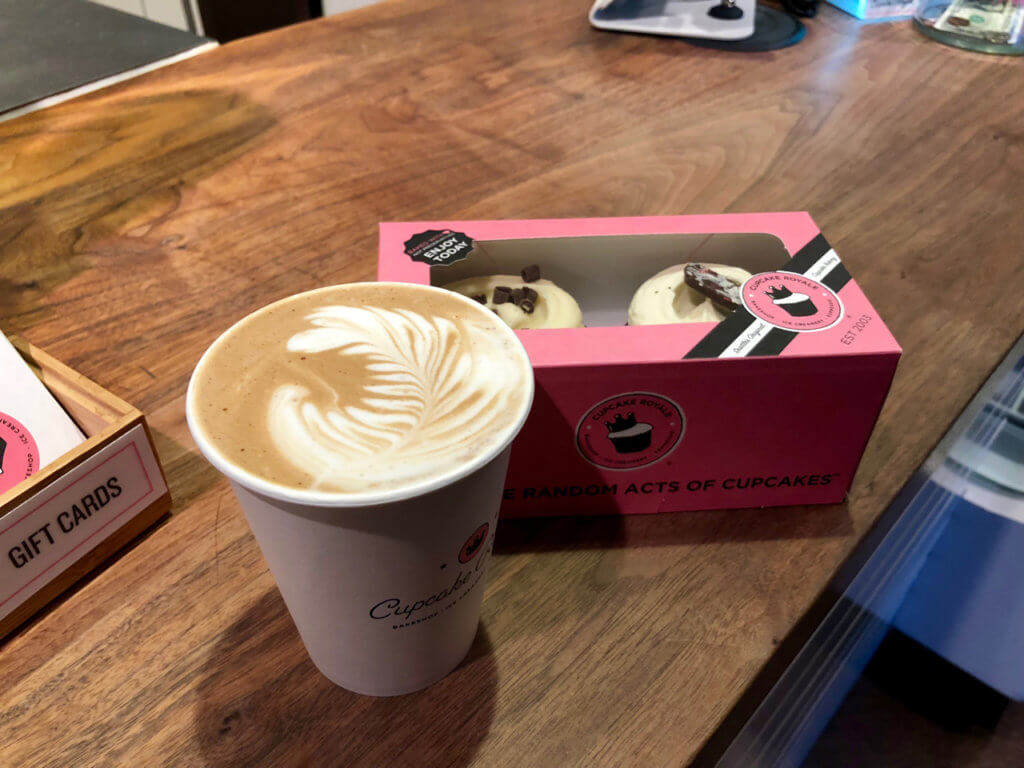 The cupcakes are a good size, though a little dry.  I loved my seasonal chocolate-peppermint cupcake, as it was nicely balanced.  Too bad this isn't something I could have brought home since it must be consumed the day you purchased it.
Uwejimaya
We did also go to Uwejimaya, which is similar to Marukai Wholesale, Mitsuwa Market, and Nijiya Market.  However, Uwejimaya (at least the one on 5th Ave) is a lot larger with a fantastic variety of stuff.  And, to my surprise, in addition to the Asian items and Washington-specific items, the place is brimming with Hawaii products that everyday locals usually buy.  This includes Portuguese Sausage, frozen saimin, Keoke's laulau, Hawaiian Chili Pepper Water, Zippy's chili and Portuguese Bean Soup, Halm's Kimchee, NOH seasonings, Hawaiian Sun POG, and more.  Almost everything you'd find in a grocery store in Hawaii you can find at Uwejimaya.  Unreal!
Our Seattle Repeats, Final Thoughts
Despite some changes, I'm happy to say that my go-to's in Seattle are still my go-to's.  Everything is just as I remember, even if the location wasn't always the same.  I'll admit, though, that I was apprehensive of Goldfinch tavern thanks to many negative reviews more recently, but I'm glad my fears turned out to be unfounded too.  And if anything, this trip added more go-to's for me, such as Din Tai Fung.
Snowy Seattle Trip Report
Alaska Airlines Premium Class HNL-SEA
SpringHill Suites Seattle Downtown/South Lake Union
Starbucks Reserve Roastery Seattle Revisited
Our Seattle Repeats