Post-Island Air intra-Hawaii travel is going to be an interesting experience.  Though Hawaiian Air no longer has a similar competitor, it isn't the only inter-island airline left.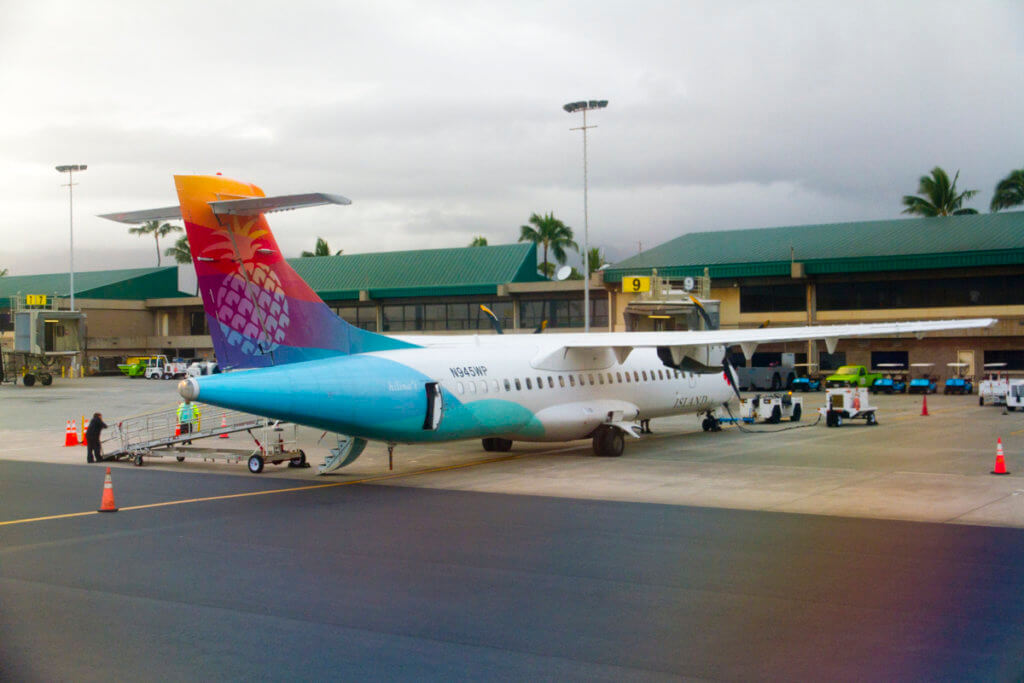 With the closure of Hawaii's Island Air, travelers are entering an unprecedented era of inter-island travel.  While it's true that there has not been another mainline competitor since Aloha Airlines shut down, there had always been a decent size commuter airline.  But things may not be that different going forward either.  After all, according to the Honolulu Star-Advertiser, even with Island Air around, Hawaiian Air held a whopping 90% share of the inter-island market.
And Then There Were Two
The post-Island Air intra-Hawaii travel market leaves just two airlines standing:  Hawaiian Airlines and Mokulele Airlines.  Hawaiian is quite obviously the larger airline of the two.  Just in the inter-island market, Hawaiian operates 20 Boeing 717-200's with up to 128 seats each on, 160 daily flights.  In contrast, Mokulele Airlines operates a fleet of just 11 Cessna 208EX Grand Caravans, which seat nine passengers each, on about 120 flights per day.  So, in terms of total seats, Hawaiian flies 20,080 seats between the islands every day, while Mokulele operates just 1,080.  That means that Hawaiian now holds just under 95% of the total inter-island market.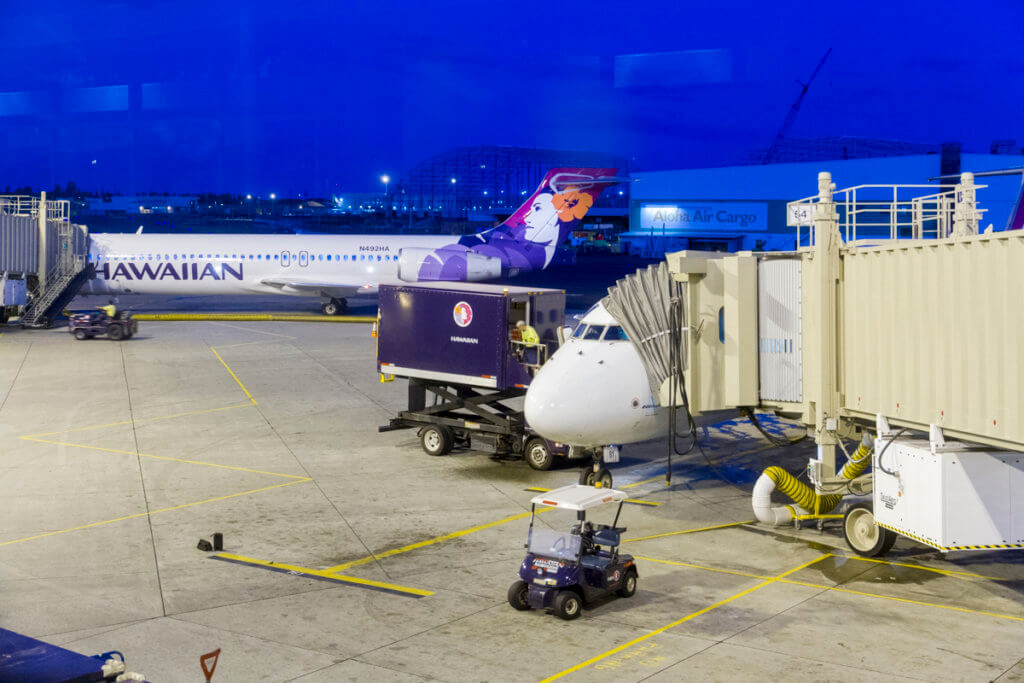 Of course, Hawaiian has a commuter subsidiary, Ohana by Hawaiian, which operates out of hubs on Oahu and Maui.  Ohana flies three 48-seat ATR 42-500's on around 28 flights per day.  This equates to 1,344 seats daily, which is already over 20% more seats than Mokulele.  Add these figures to the previous numbers, and this is what the new totals look like:
Total inter-island seats:  22,504
Hawaiian + Ohana total:  21,424
Mokulele total:  1,080
Hawaiian total percentage:  95.2%
Mokulele total percentage:  4.8%
Hawaiian Airlines Route Network
As Hawaii's oldest and largest airline, Hawaiian has the most comprehensive inter-island route network.  And today, Airline even operates out of two Hawaii hubs and a focus city.  So let's take a look at the inter-island routes operated by Hawaiian today.
Honolulu Hub
Lihue, Kauai
Kahului, Maui
Kapalua, Maui
Ho'olehua, Molokai
Lanai City, Lanai
Kona, Big Island
Hilo, Big Island
Kahului Hub
Kapalua, Maui
Lanai City, Lanai
Ho'olehua, Molokai
Kona, Big Island
Hilo, Big Island
Honolulu, Oahu
Lihue, Kauai
Kona Focus City
Kahului, Maui
Honolulu, Oahu
Lihue, Kauai
The above routes include those operated by Ohana by Hawaiian.  However, the only ones that are exclusive to Ohana are routes to Molokai, Lanai, and Kapalua.  All other routes are operated by either Hawaiian's mainline 717s and/or Ohana.
Mokulele Airlines Route Network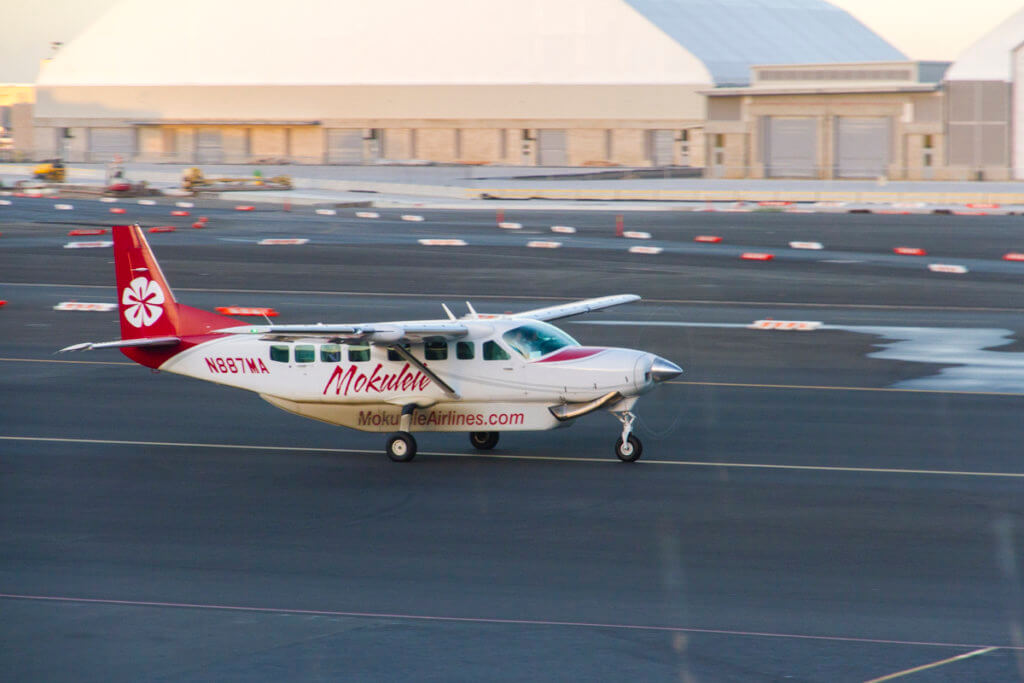 Mokulele's route network isn't too different from that of Hawaiian's.   However, the Airline doesn't serve all major airports with direct flights.  Instead, Mokulele flies to a variety of small and large airports with more indirect, point-to-point flying.  And though less efficient, this way of flying is necessary thanks to the limited range of Mokulele's fleet.  So, while Mokulele's 120+ daily flights sound impressive, many are point-to-point hops to connect a full route.  But, with that said, here are the cities Mokulele serves throughout its system:
Honolulu, Oahu
Ho'olehua, Molokai
Kapalua, Maui
Kahului, Maui
Hana, Maui
Kona, Big Island
Waimea-Kohala, Big Island
As you can see, Mokulele doesn't serve the islands of Kauai and Lanai at all.  Neither does the airline serve Hilo, which is an airport Hawaiian serves with both mainline aircraft and via Ohana.  However, Mokulele does serve Hana, Maui, and Waimea-Kohala, Big Island, and is the only scheduled service to do so.
Price Comparison
With Hawaiian having the most significant share of the market, you'd think that they'd have the highest pricing.  That, however, isn't the case at the moment.  If we look at flights between Honolulu and Kahului (the most popular city pair), Hawaiian's flights are significantly cheaper.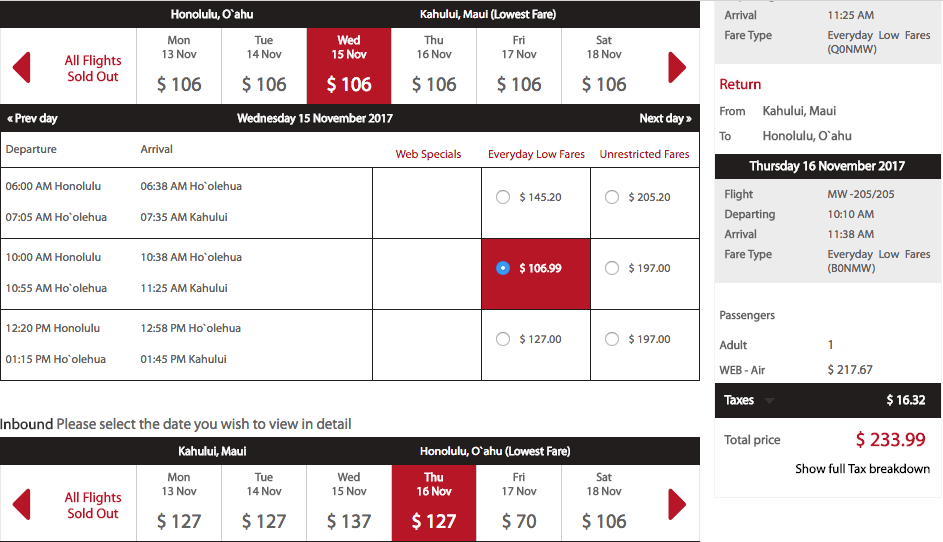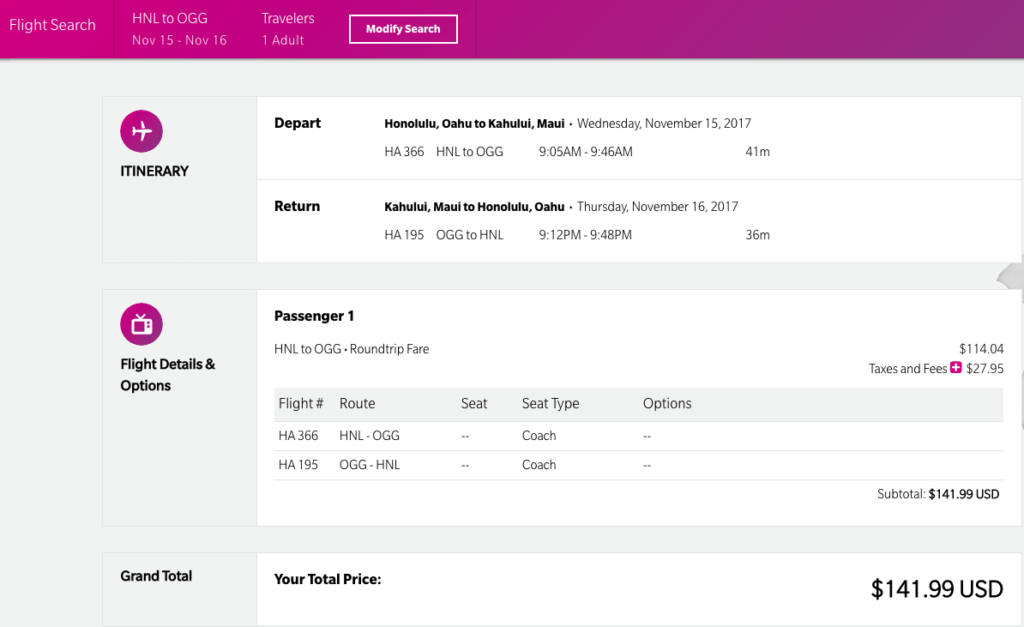 But just because the fares look like this today it doesn't mean they'll remain this way in the long-term.  For its part, Hawaiian has stated that they'll maintain the current pricing levels for the foreseeable future.  Of course, that could change at any time, so if you plan on flying inter-island, keep an eye on those fares.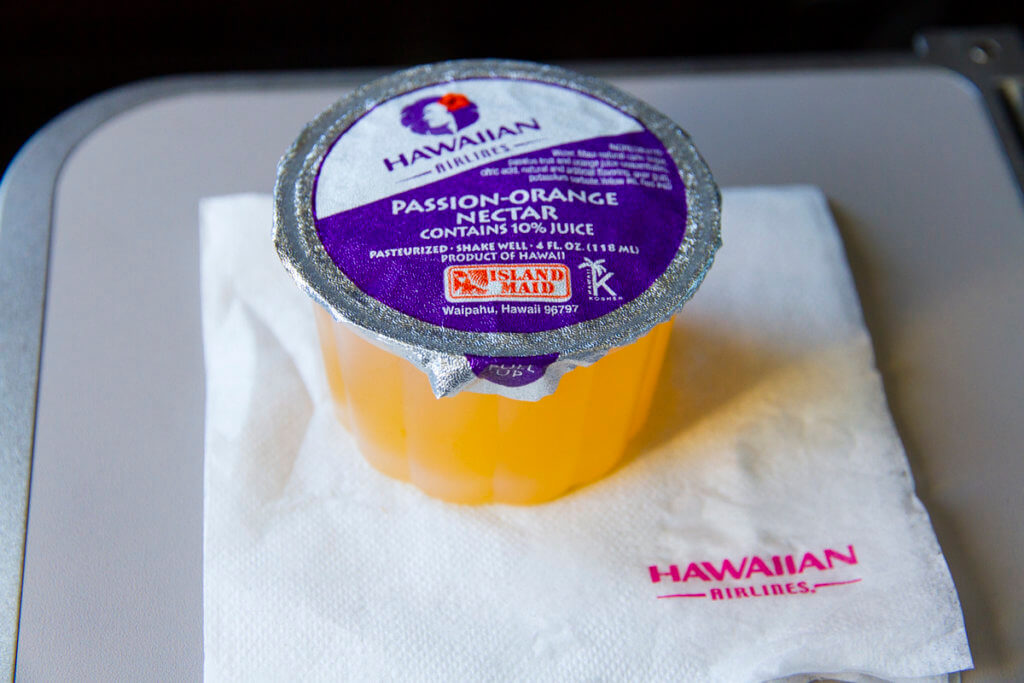 Even if the fares rise, though, Hawaiian is the only direct option and has the largest number of frequencies.  Just look at Mokulele's three daily flights; each one requires a stop in Molokai.  Plus, Hawaiian's aircraft are larger, more comfortable, and have a restroom onboard, while the airline offers beverage service too.  Hawaiian also does not have a weight restriction for passengers as Mokulele does.
Frequent Flyer Program + Partners:  Mokulele
Mokulele Airlines surprisingly does have a frequent flyer program: 'Imi Loa.  And the program is very simplistic; members earn a free flight voucher for every 12 segments flown.  However, the 'Imi Loa program is also very restrictive.  For example, flight credits are only earned on full fare flights, meaning any special fares you may book won't qualify.  Further, it takes up to eight weeks to issue a free flight voucher, and the voucher must be redeemed within six months of being issued.  Vouchers are capacity controlled, are subject to blackout dates, and must be redeemed via the call center only.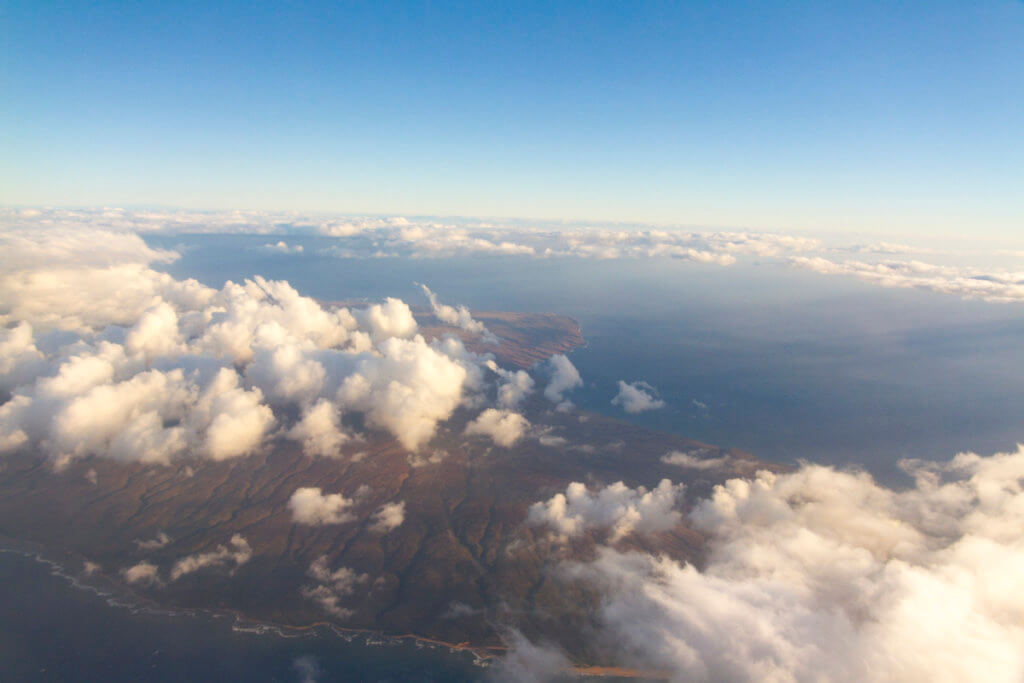 Most bizarre of all, though, is the fact that the member must keep track of their own flight activity.  To receive a voucher, you must submit a form evidencing your flight activity.  And that flight activity must have occurred in the previous 15 months to qualify.  Unfortunately, Mokulele's 'Imi Loa program doesn't have any partners.
Frequent Flyer Program + Partners:  Hawaiian Airlines
Hawaiian Airlines has Hawaii's most well known frequent flyer program, HawaiianMiles.  The program is far more flexible than that of Mokulele with many ways to earn HawaiianMiles via credit card spend, flying, and even through shopping.  But since we're talking about the inter-island market, let's take a look at earnings through inter-island flying.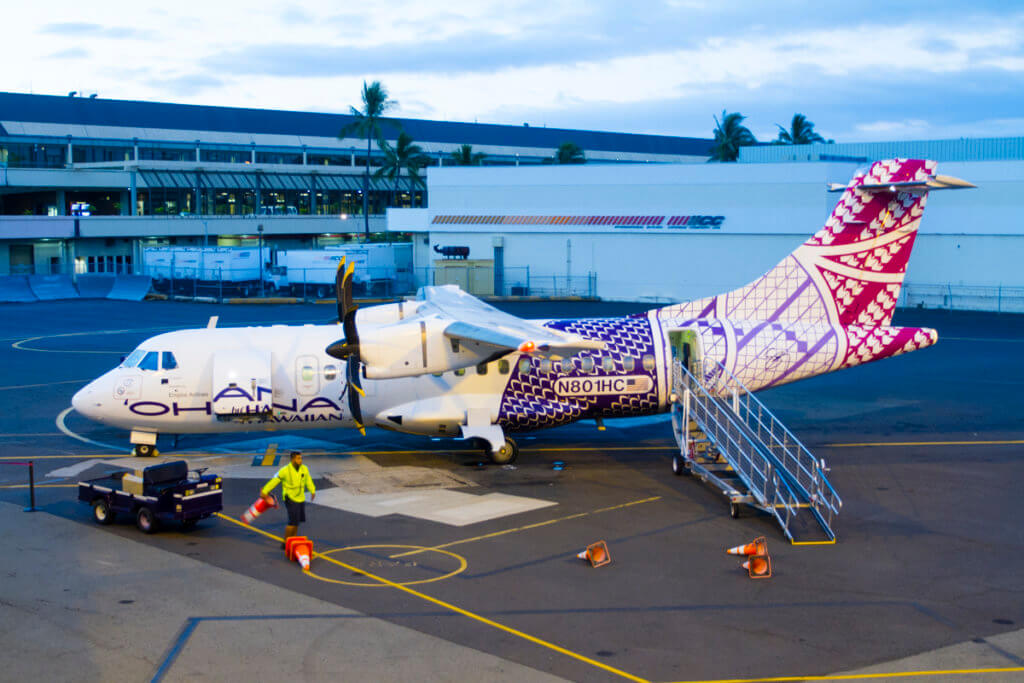 In the past, Hawaiian used to award a minimum of 250 miles for each inter-island flight flow.  However, a while back, Hawaiian began awarding actual miles flown.  So, today, a flight from Honolulu to Kahului will earn you 101 miles.  On the redemption side, an inter-island flight will run you between 7,500 to 15,000 miles each way.  That means if you fly only between Kahului and Honolulu, you'd have to fly at least 75 one-way segments to earn a free one-way ticket.  But, remember, there are many other ways to earn HawaiianMiles too, so you can accumulate them much quicker.  Just paying for the above itinerary on a Hawaiian Airlines World Elite Mastercard would net you 284 HawaiianMiles.
Further, HawaiianMiles has a large number of partners with whom you may earn miles with. Airline partners include:
All Nippon Airways (ends March 31, 2018)
China Airlines
Japan Airlines (beginning March 31, 2018)
JetBlue
Korean Airlines
VX Virgin America (ends December 31, 2017)
VS Virgin Atlantic
VA Virgin Australia
HawaiianMiles members may also earn miles with a number of hotel and car rental partners, but there too many to list here.  There's also an online shopping portal that awards extra miles, brick-and-mortar locations that award extra miles, specific partner merchants, local mall extra mile events, and a link with Foodland Hawaii's Maika'i Rewards program.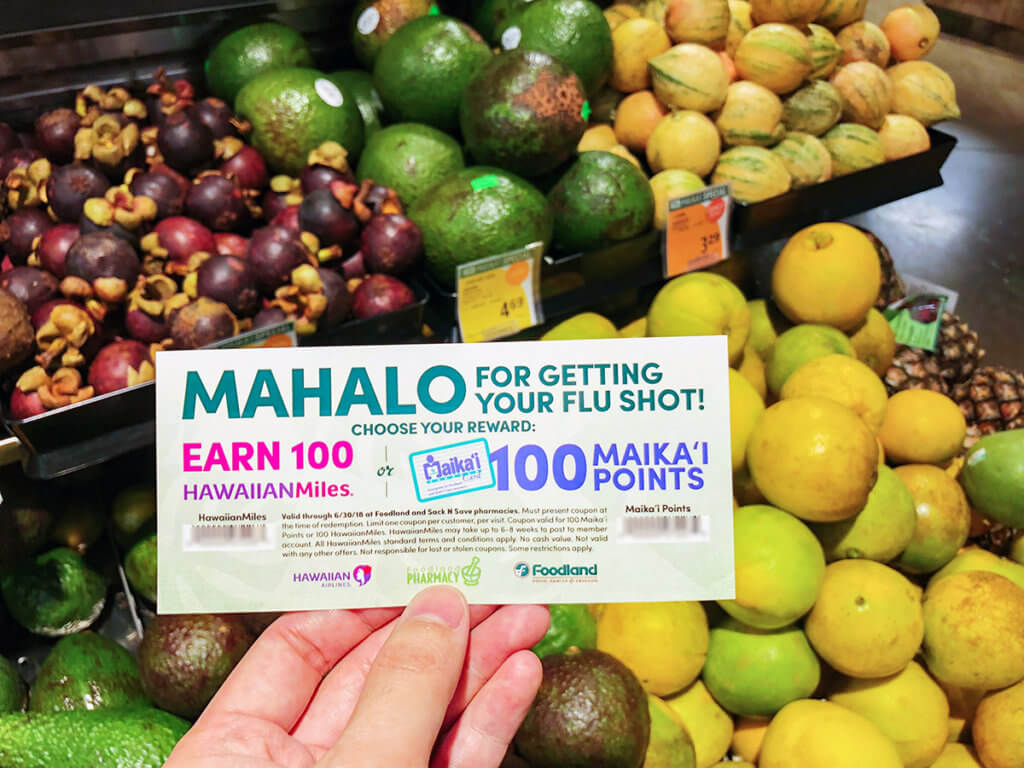 Of these programs, Foodland's Maika'i Rewards is the one I use most often.  There, HawaiianMiles members may earn 200 miles per $250 spent, 3 miles when you shop with your own reusable bag, and this year I earned 100 miles for getting a flu shot!
Post-Island Air Intra-Hawaii Travel, Final Thoughts
Though there's a lot of doom and gloom surrounding Island Air's shutdown, things appear to be ok for the time being.  Will it stay that win the long-term?  I'm guessing no.  But when prices do rise and remain that way, it'll likely be a catalyst for a new entrant to give the market a try.  There's also the possibility that Southwest will try their hand at inter-island flying, though the frequencies will be limited.  Southwest's 737NGs are far too large for the inter-island market, so their impact will likely be minimal.  And that only if they do pull the trigger on that route in the first place.
No matter what happens, though, it's safe to say that you'll need to fly Hawaiian for the best convenience.  And that has always been the case since Aloha went out of business, and why it's so hard for new entrants to compete effectively.  Personally, I'm hoping someone else will enter the market, as more competition is always better.