Much like with my car, space and price were a priority during this trip. So, our first hotel in the Pacific Northwest was the Residence Inn Seattle Downtown/Lake Union.
Why the Residence Inn Seattle Downtown/Lake Union?
Seattle's hotel market is a tough one. The hotels are either really expensive or are rundown. Trying to find something in-between is no easy feat. Of course, not having to be in the city center and not being there in the summer helped too. That's why I chose the Residence Inn Seattle Downtown/Lake Union. It was close enough to downtown Seattle and major thoroughfares, provided the space we needed, has complimentary breakfast, and had an attractive price. So, why not?
Location + Parking
Now, despite the hotel's name, the Residence Inn Seattle Downtown/Lake Union isn't exactly downtown. But it is right on Lake Union. In fact, it's in-between Lake Union and the Seattle Cancer Care Alliance, someplace I'm quite familiar with. The hotel itself, though, is a little tricky to spot. I shot past it the first time I drove in, and then I couldn't find parking in their inadequate lot, so I left my Silvercar in the porte-cochere while checking-in. Eventually, though, parking did open up inside and I got to park legally.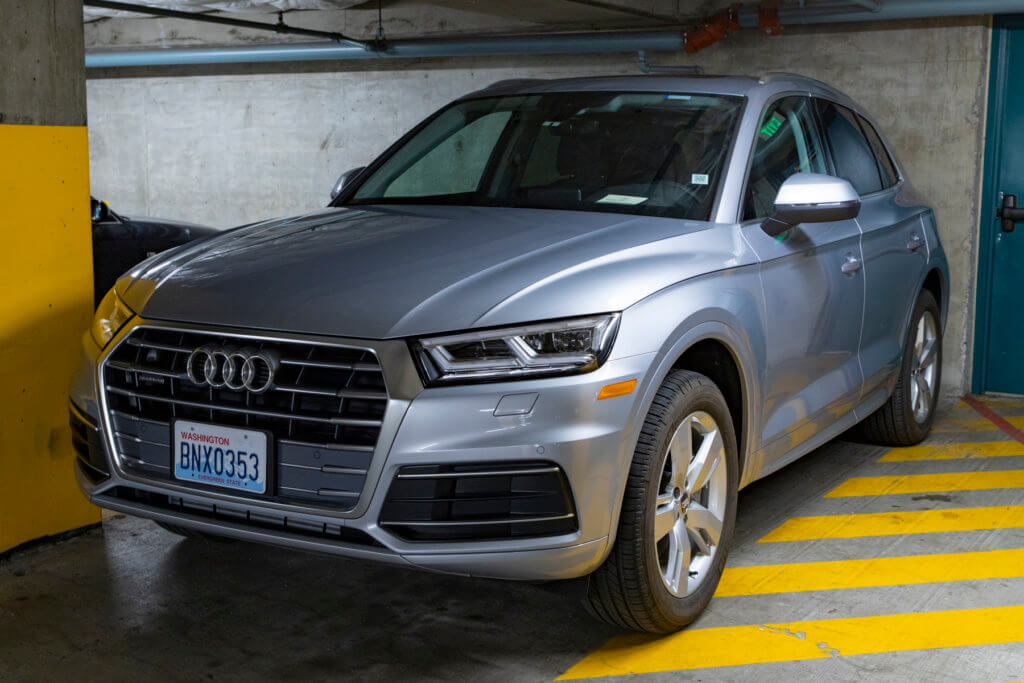 There are actually two parking areas, an upper and lower garage. The lower one is for smaller cars, while the upper one is for SUVs and vans. Unfortunately, this isn't regulated, so the upper one was filled with cars too. Not only that, but the stalls are still hellishly narrow, so some double park. Believe it or not, the above is one of the larger stalls there.
Public Areas
I didn't look around the property much. I do know they have a pool, a workout facility, and a full laundry facility somewhere, but I'm not sure exactly where. The only place I really visited was the lobby, which occupies a portion of the large atrium. And, immediately to the right of the lobby (pictured below) are the Market and the business center.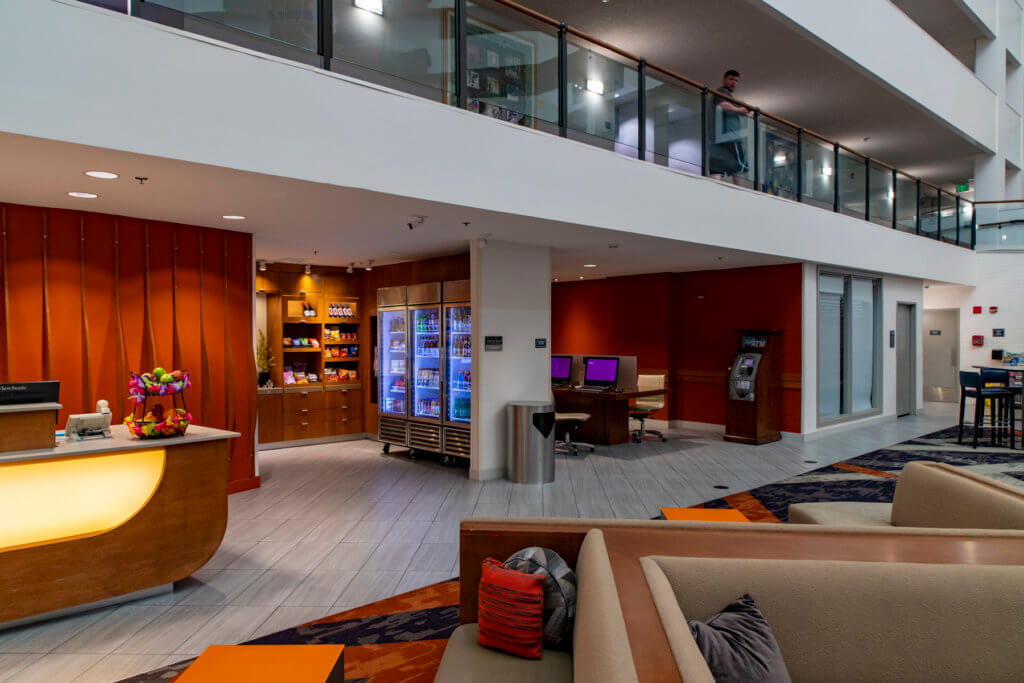 Looking opposite of the lobby are the breakfast area (more on that later), some lounge seating scattered throughout, and a water feature. Lots of natural light pours in from the massive skylights overhead, which gives the place an airy feel to it.
Our Room
I booked us a 2 Bedroom 2 Bathroom Suite and was assigned one on the third floor. Unfortunately, even with my Titanium status, my preference for a high-floor was not fulfilled, nor was I given a room with a view. But, oh well. At least the room wasn't too far from the elevators, which made things easier for my grandparents.
So, when entering the room, you immediately walk into the main living area. To the right are the kitchen and a small dining table, while further in is the sofa and TV. Oh, and notice that little purple square on the door? That's the do not disturb magnet. Yeah. Interesting huh?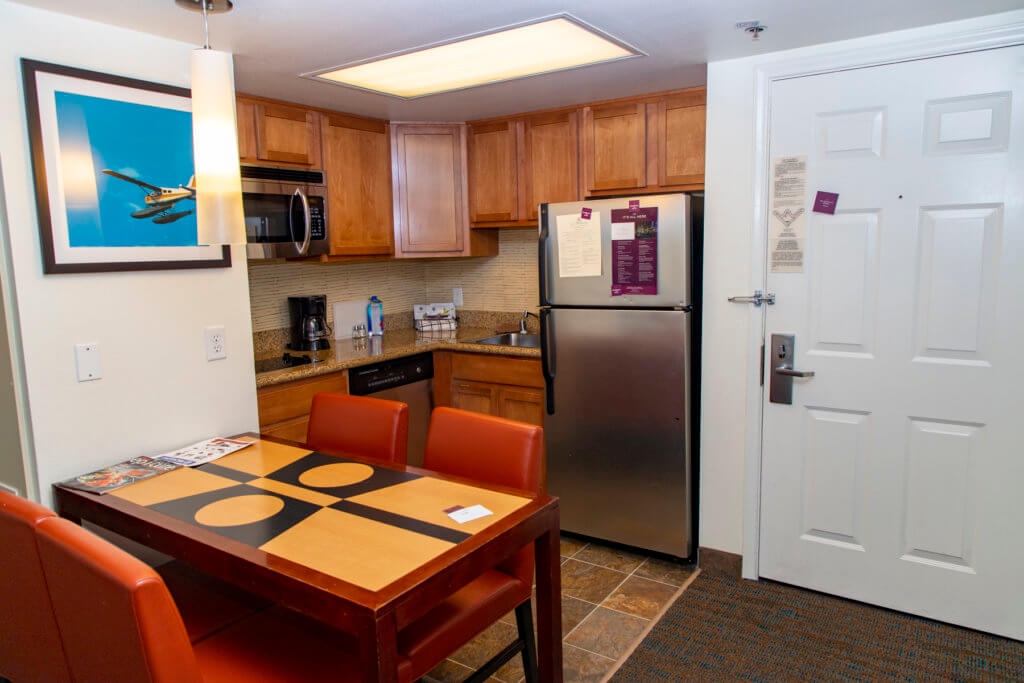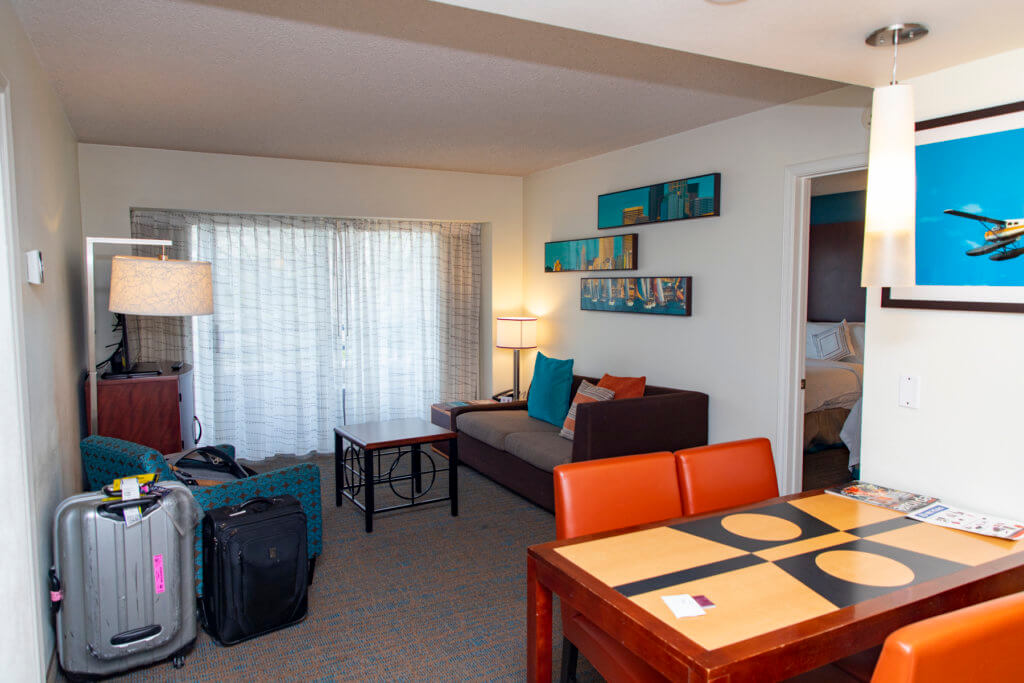 As you can see, the main living areas offer a decent amount of space. And the kitchen comes equipped with a full-size fridge, a dishwasher, a two-burner electric range, a coffee maker, a toaster, and a microwave. It also comes stocked with some pots, pans, utensils, dishes, and drinkware.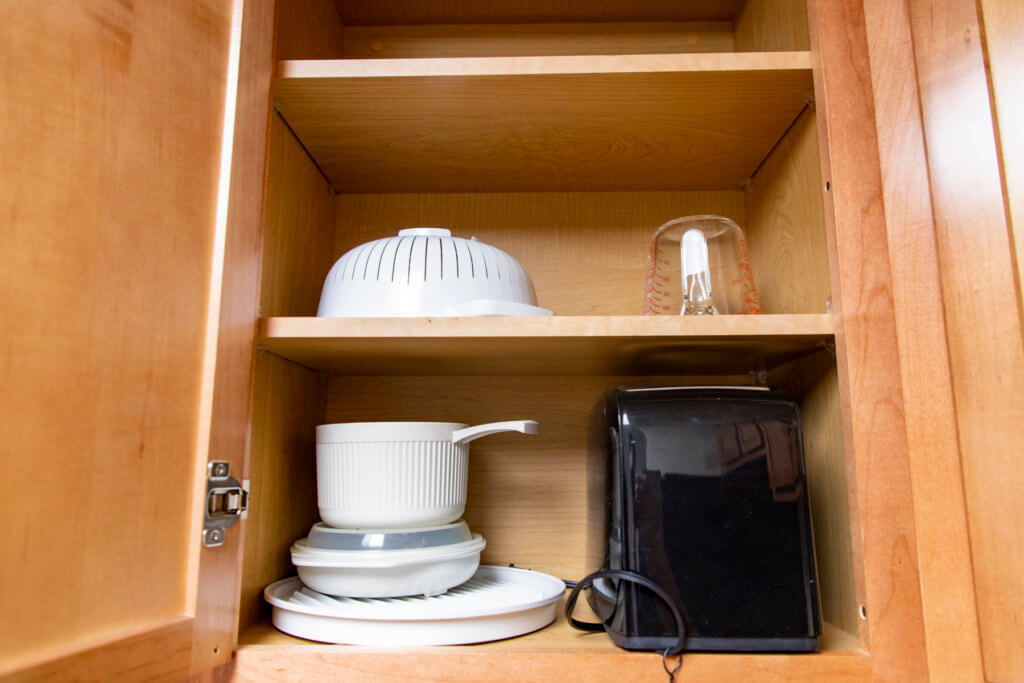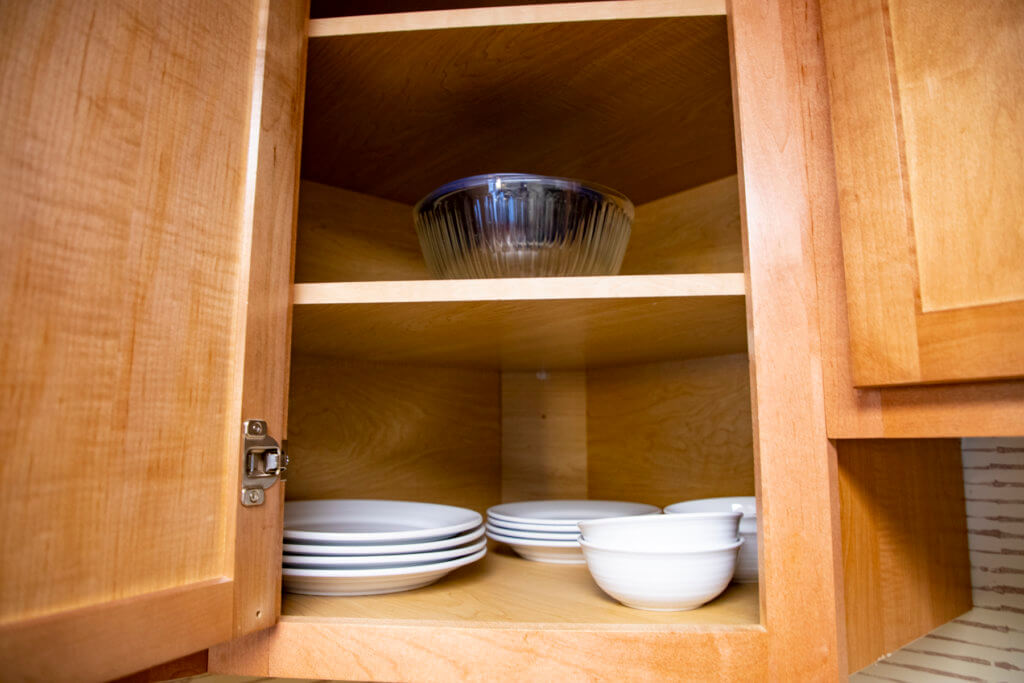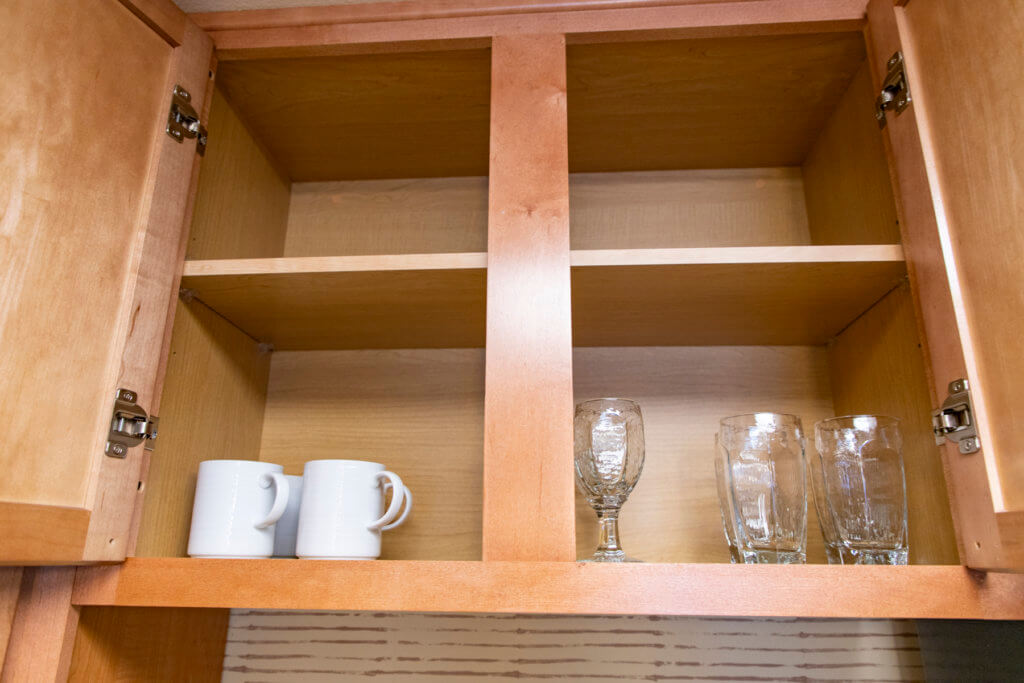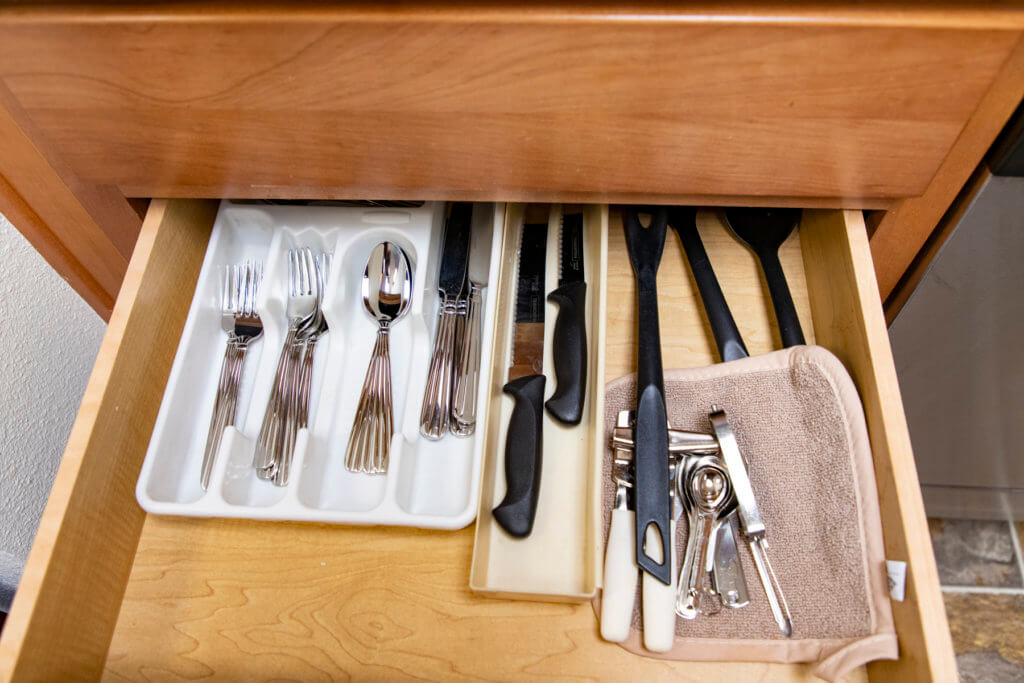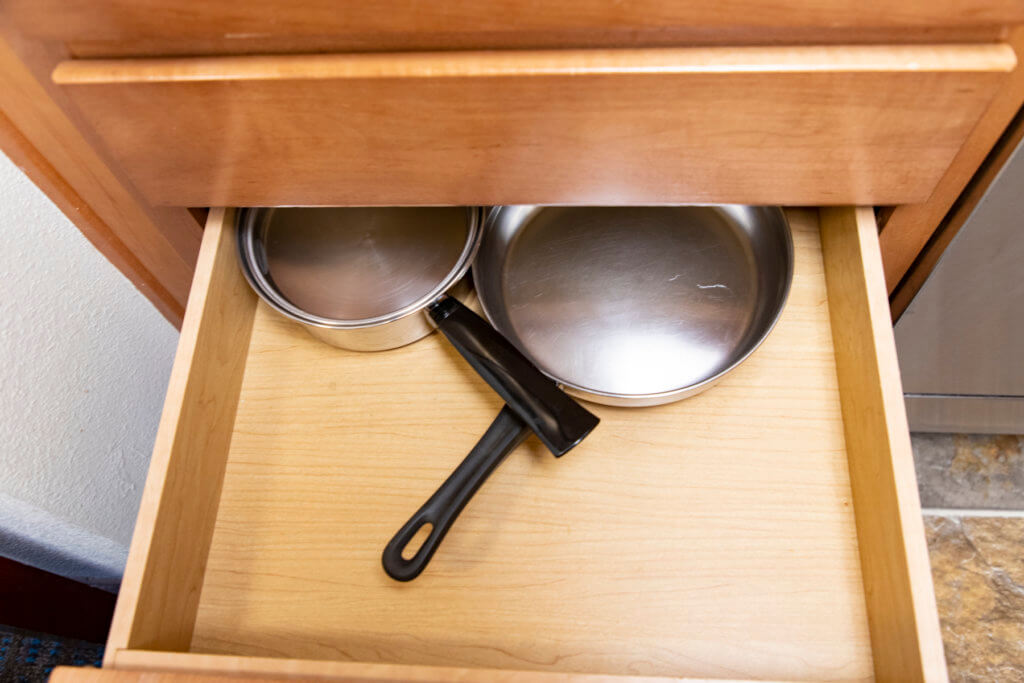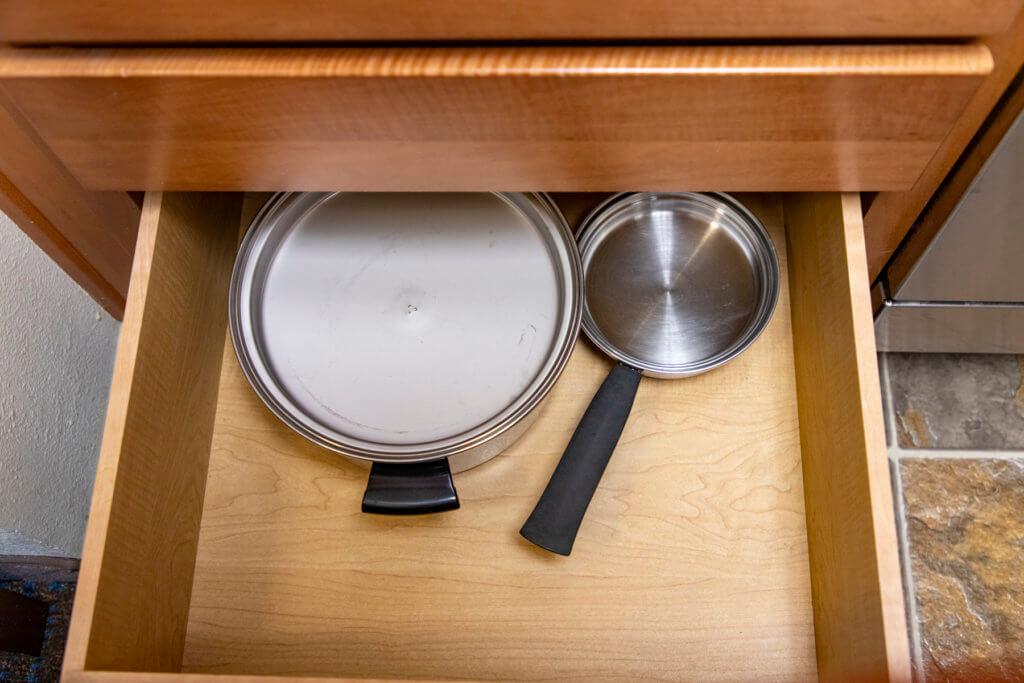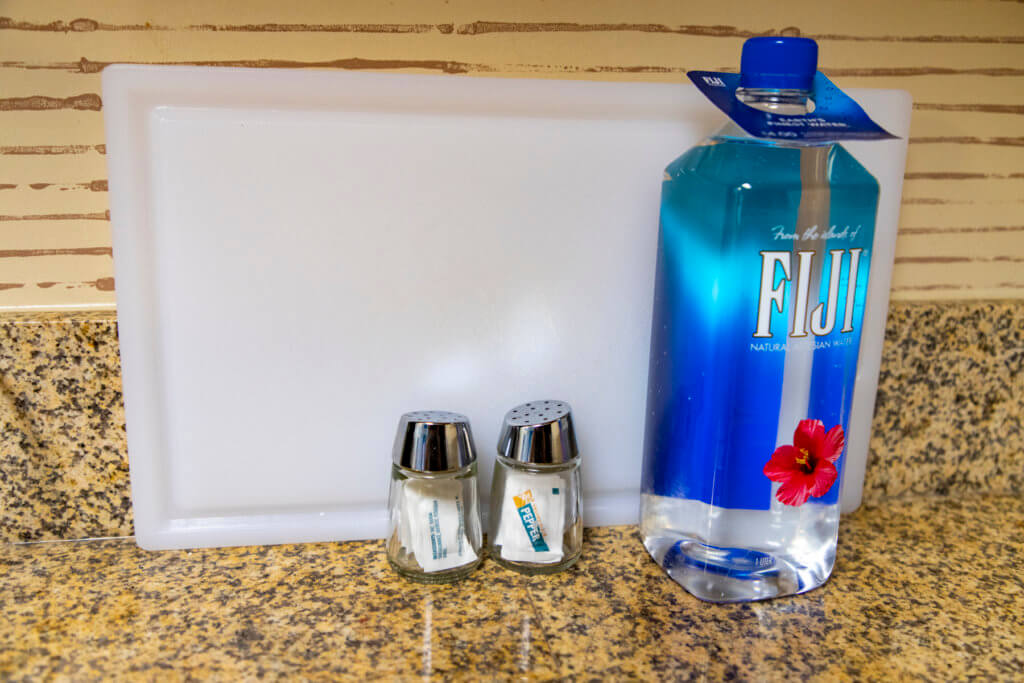 Off to the left of the main living area is the master bedroom. This one had a king bed with a dresser and TV, a work desk, and a nice-size closet.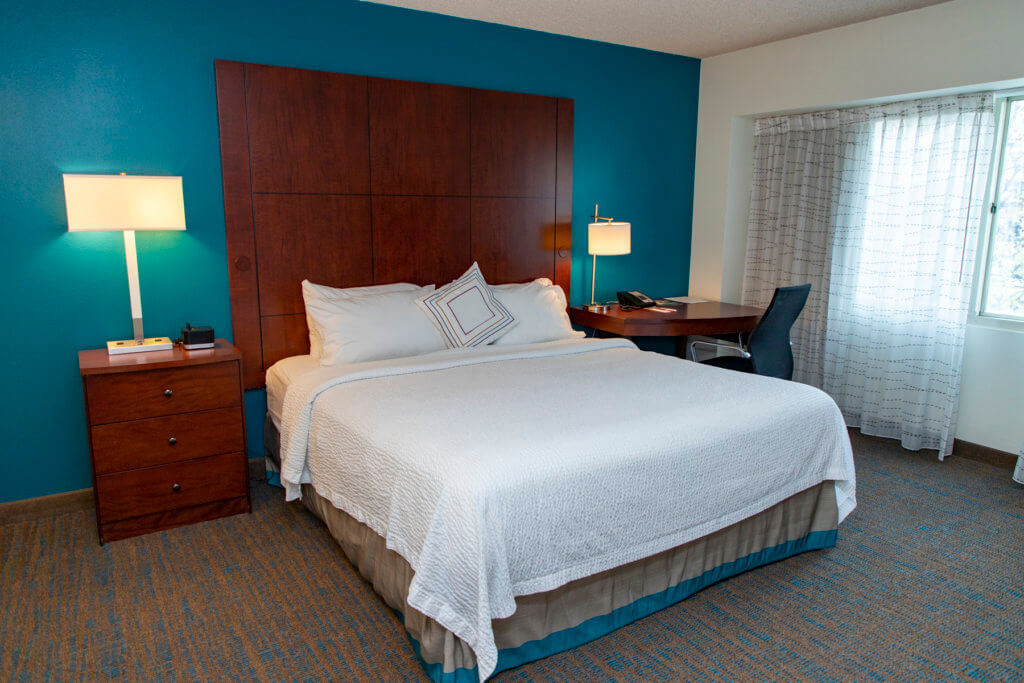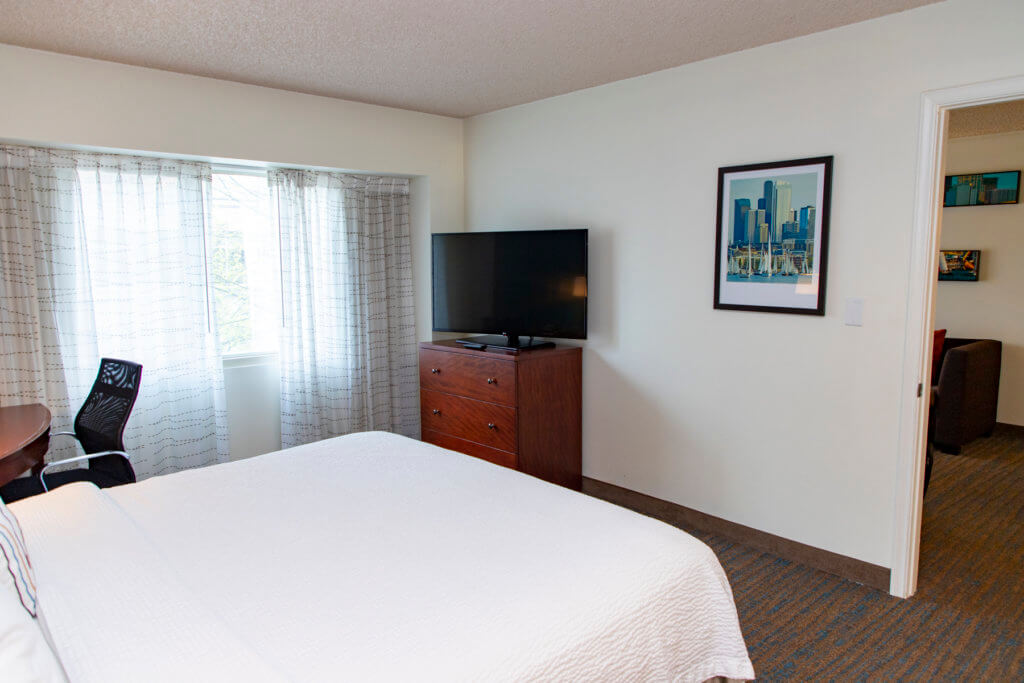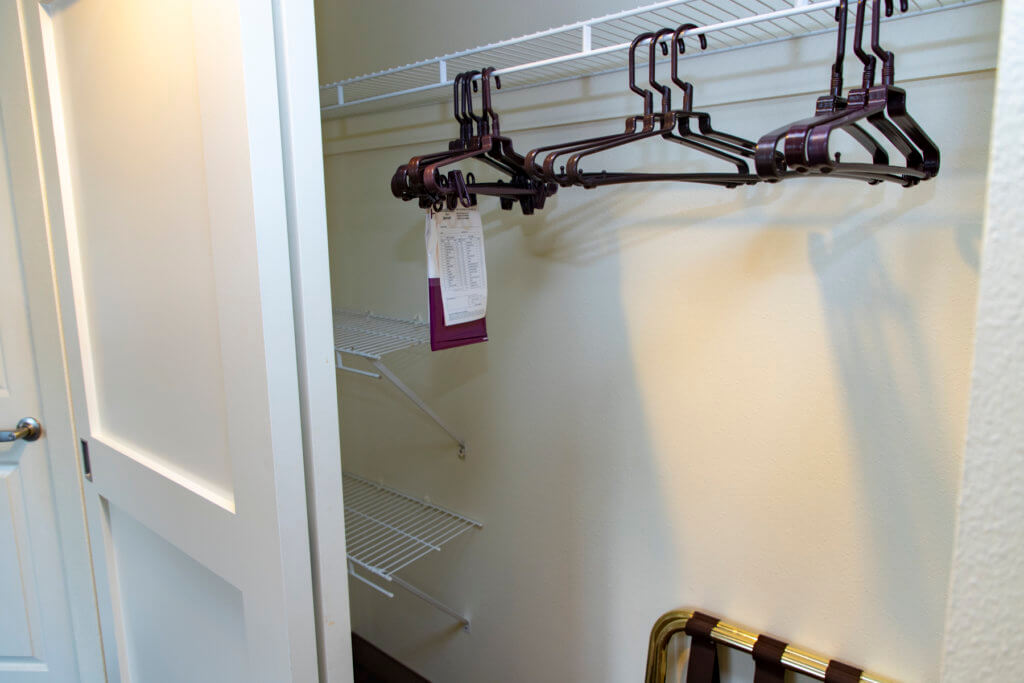 The master bath was nothing special, featuring a single vanity, a toilet, and a shower/tub combo.
Toiletries, like at Courtyards, are from the Paul Mitchell Lemon Sage line.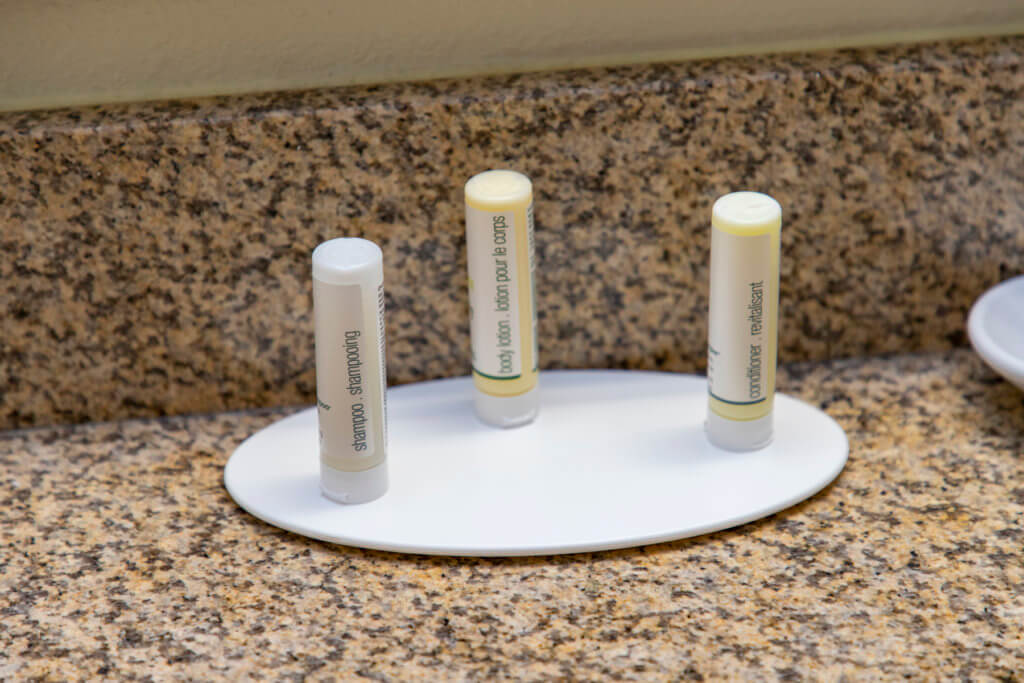 Across the living area from the master bath was the second bedroom and bathroom. The second bedroom had two queen beds in it, a dresser, and a TV.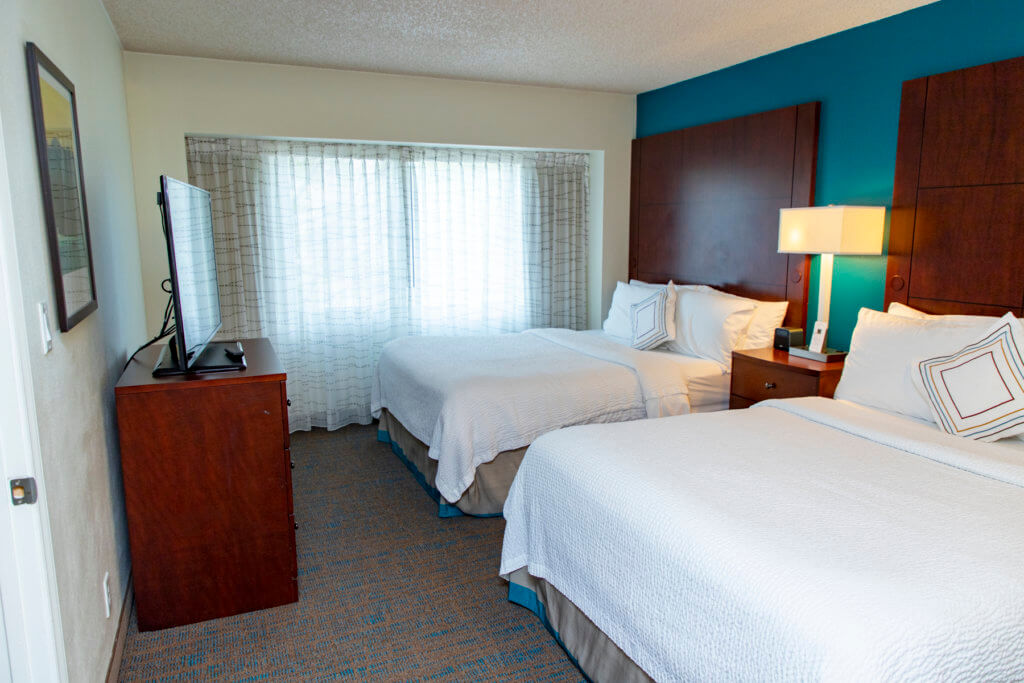 And the second bathroom had the exact same layout as the master bathroom but opened up to the living area instead of the bedroom.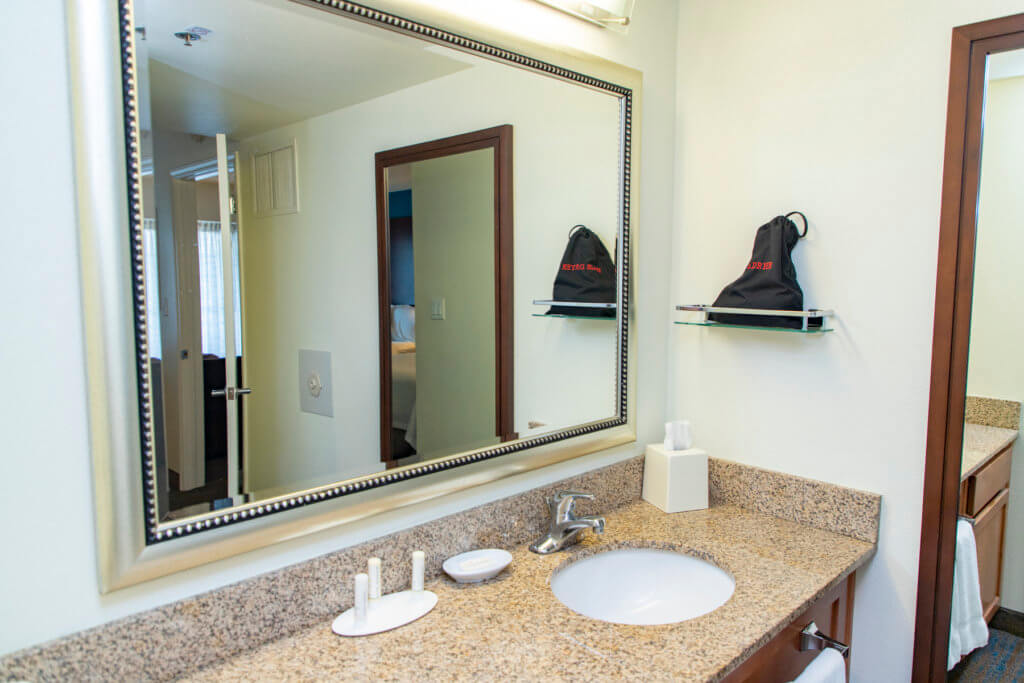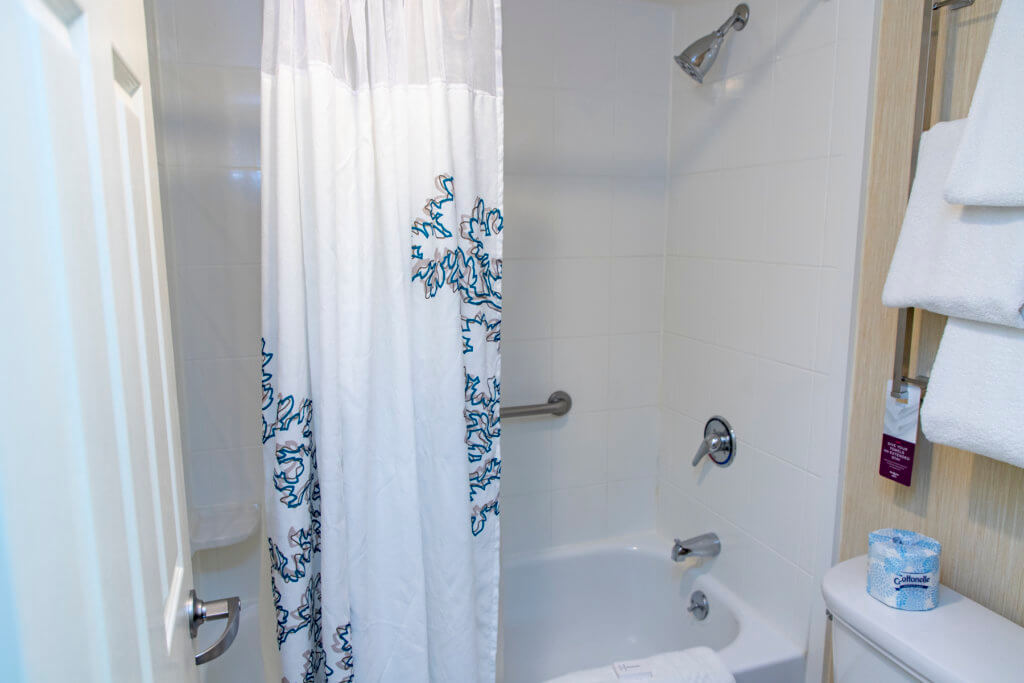 View
As I mentioned earlier, despite being a Titanium Elite booked into the top room category, I didn't receive any view upgrade within my category. In fact, my room didn't really have a view at all. Don't believe me? Take a look.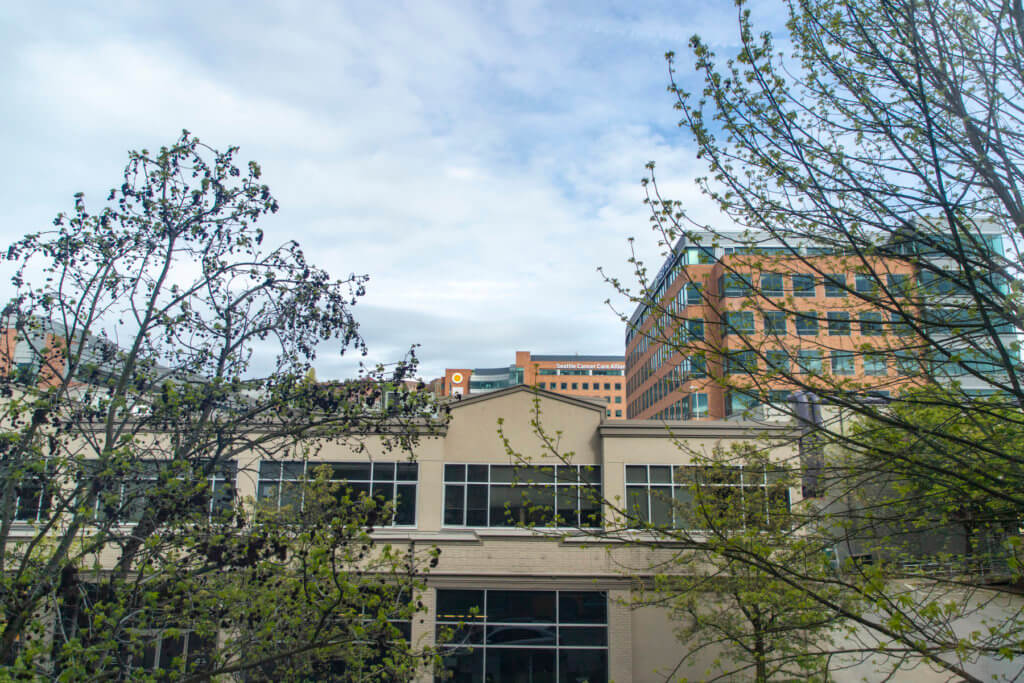 Honestly, we weren't in the room much anyway, so it's not like the view matter much. But it would've been nice to be able to watch the plans land on Lake Union. What bothered me most, though, was how noisy our room was. There was a bus wait area on the street right below, so we could here them idling all the time.
Breakfast
Like all Residence Inn properties, the Residence Inn Seattle Downtown/Lake Union provides free breakfast for all guests. And it wasn't a continental breakfast, it was more substantial. Every morning, there'd be a number of hot dishes on offer, such as eggs and sausage.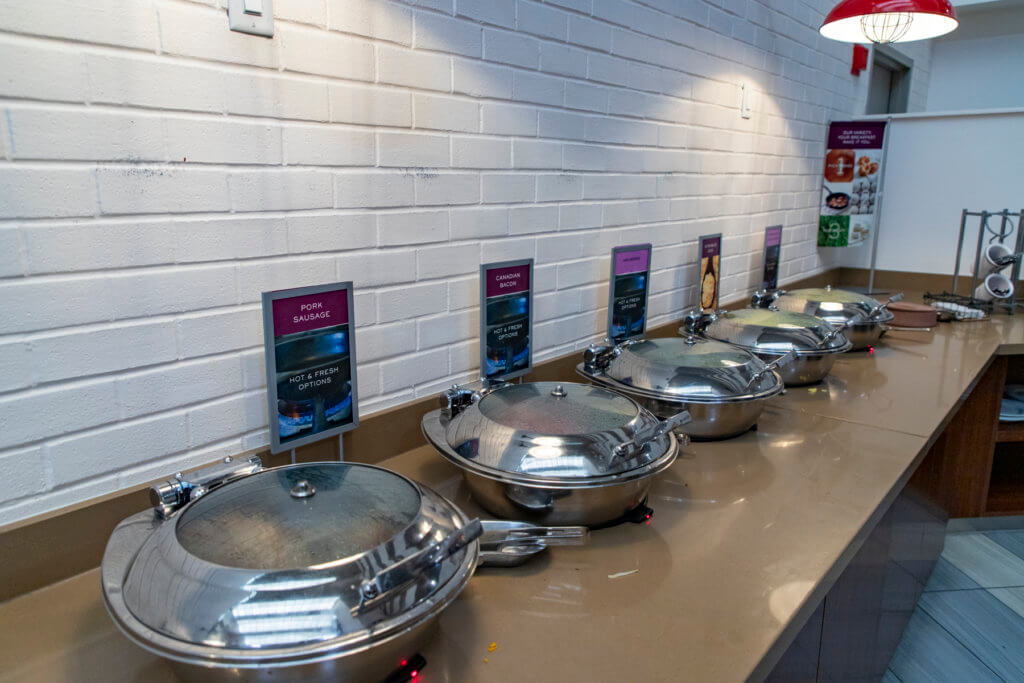 Impressively, they also had rice alongside more traditional offerings, which I appreciated. I guess the property hosts many Asian guests, so it makes sense.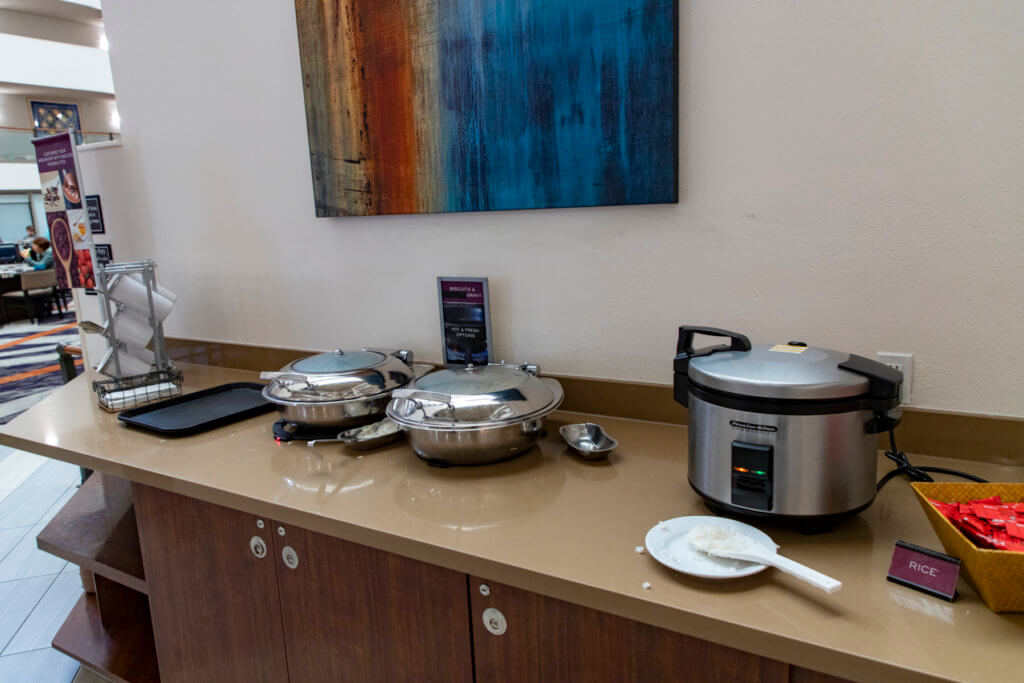 Other items on offer include an assortment of pastries, a waffle station, oatmeal, yogurt, cheeses, and fruit.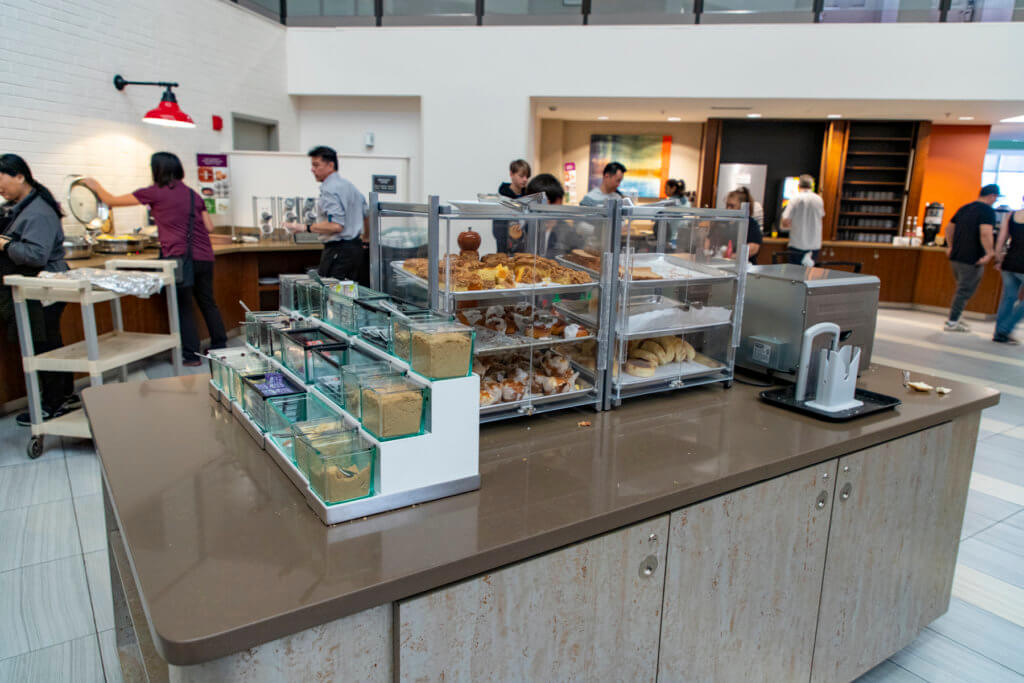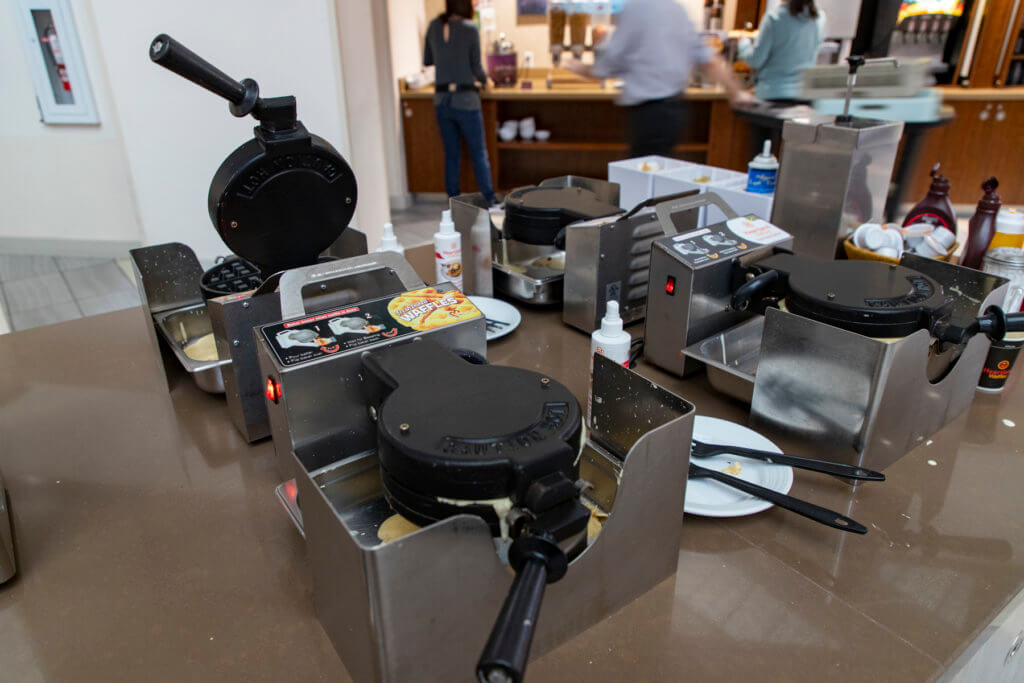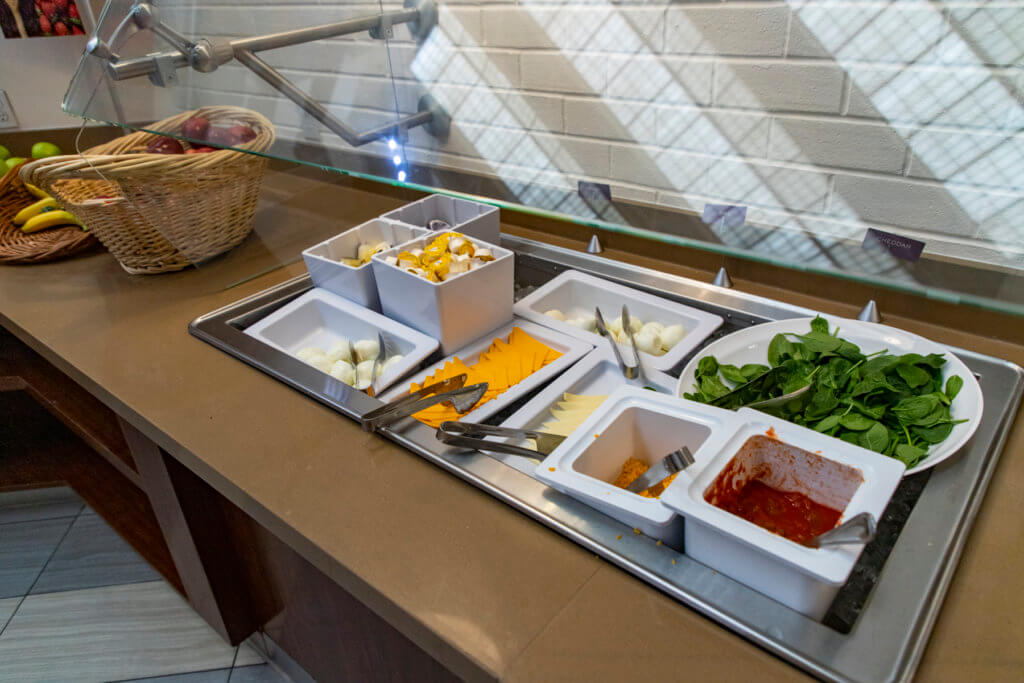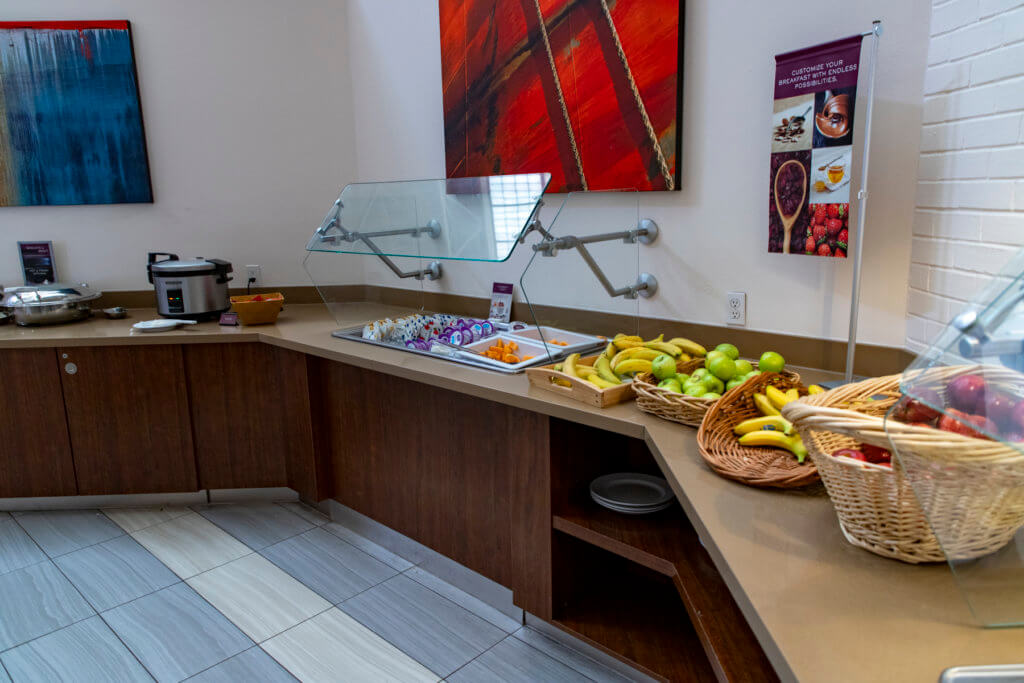 Breakfast was always busy, so seating was at a premium. The first morning there, we snagged some booth seating opposite the buffet.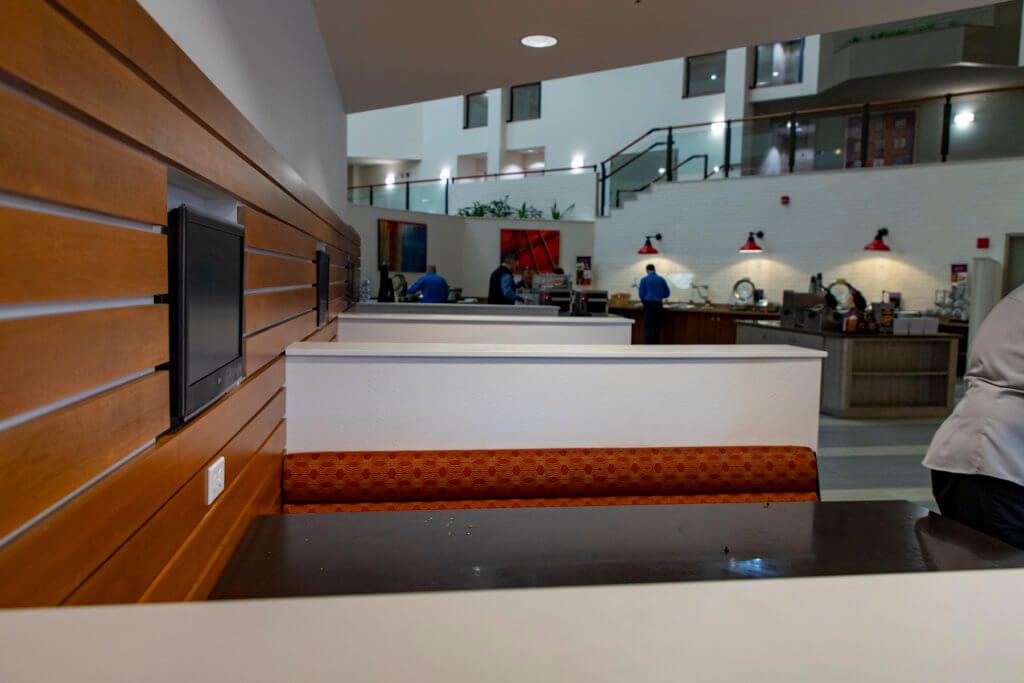 But on subsequent mornings, we ended up sitting in the reserved Elite area, which serves as the property's restaurant at night. Interestingly, no one was checking credentials and guessed typically stayed out if they weren't Elite.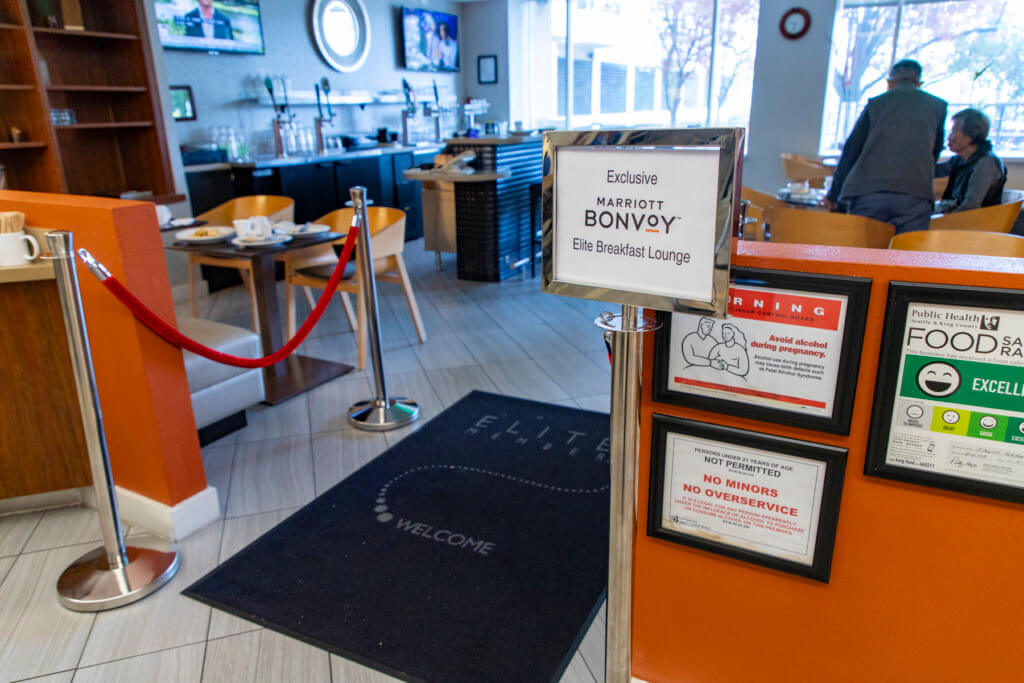 Service
Despite the physical shortcomings of the property and lack of Elite upgrades, I thought the service at the Residence Inn Seattle Downtown/Lake Union was excellent. Front desk staff were warm and friendly, while the breakfast crew was simply outstanding.
Every morning during breakfast, they'd make it a point to stop by our table and talk with us. We exchanged life stories, joked, and laughed. They made my family feel welcome and at home. It was like the lovely lounge staff at the Salt Lake City Marriott at City Creek.
Residence Inn Seattle Downtown/Lake Union, Final Thoughts
The Residence Inn Seattle Downton/Lake Union is a very mediocre property with atrocious parking. But, its location is somewhat convenient if you're driving and the staff is outstanding! So, if the price is right, I may give the property a shot again.
Thinking back on my recent Marriott experiences, though, it seems that the less attractive properties often have the best service. Ironic? Methinks not. Though, you'd expect to have better service at better properties, right? Ah, Marriott. Always a paradox.
Touring the PNW with My Grandparents
Residence Inn Seattle Downton/Lake Union