2020 has been a really tough year for restaurants. But, it hasn't been all doom and gloom here on Oahu. In fact, we've seen several new restaurants pop up throughout the pandemic. One of these new restaurants, and the one that excited me the most is Papa Kurt's.
Papa Kurt's Backstory
The comfort food of Hawaii is saimin – the soup noodle dish that exemplifies the melting pot that is Hawaii. You see, typically, saimin combines Chinese noodles and toppings, Japanese soup and toppings, and can include toppings with Korean, Portuguese, and Filipino influences, among others. But, most saimin shops serve more than just saimin. So, often, you'll see saimin paired with sticks of grilled meat (BBQ sticks), burgers, and fries too.
Given the pandemic, two of Hawaii's premier chefs, Chris Kajioka of Senia, Miro Kaimuki – formerly of Vintage Cave, and of many other upcoming concepts – and Mark "Gooch" Noguchi of the Pili Group, and formerly of Mission House and He'eia Pier General Store, both felt it was a great time to open a comfort food restaurant. And, thus, Papa Kurt's was born.
Why Papa Kurt's? The two named the restaurant after the late Kurt Hirabara of Hirabara Farms. Both saw Kurt as a mentor and heavily influenced their style in the kitchen. He was also a guiding beacon for the restaurant, as the chefs aimed to make food Kurt loved. And they've done exactly that in the best way possible.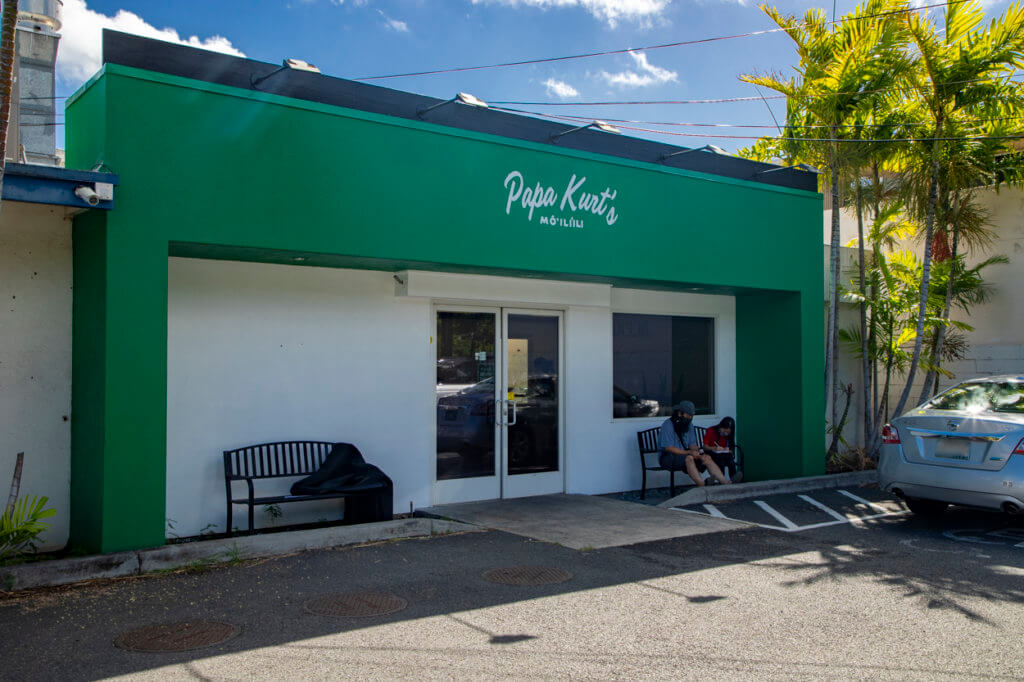 Location
Papa Kurt's is in the old Honolulu neighborhood of Mo'ili'ili, just minutes outside Waikiki. It occupies a space that was formerly the first Agu Ramen Restaurant at the St. Louis Alumni Association building. Parking is available both in front of the restaurant and in the back, while metered parking is available along the street.
As for the restaurant's interior, it'll look extremely familiar to anyone familiar with Hawaii's old school saimin spots. And, as you can imagine, that's no accident. In fact, they got the look and feel down perfectly. Unfortunately, because of the times, dine-in isn't possible right now. As a result, Papa Kurt's operates exclusively as a takeout restaurant – at least for now.
Papa Kurt's Menu
The menu at Papa Kurt's is straightforward. In fact, the menu has just five categories on it with, at most, five items under a single category. Those categories include saimin, burgers, sticks, sides, and ice cakes. The saimin category has just two options – large (saimin) and wun tun min. Burger options include regular, cheese, teri, and ahi burgers, with an option for deluxe (tomato and lettuce) and an extra patty. Sticks include chicken and venison (in place of beef), which aren't currently available as of this writing (12/8/20). Sides include spaghetti mac salad, short ribs, local egg (think ajitama), fries, and teri fries. And, finally, you've got ice cakes, including strawberries & cream, green river, and creamsicle, though these aren't available yet either (12/8/20). Drink options currently include a variety of sodas and bottled water.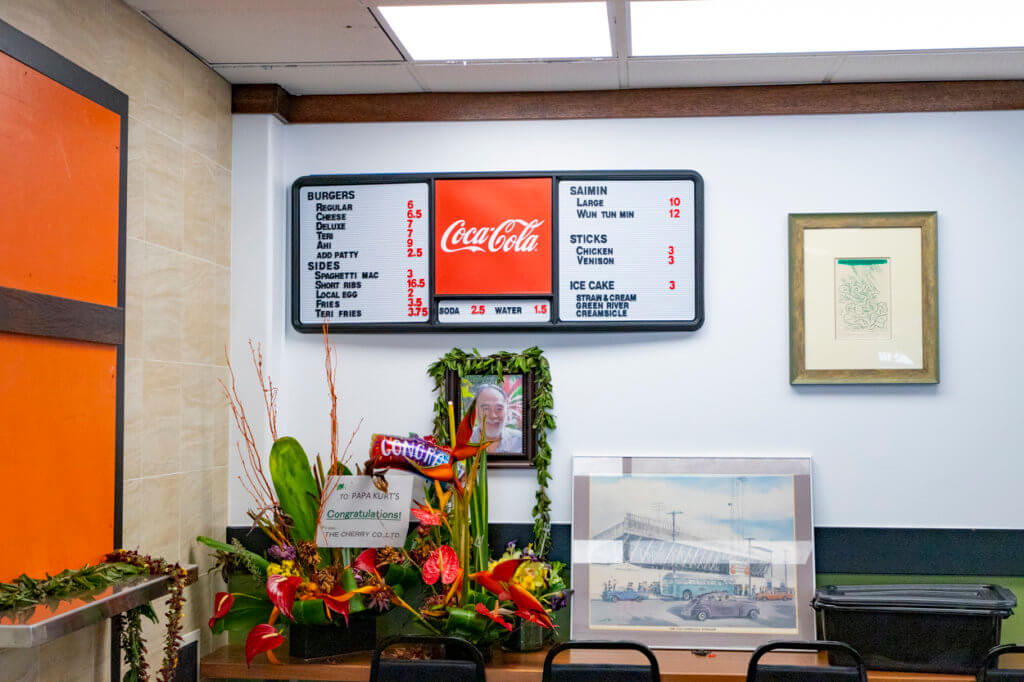 Food
For our first order, I decided to get a couple of wun tun mins ($12), a standard cheeseburger ($6.50), a cheeseburger deluxe ($7.50), and an order of short ribs ($16.50). Basically, I wanted to try as much of the available menu as I could – and I think we did pretty well.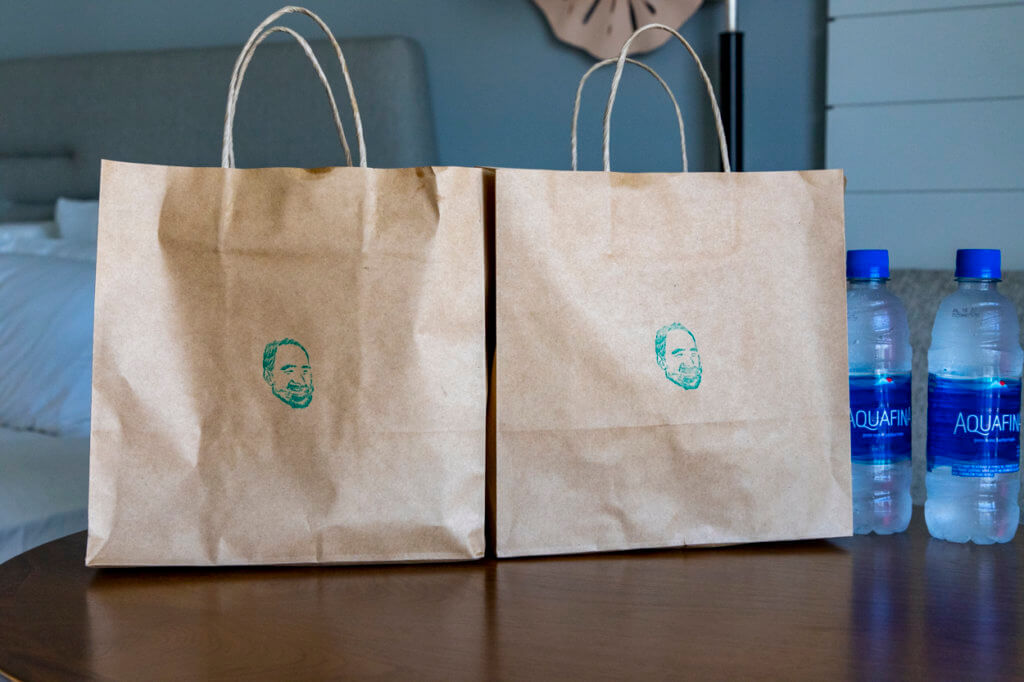 Now, saimin usually doesn't travel all that well. The noodles often overcook in transit, and everything can get a bit messy. But just look at this spread. Everything was expertly packed with the soup and noodles in separate containers, as well as the pickles placed on top of and outside of the burgers so you could choose to put them in the burger or leave them out.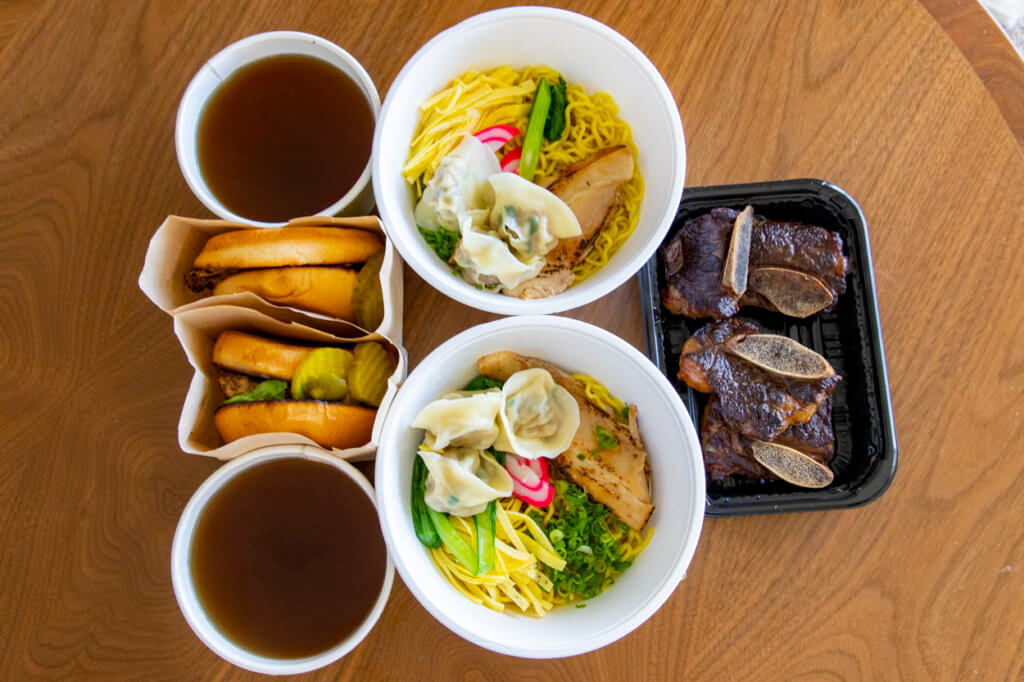 Wun Tun Min
So, how's the saimin – or, in my case, the wun tun min? It's GOOD. The noodles (supplied by Sun Noodles) remained perfectly al dente, which is impressive. The soup is light, yet flavorful. Typically, saimin soup has a porky or shrimpy flavor to it, but not here. Instead, Papa Kurt's soup is full of umami with a nice salinity but also features vegetal flavors and a hint of black pepper. That makes the soup go really well with the included bok choy, kamaboko (fish cake), tamago (egg) strips, and the tender, fatty, pork. As for the wun tuns, they're sublime. The wrappers are perfectly soft, slipper, and chewy, and are stuffed with just the right amount of slightly sweet pork and chives with a hint of ginger.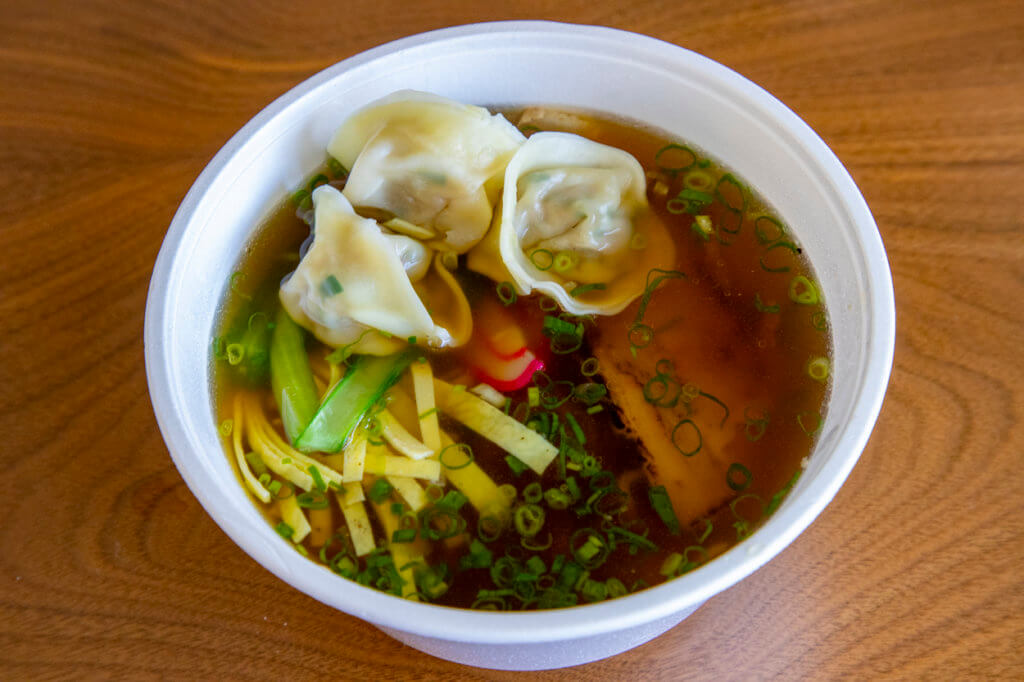 Short Ribs
The short ribs, at $16.50, are the single most expensive item on the menu. But, you know what? They're worth every penny! Inspired by Helena's Hawaiian Food, these suckers are air-dried for a few days before cooking. As a result, they've got an intense, meaty, umami flavor with the perfect amount of salt and smokiness. And, unlike most kalbi you'll find in Hawaii, these things are THICK, which had my slightly concerned at first. You see, sometimes, kalbi can be rather tough. However, the short ribs at Papa Kurt's are so tender that their size wasn't an issue at all. The slight chew, the intense beefy, smokey, umami-packed hunks of short rib, almost dry-aged steak in flavor and texture, and a meat lover's dream come true.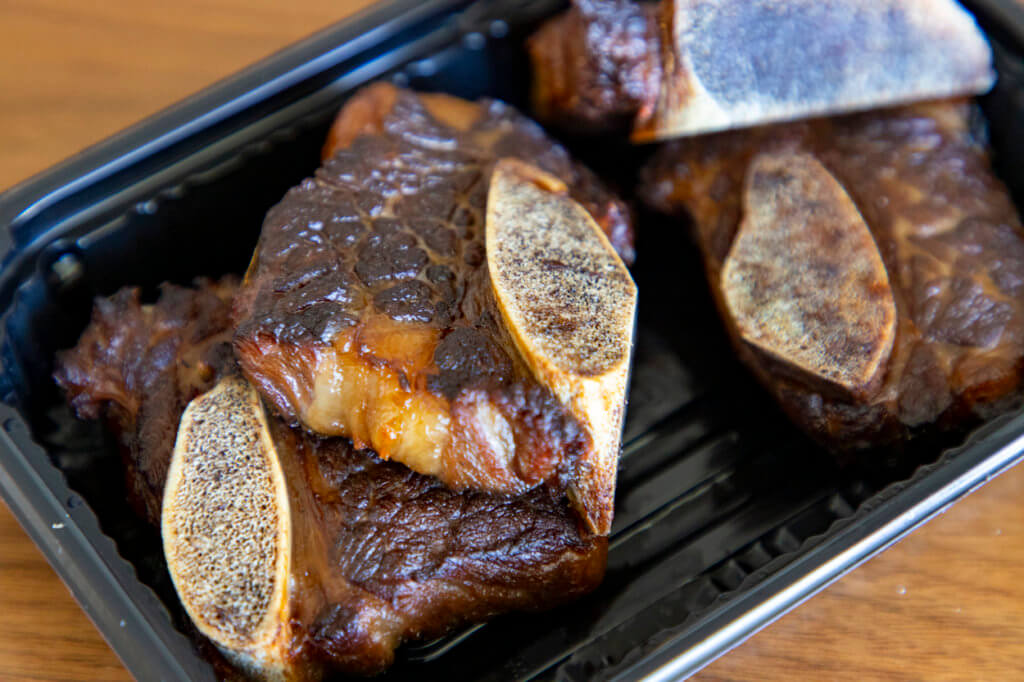 Cheeseburger
The last items in our order were the cheeseburger ($6.50) and the deluxe cheeseburger ($7.50). Both are essentially the same thing, except that the deluxe comes with lettuce and tomato. So, both start with a griddle-toasted bun that's been lightly coated with their special sauce, a deceptively simple burger patty, and a slice of melted American cheese. As I mentioned before, the burgers come with pickles, but they're stacked on top of the burger in their sleeve so you can choose to up them in or keep them separate. We chose to put them in, which is how you should enjoy a burger.
Now, I must say, while everything else was fantastic, the burgers nearly stole the show! The crispy toasted bun, the intensely beefy burger, and the sauce with the pickles all meld beautifully together. In fact, Papa Kurt's cheeseburger just about perfect in every way. And I'm talking about the regular cheeseburger here – not the deluxe one. Sure, the deluxe is good too. But why drown out an utterly delightful, perfectly executed cheeseburger with unnecessary things like vegetables?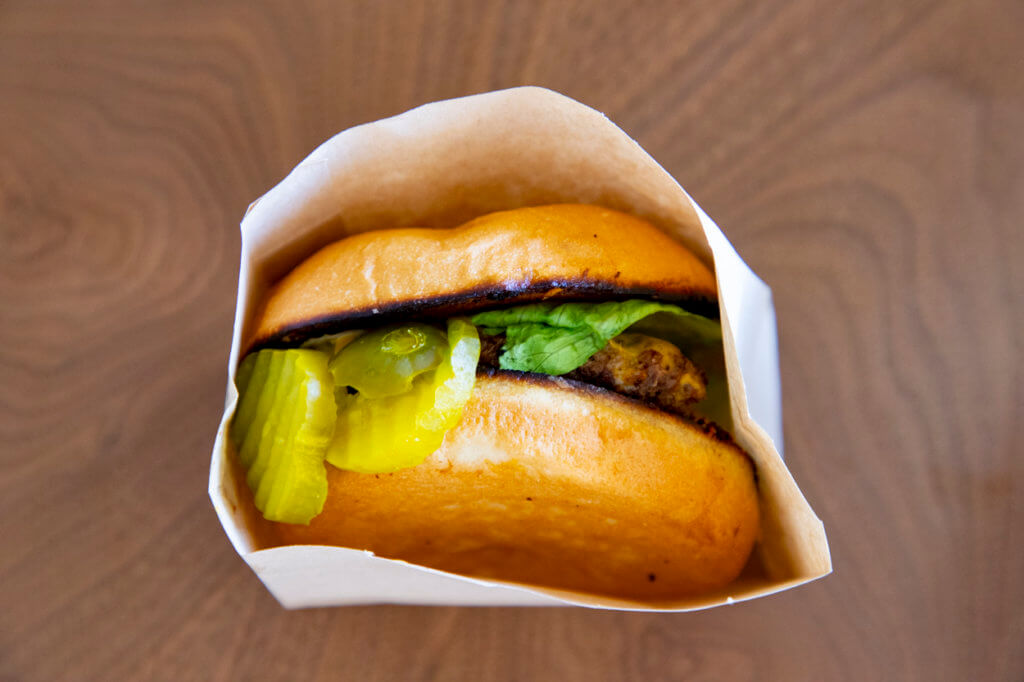 Papa Kurt's, Final Thoughts
Papa Kurt's had barely been open for two weeks when I went in to give them a try. And, in my opinion, the food was already flawless. The service was also fantastic, even if you ignore the strange times we live in, the high demand the restaurant is experiencing, and their overall newness. Oh, and speaking of the high demand, pre-order slots at Papa Kurt's sells out FAST right now. So, if you want to grab a bite to eat from them, you're going to want to order at least a few days in advance if you can. To place an order online, which is the best way to order, visit their website here.
That all said, I was thoroughly impressed by Papa Kurt's. Heck, I'll admit to becoming addicted. I can't wait to return! Sure, my overall tab this time around was a little steep at $54 before tax and tip, but it was worth totally worth it. Especially when you consider the quality you're getting here. Papa Kurt's isn't just a new old school saimin shop – it's a refinement of the model that Hawaii residents have flocked to for decades. And while I still love other saimin shops like Palace and Shige's for their own, unique styles, Papa Kurt's has elevated these comfort foods in a way that only Kajika and Noguchi can. Fantastic job, chefs!