On our last full day in the PNW, we had about half the day available to explore more. So, after checking into our hotel, we booked it back into the city and started by grabbing some lunch at Etta's by Tom Douglas.
Location
Etta's by Tom Douglas is located along Western Avenue right next to the Pike Place Market. In fact, it's only half a block away from the circus original Starbucks store. It's also right next to Tom Douglas's other restaurant, SEATOWN, which Anthony Bourdain went to visit on his show The Layover.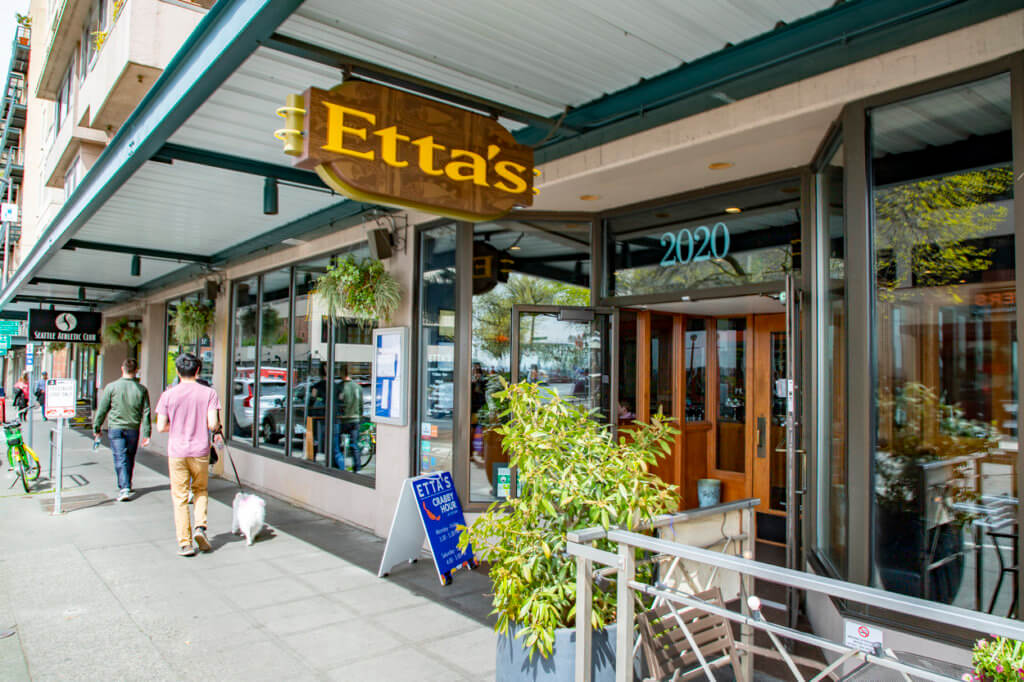 Parking, as you might imagine, SUCKS. So, if you can't find street parking, I suggest you park in the Pike Place Garage a couple of blocks away along Western Ave. It costs $4 an hour there, which is much lower than most other garages in the area.
Ambiance + Service
Etta's has a bit of a 90's feel to it to me, with its colorful decor, dim lighting, and booth seating. That said, it's a cozy little restaurant that, during our visit anyway, was pretty quiet. However, judging by the chairs along the wall, the place must get pretty crazy at times.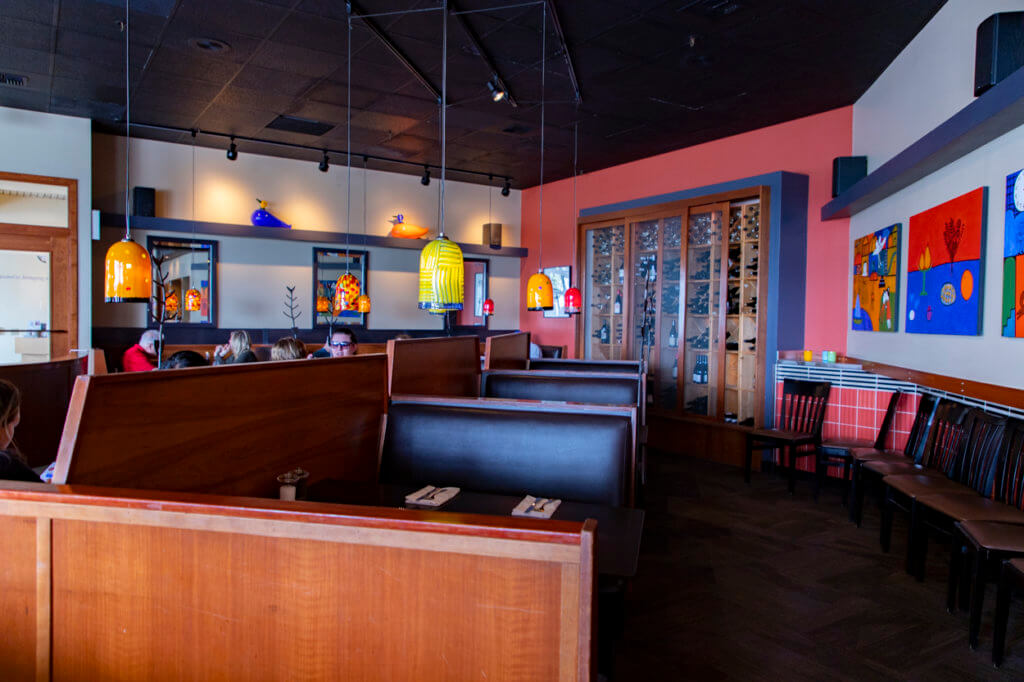 As far as service goes, our server was great! She was very friendly, personable, and professional, and was ready and willing to answer any questions we threw at her.
Food
Etta's lunch menu is on the smaller side. There are only a few plates available, with the rest of the entrees being fried items or sandwiches. But, their signature Etta's "Rub with Love" Salmon ($29 – $35) is available, which is what most of us ended up ordering.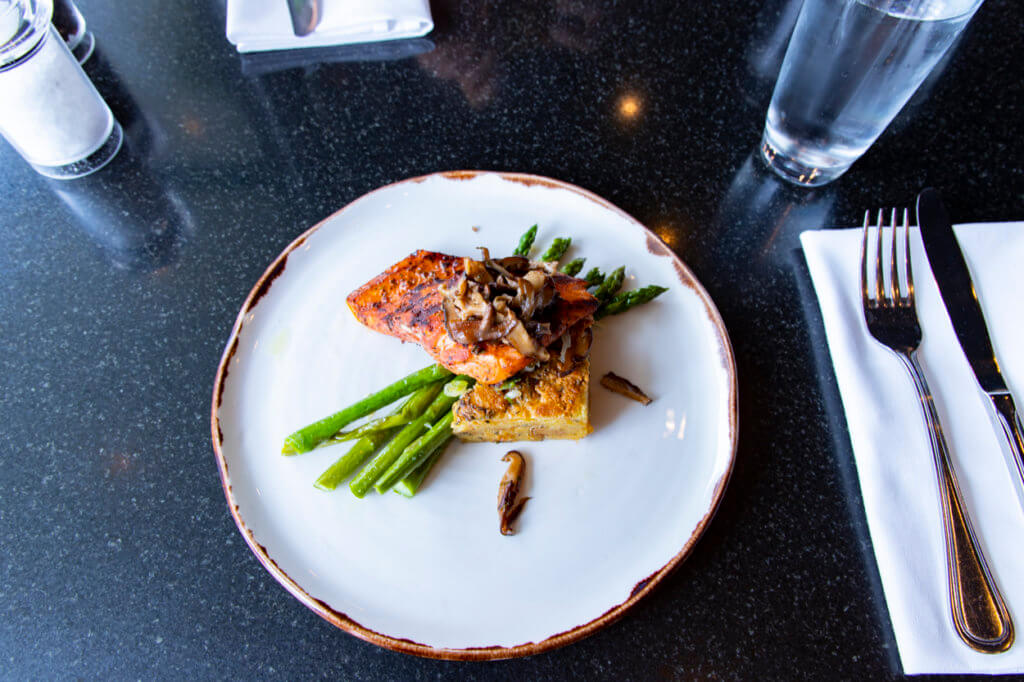 At the time of our visit, the salmon came with cornbread pudding, grilled asparagus, and a shiitake relish. The salmon itself is lightly smoked, then coated with the Rub with Love salmon rub and grilled.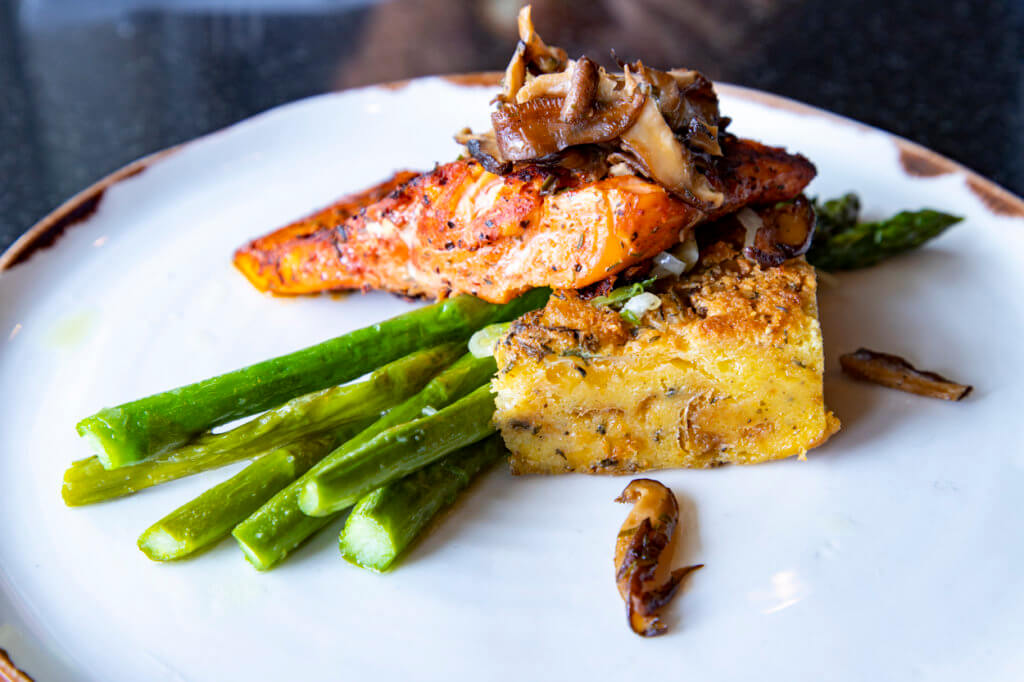 The flavors of the dish were excellent – though I already knew the salmon rub is good. However, the smoe adds to the flavors and takes the salmon to the next level. If I had one complaint about it, though, it's that it was a little dry for my liking, which I assume is thanks to the double cooking (smoking and grilling). I'm more of a crispy-skin seared salmon kind of guy myself. But, I'd still order this again.
Etta's by Tom Douglas, Final Thoughts
Etta's by Tom Douglas is my third Tom Douglas restaurant, after Serious Pie and Dahlia Bakery. And like the previous restaurants, Etta's didn't disappoint. It's earned a spot on my list of places to dine at in Seattle, though there's so much more to try in this great city. My default choice for a nice meal, though, remains Goldfinch Tavern – at least for now.
By the way, if you've never tried Rub with Love, you can sample or order food made with the rubs at the store next to Etta's. My personal favorite is the Veggie Rub, which I use to roast vegetables. You can also straight-up order their stuff via their amazon.com storefront.
Touring the PNW with My Grandparents