Recently, needing a bite to eat in Ala Moana Center, I ended up deciding to check out Kamakura Ramen's Hawaii shop in the Center's Lanai food court. It's a supposedly different type of ramen that's healthier but still tasty. While I think it's healthier than what I normally eat, I don't think I'd choose it over others.
Osaka-based Kamakura ramen actually makes Tokyo-style ramen, which is to say that they focus on making shoyu ramen. However, unlike most other ramen shops, Kamakura Ramen places an emphasis on creating a lighter, healthier bowl of noodles that actually focuses more on the soup. In fact, on their website, they tailor their soup after French Consume.
Kamakura Ramen Location
As I mentioned earlier, Kamakura Ramen is in Ala Moana Center's Lanai food court, which is on the Mall Level next to Macy's. Millennials and older will likely remember this area as once being part of Shirokiya Ala Moana.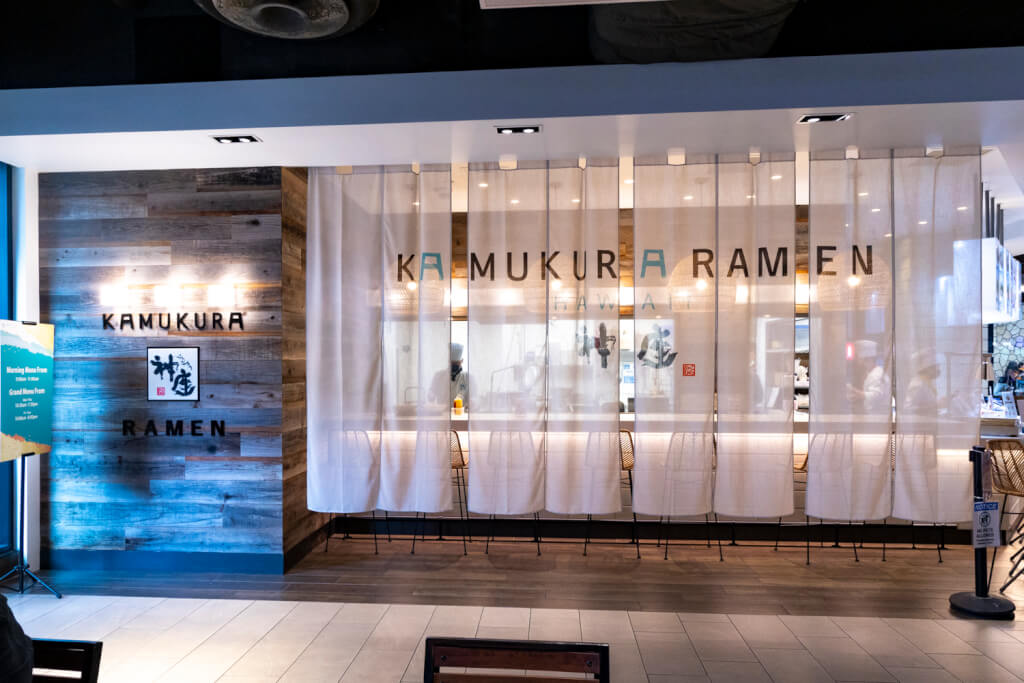 The shop is rather unique for the food court in that you can either "dine in" or take out. You see, Kamakura has its own bar seating available, while you can also choose to take your ramen and sit elsewhere in the food court, including their outdoor seating. Whichever you decide, you'll need to walk up to the cash register to place your order. If you choose to dine in the food court, you'll be issued a pager to let you know when your order is ready.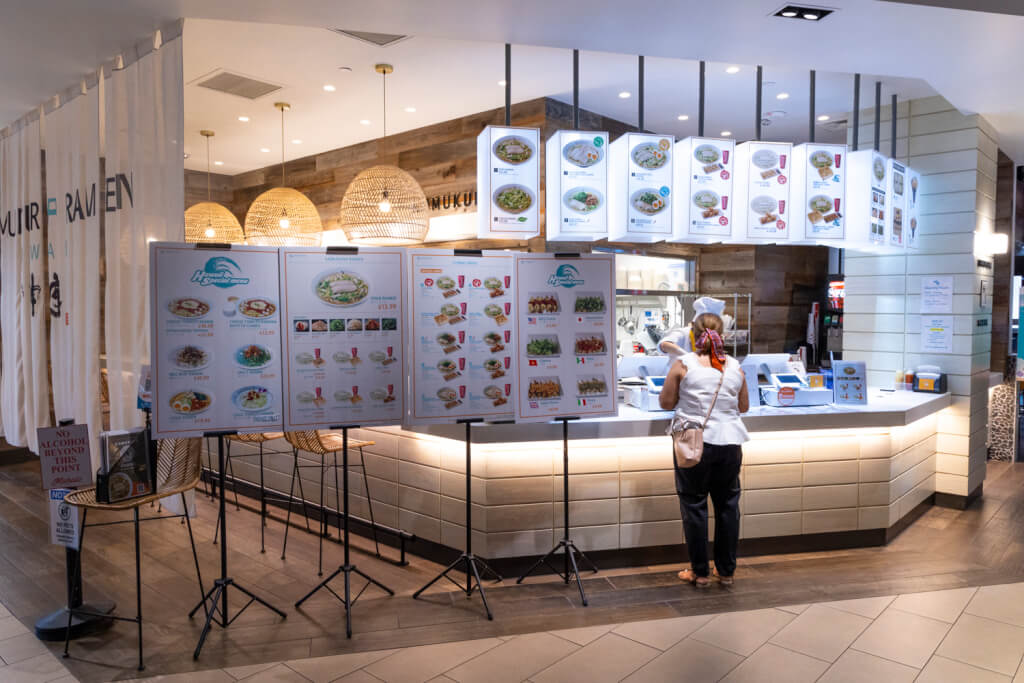 Kamakura Ramen Hawaii Menu
Kamakura has six basic types of ramen on its standard menu, along with gyoza and karaage chicken. However, in Hawaii, they have six more location-exclusive ramen dishes, including Cheesy Tomato, Cold Tomato, Cheesy Tomato + Risotto, BBQ Beef, Spicy, and Cold. There are also six variations of gyoza available, supposedly inspired by different countries, including a BBQ Cheese flavor (USA), green onion (Japan), Cilantro (Vietnam), Salsa (Mexico), Baked Beans (UK), and Pesto (Italy).
I opted not to order any gyoza at all on this visit, but many of those flavored ones sound gross. Bake Beans on gyoza? No thanks!
Prices for ramen start at $14 for the basic version and tops out at $30 for a ramen + chicken + gyoza + drink combo.
What We Ordered
Mrs. Island Miler went with the Spicy Ramen ($24), which is the base Oishii Ramen with chives, kimchee, cabbage, and, apparently, bean sprouts. She thought it was ok. It wasn't spicy at all, and, much to her dismay, there were more bean sprouts than noodles. If you don't like bean sprouts, maybe skip this one.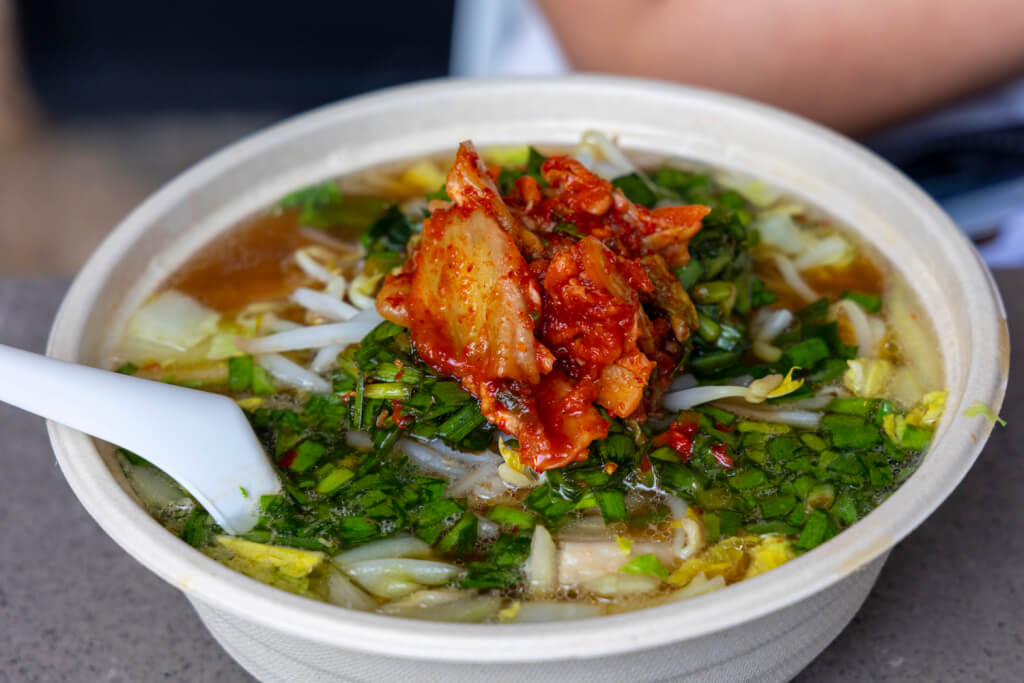 I went with the Seasoned Egg Ramen for $17, which takes the base Oishii Ramen and adds an egg. For an extra $3 😐. And, as you can see, they didn't even bother to split my egg, as is shown on all their menus.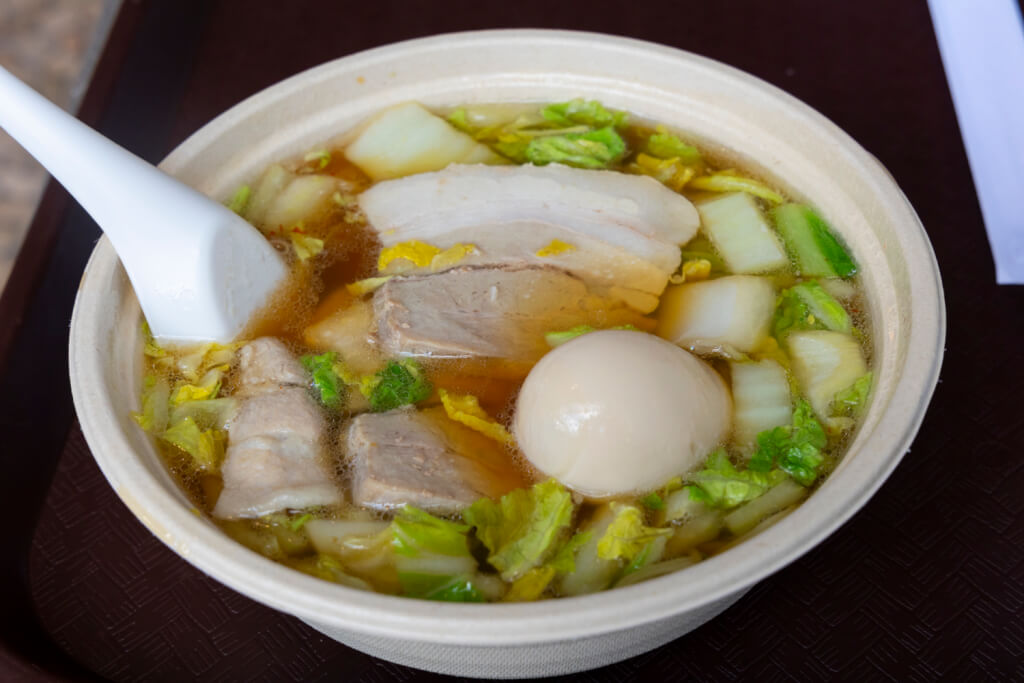 Personally, Kamakura's signature soup tastes a lot like a mild, generic shoyu-based ramen soup. In fact, I think Sun Noodle's home ramen kit has more flavor than this. The egg, despite being wildly over-priced, was pretty tasty, though the chashu was tough, bland, and sad. Kamakura's use of cabbage is interesting but only serves to further diminish the flavor of the soup, in my opinion. The noodles are ok – nothing special, but served nice and al dente.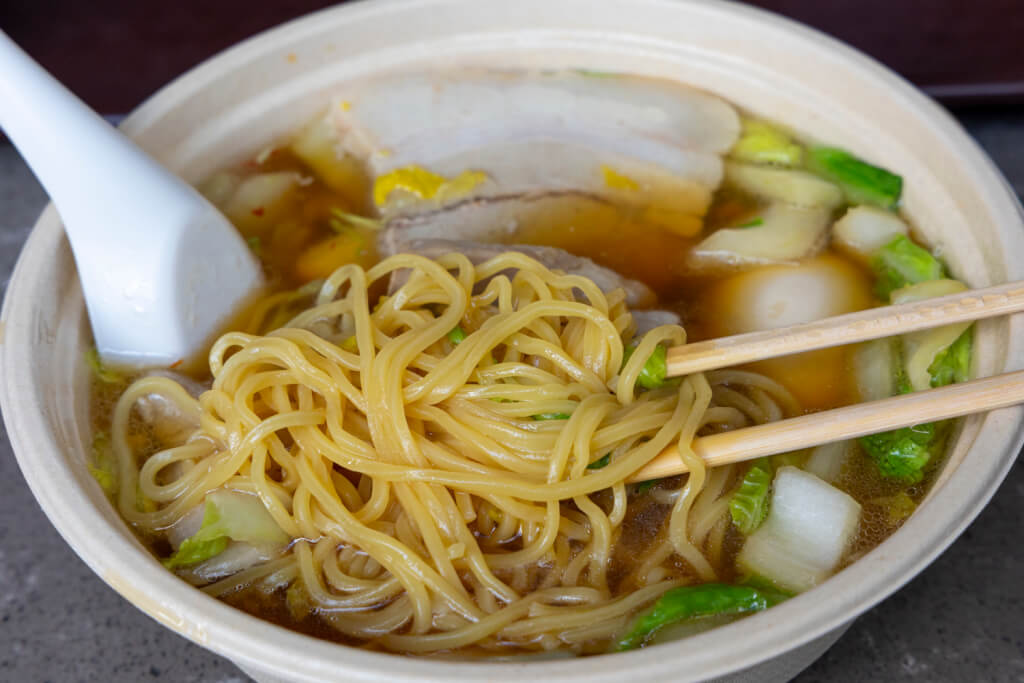 Final Thoughts
Overall, I'm glad I tried Kamakura Ramen. It sure is different, but isn't to my taste, either. That's not to say I only eat fatty, rich tonkotsu ramen – I don't. But I want my ramen to have more of a flavorful punch, too. At any rate, even if I did like Kamakura a bit more, it's not someplace I'd likely return to. At $50 for two bowls of ramen, including tax and tip, I don't consider this place to be of good or decent value. I'll stick with the more traditional ramen shops around town.