Last updated on September 2nd, 2023 at 08:46 pm
Our second and final dinner in San Francisco was at another Michelin-starred spot: Restaurant Marlena. Unfortunately, this SF hotspot closed this past July due to a dispute between the chef/owners and the landlord who owns the physical restaurant. But I loved the place so much I'm reviewing it anyway.
Why Restaurant Marlena?
Aside from having a Michelin Star, Restaurant Marlena is lauded by trusted reviewers, including Eater.com. Plus, every time I looked at their menu, it looked intriguing and delicious! The $75 per person base price doesn't hurt, either. Too bad it's no longer available, though we may see something like Restaurant Marlena again soon. But more on that later.
However, because of the current situation, I'm not going to go over booking or location information since, even if the restaurant reopens, it won't be the same. Rather, I'll just gover our experience there.
Restaurant Marlena Service
Service here was excellent. It was courteous, knowledgeable, and friendly, which is what you'd expect from a restaurant with a Michelin star rating. But what sets them apart from similarly starred restaurants is how personal the service is. And I don't mean this as they customize things for you. It's more that the waitstaff will talk story with you. It really did feel like an excellent family neighborhood restaurant but at a higher level.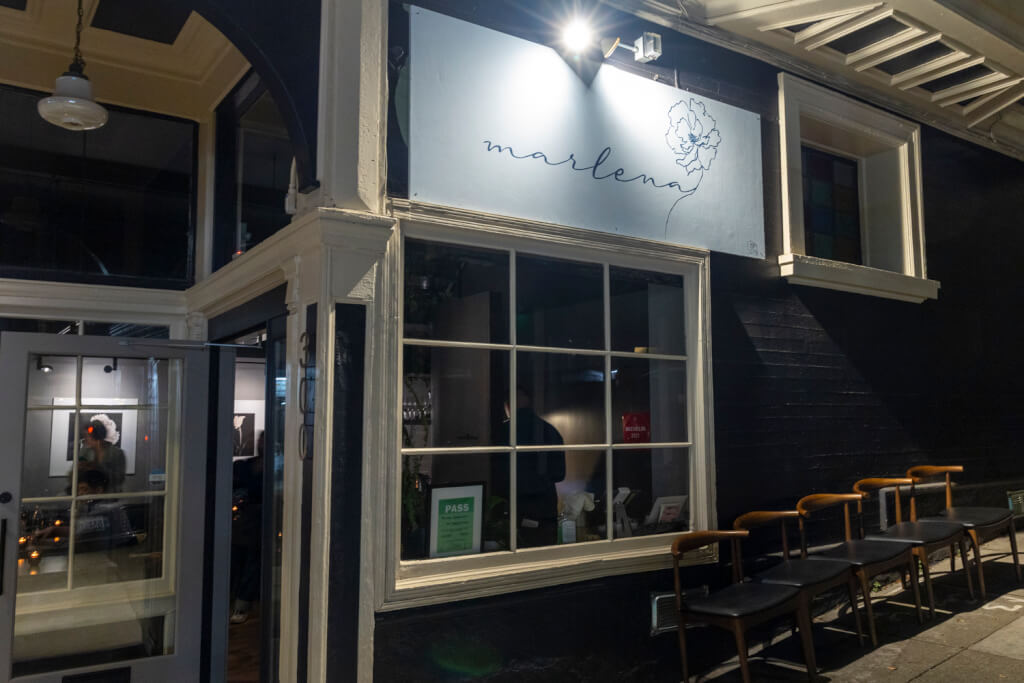 The Menu
The menu at Restaurant Marlena was seasonally driven and could change on the daily based on what was available at the time. The menu was prix fixe, though there were aways at least two options for course, with one meat and one fish option for the entree.
What We Enjoyed
Let's backtrack a little bit. The soft drink game here wasn't so great. As you can see, our apple soda and ginger beer were canned and bottled, and both were fairly underwhelming. But they didn't detract from the overall experience, and our water glases never went empty, so this really was a non-issue for us.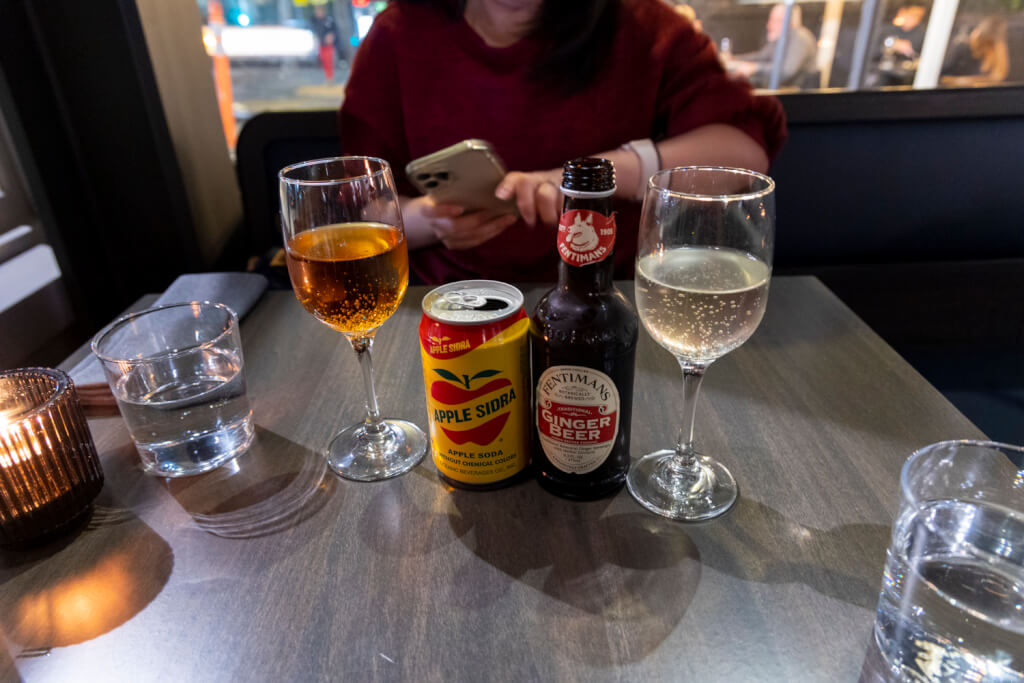 The first thing to land on our table was the Shokupan. This was a $2.50 supplement per person that was actually kind of controversial amongst other reviews I've seen. Some complained that it was too dense, which I kind of agree with. But you know what? It was a fantastic vessel for their amazing cultured butter. The butter was so rich and creamy with just a touch of that wonderful cheese funk that cultured butter can have.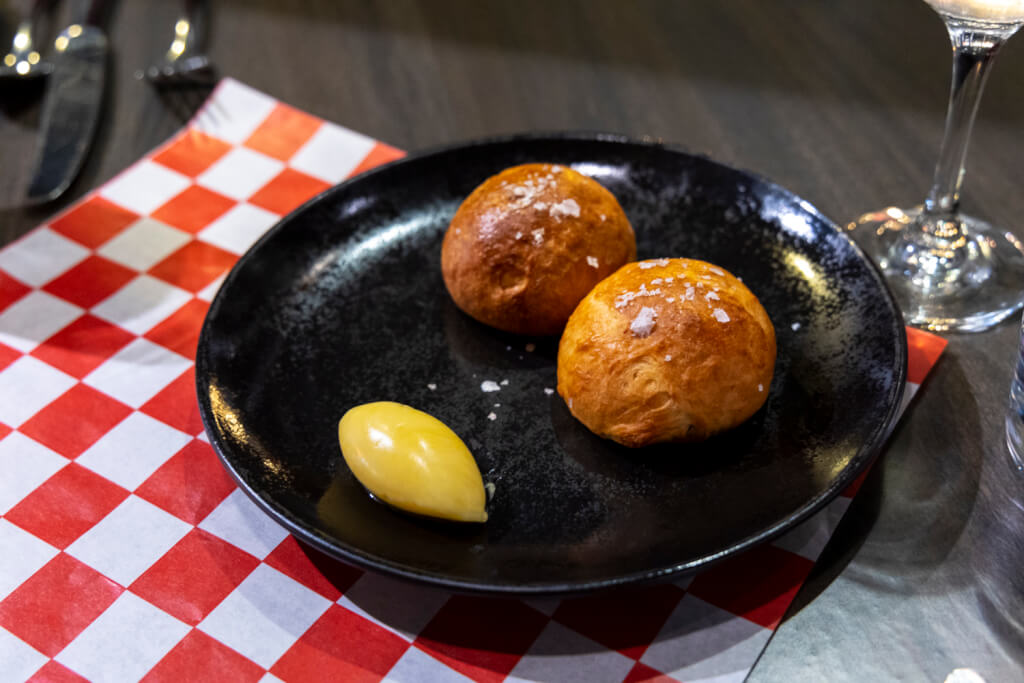 Next up was an homage to Restaurant Marlena's pandemic-era survival strategy – picnics. This was another supplement that featured three different small bites complete with a picnic blanket, which actually arrived with the shokupan. On that night, the picnic consisted of a Fig Cookie with foie gras mousse + huckleberries, Osetra Caviar Croustade, and Mushroom Duxelle.
The Croustade was my new favorite way to eat caviar, feating a crispy, savory pastry shell with a creamy filling. The overall bite was very caviar forward in a good way, while the shell provided a fantastic textural contrast. On the other hand, the duxelle had an intense mushroom flavor offset with a little onion and acid. It paired fiendishly well with the shokupan and butter, per our server's recommendation. Finally, the fig cookie was a sweet-savory riff on the classic snack food, enhanced by creamy, rich foie gras mousse. Remarkably, all of this was just $21 per person! Seriously. Most places charge more than that just for the caviar.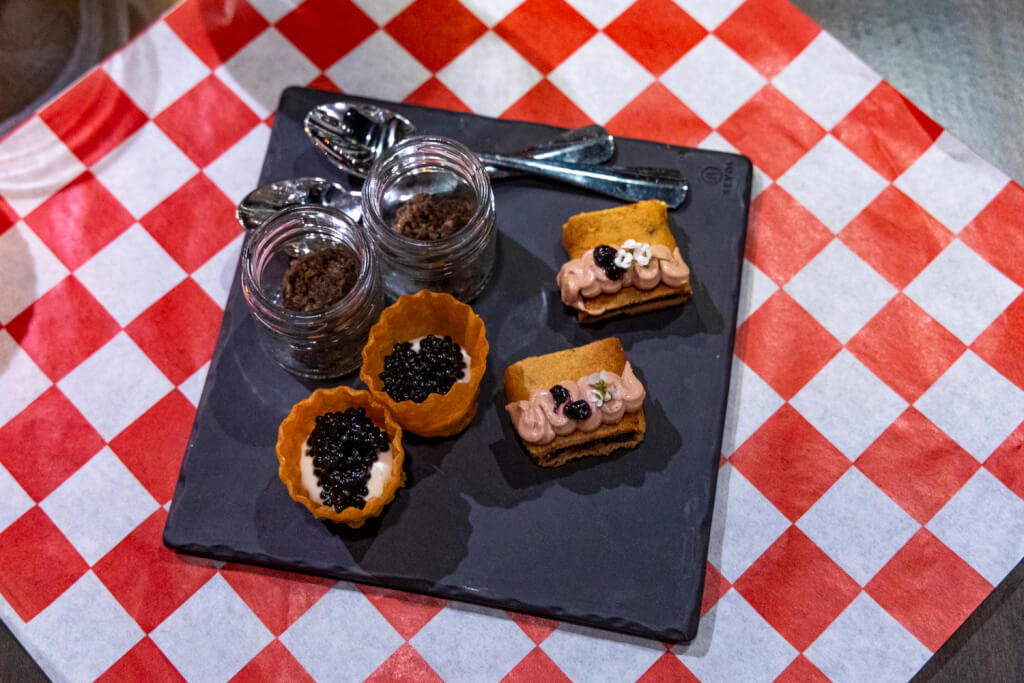 For the rest of the menu, we decided to order both options and split them amongst each other. On that night, the starters consisted of Salt Baked Beets and Hokkaido Scallop Tartare.
The Salt Baked Beets featured a toasted pepita pesto, satsuma orange, and Castelfranco – a type of radicchio. This was an upscale version of a typical roasted beet salad. The beets were sweet, tender, and meaty, while the pesto provided a roasty, toasty nuttiness to the dish.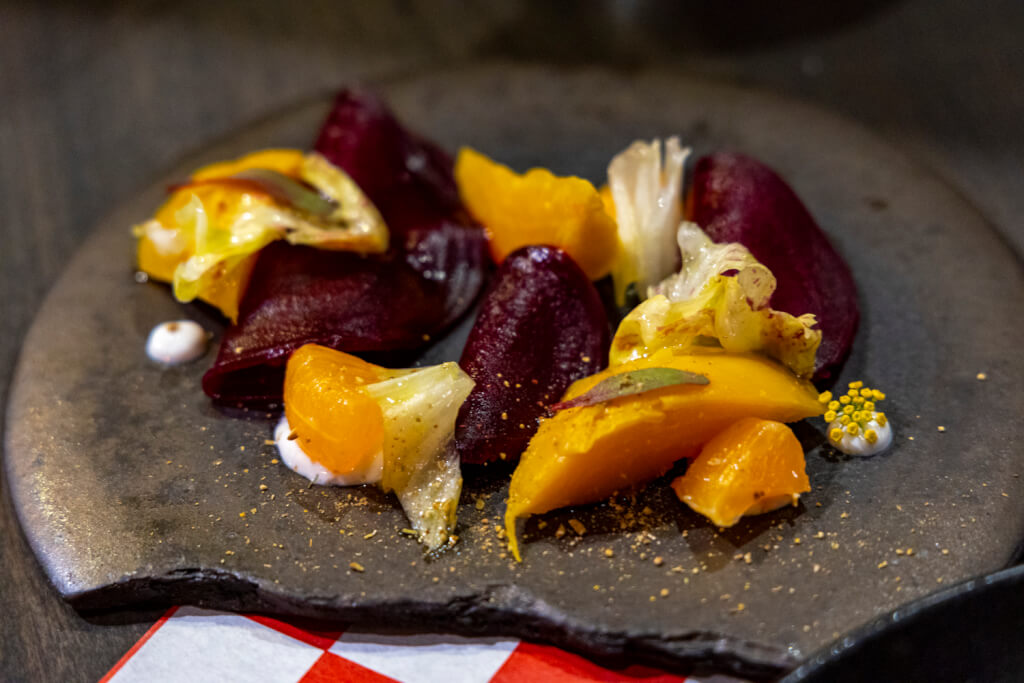 The Hokkaido Scallop Tartare featured Markut lime, watercress, and buttermilk. Here, the sweet, soft, meaty scallops were offset by the intensely citrusy sauce and heavy use of salt. These qualities were further tempered by the buttermilk espuma, while crispy quinoa provided a lovely textural contrast.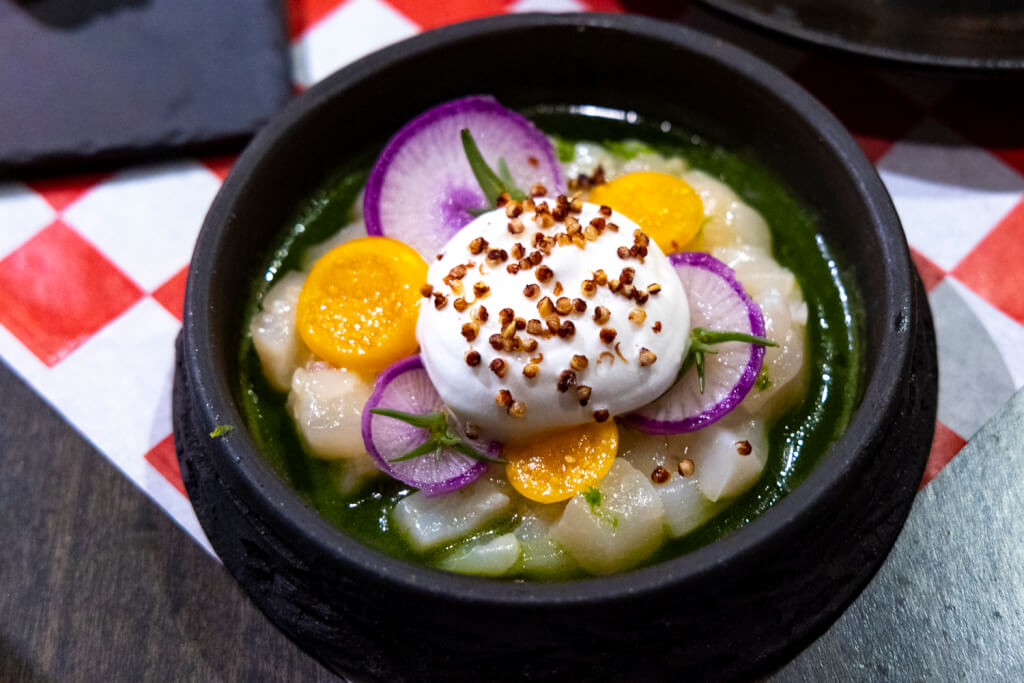 In Restaurant Marlena's parlance, our next set of dishes was called "Then." That night, the two options were Tagliatelle and Acquerello Risotto. Unfortunately, the Tagliatelle, which is homemade, came with a beef shoulder sugo, which meant I couldn't eat it. That's a bummer, as I love great pasta, and it also featured white chanterelles and horseradish. That said, Mrs. Island Miler really enjoyed it!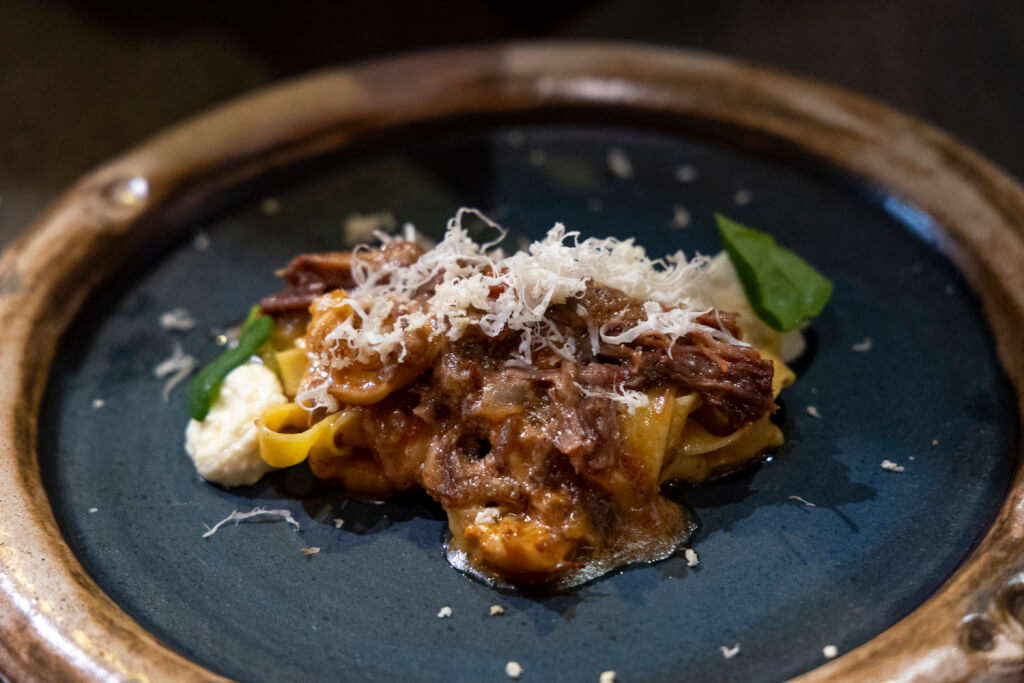 Naturally, I went with the Acquerello Risotto, which featured Delicata squash, Maitake mushroom, and parmesan. The rice was perfectly al dente, while the overall dish was rich and flavorful. Despite the richness, it managed to remain fairly light and refined. Then again, the sweet squash, the salty umami of the parmesan, the meaty mushrooms, and a touch of citrus really helped to tie everything together.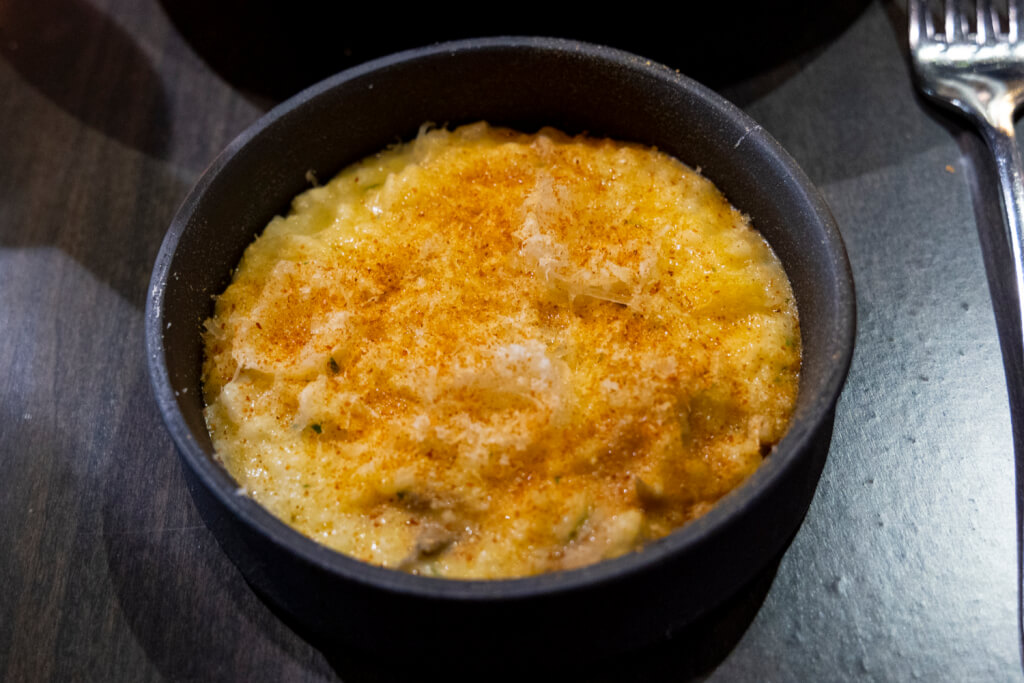 Next up was our final supplement of the night – a seasonal treat – White Truffle Agnolotti. Unfortunately, I don't remember how much this one cost, but it was excuisite. Pillowy, yet al dente agnolotti were filled with a luscious ricotta and parmesan filling. The sauce the pasta came swimming in was deeply umami, wich helped to enhance the pasta and its filling. But of course, the main attraction here was the fresh Alba truffles microplaned over the dish. That heady aroma was phenomenal.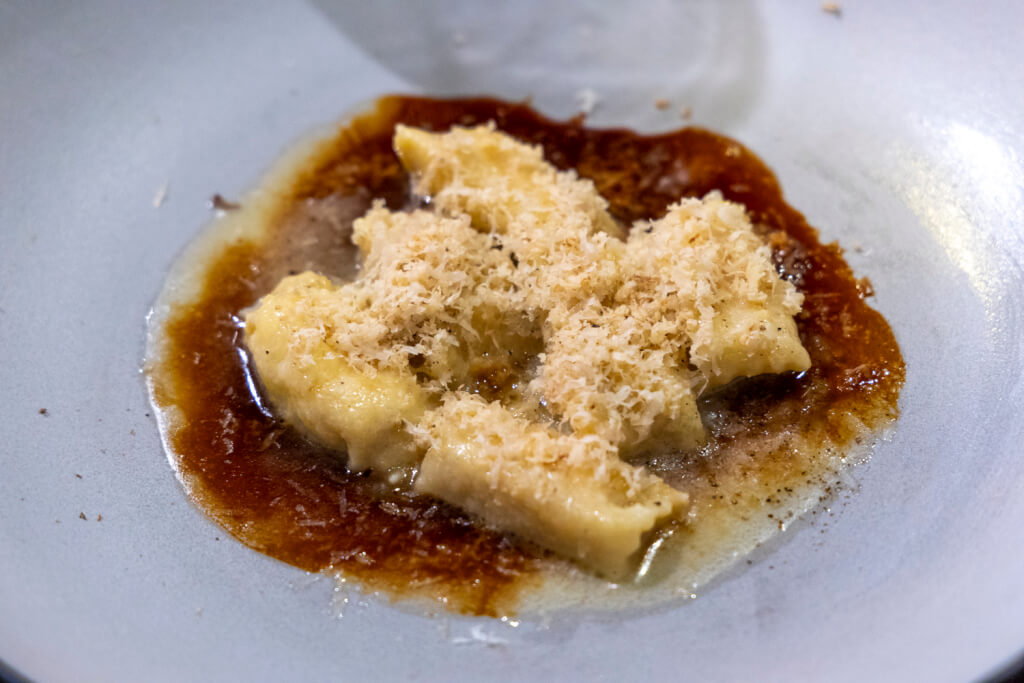 Next up on our Restaurant Marlena journey was "After," which are the main dishes. On that night, we had a choice of Sakura Pork Loin and Roasted Black Cod.
The Sakura Pork Loin came upon stoneground grits with pork sausage and honeynut squash. The pork itself was unctuous – so tender and juicy inside, with a lovely crust on the outside. There was no gaminess whatsoever, which isn't always the case with pork – even farmed pork. The grits were rich and creamy, the sauce was intensley flavored, the pureed squash added a nice counter to all the savory notes, and the pickled mustard seeds provided a lovely contrast to all the richness.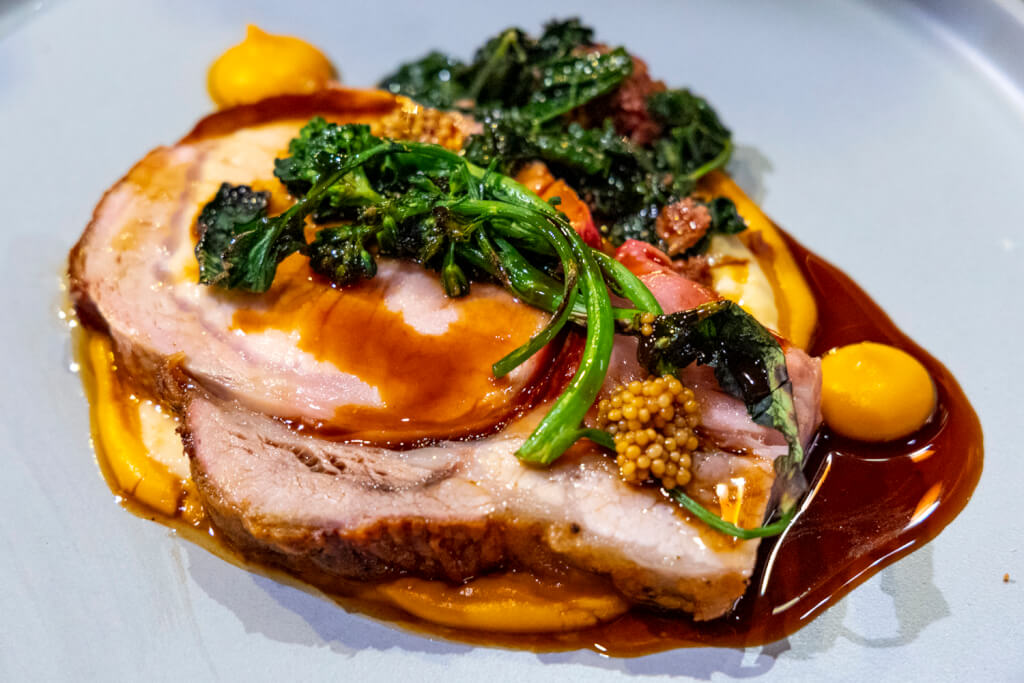 The Roasted Black Cod featured little neck clams, sake butter, and brussel sprouts. This was an eye-opening preparation of a fish we know as Butterfish in Hawaii, with perfectly rich, juicy, flakey meat and crispy, crunchy skin – a first for me. The sake butter broth was rich and umami-filled, enhanced with trout roe. The roasted vegetables added a lovely counter to all the richness in the dish.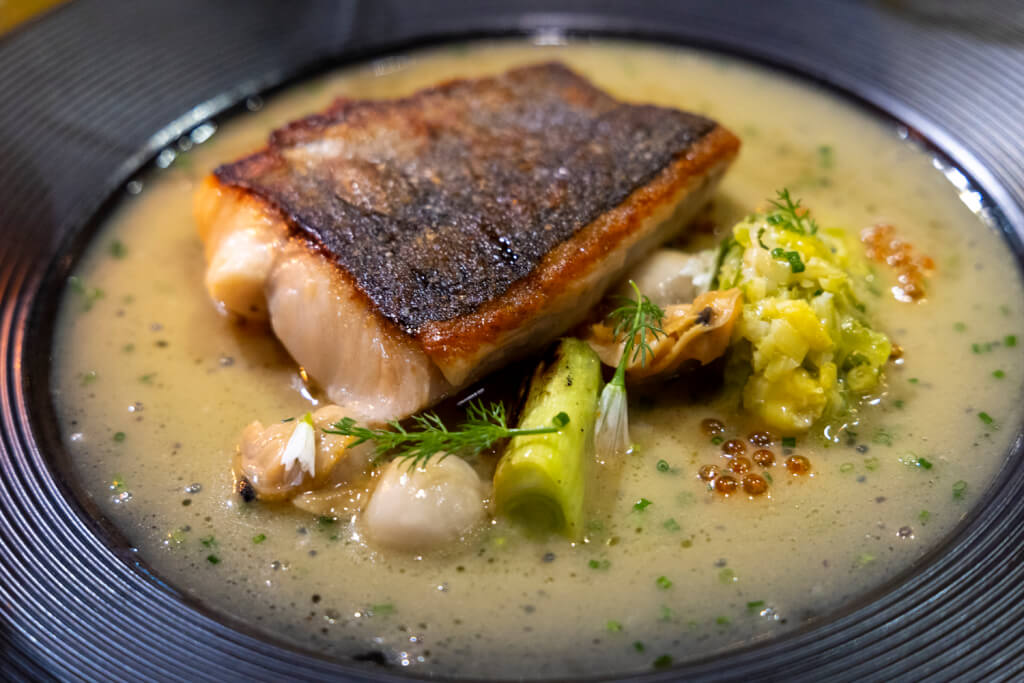 There was one more supplement available that night at Restaurant Marlena, which was a A5 Wagyu Ribeye Cap for $45. It sounded fantastic, featuring confit sun choke, black garlic, and cauliflower, but given my condition, we didn't order it.
As we began to close out the night at Restaurant Marlena, our "Finally" dishes arrived. That night, the options included Chocolate Rye and Cranberry Creamsicle. The Chocolate Rye is a Devil's Food Cake with oolong bavarois, and a poppy seed crumble. This was a chocolate lover's dream come true, with the deep, dark chocolate cake being enhanced by the oolong bavarois and the poppy seed crumble. Who would've thought?!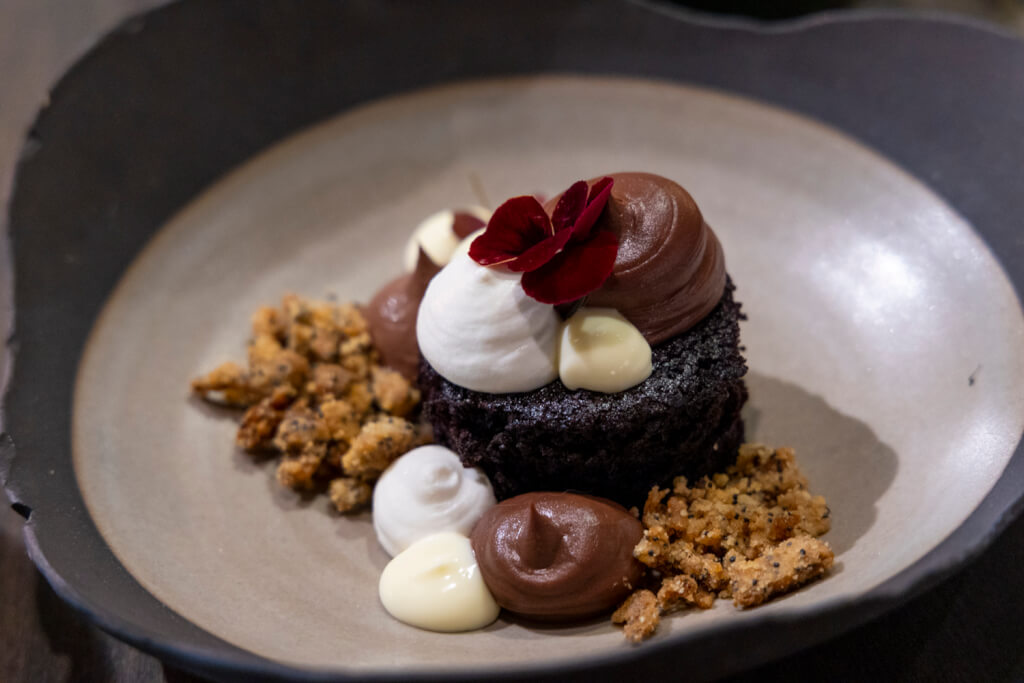 The Cranberry Creamsicle was the exact opposite of the chocolate dessert, featuring yogurt, candied cranberries, and Cara Cara Orange. Whereas the Chocolate Rye was deep, dark, and rich, the Cranberry Creamsicle was light, fruity, and sweet with a slight savoriness to it. This was definitely the dessert to get if you wanted something lighter.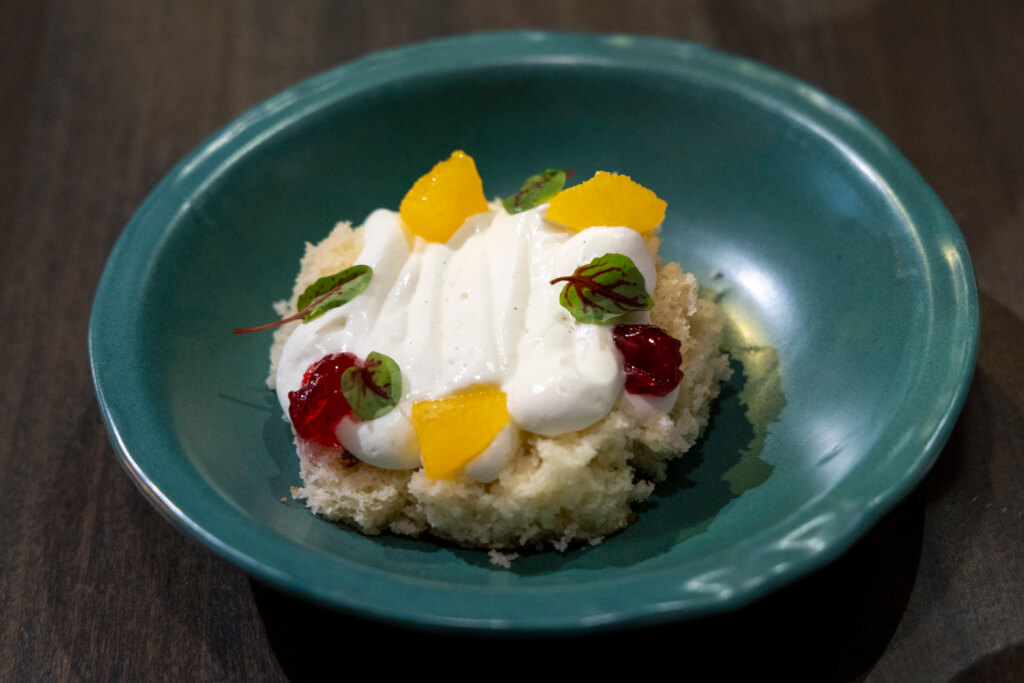 Final Thoughts
I'm so disappointed that Restaurant Marlena is no longer with us. It's even more heartbreaking when you learn of everything the husband-wife chef duo overcame to build this incredibly successful and surprisingly affordable gem of a restaurant. And while we may never see Restaurant Marlena in this incarnation again, the couple are already working on another concept – 7 Adams. Follow them on Instagram to follow along with their progress.
Living It Up in California