For our Grand Maui Adventure, I chose to have us fly on Southwest Airlines. Specifically, we flew Southwest 825 Honolulu to Kahului to get there, which ended up being one of my more memorable flights thanks to its fantastic crew.
Traveling during the pandemic is weird for various reasons. One of these, however, is a weird but positive reason – Southwest is using actual gates in Honolulu. That meant a much shorter walk to our gate and an easier boarding/deplaning process. For our specific flight, we were assigned gate E2, which is one that Alaska Airlines typically used pre-pandemic. Unfortunately, the gate's window doesn't overlook the actual gate. However, I did snap this wonderful photo while walking over to our concourse.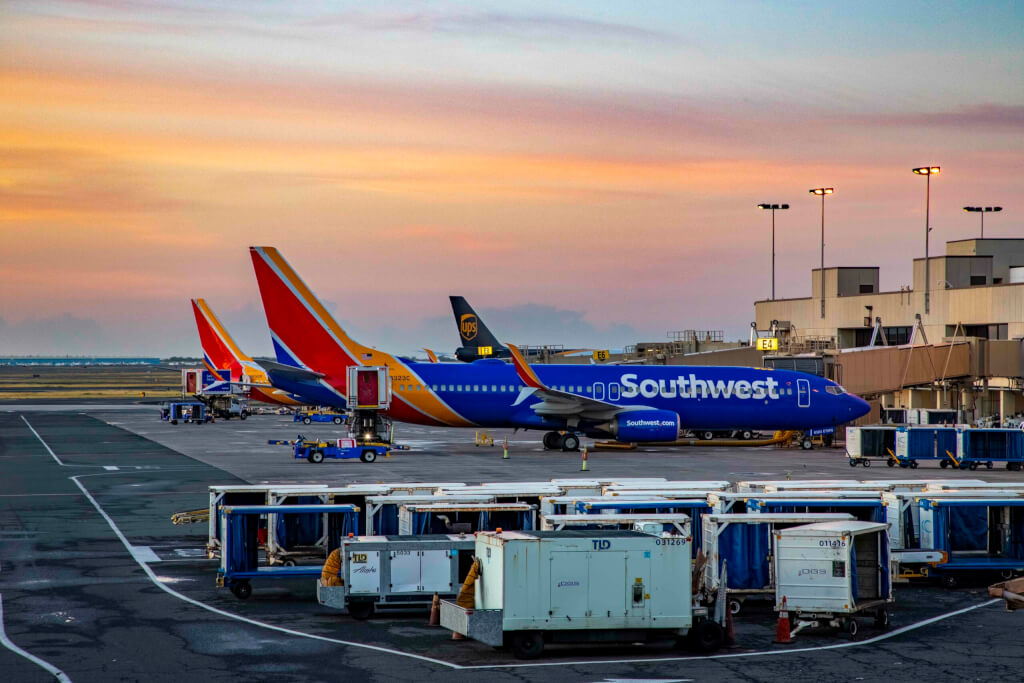 At this point in November, most of the passenger aircraft at HNL were narrow bodies. Others seen that morning include the Alaska Air Spirit of the Islands jet, an American A320, and a Delta 737. As you can see, Southwest just dominated this side of the airport on this Wednesday in November 2021.
Southwest 825 Honolulu to Kahului
We got to our gate area pretty early. In fact, our aircraft wasn't even there yet. But, as boarding time approached, the crowd in the waiting area remained thin. REALLY thin. And not a lot of people exited our aircraft when it did arrive too. This sparseness meant that things weren't going to be normal.
Boarding
Things got off to a bit of a late start. Or scheduled boarding time was 7:30 am. However, the gate agent informed us that there were only 39 passengers ticketed for this flight. As a result, he did a single boarding call at 7:39 am for everyone to get on at the same time. So much for my Early Bird upgrade lol.
Everyone got on in a matter of minutes, though it took a little while to count all passengers and verify this with the ground crew. The flight attendants working our flight were in good spirits with our purser giving one of the other flight attendants a hard time for miscounting the relatively few passengers onboard during his first pass. They both had a good chuckle about it.
Eventually, the doors closed at 7:59 am.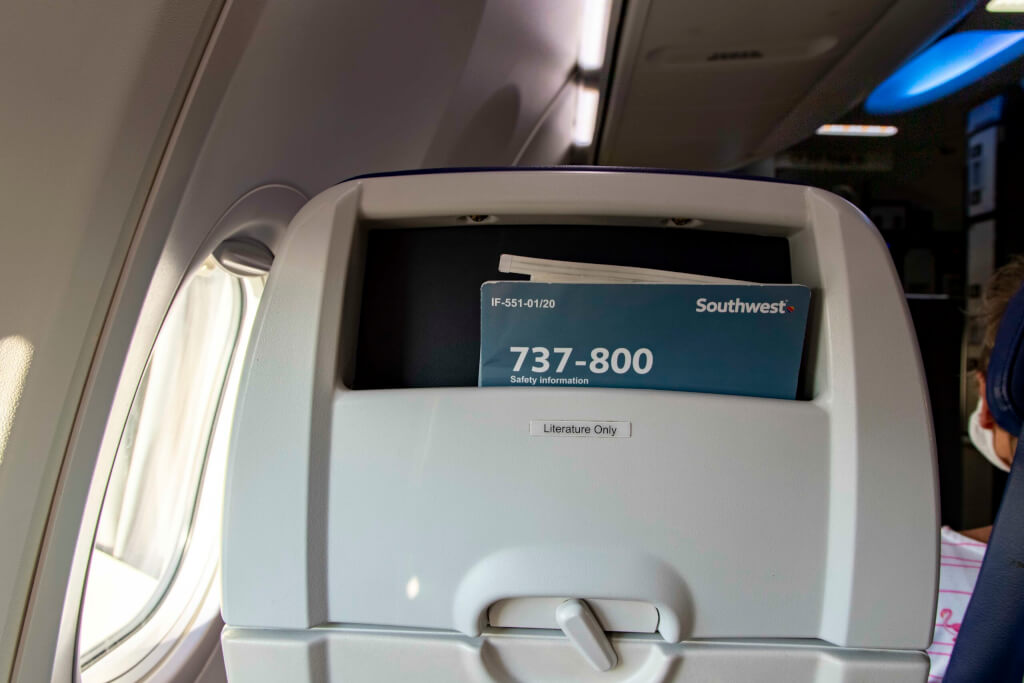 Departure
Our originally scheduled departure time was 8:00 am. However, the inbound flight was running late and that time was subsequently pushed to 8:09, then 8:06. Ultimately, we began our pushback at 8:02 am.
The purser operating our flight ran through the usual pre-departure briefings but managed to work some jokes in. For example, she stated that in the event of a decompression, you should put your own oxygen mask on before assisting others. However, she said that it's up to you if you want to help your husband or not. Our quoted flight time was 23 minutes, though she couldn't remember where we were going! Take a listen to the full briefing at the video I embedded later on in this post.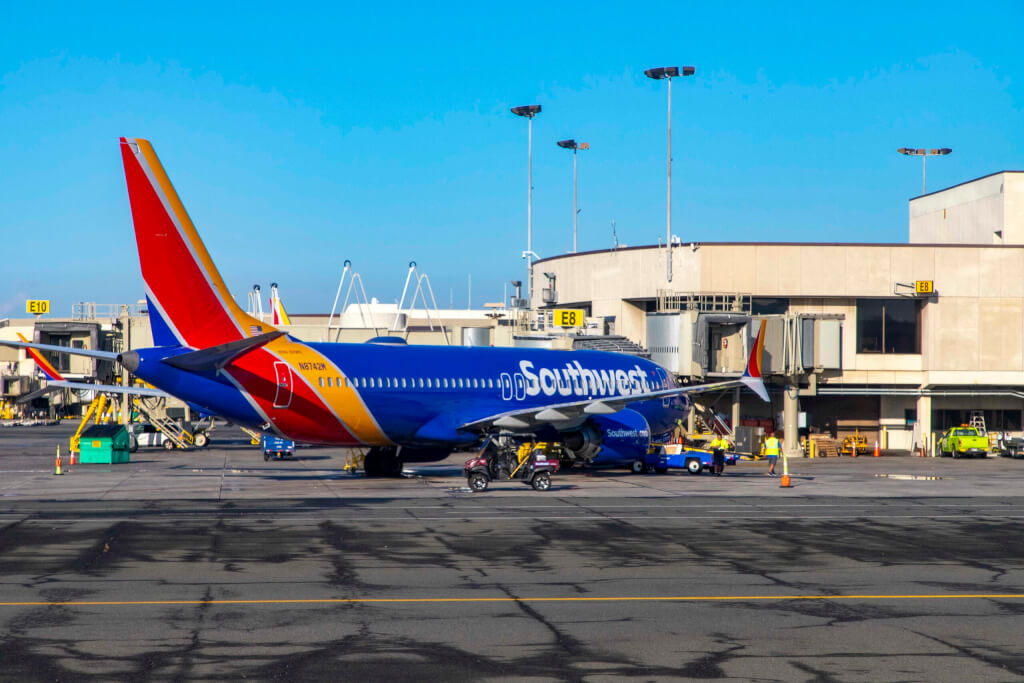 Despite the lack of activity at Honolulu, there was a few interesting birds to see on our taxi to the runway. For example, we saw a Hawaii Air Force Reserve C-17 following a Hawaiian A330 out to the Reef Runway. There was also a USAF C-5 Galaxy parked over at Hickam. Of course, there were a few Southwest 737 MAXs operating that morning too.
After a 10-ish minute taxi, we made it to Runway 8L and held short for an arriving Boeing 747. We then began our takeoff roll a minute later at 8:16 am.
The views that morning were great. But I wasn't kidding about Southwest being the bulk of operations on the overseas side of the airport that morning.
While we progressed out of Honolulu using a familiar path, we were flying a bit further south than I remember flying on past flights to Maui. Due to major glare issues, I didn't take any photos of downtown Honolulu or Waikiki on our smooth climb out. However, I did get these amazing shots of Leahi and the Honolulu Volcanics features.
Cruising
Given our 20-ish minute flight time, no service was being offered on our flight. That's a major differentiator between Southwest and Hawaiian, though I think it hardly matters for such a short flight. We had bought our own water anyhow so that we'd have something to drink while we drove around Maui later that day. That said, WiFi was available (for a fee), you could still stream live TV and movies to your mobile device, and you could use the WiFi to send messages for free. I'll take the free messaging convenience over a free juice/water/coffee any day. Besides, I simply love the view out the window on these flights. That day, in particular, gave us great views of Molokai, Lanai, and even Kaho'olawe.
While passing over Lanai, we began our initial descent just 10 minutes into our flight.
Approach & Landing
As we approached Maui, things began to get a bit bumpier, which is normal. Winds in the central valley that day (and through most of our trip) were quite strong, though, which meant our ride got more turbulent as we got closer.
12 minutes after beginning our initial descent along with a little drama, we touched down at Kahului International Airport at 8:38 am. Interestingly, as we hit the ground, our flight crew immediately threw the reverse thruster on what felt like max power and began braking really hard shortly thereafter.
After our slightly jarring landing, we had a quick taxi to our gate, pulling in two minutes behind schedule at 8:42 am. Two minutes later, the doors opened and I was off to collect our bags.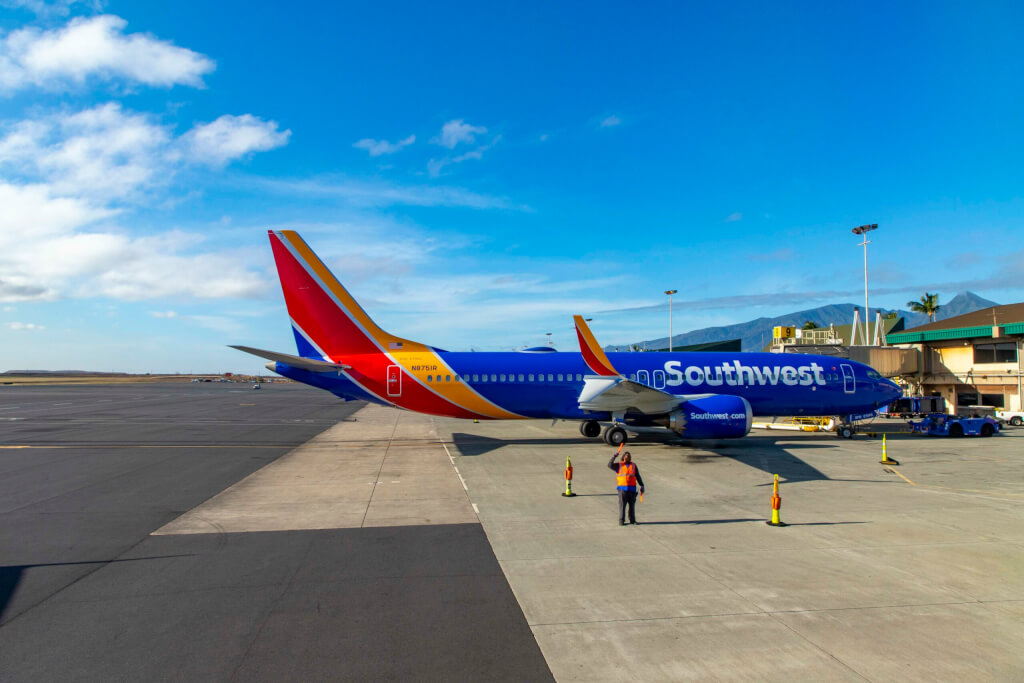 Bag Retrieval
It probably took me 10 minutes to make my way down to the baggage claim after stopping off for a bathroom break. Yet, despite our light load, the bags hadn't started coming down yet. We didn't have to wait long, though, as soon after I arrive, our bags started appearing. I got both our checked bags by 8:57 am – 13 minutes after the doors opened – and immediately made my way over to the consolidated rental center.
Southwest 825 Honolulu to Kahului Video
As with my flight to Vegas, I've put together a video of this flight. This time, however, the video is of the whole flight. I sped it up a good chunk of it, though, to keep things from getting too long. Let me know what you guys think!
Final Thoughts
This was my third flight on Southwest and ended up being another good one. Our flight crew was exceptional, which made the whole experience all the better. Of course, having a whole Boeing 737-800 carrying just 39 people helps immensely too! Too bad we wouldn't be quite as lucky on our return flight to Honolulu. But that was the further thing from my mind at that point in time. At this point, I couldn't wait to get our car and get out onto the road. After all, as of this trip, it's been over five years since we last visited Maui. And I had a lot of new experiences planned for us this time around!
Grand Maui Adventure
Southwest 825 Honolulu to Kahului