There's no doubt that the pandemic caused a lot of economic pain, shifts in business strategy, etc. But, we've also seen it create a surge in creativity. One of the best new businesses born of this creativity, in my opinion, is C4 Table by Chef Colin Hazama.
If you're a frequent guest of Luxury Collection hotels and took a look at the recipe book they sometimes have in rooms, you might've heard of Chef Colin Hazama. That's because Chef Hazama was once the head chef of the Royal Hawaiian Hotel's excellent beachside restaurant, Azure. But, before that, Chef worked under a number of our country's best chefs, including Jean-George Vongerichten, Alan Wong, Gary Danko, and Roy Yamaguchi. So, when I heard Hazama was going to begin offering his own upscale bentos via C4 Table, I was intrigued.
How to Order C4 Table
Like most pop-ups, C4 Table operates on social media. Specifically, you'll find menus for the upcoming week's pop-ups on C4 Table's Instagram profile. Currently, those pop-ups happen on Tuesdays at Kaiser High School from 4 pm to 6 pm and Wednesdays at M by Jeremy Shigekane from 3:30 pm to 5:30 pm. To place an order call or text 808.922.1910, or email chefcolinhazama@c4table.com. Cash or Venmo payments only.
What We Ordered
C4 Table has been around since June 2020. Unfortunately, it was only recently that I FINALLY gave them a try. It's not that I didn't want to. Rather, working from home made it really difficult for me to get to them during their pop-ups. But, when I got called back to the office, I prioritized paying them a visit. And I'm glad I did.
For the day of my visit, there were four dishes available – the C4 Table Asian Cioppino, the Slow Cooked Fuji Cold Ginger Chicken, the Pono Provisions Lamb & Pork Bolognese Spaghetti, and the C4 Table Chirashi Bowl. For this visit, I decided to go with the Chirashi Bowl and the Cold Ginger Chicken.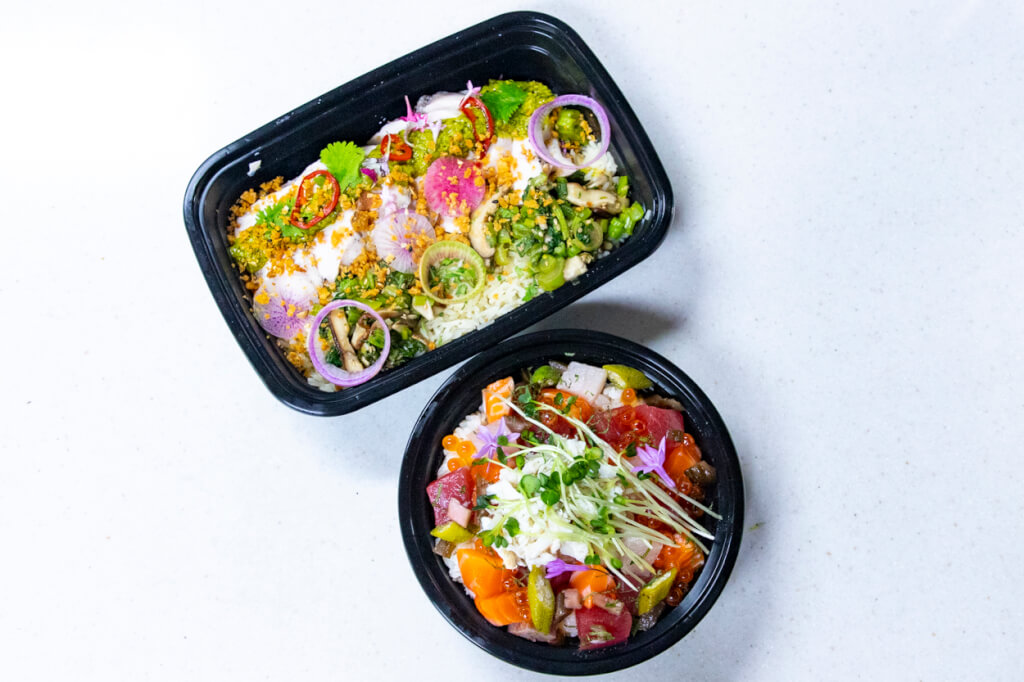 C4 Table Chirashi Bowl
Chef Hazama's Chirashi bowl ain't like other chirashi bowls around town. Each component gets its own special treatment – a level of care you'll only see at one other place, Sushi Sho Waikiki. In this case, that means cubes of fresh island-caught big eye ahi, cold smoked hamachi, sake-cured salmon, real crab meat, ikurazuke, shibazuke, shiso, kaiware (sprouts), okra, garlic blossoms, and shichimi ponzu. The ponzu comes on the side so you can adjust the flavor yourself.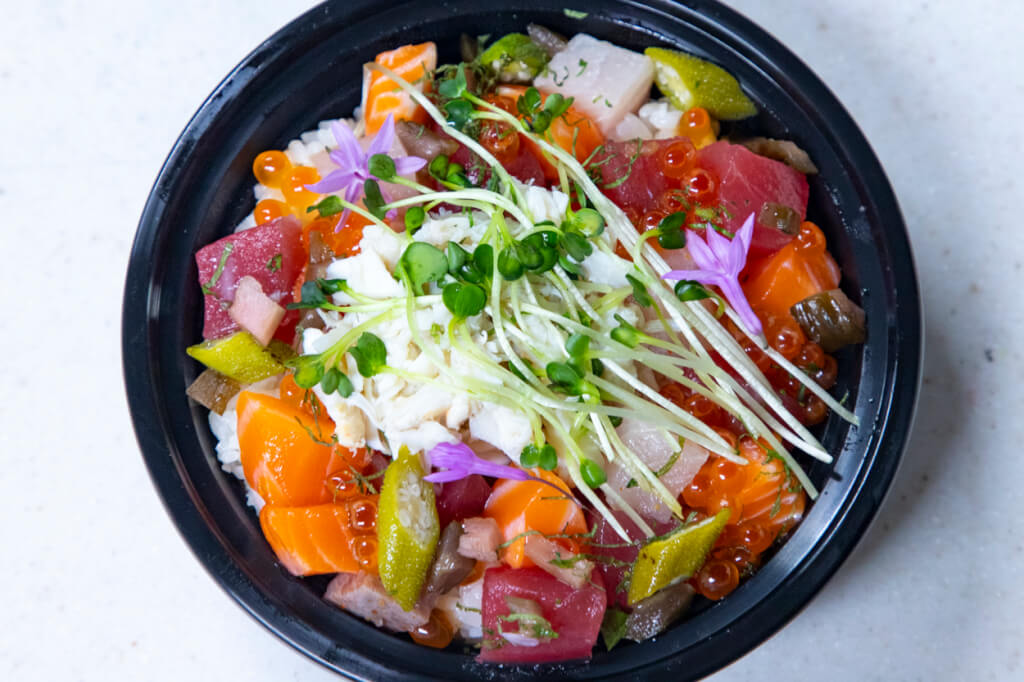 The bowl looks almost too pretty to eat, huh? But with the yuzu kosho ponzu, this thing turns into quite the flavor bomb. No one aspect overpowers the other, with all the flavors of the seafood shining through. However, the spicy, citrusy, umami, salty yuzu kosho ponzu does help to provide some contrast to it all, as do the shiso, sprouts, and the blossoms.
Slow Cooked Fuji Cold Ginger Chicken
As good as the chirashi bowl is, my favorite dish of our visit is the Slow Cooked Fuji Cold Ginger Chicken. Here, you'll find what I suspect is sous vide chicken breast over duck fat jasmine rice with shiitake mushrooms and a topping of citrus ginger scallion pesto, cilantro, Asian greens, sliced jalapenos, radish, and chicken skin ulu crunch on the side.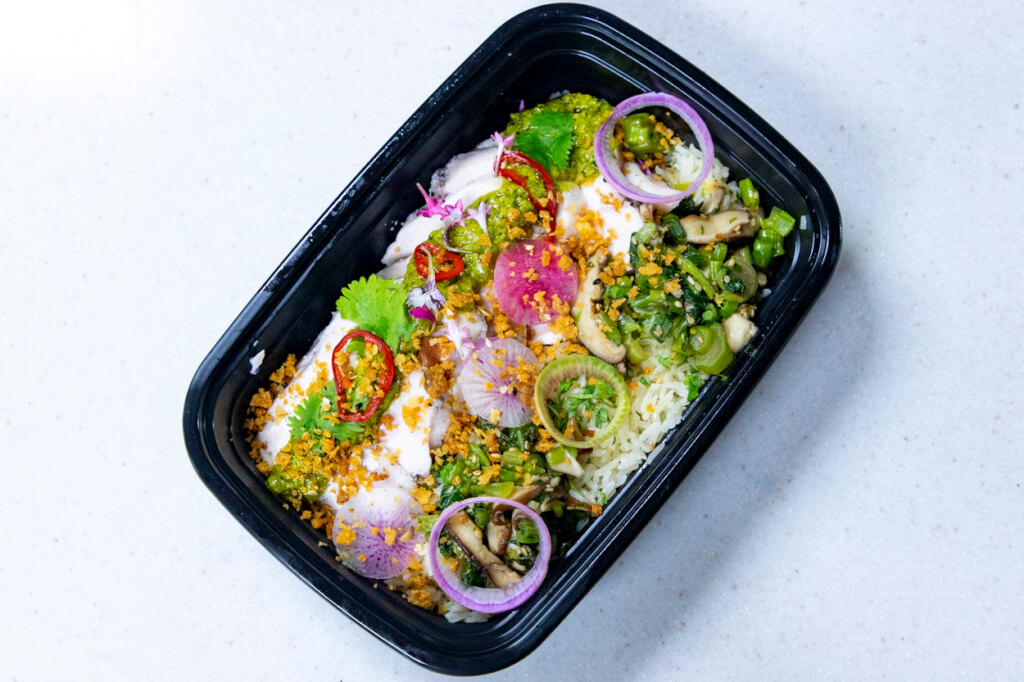 Now, I'm not a fan of chicken breast at all. However, Chef Hazama's chicken breast is incredibly tender and moist – even after surviving the 45-minute ride home. The real star of the show, though, is the citrus ginger scallion pesto, which is similar to cold ginger chicken sauce but is far, far superior. There is much more complexity going on here with the addition of, not only citrus, but cilantro and, I think, garlic too. The duck fat rice helps to add a subtle richness and umami punch, while the chicken skin ulu crunch helps to further ratchet up the flavors and add some nice contrasting textures. Slightly bitter veggies help to counter everything else going on in the dish.
Final Thoughts
Altogether, our two dishes cost $36 plus tax and tip. That sounds like quite a bit of coin for two takeout dishes, huh? But, I assure you, these dishes were worth every penny! Not only was the cold ginger chicken really amazing, but it's the best cold ginger chicken I've ever had! And it wasn't just the chicken and sauce, but the rice and the chicken skin crunchies too. Amazing! So, you can bet I'll be back one day or another – especially since there are many other fantastic-looking dishes too.