When I travel, there are certain restaurants I always need to go to. So, revisiting Tasty n Alder Portland for dinner with my mom and grandparents was a priority for me.
Last time I was in Portland way back in 2015, our friends suggested we meet up at Tasty n Alder for dinner. And, damn, I loved pretty much everything we had there! It's unfussy, yet high-quality, delicious food. Don't believe me? Try walking in during peak dinner hours. There's still a LONG wait! Luckily, my grandparents like to eat early, so we went right when they opened. But, first, we spent a couple of hours roaming NW 23rd Ave. That included a stop at Moonstruck Chocolate because, why not?! 😉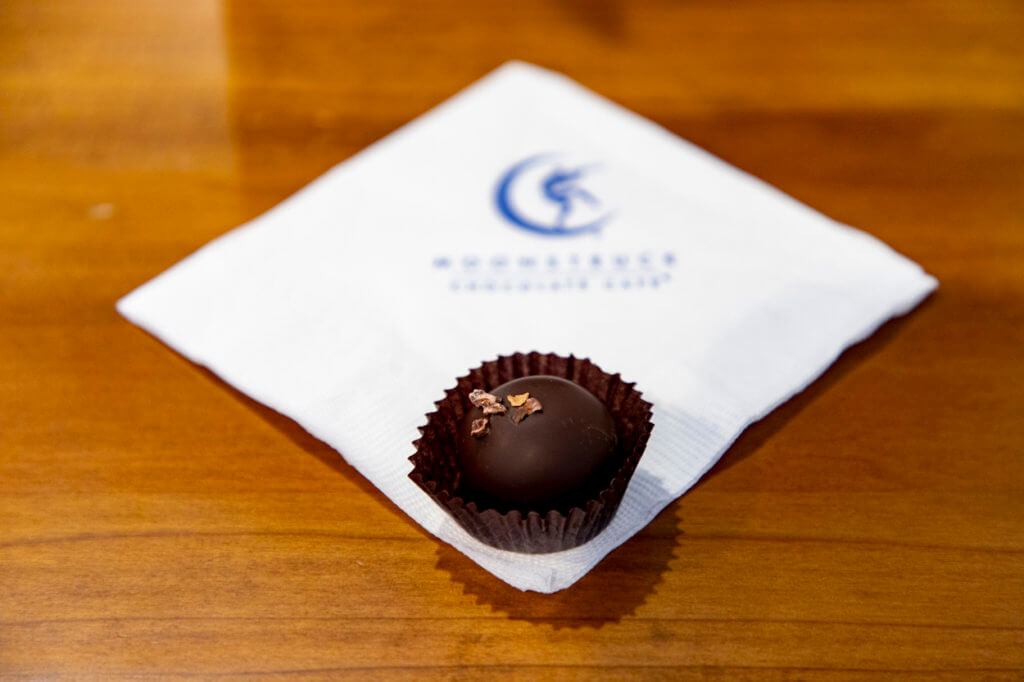 Tasty n Alder Location
As a refresher, Tasty n Alder is just outside of The Pearl District in downtown Portland along, well, SW Alder St. It's a quick 6-minute walk from the Portland Marriott City Center. But, the restaurant was a lot farther from our current hotel, the Residence Inn Portland Downtown/Pearl District at about a mile away.
Dinner
The last time I was here, they had a ramekin of peanuts on the table, which I accidentally ate. This time, though, it was corn nuts.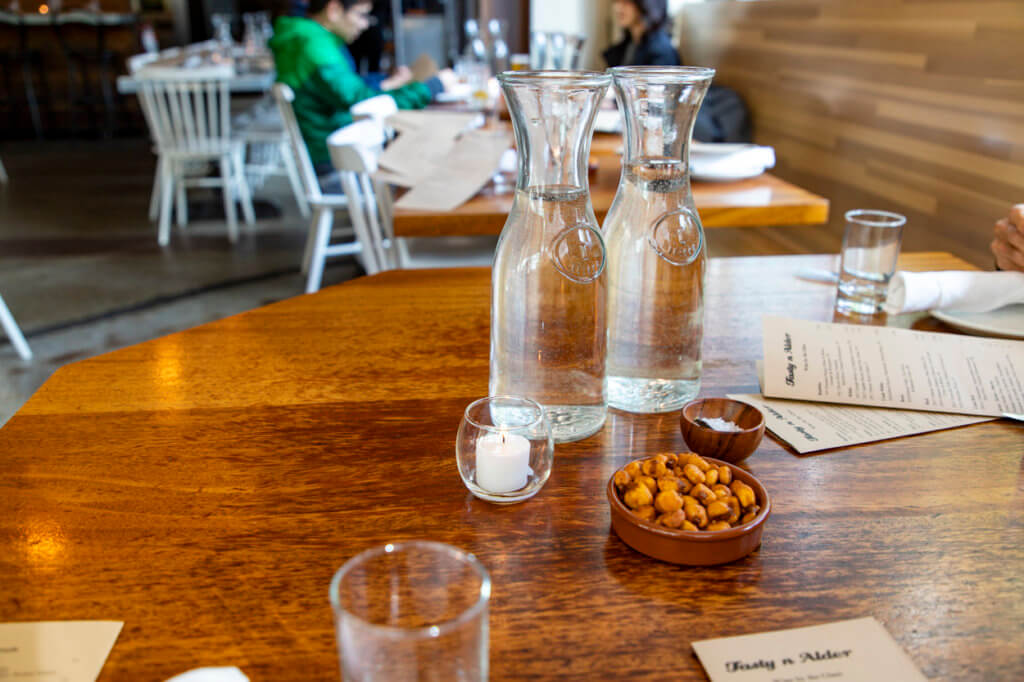 Since dinners are done family-style here, to start, we ordered some fries and Wild Mushrooms and Taleggio Toast.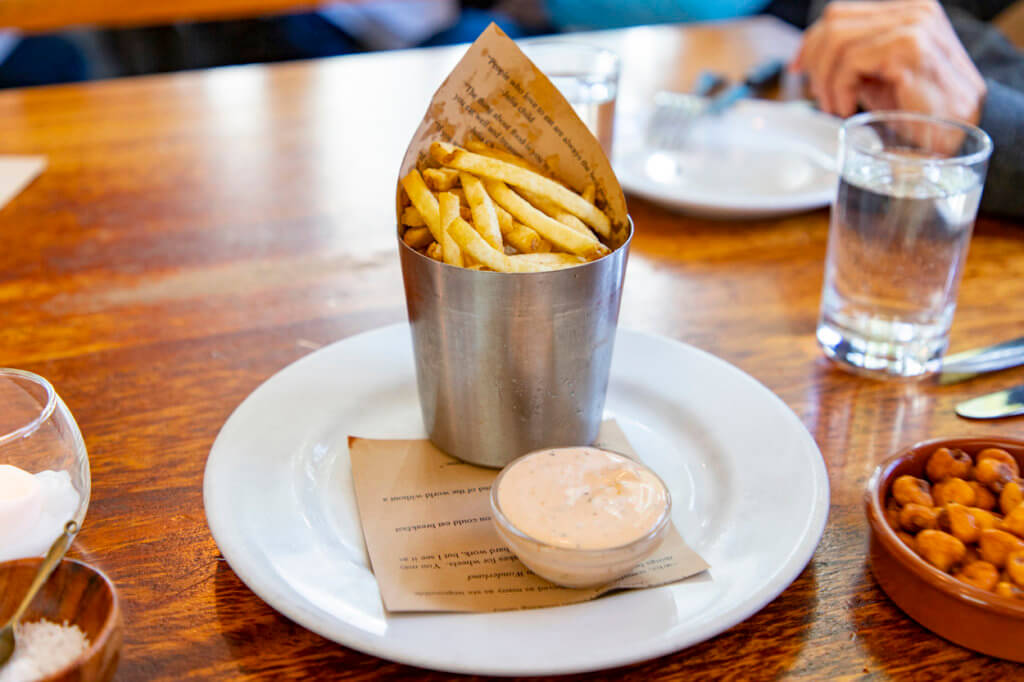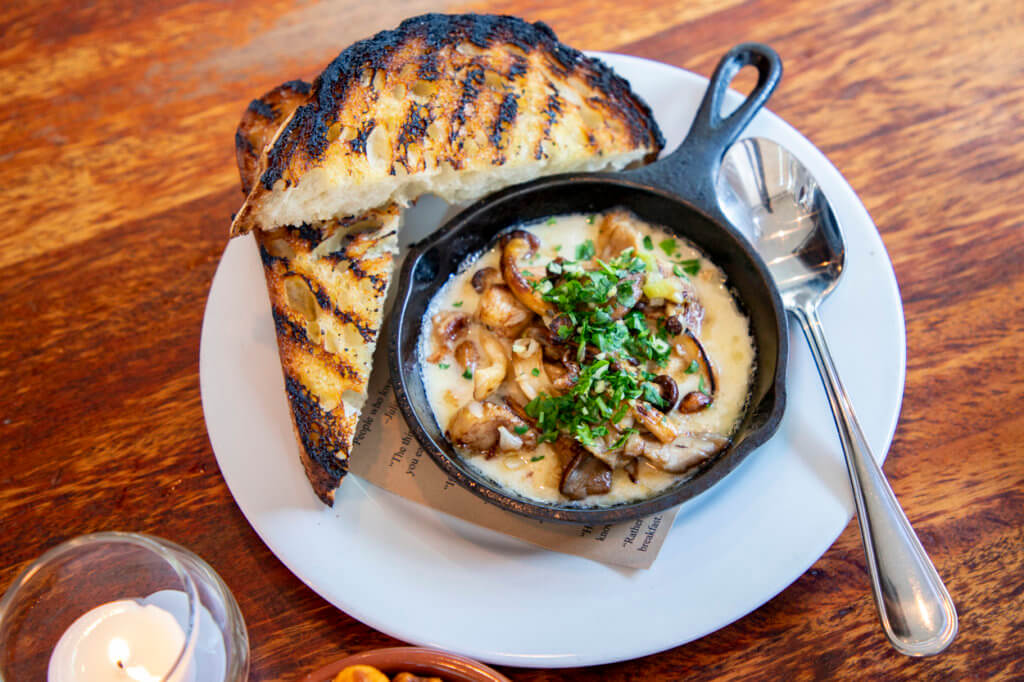 The fries are fried in wagyu tallow, though they didn't taste all that special to me. The Wildmushrooms and Tallegio Toast, on the other hand, is phenomenal! Tallegio is one of the best melting cheese in the world. Pair that with umami-rich, meaty, nutty roasted mushrooms and slightly charred bread and you've got some heavenly eats!
For our larger dishes, Wagyu Skirt Steak, Cedar Plank Salmon, and Grilled Asparagus.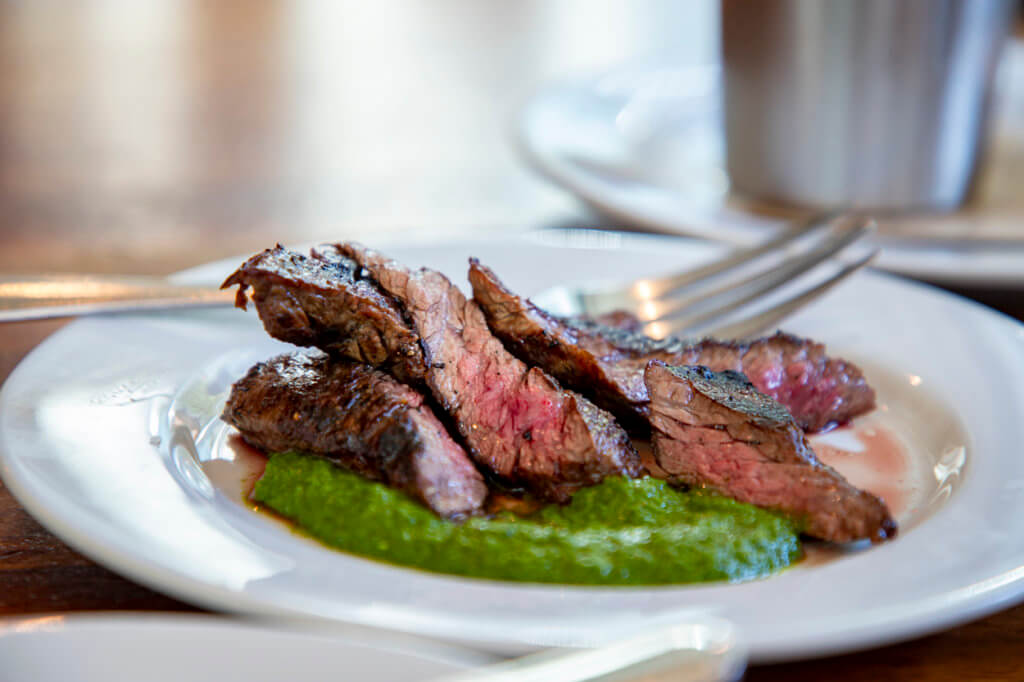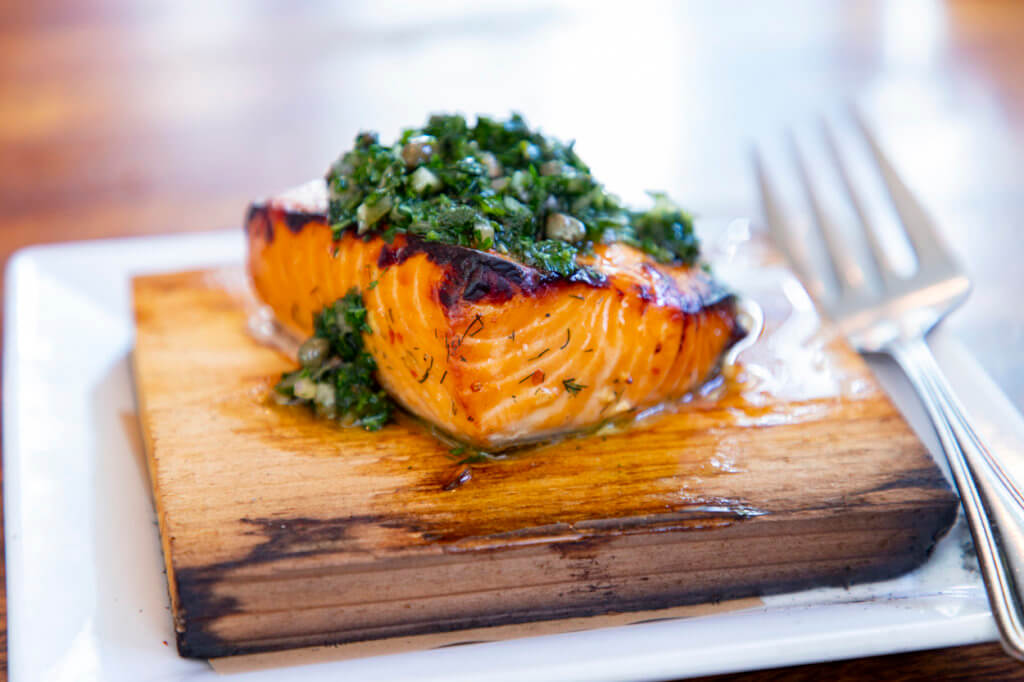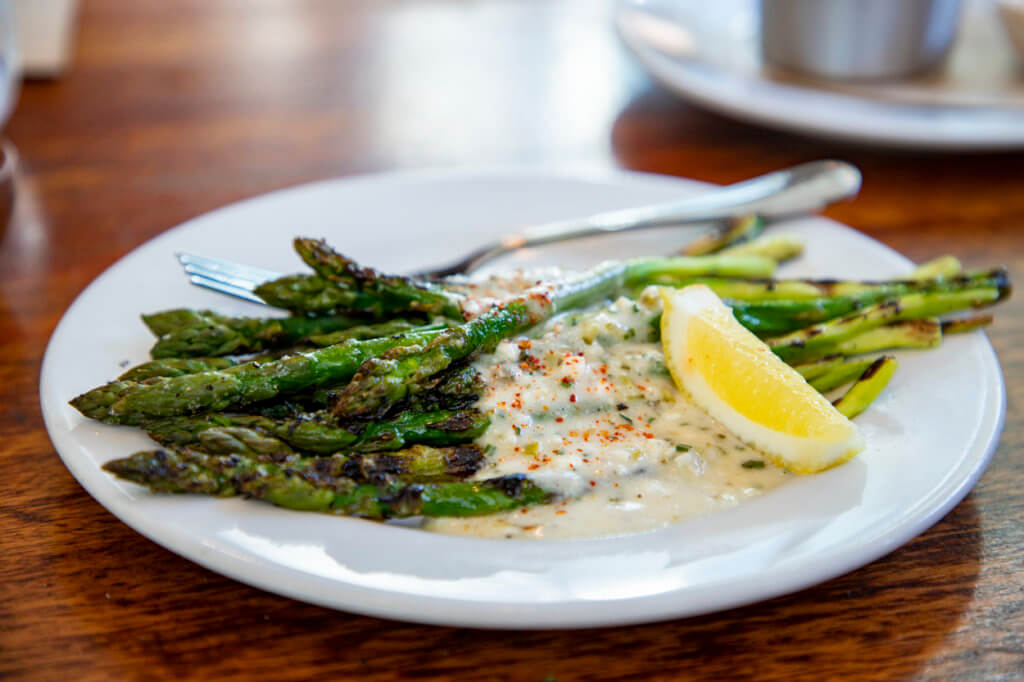 The steak was nice enough – nothing special, but good. Tasty n Alder's salmon, though, is always good. It has a slight char on the outside and is cooked to a melty medium-rare on the inside. And the herbal, zesty salsa verde always pairs nicely with the smokiness of the salmon. The asparagus was good too – its light aioli with shichimi complimented the crisp, smoky, vegetal dish nicely.
To end the meal, the four of us split two desserts – the bread pudding and the brownie.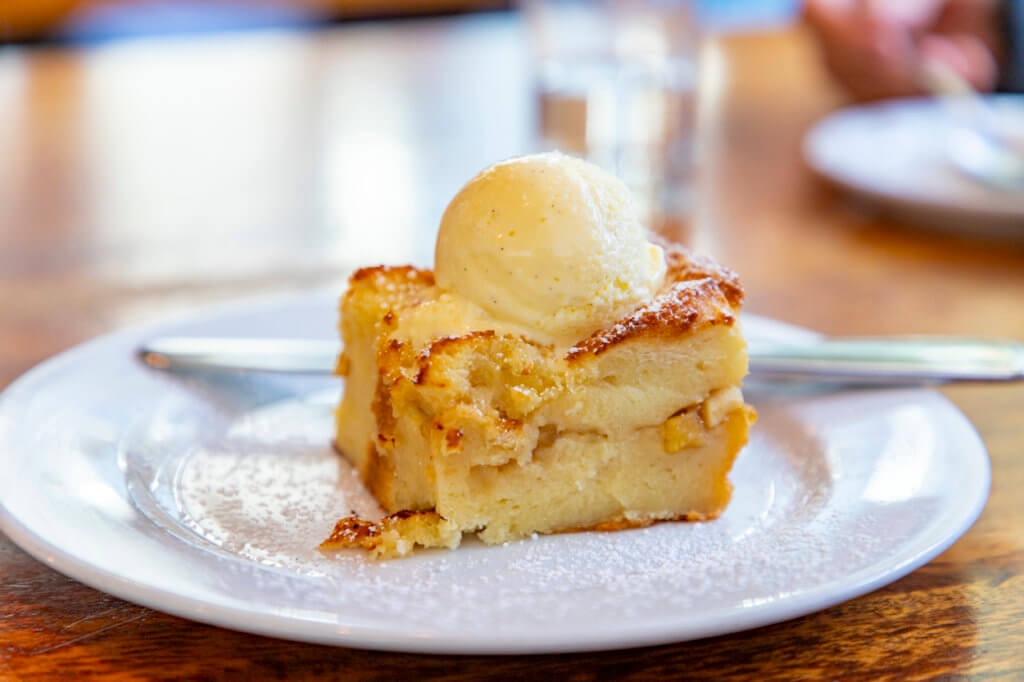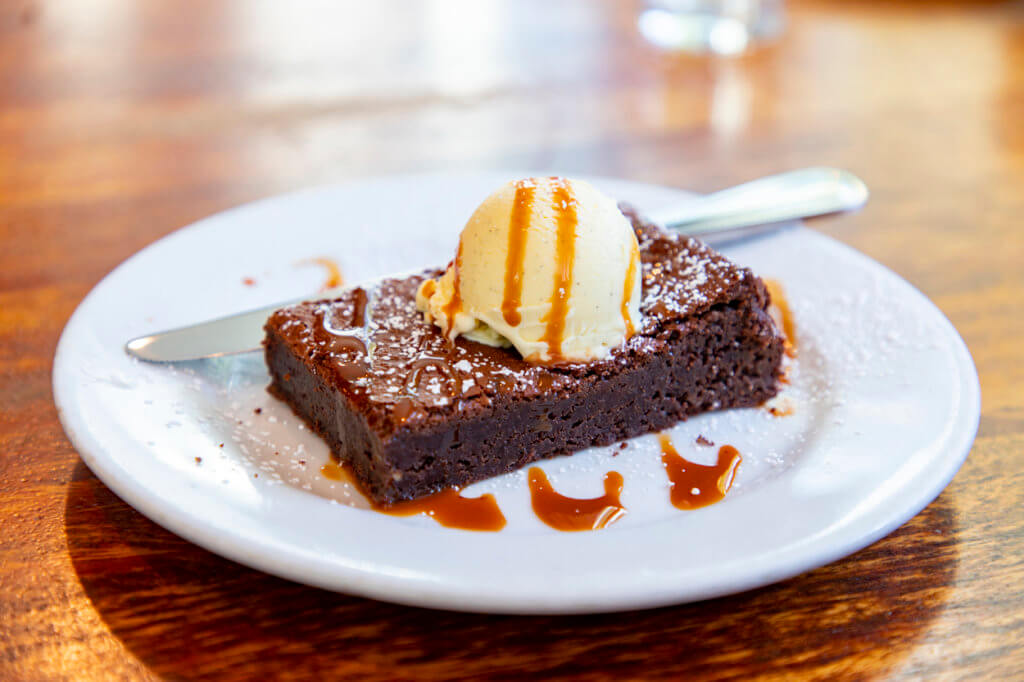 The desserts were fine. They were a little sweet for my like, but not obscenely so. I still think the things to get here are the Chocolate Potato Doughnuts.
Revisiting Tasty n Alder Portland for Dinner, Final Thoughts
As always, everything we had during our dinner at Tasty n Alder was good. Sure, I didn't love everything, but that's probably more personal preference than anything else. The stuff I did like, though, I LOVED. And I can't wait to go back. In fact, I did go back just a few months later, but that's a story for another time.
Touring the PNW with My Grandparents