During my very first trip to Las Vegas back in 2017, we stayed at the Aria Resort. This time around, we did so again. Things, however, were a bit different. So, let's talk about how revisiting the Aria Resort and Casino went for us. Spoiler alert: things were different, and not necessarily in a good way.
The Aria Resort and Casino is the center of MGM's massive CityCenter project. It is one of my preferred hotels in Las Vegas because of the convenience it offers. After all, as I covered in my previous trip report, Aria is connected to many of the other area hotels via a tram system and pedestrian causeways. Plus, having free valet parking as an M Life Gold member doesn't hurt too 😉.
But, our most recent experience at Aria wasn't quite the same as before.
Aria Resort and Casino Revisited – Check-In
Our flight arrived in Vegas late in the afternoon, meaning we arrived at the hotel well after the typical check-in time. Things, however, were going off the rails from even before we got there. You see, my father-in-law had a confirmed upgrade to an Aria Sky Suite before arrival. However, days before we got there, they downgraded him to a Tower Suite. Not only that, but they also decided to up his rate too. That's terrible service. Why would you downgrade someone's room and charge them more?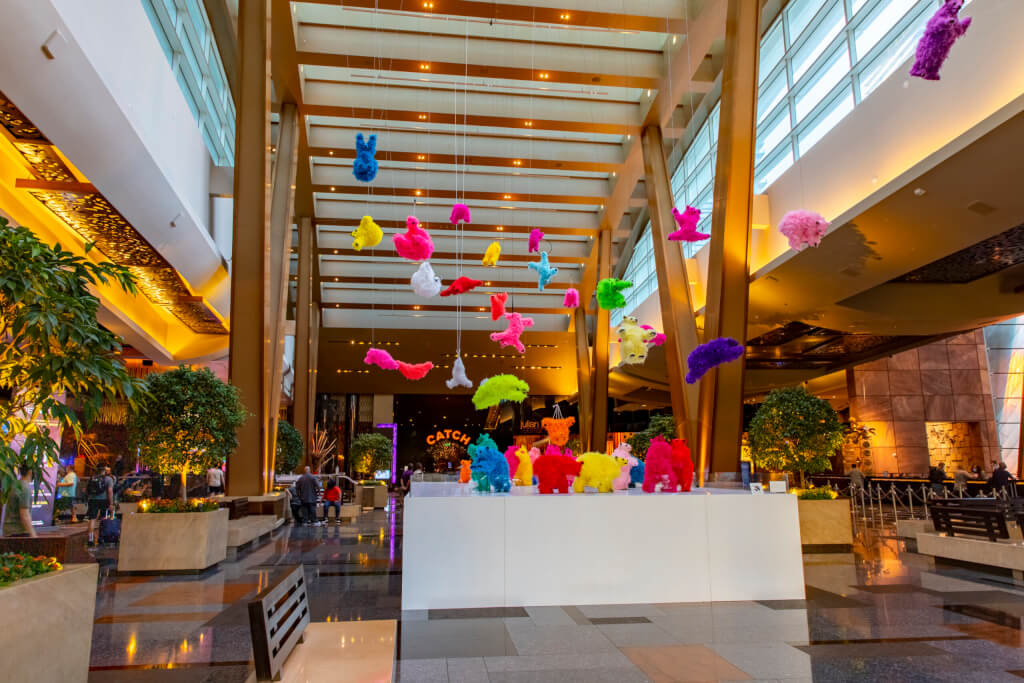 Well, things didn't go much better when he checked us in (we arrived about an hour after they did). Somehow, even at about 6 pm, the hotel didn't have the Strip View King room he reserved for us. Instead, they gave us a Strip View Queen. Whatever, not a big deal. That said, all of these failures are shocking, considering that my father-in-law is an M Life Platinum member.
At any rate, the people that assisted us during our check-in were very good. They saw the issues that were happening and did their best to correct things, especially the rate issue. The fact that no one else tried to beforehand is a bit disappointing, to say the least.
Aria Resort Strip View Queen Room
The double queen Strip View Room wasn't much different than the room we previously had. In fact, the only difference was that there were two beds, there were no chairs, and the view was a little better. Other than that, it was the same decor, same features, same everything, really. That's not necessarily a bad thing. But, at nearly 12 years old, the Aria is definitely showing its age.
At any rate, the standard rooms at Aira have a relatively large entryway with two large closets, a dresser, and a small countertop across from the massive bathroom. In the closest were an iron, ironing board, and a couple of plush robes.
The bathroom has a dual vanity, an enclosed water closet with a phone, and a separate shower area with a deep soaking tub.
The rest of the room contained two queen beds, a desk with a chair, a stocked mini-bar, the TV, and another chair with a small table. The tablet, a major feature of Aria rooms because it controls near everything in the room, didn't work half the time. The nightstand's upper drawer was also missing its handle – the lower drawer, which is actually the safe, thankfully had its handle.
As you'll notice, our room was a connecting room, and that door isn't exactly soundproof. In fact, rather disturbingly, we could hear the guest in the connecting room constantly hacking away. That definitely got me concerned that we were next to someone with an active case of COVID and that it could put us at risk of getting infected. Thankfully, though, we ended up not getting sick.
Aria Resort Strip View Queen Room View
I must say, our room had a decent view of the strip, which was a first for me in Vegas. Just take a look! We could see the Park MGM, the MGM Grand, Planet Hollywood, the Waldorf Astoria, and even part of the Harry Ried International Airport off in the distance.
Property Condition + Service
As previously noted, the room control tablet in our room wasn't working, while there was some damage to the furniture. But, as we walked around, this appeared to be the norm rather than the exception. Throughout the corridors, there was quite a bit of missing wallpaper and holes in the wall. The tablet in my in-law's suite didn't work either. These are all disappointing issues given the luxury status of the property, as well as its AAA 5-diamond rating.
Then, of course, there were the service issues my in-laws experienced, though we did encounter some great employees that fixed it. That said, the valets we encountered were uniformly cold and sometimes even rude. The bellman that assisted us with our massive Trader Joe's haul – we bought two cases of water plus a bunch of other stuff – was fantastic! He was quick, professional, friendly, and we really enjoyed talking to him. The M Life Desk associates were also very friendly and helpful. So, service was a bit of a mixed bag – more so than in the past.
Aria Resort and Casino Revisited, Final Thoughts
Overall, I'd say I was pretty disappointed with this stay. I get it, things remain quite different following the shutdown Las Vegas experienced earlier in the pandemic. But, could MGM not have given the property some TLC when the strip was all boarded up? And, I get that working right now is more stressful, but could the resort's front desk staff put at least a little effort into their jobs? To say the Aria has fallen quite a ways in recent years is probably an understatement. But, hopefully, Blackstone will give the property the attention it needs now that they own it.
Vegas + Irvine Trip Report
Aria Resort and Casino Revisited