Honolulu hasn't been the most friendly place to rideshare platforms like Uber and Lyft.  However, a pilot project may change this.  And as of last Friday, rideshare services are now available at HNL.
For a long time now rideshare services have not been allowed at the Daniel K. Inouye International Airport.  Much to the dismay of travelers, the only transportation options from the airport were rental cars, shuttles, and taxis.  And though I'm an advocate for renting a car while on-island, there's no doubting the convenience of rideshare services.  It is, after all, my preferred way of getting from the airport to my hotel when I travel without a car rental too.  But that has changed, at least for now.
Pilot Project
Thus far, rideshare drivers have only been allowed to drop-off passengers at Hawaii's airports.  But, as of last Friday, Uber and Lyft drivers may now pick-up passengers from the Daniel K. Inouye International Airport too.  In its remarks to Hawaii News Now, State of Hawaii officials said they "anticipate the service will cut the overall wait times for customers regardless of their preferred transportation choice, especially during peak hours, and the pilot program will help us determine if that is the case."  And if the project is indeed successful, we can look forward to seeing rideshare presence made permanent at HNL and all of Hawaii's airports.
The pilot project will run for three months, wrapping up at the end of February 2018.  And much like other airports (e.g., Seattle), the project will have designated pick-up locations.  Currently, there are two pick-up locations: one across from Lobby 2 at the Interisland Terminal and another across from Lobby 8 at the Overseas Terminal.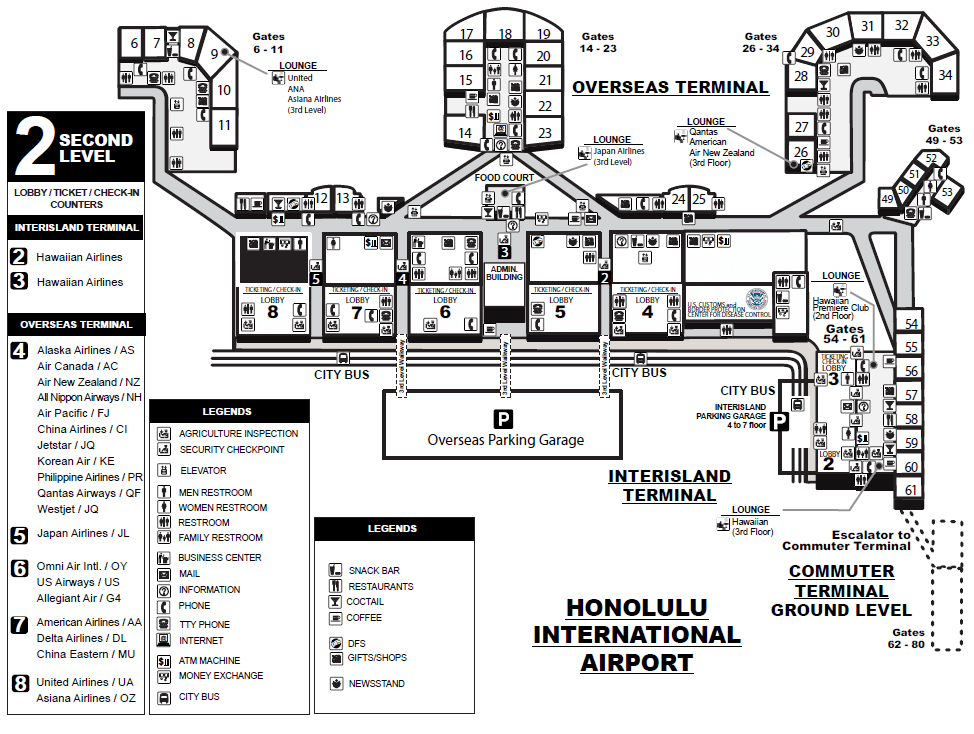 As you can see, Lobby 2 and 8 are quite a way away from each other.  Further, this means that rideshare pick-ups will only occur on the departures level of the airport.  This makes the service less convenient than being picked-up right outside of the baggage claim areas on the ground floor.  Taxis, I should note, have their pickup-area in the central median immediately fronting the baggage claim areas, which seems a bit unfair if you ask me.  And this arrangement is probably a way to appease the taxi companies who are upset about this pilot project.  But, the extra distance didn't stop me from using Uber in Seattle.
Pricing
The willingness to walk, for me anyway, comes down to a combination of price and convenience.  I rarely carry cash, so credit card acceptance is essential for me and is the ultimate deciding factor.  But since at least some Honolulu taxi companies, like EcoCab, accept credit card, that argument is mute.  Pricing, then, becomes the primary deciding factor.  For Honolulu, the average, non-rush hour taxi fare from the airport to Waikiki is $40 to $45.  An UberX at the same time will cost about $22 to $30.  At the low end, that's a significant price difference, and if I'm not being really lazy, might compel me to make the hike from Lobby 4 to Lobby 8.
Rideshare Services Are Now Available at HNL, Final Thoughts
Despite the drawbacks of the current setup, having additional options available at HNL are a good thing.  And this change should help HNL's image with visitors, as many friends of mine that visit for the first time are appalled by the lack of amenities at the airport, including ridesharing services.  Who knows?  Maybe this pilot is also the kick-in-the-pants the cab companies need to finally realize they need to adapt and make their services more convenient too?  That would be a win-win, no?