I'm not sure why, be even after our long day out, we all that hungry… Being a Sunday, our friends suggested we head over to Portland City Grill at the U.S. Bancorp Tower (Big Pink).  It's really crowded on Sunday because it's Happy Hour all day long, but we were able to secure a table pretty quickly.  Service is a little *meh* and damn is it dark in there!  So sorry, but photo quality is gonna really SUCK this time around.  That being said, all of the dishes were about $11 or less and the drinks were pretty cheap too.  We ordered a variety of things including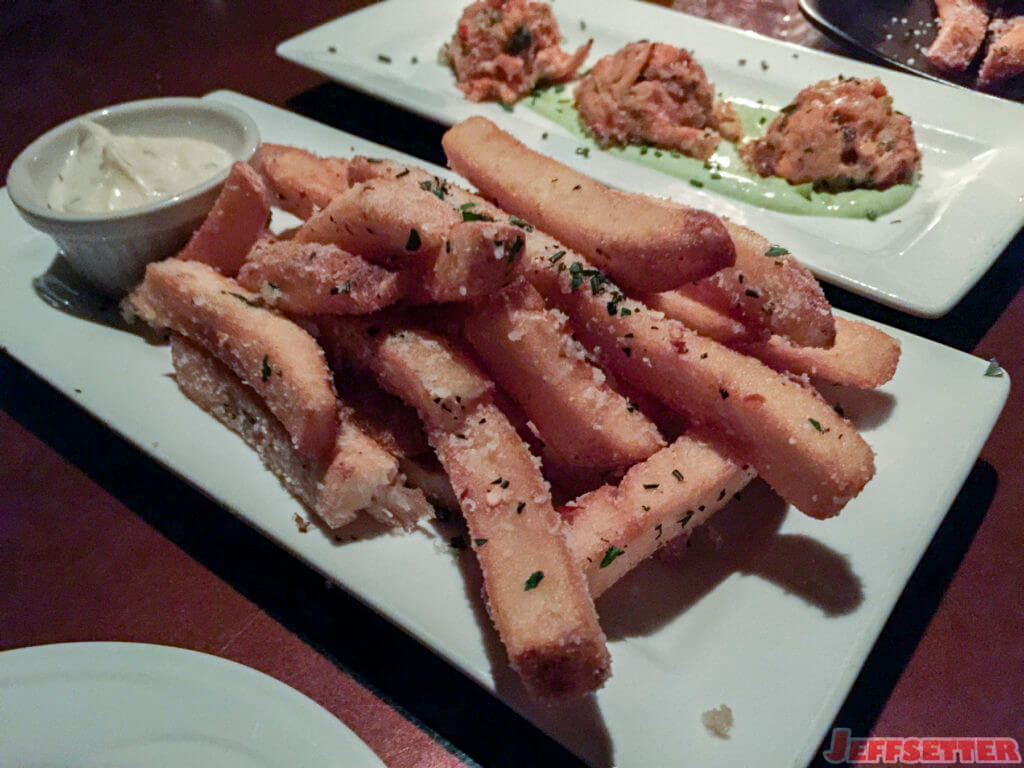 CRACK Parmesan Herb fries, which I've recently found out they don't serve anymore ?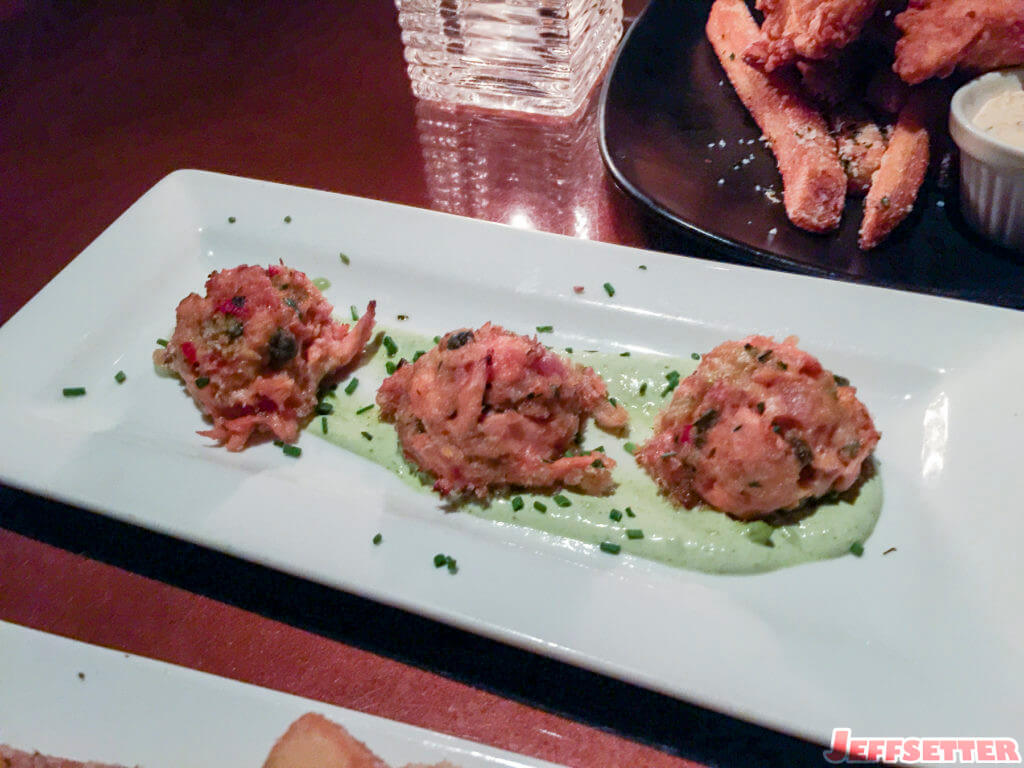 Oven Roasted Salmon Cakes with Old Bay, Green Goddess Dressing, and chive.  This was a whole better than I thought and something I'd definitely order again!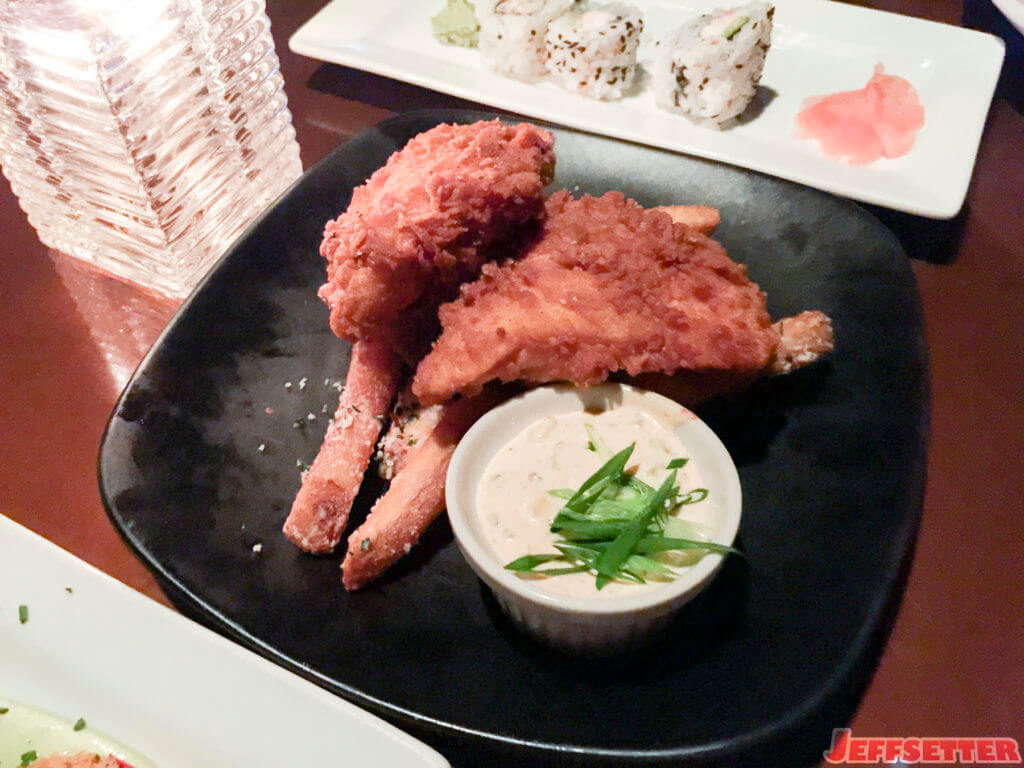 Curry Fried Fish & Chips with Kimchee Tartar and more of those amazing fries!  This was ok.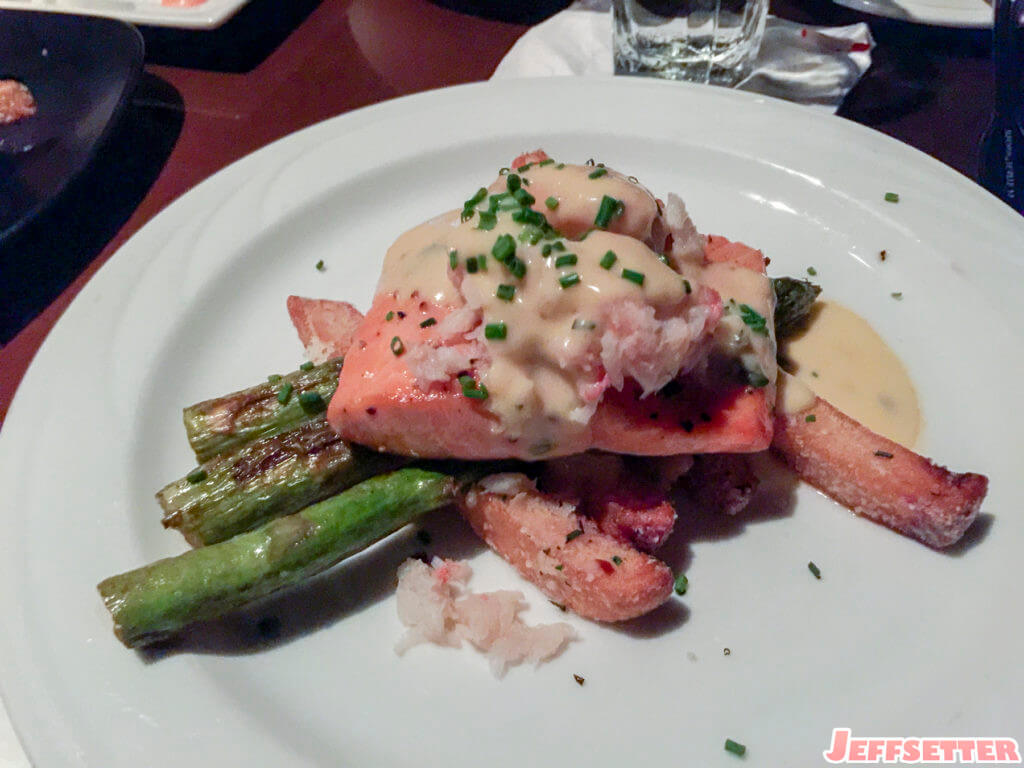 Seared Steelhead & Sweet Red Crab, grilled asparagus, béarnaise, and frites… This was my absolute favorite dish of the night!  The perfectly cooked salmon with the buttery béarnaise and sweet, sweet crab.  This was also the most dish of the night at $11.  Not bad at all.  We did have a Crab & Avocado Roll, and a salad, but I didn't grab a picture of either and while good, they weren't out of this world either.
Right after dinner we headed to a must-eat in Portland, Salt & Straw on NW 23rd.  We actually went twice during our time in P-Town, so I'll just combine both visits into this one.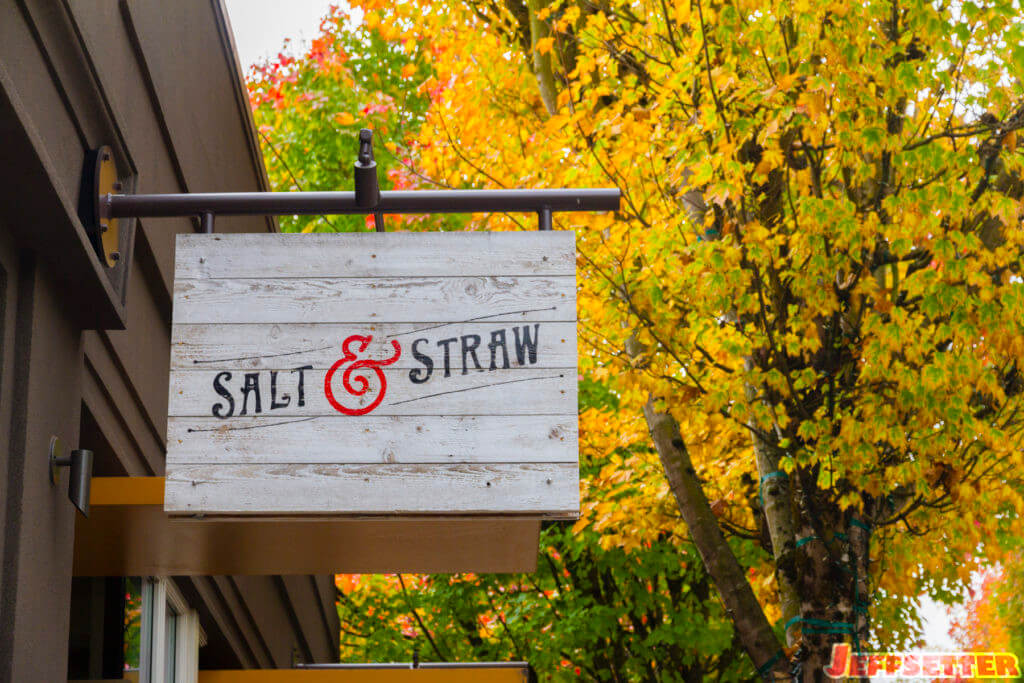 The above picture was from our second visit since it was night during our first visit.  Despite the relatively cold weather (by Hawaii standards; think it was 50s) there was a pretty long line during our first visit.  The line wrapped around the side of the building, but moved pretty quickly.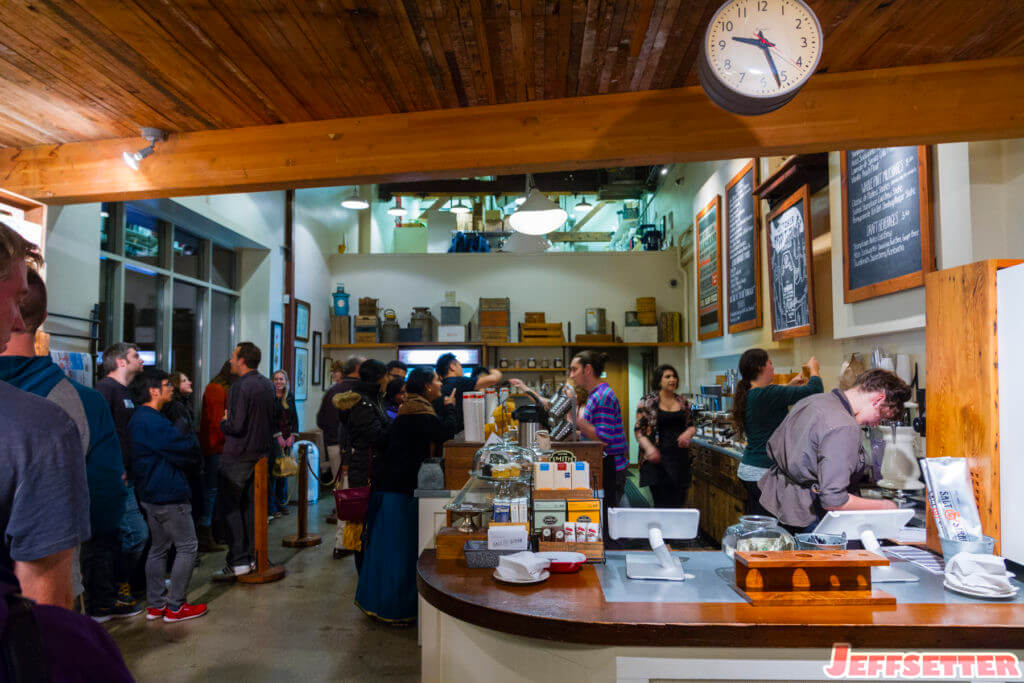 Inside Salt & Straw's NW 23rd shop, the line snakes around itself, passing by some shelves with t-shirts, Stumptown Coffee, and Woodblock Chocolate.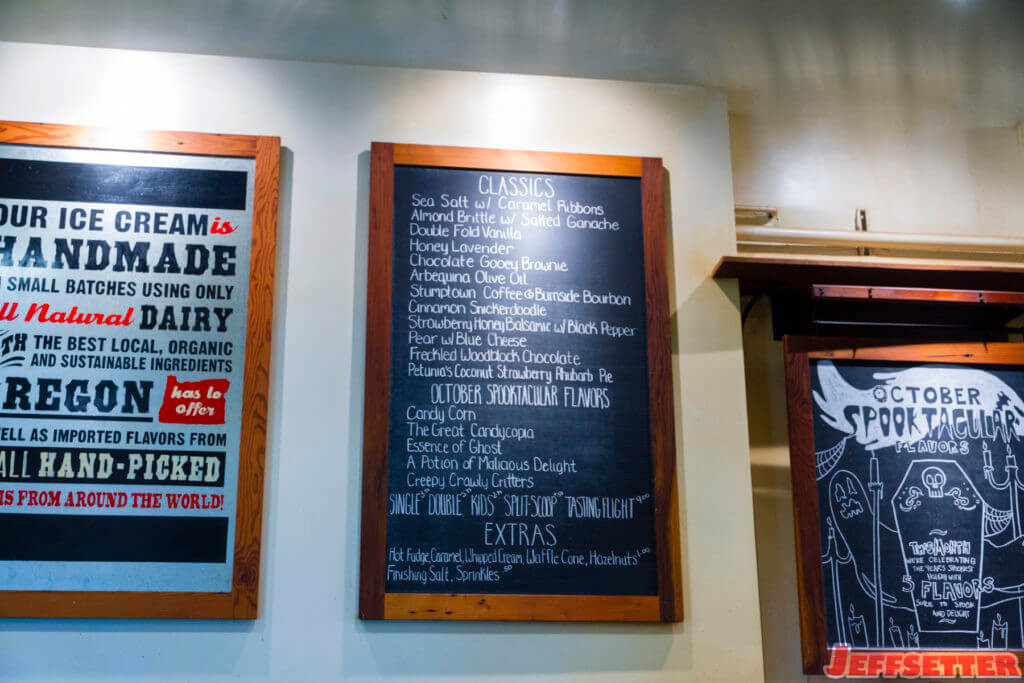 On the far left side of the wall behind the ice cream freezers, you'll find the flavors, including the seasonal flavors.  Being October, there were Halloween flavors available too.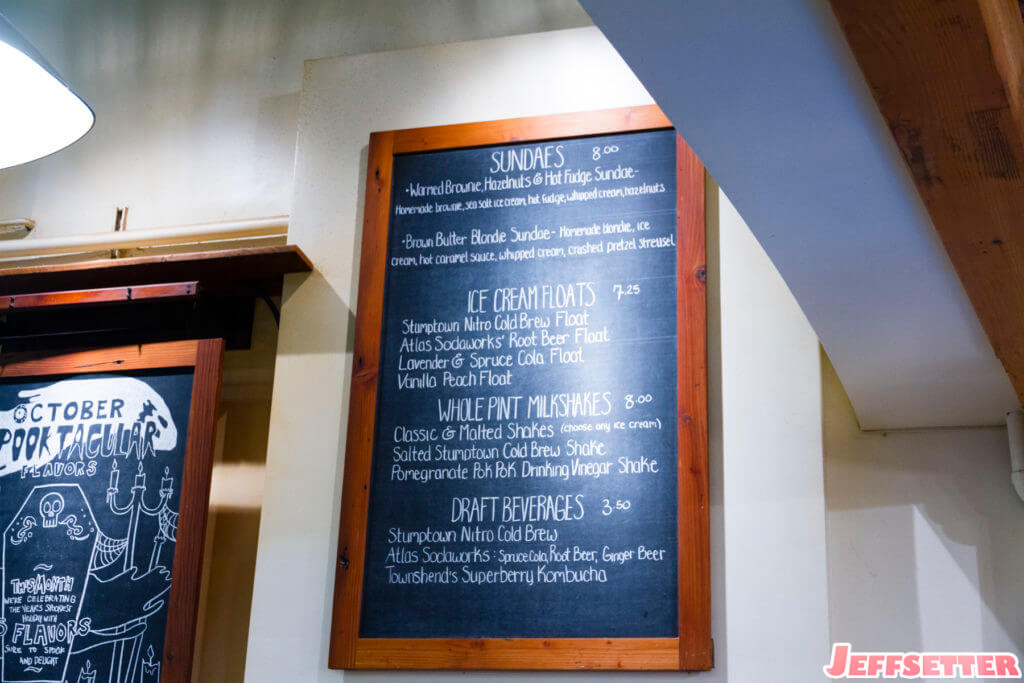 Besides standard ice cream, you can also get Sundaes, floats, pints, and a selection of non-alcoholic beverages.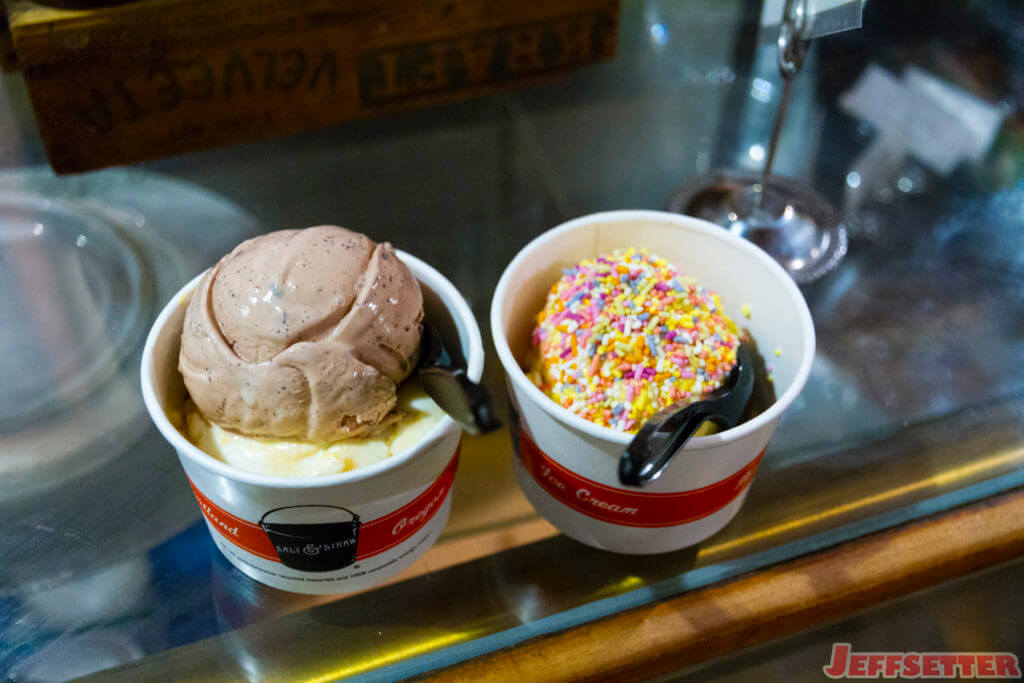 During our first visit, I got Freckled Woodblock Chocolate + Sea Salt w/Caramel Ribbons and my wife got the Halloween special flavor: Essence of Ghost with sprinkles.  Not sure what the heck her flavor was, but my Freckled Woodblock was AMAZING!  Deep and chocolatey without being overly powerful or too rich.  The Sea Salt w/Caramel Ribbons was good too, though the Freckled Woodblock was definitely the winner here.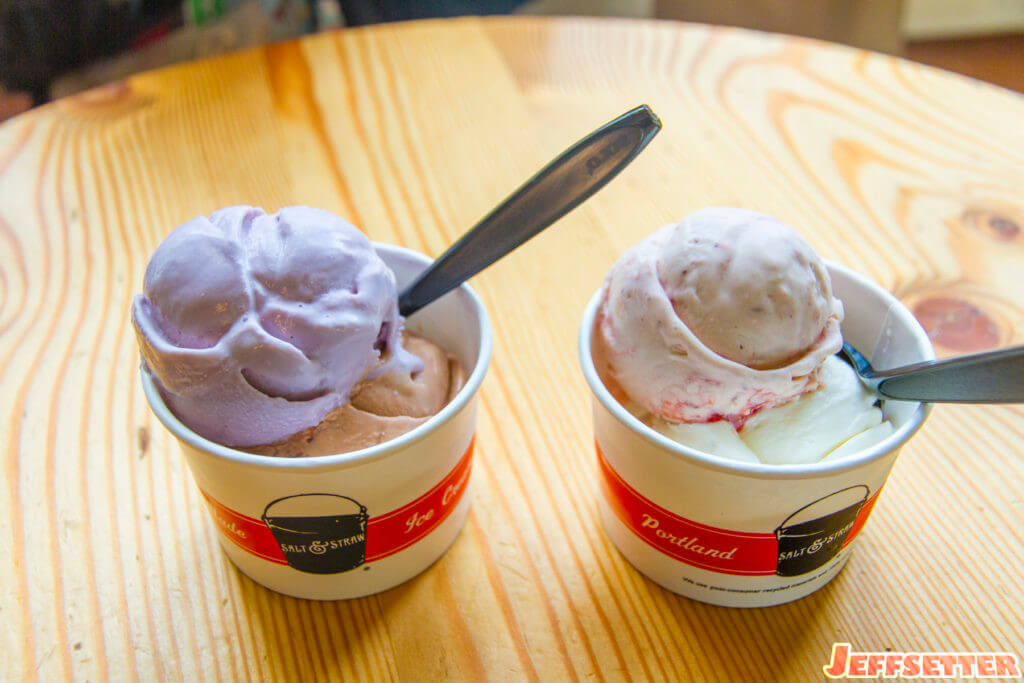 During our second visit, we went right at opening, and of course there was no line at all…  We could even sit inside!  For my choices, I got the Honey Lavender + Gooey Brownie, while the wife got the Strawberry Honey Balsamic with Black Pepper + Pear & Blue Cheese.  The lavender had good flavor, but the more you eat, the less you taste it.  The Gooey Brownie was FANTASTIC!  The brownie really was gooey and perfectly chewy, while the overall ice cream was well balanced.  The wife's flavors were interesting in a good way, well balanced, and bold.  No complaints about any of them.
While it seems almost cliche to visit Salt & Straw now, it's definitely a must visit in Portland (or California).  Portland City Grill is also pretty good, especially with the amazing prices during happy hour.  Definitely visit there too!
Our PNW Adventure
Salt & Straw + Portland City Grill