While my previous visits to Seattle included walkthroughs of the famous Pike Place Market, I never stopped and shopped. But this time was different. So let's talk about shopping at Pike Place Market.
I know, Pike Place Market is one of the biggest tourist attractions in Seattle. People come from all over the world to see fishmongers throwing fish from street-side stalls to the back counter. But, despite its reputation, Pike Place Market remains an important central market for the city. So, the trick with shopping at Pike Place Market, then, is knowing exactly where to shop. Luckily, the fine folks at ChefSteps, Seattle's very own culinary laboratory, created a shopping guide for the market a few years ago.
But first, you know I had to get a cup of Rachel's Ginger Beer.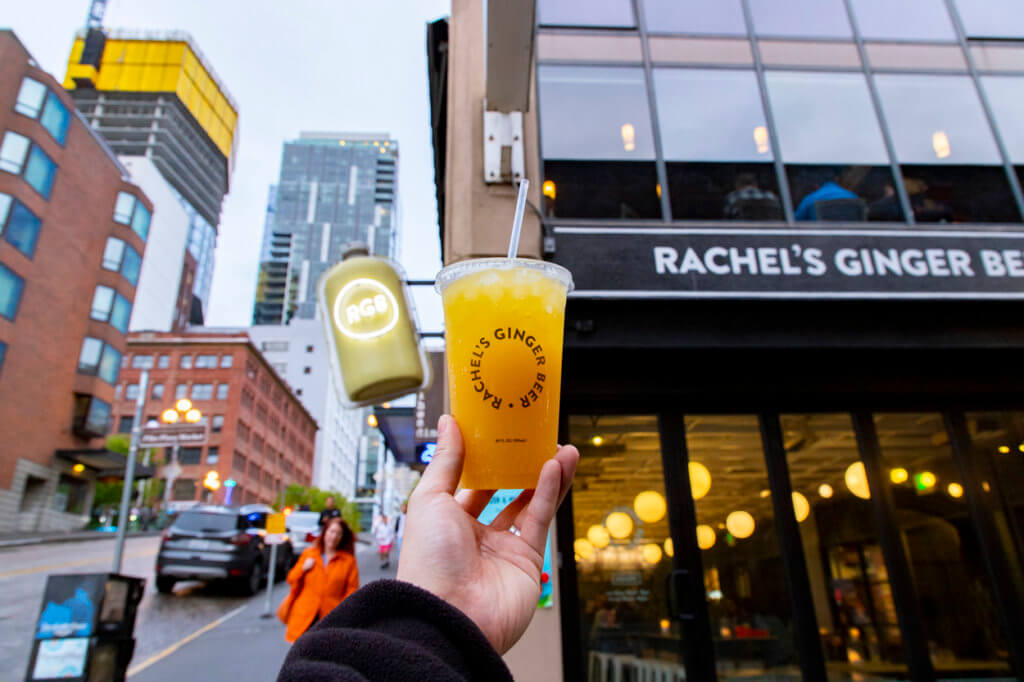 Parking
This time around, Uber wasn't really an option for me. Luckily, there's a large public garage called Pike Place Market Garage (duh) off of Western Avenue (in the back of the main level). And, at $4/hour, the prices at the garage are pretty damn good.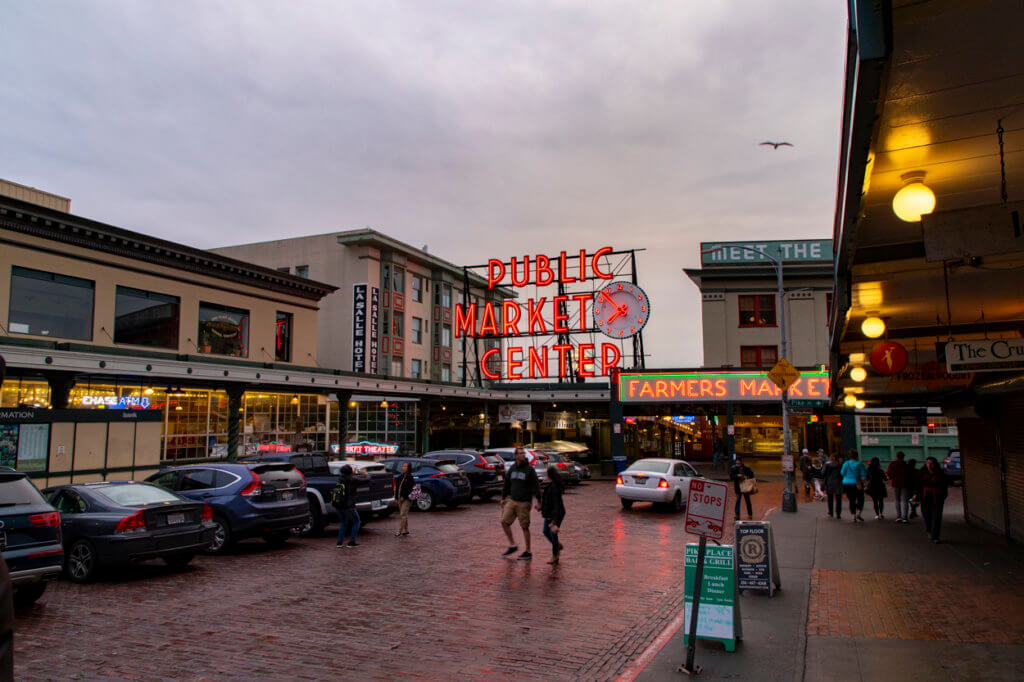 Where I Shopped
Though I didn't get to hit all the spots I wanted to, I did manage to cover a decent number of vendors this time around. And the two my family hit up the most were ChefStep's favorites, Sosio's and City Fish.
Sosio's – main level on the Elliott Bay-side of Pike Place
Sosio's is Pike Place Market's premier produce vendor. They've got an astonishing amount of fantastic, high-quality produce stuffed into their tiny stall. Here, we bought fresh fruit for our room, while my grandmother loved the dried strawberries they sampled and bought some of that too. I was enamored with their mushrooms and truffles, though I didn't purchase any. The people that work here, by the way, are passionate, super friendly, and not at all pushy.
City Fish – a few stalls down from Sosio's
The other ChefStep's recommended spot, City Fish, which is only a couple of spots away from Sosio's. Obviously, this place is a fishmonger, though not the one that throws the fish. Instead, they have a great variety of high-quality stuff, though my entire family became hopelessly addicted to their smoked salmon. Heck, when Mrs. Island Miler went with her parents and sister a few months later, they brought a few pounds of the stuff home with them! And much like Sosio's, the people here are knowledgeable and friendly.
Market Spice – to the left and in back of Rachel the Piggy Bank
Admittedly, this place was a bit pricy, which is probably because it's a stop on a walking tour. But, they've been around since 1911, and I'm a sucker for spices and salts. So what the hell? Besides, Mrs. Island Miler loves the bottle of ghost pepper salt I bought for her from here. Personally, I love their Alderwood smoked salt. That said, I wish they had more exotic stuff like fennel or dill pollen, zataar (probably should've gone to The Souk for this), or even Espelette pepper.
The Island Milers LOVE truffles. So, I had to at least check out a place called the Truffle Queen, right? Here, the thing to get is their Truffle Almond Brittle. It's addictive stuff that's crunchy, nutty, sweet, buttery, and has a hint of truffle all at once. I wish it were less sweet, but hey, brittle is basically sugar and butter, so… Mrs. Island Miler also brought back a ton of other stuff from here during her visit. Their truffle salt is REALLY potent. Like, use it in extreme moderation. That potency (and the ingredients list), though, hints that the salt is made with truffle oil. So, if you do overuse, you'll get the undeniable metallic twang of synthetic truffle flavoring.
Other Places I Love
Though not covered here, there are other vendors I love at Pike Place too. Those include:
DeLaurenti
Ellenos Real Greek Yogurt
Places Still On My List
I never seem to have quite enough time when I'm in Seattle. So, sadly, these places remain on my list:
Piroshky Piroshky
Bavarian Meat Delicatessen
Pike Place Creamery
Beecher's
Places to Avoid
Luckily, I haven't found too many places to avoid at Pike Place Market. Yet. But, an obvious place to avoid is the original Starbucks shop. It's nothing special. Actually, all it is is a damn gift shop that happens to serve coffee, has a different sign, and has a plaque. If you must go, go when they first open.
This next one is a shop I shop at if I really can't find something or need some last-minute, quintessentially Seattle gifts. And that is the Made In Washington store on Post Ally. It's by no means a bad place and the employees are generally extremely nice. But the prices are, understandably, all marked up quite a bit. So if you can avoid going here, save yourself the money and buy direct from producers.
Pike Place Chowder. I'm sorry, but I just don't feel like this place is special enough to warrant the wait. Plus, my stomach did not agree with it the one time I had it. But, you know what? This is all personal preference, so ignore me on this one if you like!
Shopping at Pike Place Market, Final Thoughts
Seriously, go to Pike Place Market. Yes, it's crowded and full of tourists with their selfie sticks. But, you know what? It's also filled with fantastic vendors that deserve your business. Plus, being a resident of another touristy destination, I firmly believe that not all tourist hotspots are bad. Case-in-point, Waikiki is filled with places that you should most definitely check out while on Oahu. But, you should most definitely venture outside of the area too.
Touring the PNW with My Grandparents