The Jeffsetters are back to talk a little bit about our best souvenir of 2018, bottling wine in Slovenia.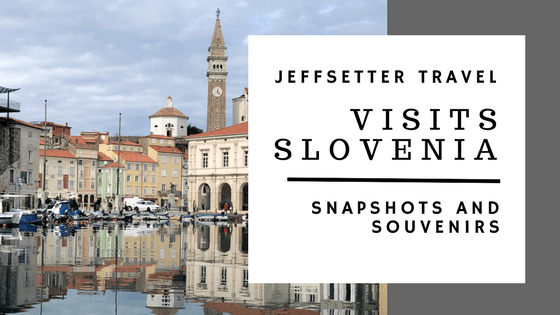 Well, Mr. J just wrapped up his spring European speaking tour. This year, we stopped in Slovenia and Germany (Munich).
While we were in Slovenia, we had a couple of extra days to do a wine tasting in the Slovene Riviera and explore Lake Bled courtesy of Mr. J's amazing conference hosts.
Here are a few snapshots from our trip while we wait for Mr. J to process photos.
However, the big souvenir from our trip was a particular bottle of wine. Now, if you have read some of out other wine posts, then you know we offer our opinions on the wine we taste.
This particular bottle of wine doesn't have rich fruits or smooth finish; the tannins aren't particularly heavy and there are no notes of forest fruit and leather. Basically, all I have to say about the wine is that… it's red and we will probably never drink it.
What made this bottle of wine so special?
Mr. bottled it himself with a local "monk." (I use quotes because I don't think the guy was a real monk. Rather, he told us about the history of wine in Slovenia, and how the monks made wine in the area.) I thought this was a fun and interactive way to learn more about the history of wine and some of the traditional processing of wine in the region.
If you are ever in Lake Bled at the Castle, then be sure to stop in the wine cellar to learn more about the history of wine in Slovenia.
While Mr. J was speaking at the conference in Munich, I put together this little video of Mr. J bottling wine.
Caveat: I took this video with the iPhone and made the video with iMovie on my phone while sitting at the conference waiting for Mr. J so we could go have some beers (we were in Munich after all). Oh, and I think I am hilarious.
Expert Tip: If you aren't planning on drinking the wine, then bottle white wine instead of red wine. It is more cost-effective. ;)