Thanks to the Boeing 737 MAX issues, Southwest had to put its Hawaii ambitions on hold. But, now, Southwest Airlines adds new Hawaii routes in a big push to play catchup. Plus, they're offering a fare special!
New Routes
Southwest is finally completing its coverage of the Hawaiian Islands! This coming January, the following California – Hawaii routes will be added to the network:
Sacramento – Honolulu begins 01/19/20, once daily
Oakland – Kona begins 01/19/20 every Monday, Wednesday, Friday, Sunday
San Jose – Lihue begins 01/19/20 every Monday, Wednesday, Friday, Sunday
Oakland – Lihue begins 01/21/20 every Tuesday, Thursday, Saturday
San Jose – Kona begins 01/21/20 every Tuesday, Thursday, Saturday
Joining the above routes are a few new inter-island ones too:
Honolulu – Lihue begins 01/19/20, 4x daily
Honolulu – Hilo begins 01/19/20, 4x daily
Kahului – Kona begins 01/19/20, 1x daily
With these new routes, Southwest will have direct flights from California to every major Hawaiian Island. Plus, their inter-island route map will be completed too. That means, come January 19, 2020, we'll have four flights to each major airport out of Honolulu every day. And it'll be the first time in years Hawaiian Airlines has any competition on its Honolulu – Hilo route.
What interests me even more, though, is the fact that Southwest is taking Hawaiian Air head-on by offering a Kahului – Kona route too. Especially since Hawaiian has been busy establishing Kahului as a focus city and now offers direct flights to all major airports in Hawaii from there. This leads me to wonder if Southwest plans to do the same in the future too?
Fare Special
Yesterday, Southwest Airlines ran a $99 special for all new California – Hawaii routes. But, it was a one-day only special, so if you didn't nab it yesterday, you're too late. But, for all my Hawaii people, Southwest is offering a $29 one-way inter-island special.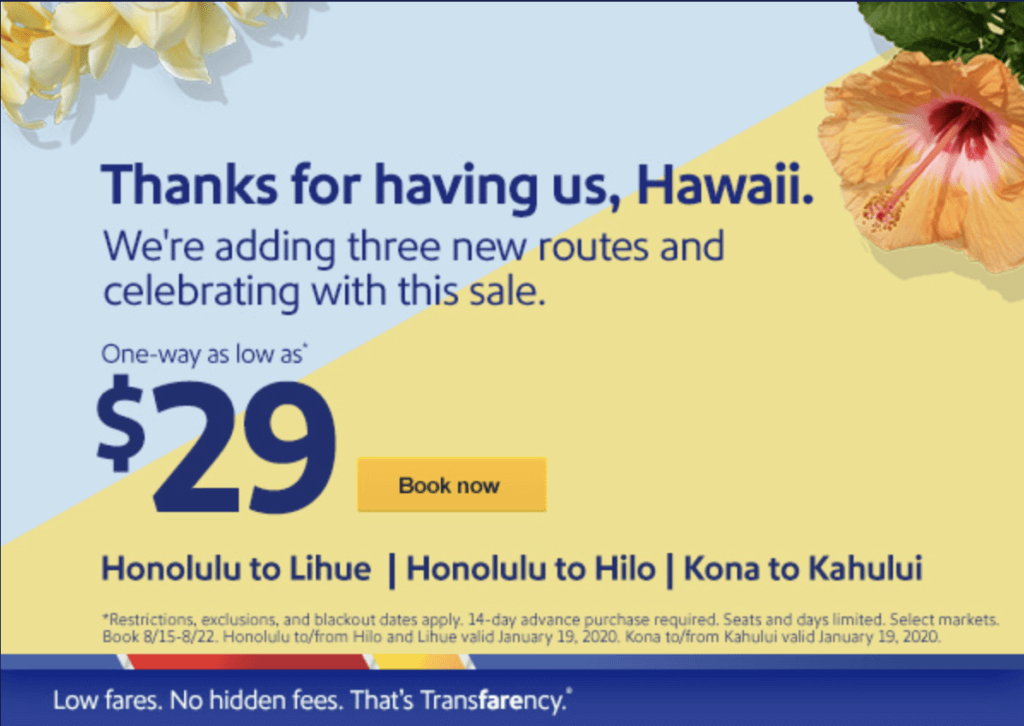 The inter-island fare special is valid for flights booked now through 8/22/19 for Honolulu – Hilo, Honolulu – Lihue, and Kona – Kahului flights. However, travel must take place between 1/21/20 and 3/4/20, and only on Tuesdays or Wednesdays.
Hawaiian's Response
In response to Southwest's fare special, Hawaiian released their own yesterday. However, it's significantly different than Southwest's. For starters, Hawaiians fare is $49 and is valid on all intra-Hawaii routes. Further, the fare is valid for booking only through 8/18/19, though valid travel dates include 9/3/19 – 11/20/19. And, it's valid on all days except 10/4, 10/5, 10/11 – 10/14, and 11/8 – 11/11.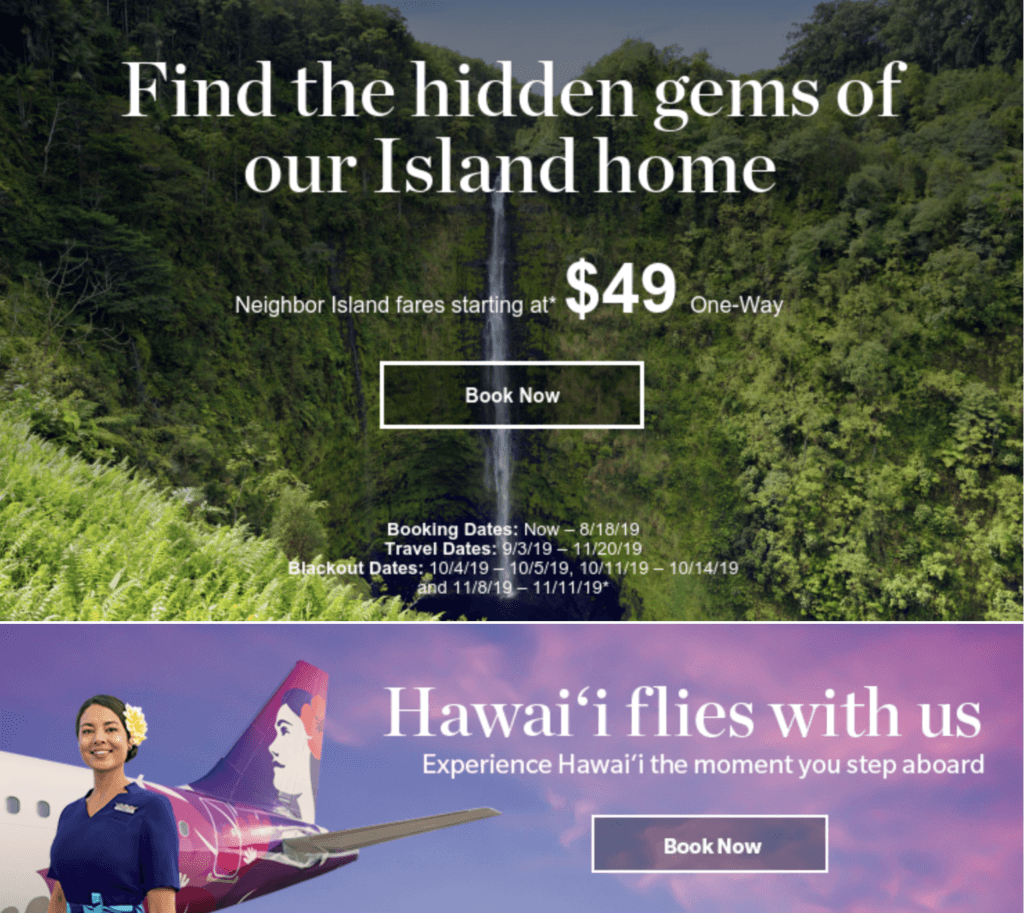 Southwest Airlines Adds New Hawaii Routes, Final Thoughts
It's great to see Southwest expanding its presence in Hawaii. Not necessarily because I'm a fan (yet), but because we desperately need competition here. Hawaiian's monopoly on inter-island travel has lasted long enough! In fact, this will be the first time Hawaiian has had a competitor covering all major Hawaii airports since go! folded.
Now, if only they'd start flying between Hawaii and Las Vegas.