Our final flight of 2021 was Southwest Airlines flight 370 OGG-HNL – another 30-minute hop between Kahului and Honolulu. We had a bit more drama with this flight than on the one out. But, overall, it was an uneventful one.
Since we flew out on Southwest Airlines, it only makes sense that we flew them back home too. Even more so thanks to the debacle we encountered at the airport. I already reported on this shortly after it happened, so you can refer to my earlier post. But, it's worth reminding that you can't transport fresh fruit between the islands when flying Southwest because there's no separation between inter-island and trans-Pacific flights. I'd argue this should be the case for Hawaiian too, now, as their old terminal and Mauka Concourse aren't physically separated, but whatever. Our two free checked bag limit on Southwest saved us in this case.
Southwest Airlines Flight 370 OGG-HNL
After dealing with our little incident, we hung out in the gate area for our flight. Kahului Airport isn't all that nice an airport, and there are absolutely no Priority Pass lounges here. At least there was some interesting traffic passing by outside.
The ground crew at Kahului did try to make things a bit more festive in the gate area, as Southwest was celebrating its 50th anniversary at the time.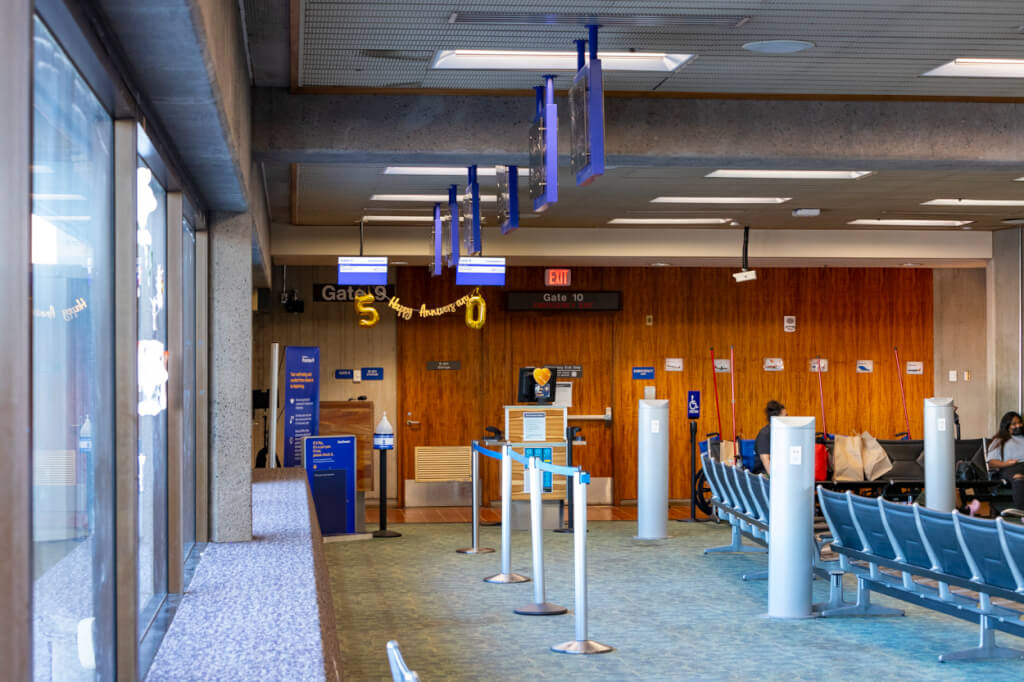 That said, unlike our flight out, our flight home was quite full. As a result, boarding zones were utilized as normal. And, though it doesn't look like it in this picture, the waiting area filled up as our boarding time neared. Our aircraft pulled into the gate about 30 minutes prior to boarding.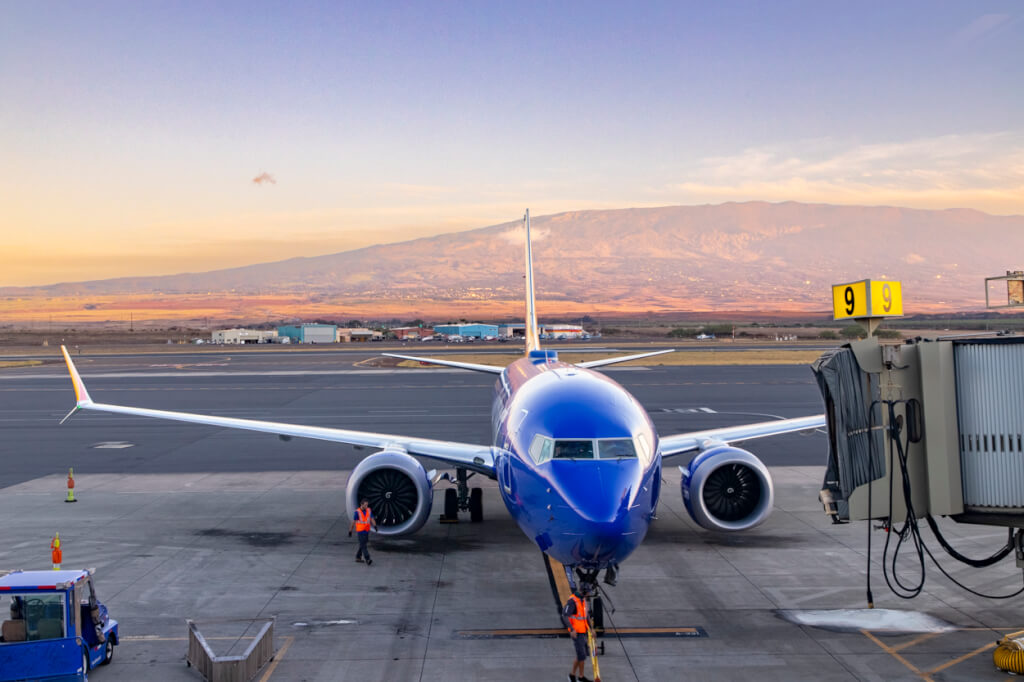 Boarding
Our scheduled boarding time was 6:00 pm. However, the early boarding call for Southwest Airlines flight 370 came a minute early at 5:59 pm. This was followed shortly after by our boarding group – A – at 6:02 pm. Despite the crowds, everyone got on quickly with the door closing at 6:20 pm. Then, a minute later, we were already pushing back a full nine minutes ahead of schedule.
Southwest Airlines Flight 370 Aircraft
Our aircraft for the evening was N8722L – a 3-ish-years-old (at the time) Boeing 737-8 MAX. This was our very first MAX flight, and it was completely fine. I did notice that it was a bit quieter than the 737 NG, but that was about it. Thanks to this being such a quick flight, I didn't get a chance to check out the hilariously tiny lavatories.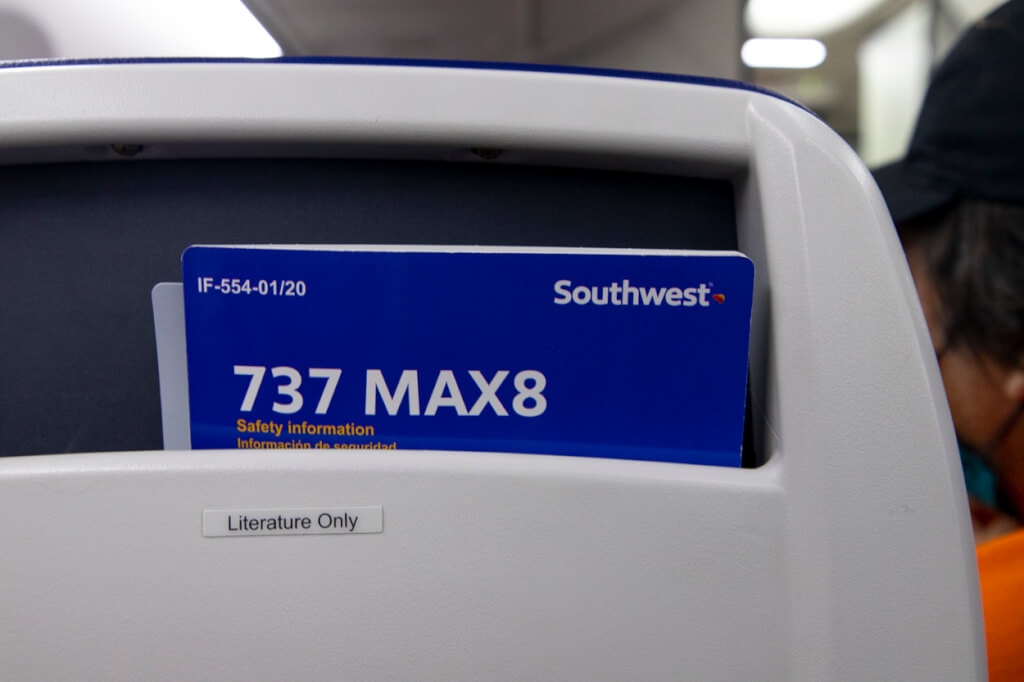 Service
As with our flight out, there was no service on Southwest Airlines flight 370. And I see no problem with that given the short 30-minute (or less) flight time. Yes, Hawaiian gives you a free soft drink, but so what? Does it really matter? Me thinks not.
I will say, our flight crew wasn't nearly as friendly as the one we had on the outbound flight. Heck, one of the flight attendants was quite anit-mask too, and could be heard complaining to some passengers about it. She even removed her mask whenever talking. Whatevs.
Flight
From the time we pushed back from our gate, it took seven minutes to reach our departure runway – C2 – primarily thanks to traffic on the taxiways. But, as soon as we go there, we were on our way. A hilarious 10 minutes later and we were already beginning our initial descent. Ten minutes after that we began our final into Honolulu. Then, at 6:50 pm, we touched down.
After a QUICK five-minute taxi, we arrived at our gate, pulling in at 6:55 pm – a full 15 minutes ahead of time. The doors opened two minutes later and we were off towards the baggage claim in no time. Like our flight to Kahului, however, our bags took a while to come out. In fact, it was 30 minutes after the door opened that our bags came down the belt. Alaska and Delta spoils you!
Southwest Airlines Flight 370, Final Thoughts
This was yet another uneventful flight for us. Sure, things started off a bit bumpy, but that's ok and wasn't the fault of the airline at all. And, sure, there was no in-flight service during our flight. But, again, does it really matter on such a short flight? No. The goal here should be to get the least expensive flight practical – and remember to factor bag fees into the calculation! And when you look at it that way, Southwest served our purposes perfectly.
Grand Maui Adventure
Southwest Airlines Flight 370 OGG-HNL