The SPG Amex increased signup bonus is a rare treat.  And right now, American Express is offering of the most lucrative signup bonuses the card has seen recently.
The Starwood Preferred Guest Credit Card by American Express is currently offering a 35,000 point signup bonus.  That's quite a bit higher than the standard signup bonus, though lower than most other signup bonuses.  Or is it?  But more on that in a little.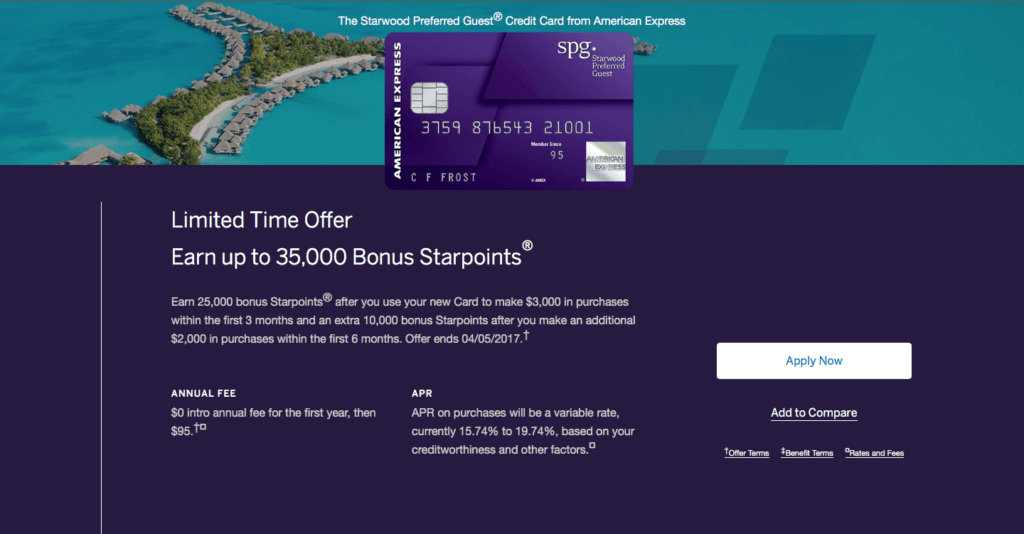 To earn the signup bonus, you'll have to complete two different spend requirements.  The bulk of the bonus points, 25,000 Starpoints, will be awarded when you make $3,000 in purchases within the first 3 months.  The remaining 10,000 Starpoints will be awarded after you make an additional $2,000 in purchases within the first 6 months.
Value
So in total, you'll need to spend $5,000 in the first 6 months of account opening.  Your total earnings will be at least 40,000 Starpoints if you complete the spend requirement within the given time.  That's 5,000 points for $5,000 in spend at 1 point per dollar, and the 35,000 bonus points.  For reference, award nights cost anywhere between 3,000 and 35,000 points.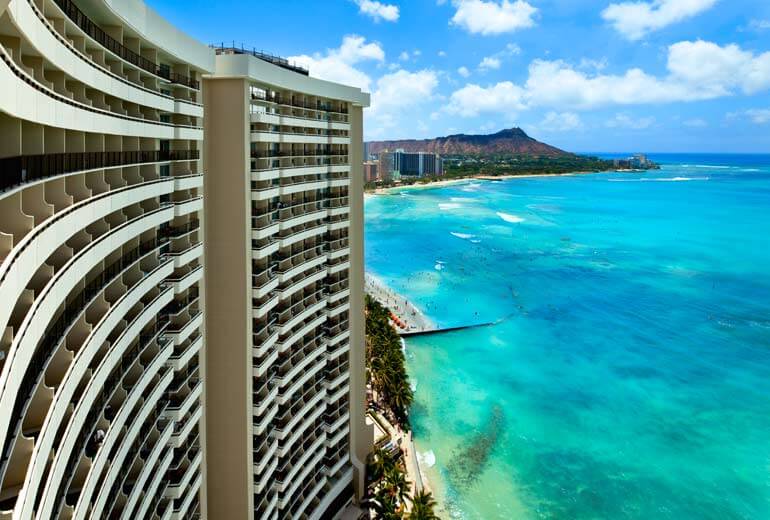 You could also transfer your Starpoints to Marriott Rewards points at a ratio of 3 to 1.  So 40,000 Starpoints would transfer into 120,000 Marriott Rewards Points.  Another option would be to transfer your Starpoints to participating airline loyalty programs.  And with 40,000 Starpoints, you could potentially get 50,000 airline miles, since you get a 5,000 mile bonus for transferring 20,000 Starpoints.
What 40,000 Starpoints Will Get You in Hawaii
There are a quite a few Starwood properties across Hawaii, ranging from a category 4, and all the way up to category 8.  So at minimum you'd be spending 7,000 points per night for a stay in Hawaii.  Here's how the properties breakdown:
Category 4 – 7,000 points
Sheraton Kona Resort & Spa at Keauhou Bay
Category 5 – 12,000 to 16,000 points
Sheraton Princess Kaiulani (Honolulu)
Sheraton Kauai Resort
The Westin Hapuna Beach Resort (Big Island; currently the Hapuna Beach Prince Hotel; May 2, 2017)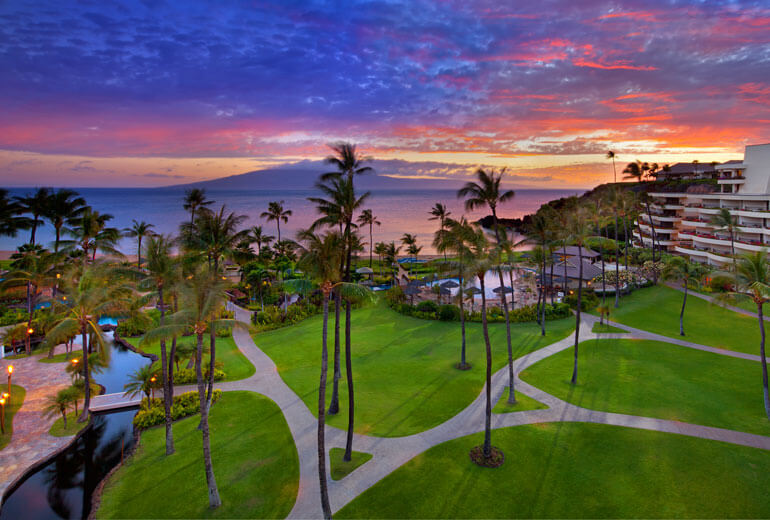 Category 6 – 20,000 to 25,000 points
Moana Surfrider, a Westin Resort & Spa, Waikiki Beach
Sheraton Waikiki
The Royal Hawaiian, a Luxury Collection Resort, Waikiki
The Westin Nanea Ocan Villas, Kaanapali (Maui; April 15, 2017)
Sheraton Maui Resort & Spa
The Westina Kaanapali Ocean Resort Villas
The Westin Maui Resort & Spa Kaanapali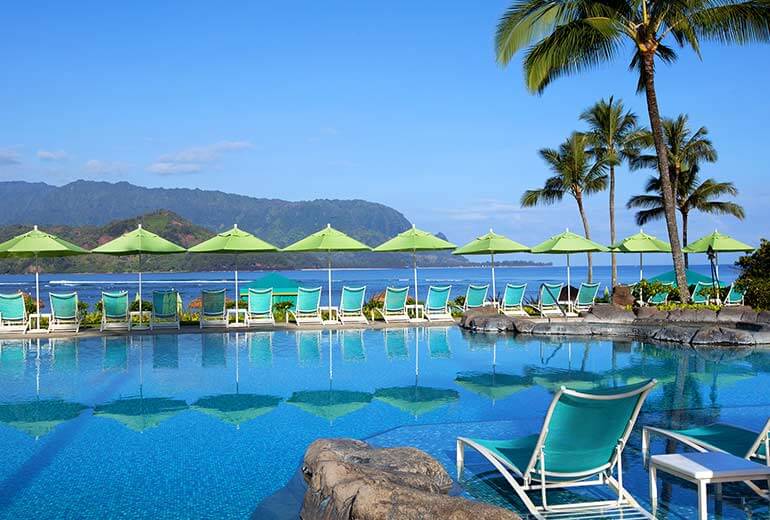 Category 7 –  30,000 to 35,000 points
The St. Regis Princeville Resort (Kauai)
What 120,000 Marriott Rewards Points Will Get You in Hawaii
While Starwood has a strong presence in Hawaii, Marriott's presence isn't quite as strong.  Ok, well, that's a lie.  There are over 20 Marriott branded properties across Hawaii, though most of them are Marriott Vacation Clubs rather than hotels/resorts.  Here's how it breaks down: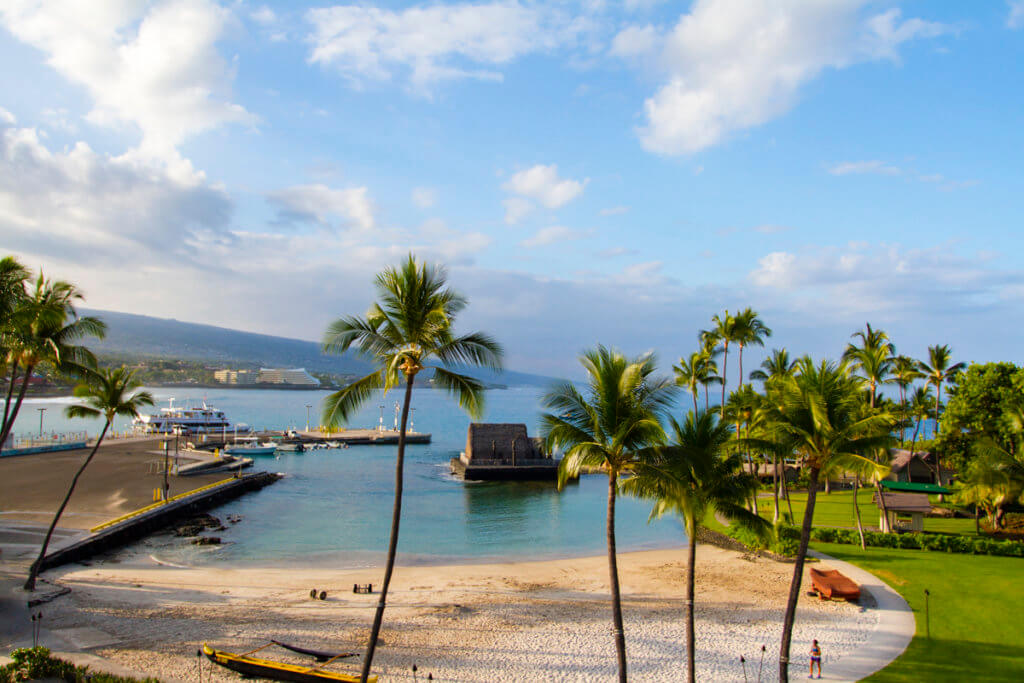 Category 6 – 30,000 points
Courtyard King Kamehameha's Kona Beach Hotel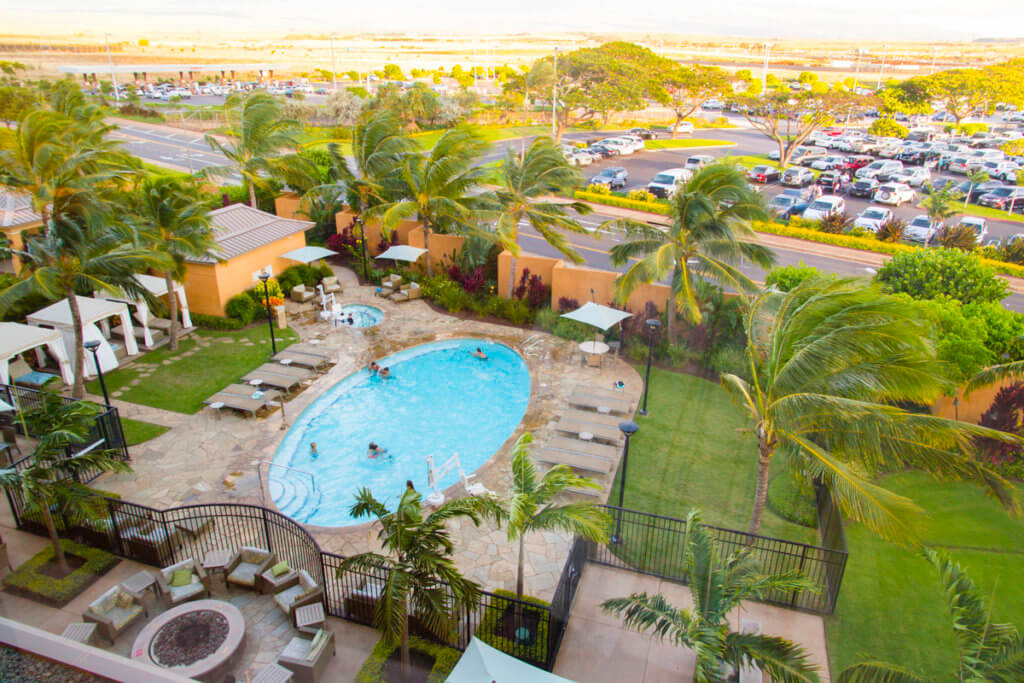 Category 7 – 35,000 points
Courtyard Waikiki Beach
Courtyard Maui Kahului Airport
Courtyard Kauai at Coconut Beach
Courtyard Oahu North Shore
Waikoloa Beach Marriott Resort & Spa
Marriott's Waikoloa Ocean Club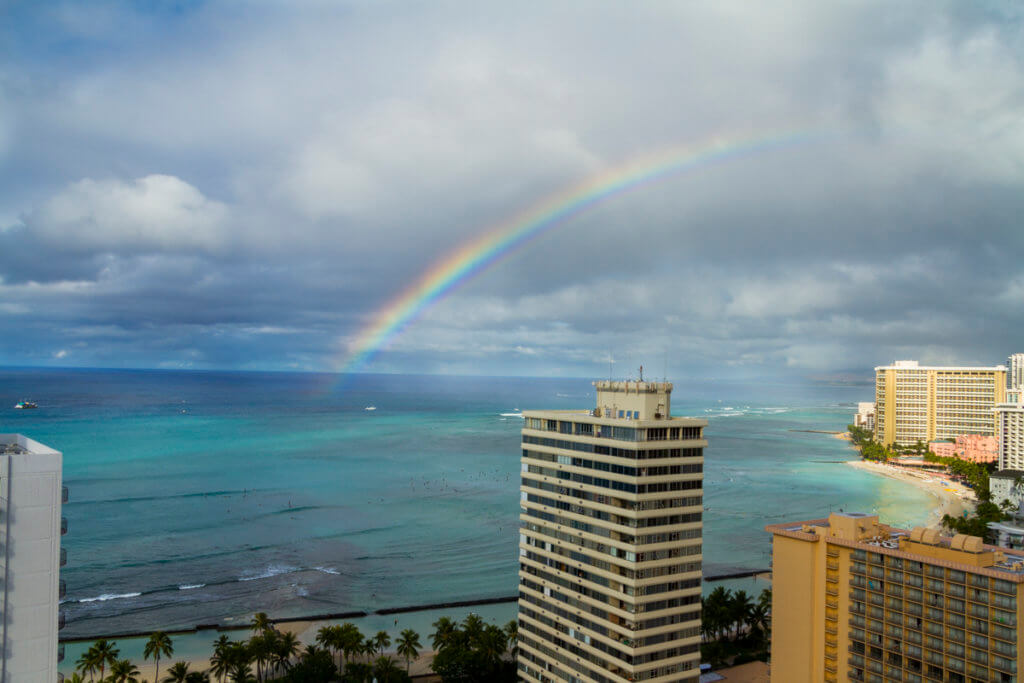 Category 8 – 40,000 points
The Okina, Autograph Collection (Waikiki)
Waikiki Beach Marriott Resort & Spa
Marriott's Ko Olina Beach Club
Mauna Kea Beach Hotel, Autograph Collection (Big Island)
Koloa Landing Resort at Poipu, Autograph Collection (Kauai)
Marriott's Waiohai Beach Club (Kauai)
Marriott's Maui Ocean Club – Lahaina & Napili Towers
Marriott's Maui Ocean Club – Molokai, Maui & Lanai Towers
Kauai Marriott Resort
Marriott's Kauai Beach Club
Marriott's Kauai Lagoons – Kalanipu'u
Wailea Beach Resort – Marriott, Maui
Residence Inn Maui Wailea
Tier 4 – 60,000 points
Ritz-Carlton Kapalua (Maui)
SPG Amex Increased Signup Bonus Final Thoughts
35,000 Starpoints are nothing to sneeze at.  If you can make the minimum spend, it's worth considering applying for the SPG Amex to take advantage of this offering.  Unfortunately, if you're looking to have a Hawaiian vacation, those points won't get you far.  Your best value?  The Sheraton in Kona, where you'll be able to stay for about 5 days on points.
Of course, if you're a small business owner, you could apply for the business version of the card too and double your points!  Just be aware of the increased minimum spend on the business card, though you will gain some extra benefits, like complimentary access to Sheraton Clubs.  Either way, if you plan on taking advantage of this offer, you have until April 5, 2017, to apply.