I am in the middle of planning some travel for this summer and have two destinations in mind:
Visiting Hawaii (especially the island of Maui) for the first time – and
Re-visiting French Polynesia and staying on the island of Bora Bora using the free nights we have earned from the IHG Into the Nights promotion
Because travel is for the summer, dates are pretty flexible and we can arrange our travel plans around award availability. This is a key component to being able to make this trip work with points and miles. If I my dates were set in stone, none of these tricks would work.
Our ideal routing was to leave from the west coast of the United States and make our first stop on Maui. We preferred not to have a stop on Honolulu on our outbound segment.
We were able to find inexpensive economy fares on Delta from SEA to OGG and then upgrade these flights using the Regional Upgrade certificates that I chose as my platinum gift for 2014. I will talk more about the Hawaii component of this trip in future posts.
The second part of the trip involves getting from Hawaii to French Polynesia, which is a fun adventure in itself. There is a once-weekly flight from Honolulu to Papeete that flies on Saturdays. This flight is run by Hawaiian Airlines.
Add it up and here is the approximate route we were looking to take in order to reach both destinations: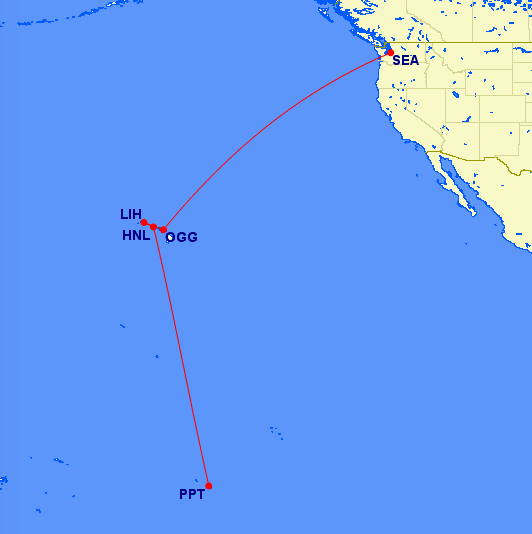 Map generated by the Great Circle Mapper – copyright © Karl L. Swartz 
While the trip from the mainland US to Hawaii was easy to book, the HNL to PPT flight took some more flexibility to work.
Finding Hawaiian Airlines award availability from HNL – PPT
The first step I took was to create an account with Hawaiian airlines so I could search award availability. I have never flown Hawaiian airlines, been to Hawaii or created an account to this point. Fortunately the account creation process takes 2 seconds.
Sign in and you will have a glorious balance of 0 miles.

But at least you can search for award flights.
To search award flights you can simply do a regular search for the flight you want to take

And select the HawaiianMiles button to see the award price:

The Hawaiian airlines awards are priced at low and high levels, which I assume is based on availability. Our goal was to fly in business class for the 6 hour flight, and we were only looking at low level awards. Fortunately there were two dates in August with low level business awards, so we began the transfer process to get our miles into the newly created Hawaiian airlines account.
Of course, I didn't have any Hawaiian miles. I also didn't have enough miles in a single transfer partner account to match the 95,000 miles needed for two one-way business class tickets. So I needed to get creative.
The first action was doing the math to see if I could make this work. You can transfer miles from your SPG account or American Express Membership Rewards into Hawaiian airlines. Membership Rewards is a 1:1 transfer to Hawaiian. SPG is a 1:1 transfer as well, but they give you a 5,000 point bonus for every 20,000 miles you transfer.
Doing the math, I needed to transfer 20,000 Membership Rewards points to reach 20k Hawaiian miles. Then I needed to transfer 60,000 SPG points to get 75,000 Hawaiian Miles.
With available award space on the website and our ideal award in hand, I initiated the transfer process.
Transferring Amex Membership Rewards to Hawaiian Airlines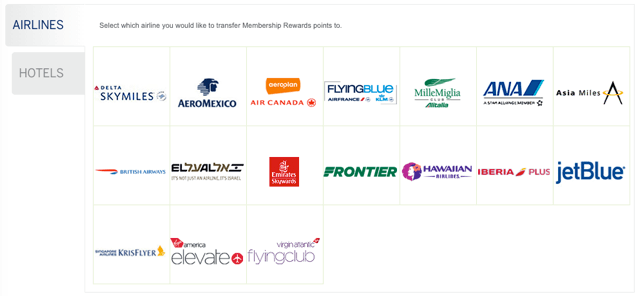 First up was American Express. We started with trying to transfer Mrs. Jeffsetter's Membership Rewards points into my Hawaiian account. This was rejected immediately because the names don't match. We then tried to transfer her points into a newly created Hawaiian Airlines account, but this also did not match because of a name difference (maiden name at work vs. married name on passport).
The only way it worked was if I transferred my Membership Rewards points to my Hawaiian account.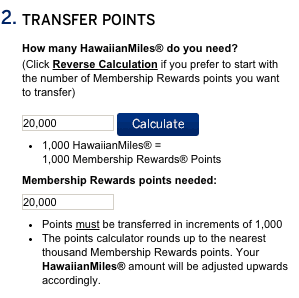 The American Express transfer was instantaneous. I logged out of my Hawaiian account and logged back in and it was there.

Transferring SPG Points to Hawaiian Airlines
The next step was to transfer my SPG points into the Hawaiian Account.
I started with a 20,000 miles transfer, just to make sure everything worked properly.
I received a success message and checked my Hawaiian account to see if the balance went through.
There was nothing immediately showing up in the account. The next day I transferred the remaining 40,000 miles, just in case it took several days for the miles to post.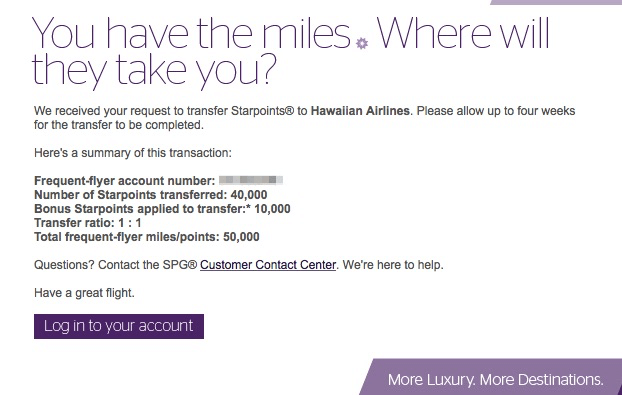 Then I waited.
And waited.
Finally on the 3rd day the miles posted into my Hawaiian account. For reference, I started the transfer process on a Saturday. I made the second transfer on Sunday. We finally received the miles first thing Tuesday morning.

With enough miles in the account, I went to book my flight on Hawaiian… and the award was no longer available!
What a pain! Because the SPG transfer took 3 days to complete, we were getting very close to wasting a transfer of 95,000 miles into our Hawaiian accounts.
Fortunately, we had flexible travel dates, and were able to get space on the flight 2 weeks later. Disaster avoided.
How long do transfers take with Hawaiian?
I am writing this post for two reasons: 1) to show you how you can book an award flight with Hawaiian airlines using their online tool and 2) to give you a warning that your transfer of points may not be as instantaneous as you would expect.
American Express will transfer the points into your Hawaiian account instantaneously, as long as the names on the account match.
SPG says that the transfer can take up to 4 weeks to complete. From my experience, it took 3 days.
3 days may not seem like a lot, but when you are trying to book the only two seats available on a flight that only runs once a week, it can be fairly stressful.
Hopefully if you look into booking a similar trip you can be both flexible with your dates and understand that SPG transfers take time.
In the end we are going to two amazing island groups in the Pacific, spending some quality time in both areas, and doing it all inexpensively. As we round out the details of the trip, I will share more insights. Like how we were able to redeem two free nights at the lesser Intercontinental in Bora Bora, and what else we are doing to maximize value along the way.