After we arrived back in the city from our adventures in the Columbia River Gorge and Draper Girls Country Farm, I texted my friends to figure out what to do for dinner.  We agreed to have dinner together at Tasty n Alder, one of their top recommended restaurants in Portland!  We made reservations for a few hours later, and a little before our reservation time, the wife and I walked over (about 5-10 minutes) Portland Marriott City Center.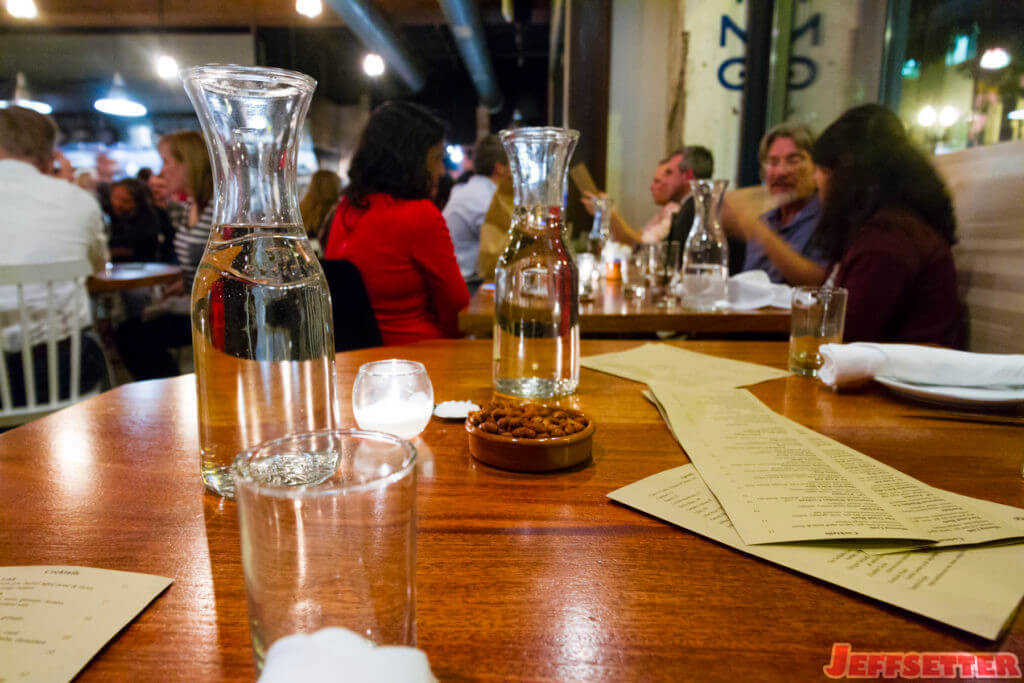 Our friends were running late, but despite this, we were sat by the super friendly hostess.  At our table were 4 glasses, plates, flatware, plates, napkins, 2 carafes of water, a candle, and some salted roasted peanuts.  I'm allergic to peanuts, so I couldn't partake, instead we looked over the menu.  The wife and I went ahead and placed an appetizer order so that we'd have something to eat when our friends arrived, and it actually arrived just as they sat down.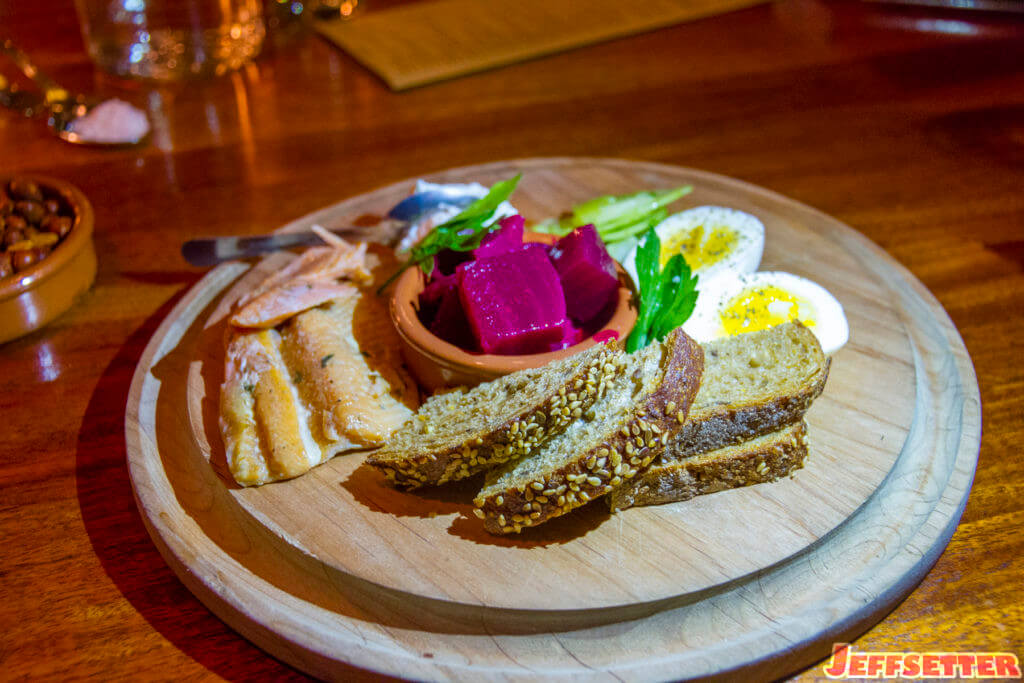 First up was the Smoked Trout & Accoutrements. It was served with whole grain bread, soft boiled eggs, roasted beets.  I'm not a huge fan of hot smoked fish, but this one was done very well.  The fish was well seasoned and succulent; not dry at all.  Everything went really well together and was just right to get things going.  
Next up was the Goat Cheese Dumplings Arabiata.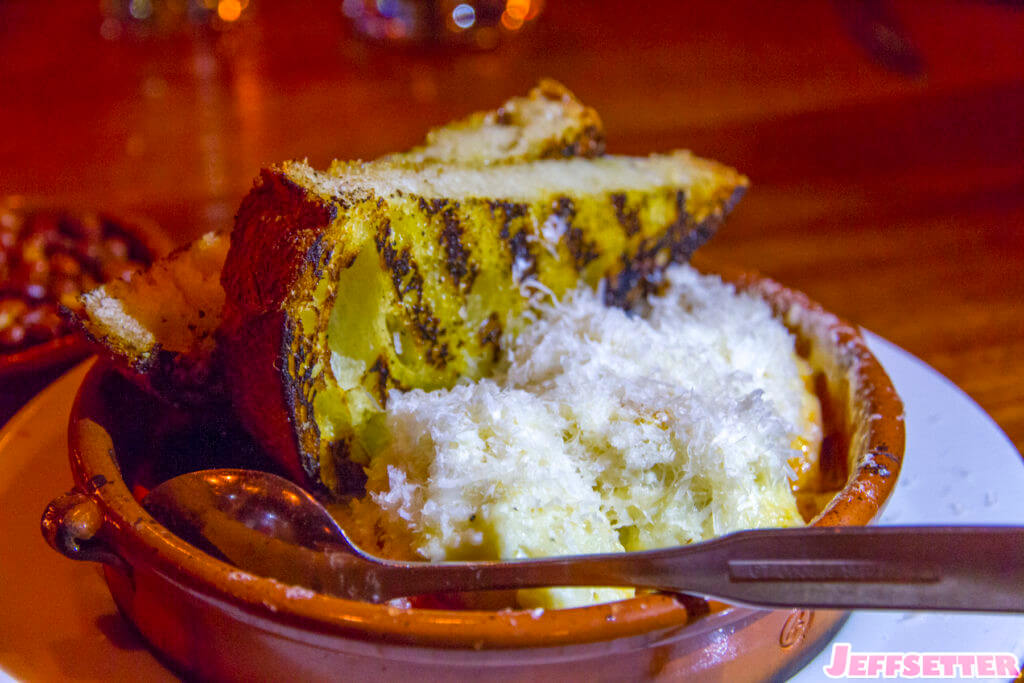 These little morsels literally melted in your mouth!  Amazing stuff, and no funk at all.  The arabiata sauce it was all floating in was amazing too, so the bread was greatly appreciated.  We sopped up every last drop of that tasty, tasty crack sauce.
Our next dish was another Italian inspired one: Chanterelle & Squash Orzo Risotto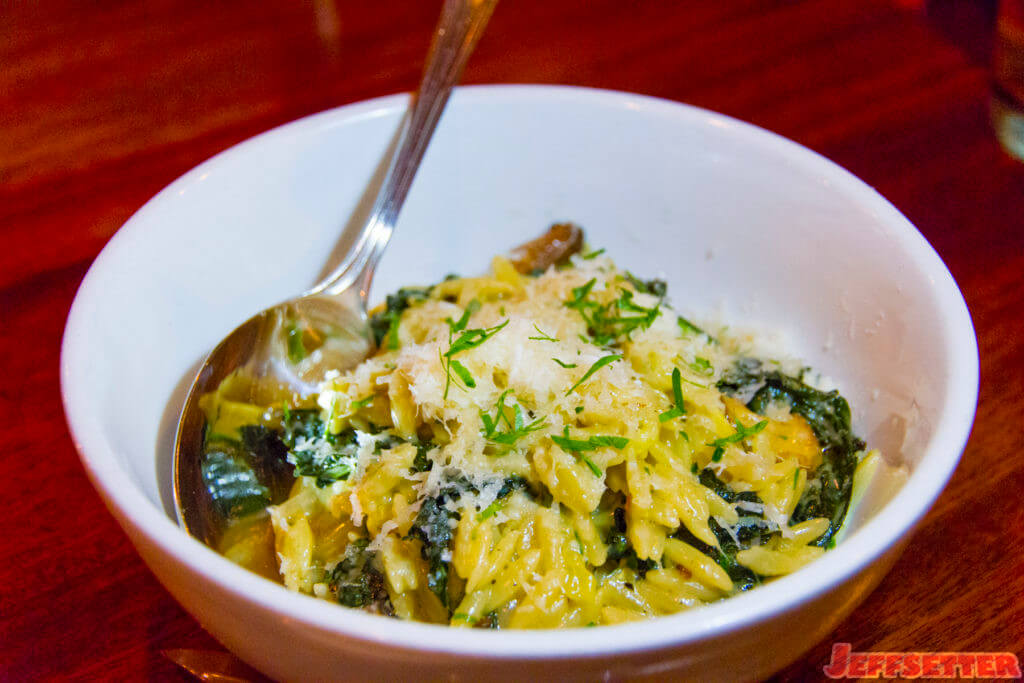 Ok, I was skeptical when it said orzo risotto, BUT they had me a chanterelles.  Chanterelles are one of my favorite mushrooms, and once I got past the fact that this isn't a risotto, but just a great bowl of pasta, all was well in the universe.  It was delicious and very nicely balanced with the richness of the cheese and sauce offset by the slight bitterness of the kale.
A side dish arrived next, Duck Duck Potatoes.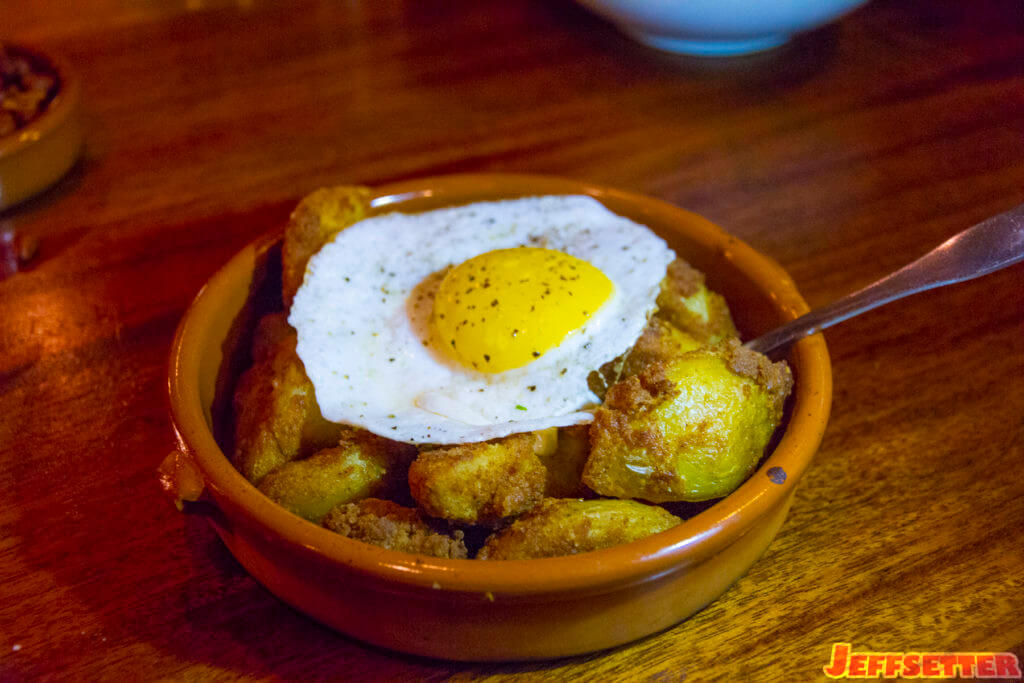 Nothing to complain about here!  Wedges of duck fat fried potatoes topped with a fried duck egg… Ok, maybe a little more salt would have been nice, but this was delicious!
Our first "main" arrived next:  Baja Tacos. Halibut, apple avocado sauce, escabeche.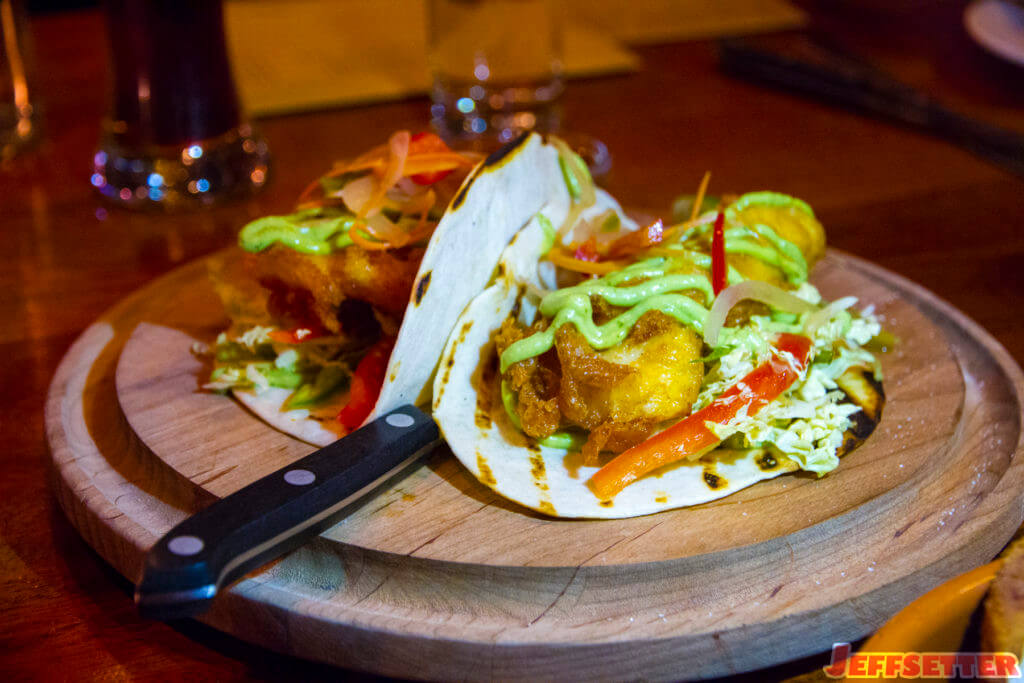 I was skeptical about this dish too, because admittedly, I've never understood the obsession with fish tacos.  But you know what?  This was PERFECT.  The halibut was crispy on the outside, moist on the inside, and nicely seasoned.  The flavors were really great and the greasiness of the fried fish was nicely offset by the fresh veggies.
Our second to the last dish was the Wagyu Skirt Steak from Snake River Farms. Chimichurri.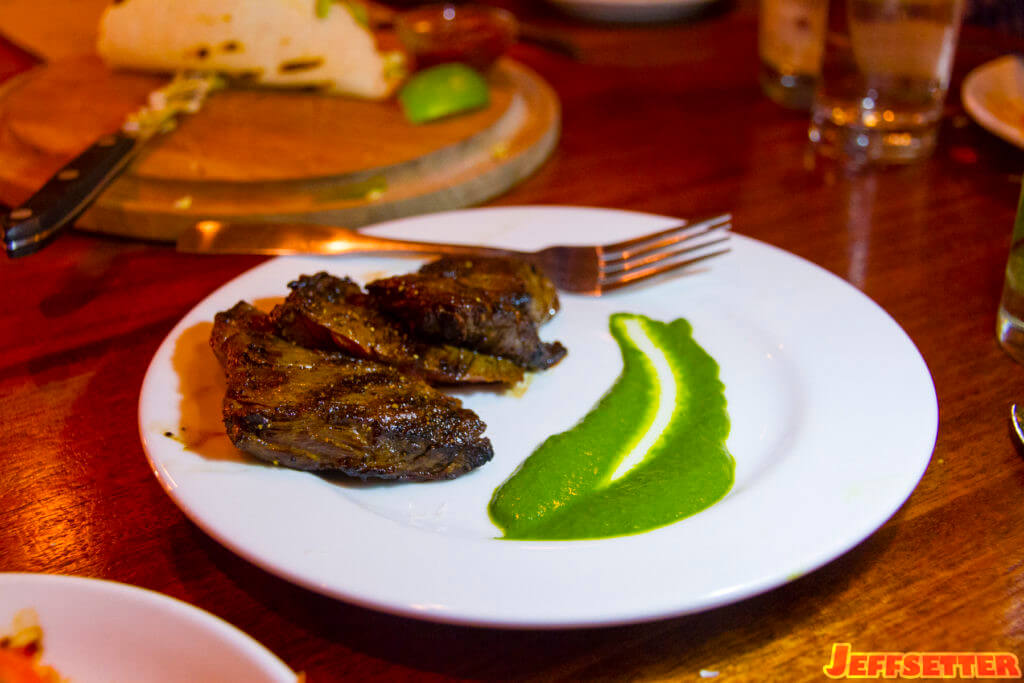 Now I've had A5 Wagyu from Japan a couple times before, and while good, it's too rich for me, and the flavor just ins't there… That's why I actually prefer American-wagyu, like this, which is often crossbred with a different breed of cattle like Angus.  It brings down the fat content a bit and adds flavor.  This steak, despite being a flank, was very tender.  It was cooked to a perfect medium rare and was seasoned very well.  Steak is really easy to screw up, but this was great!
Our final main was the Cedar Plank Salmon.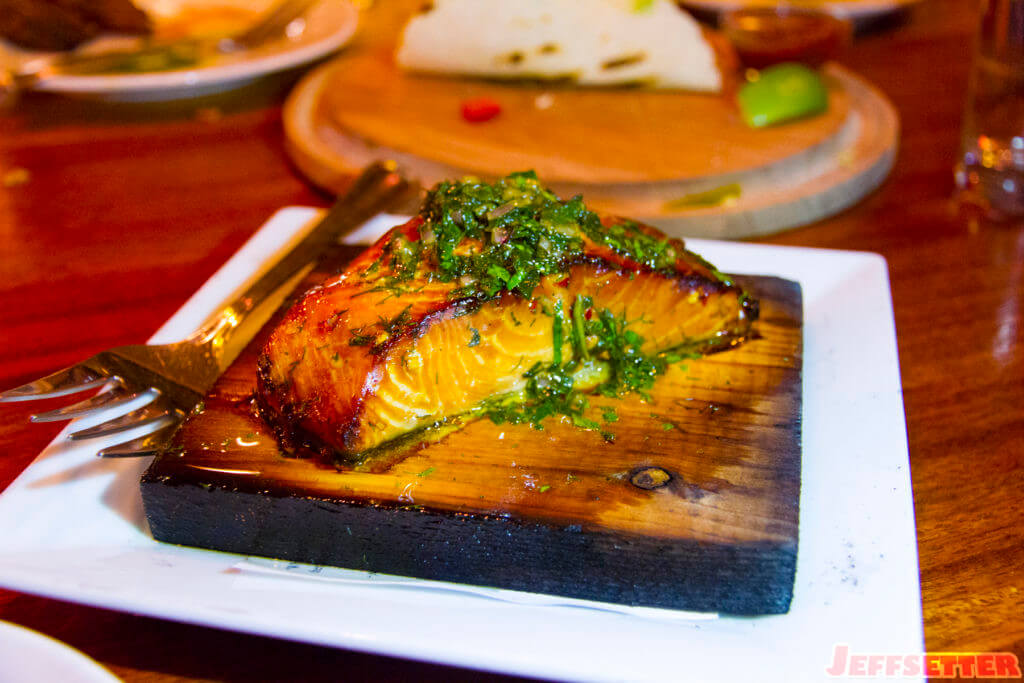 This salmon was the BEST salmon I've ever had!  It was smoky and charred on the outside, and a perfect medium on the inside.  It flaked effortlessly and was so full of flavor!  This is definitely a must order at Tasty n Alder.
Now we can't have dinner without dessert, and our friends knew exactly what to order.  Tasty n Alder is actually known for this, and it's easy to see why:  Chocolate Potato Doughnuts with crème anglaise.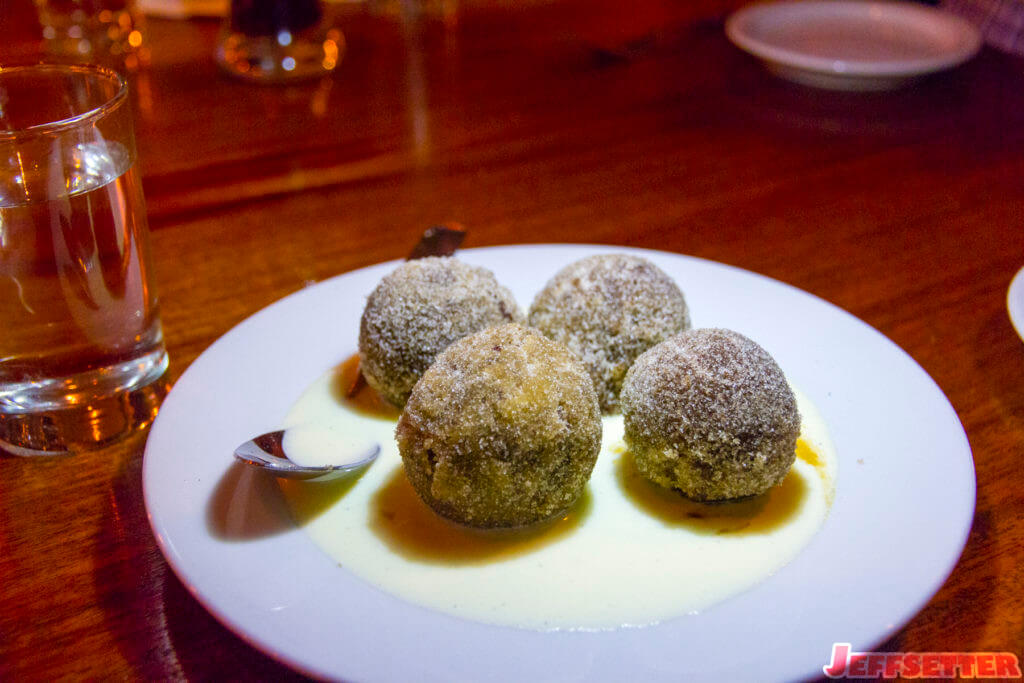 Sounds weird, but tastes out of this world!  BEST.  DOUGHNUTS.  EVER!!
Tasty n Alder is by far my favorite restaurant in Portland… and even one of my favorite restaurants in the world!  The food is fantastically tasty, high-quality, and fun!  The ambiance is on the noisier side, so a romantic restaurant this is not, but it's the perfect date night, get together, casual dinner… anything restaurant to me!
Our PNW Adventure
Dining Review:  Tasty n Alder