There are two main thoroughfares through Waikiki – Kalakaua Avenue and Kuhio Avenue. For some reason, The City is shrinking Kuhio Avenue as a way to "improve" safety, though I think this is a terrible mistake.
If you're unfamiliar, Waikiki's main thoroughfares include Kalakaua Avenue, Kuhio Avenue, and Ala Wai Boulevard. Of these, Kuhio Avenue is the only one that's bidirectional. It's also the street you need to be on to access many of the one-way cross streets throughout Waikiki used to access places like the Waikiki Beach Marriott. As such, it's a VERY busy street. And it's already quite small, too, as it only has two lanes of traffic in each direction. Yet, our City officials think it's prudent to make the street even smaller.
The City is Shrinking Kuhio Avenue
According to Hawaii News Now, The City is shrinking Kuhio Avenue by converting one lane in each direction to bus-only lanes. As the name suggests, these lanes will be reserved for use exclusively by city and private buses, trolleys, bicycles, and vehicles turning right into driveways. They say the move will help to increase safety by, I don't know, giving private vehicle drivers only one lane of traffic. I'm guessing the rationale is that the traffic will get so bad that we'll be forced to drive through the area at less than 25 MPH?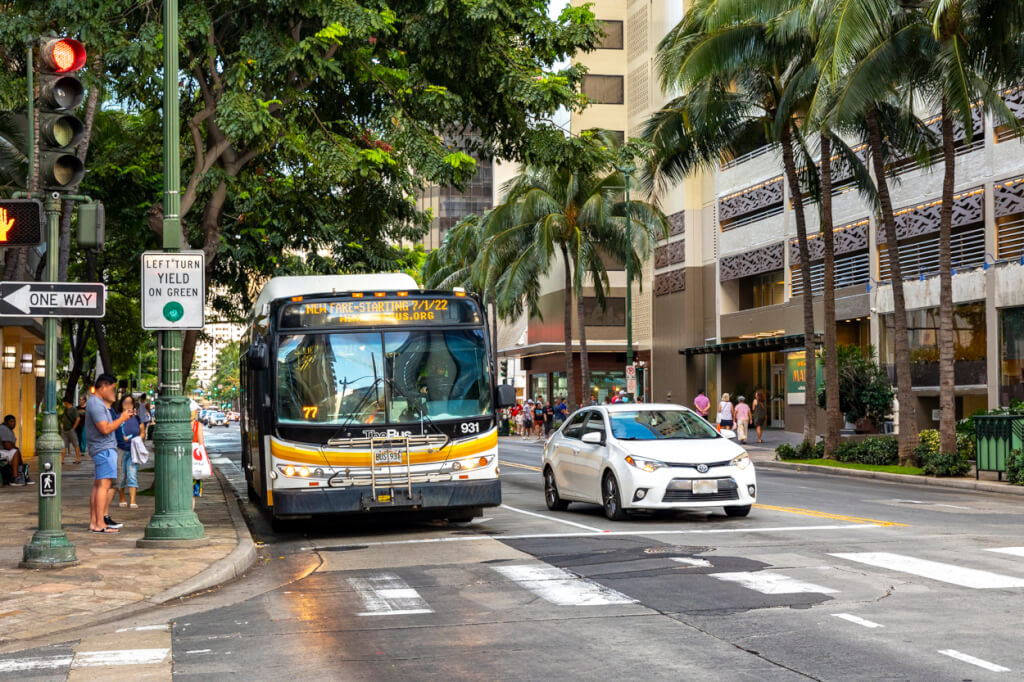 Seriously. I'm not trying to be snarky here. But it's hard not to when our officials want to turn Kuhio Avenue into a one-lane road. This is especially true as buses and trollies will be able to use either of the two lanes as they see fit, which they already do today, often leap-frogging in front of one another. With buses and trollies frequently stopping in the right lane and overtaking one another, it makes driving on the already narrow street frustrating. And our officials want to make it even worse? How does that improve safety? It doesn't.
I fear all this move will do is to increase traffic and frustrations along the corridor. It may even discourage locals from venturing into the area even more than they already are. But, hey, what do I know? I'm not an urban planner. I'm just a user of said street. And I'm not the only one that thinks this is a bad idea. The City already did something similar along a portion of King Street, which definitely didn't help with congestion, despite that street having far more lanes. Sure, the move helped with the flow of buses, but that's it.
Final Thoughts
I really can't comprehend why The City is shrinking Kuhio Avenue. Not only will doing so increase congestion, but it'll make for a scenario in which vehicle drivers are dive bombing into the right lane at the last minute to make their right turn. At the same time, buses and trollies will be stopping and leap-frogging each other. Can you imagine the chaos, especially in super busy areas around The Laylow and the International Market Place? Not only will this create unsafe conditions for drivers, but it'll be incredibly dangerous for bicyclists. I want to know who the hell came up with this plan and how they thought it'd be safer. Does this person(s) ever drive on Kuhio?
Actually, I know exactly why this is happening – to punish drivers and try to force people into buses. News flash! The people that drive on Kuhio AREN'T going to take the bus. I sure as hell ain't bussing into Waikiki for a quick shopping/dining trip or a staycation.
As far as timelines go, The City hopes to complete work on the conversion by the end of 2023. Hopefully, someone convinces them to stop this insanity.