Demand for travel between Hawaii and Japan is increasing. As a result, the Flying Honu returns this summer, amongst other schedule enhancements. Frequencies for the giant aircraft, however, will remain relatively low for the time being.
ANA began flying their giant Airbus A380s between Honolulu and Tokyo Narita only the year before the pandemic hit. In fact, the third and final A380 hadn't even been delivered yet when the world began shutting down. Many feared that the drop in travel associated with the pandemic would spell the end for these enormous birds. However, being so new to ANA, I didn't think that would be the case. Happily, I was right.
The Flying Honu Returns This Summer
If you look around Hawaii today, there aren't that many Japanese tourists here. Their presence has been growing over the past couple of months, but they're still a tiny minority. Well, it looks like that's going to change soon. ANA cites rapidly growing demand as it outlines its upcoming schedule changes for its Honolulu routes. Specifically, ANA plans to boost Honolulu-Haneda frequencies to five times weekly and will add two Honolulu-Narita frequencies per week.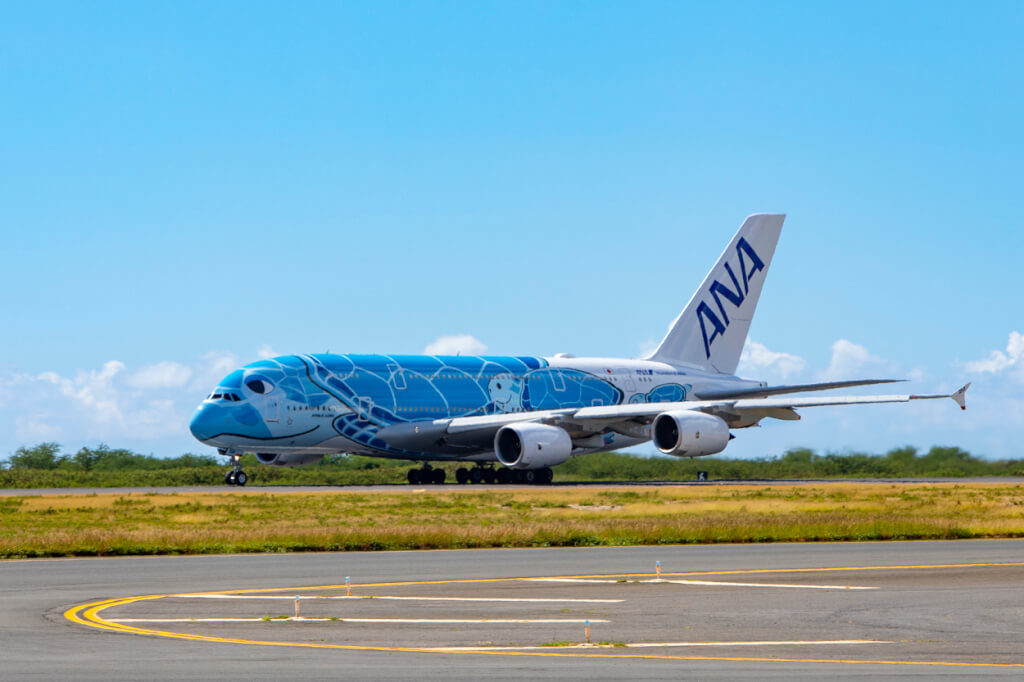 The Honolulu-Haneda flight is the one that is currently operating and is flown by the Boeing 787-9. The Narita frequencies, of course, are those operated by the A380 Flying Honu. However, with only two frequencies (NH184) per week – Friday and Saturday – I'd expect to only see two of the jets in operation at a given time. The third will likely remain in reserve for maintenance, etc. Oh, and, yeah, they're turning these beasts around for same-day returns. So to all my fellow HNL spotters out there, head over to HNL on Friday and Saturday mornings. The current schedule has the flights departing at 10:20 am HST.
Final Thoughts
I'm glad ANA is bringing their Flying Honus back to Hawaii. It's a lot of fun seeing them operate out of HNL, and until they suspended service, they sure were drawing crowds every time they flew!