The other day I reviewed the Hyatt Centric Waikiki Beach.  It's a great hotel, despite its location and lack of amenities.  I'd say its easily one of my favorite properties on Oahu.  Missing from my hotel review, though, is a review on the property's dining options. So today, I'd like to review the Hyatt Centric Waikiki sole restaurant: The Lanai
If you missed my review of the Hyatt Centric Waikiki Beach, I encourage you to check it out.  While I understand the property may not be for everyone, Mrs. Island Miler and I loved it!  Yes, the property has limited amenities, but it really wasn't a deal breaker for us.  We even enjoyed the on-property dining, despite very limited selections here too.
The Lanai
Dining choices around the Hyatt Centric Waikiki Beach aren't really a problem.  It's located right next to the International Market Place, as well as the Waikiki Yokocho Gourmet Restaurant Alley.  But, the Hyatt Centric Waikiki does have its own restaurant too.  And while we were considering our dinner options that day, we decided to give The Lanai a try.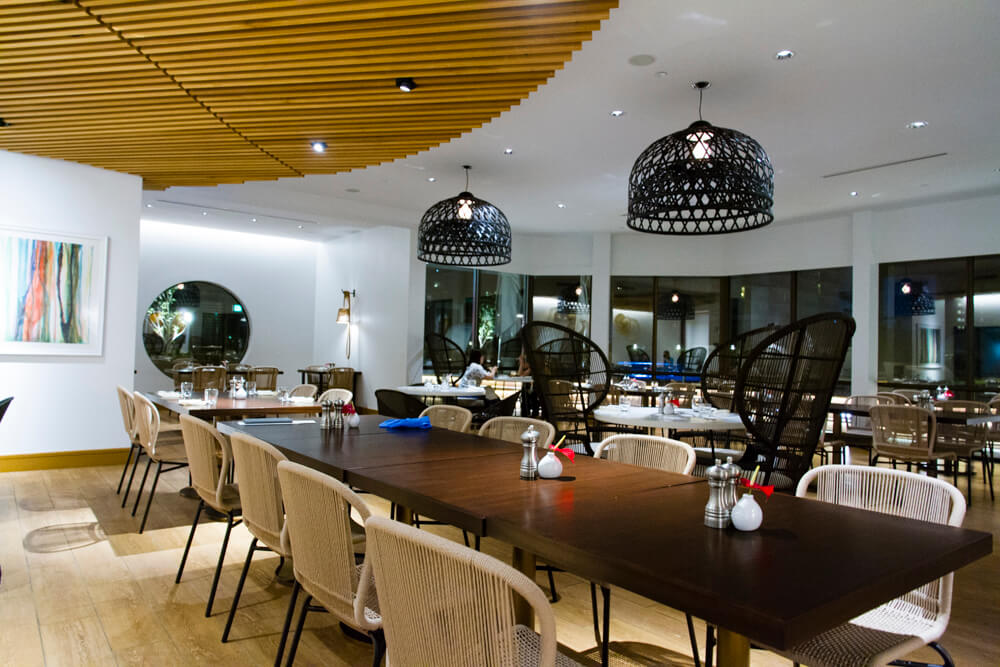 The Lanai is located on the property's 8th floor along with the lobby, bar, and pool.  It isn't a large restaurant, but feels airy with lots of natural light (in the day), wood tones, and whites.  The Lanai actually reminds me of Ka'ana Kitchen at the Andaz Maui, kind of.  The layout is a bit less formal, though, a there isn't a host stand.  And while the caused a little confusion when we first arrived, it wasn't really an issue.
Service
During both of our visits to The Lanai, the staff were friendly and accommodating.  This didn't really surprise me, as that's how service was for us throughout the property.  But, the restaurant had very few patrons and both dinner and breakfast… It was nearly deserted during both services.  I sincerely hope that that this isn't the norm, or that patronage will pickup eventually.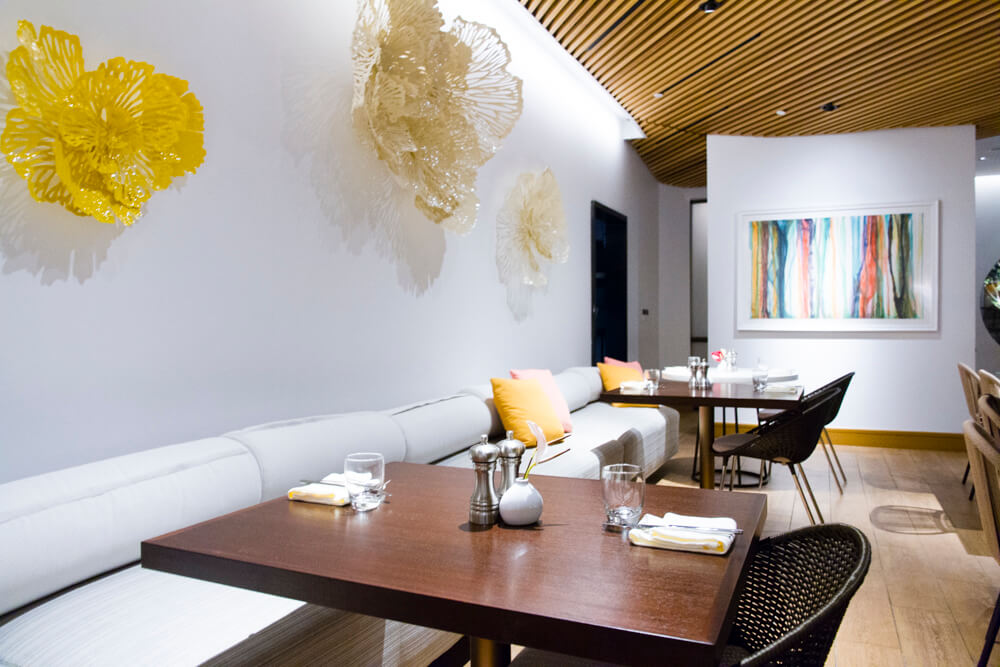 That being said, due to the lack of customers at The Lanai, staffing is similarly sparse.  At both dinner and lunch, there were just two waitstaff working the restaurant.  So while the service was friendly, it was sometimes a little slow.  Not irritatingly so, things like re-fills just took a tad bit longer than they normally would.  Definitely not a deal killer, but just something to be aware of.
Dinner
For dinner, Mrs. Island Miler and I wanted to keep things light.  We didn't want to order any entrees, so we made out own tapas dinner instead.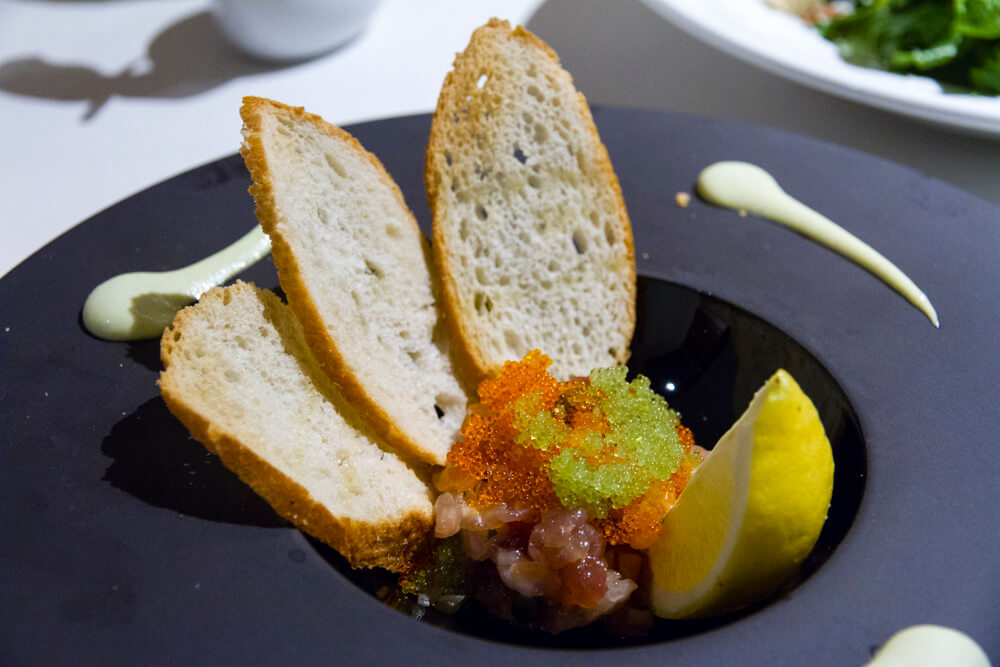 First up was the Rainbow Tartare: frest local ahi, Kona Kampachi, and atlantic salmon are diced up and tossed with lemon, capers, and olive oil; topped with tobiko; and served with "toast points" and wasabi aioli.  While use of atlantic salmon is kind of disappointing, it was a well executed dish, and one of my favorites of the night.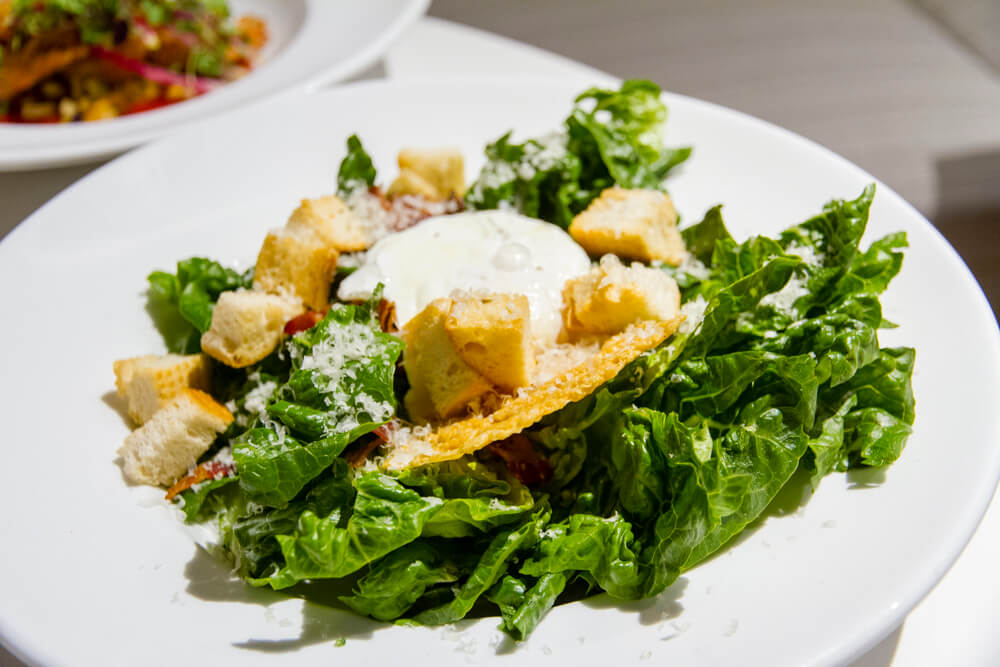 Second up was the Waipoli Baby Romaine Salad with Parmesan (grated and crisp), bacon, croutons, creamy balsamic, and a 64 degree (I'm assuming it's a sous vide) egg.  This salad was promising, but I think they forgot the creamy balsamic.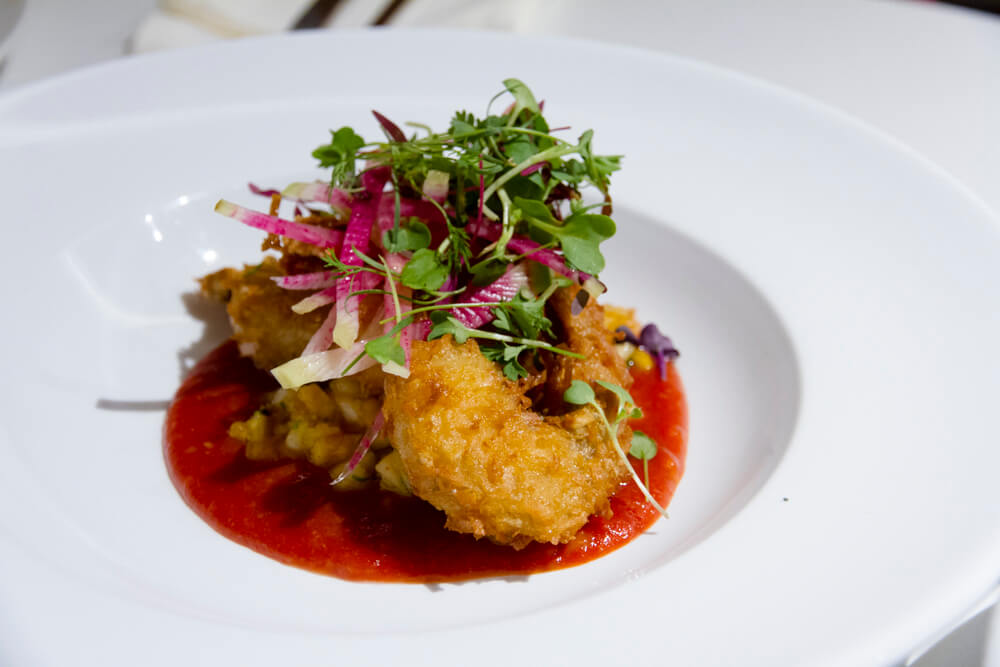 Our third dish was the Coconut Shrimp.  Here we had three crispy-fried coconut shrimp on a bed of tropical fruit relish in a pool of mango cocktail sauce, topped with watermelon radish and micro greens.  This dish was ok, but I still think the coconut shrimp at Aulani is better.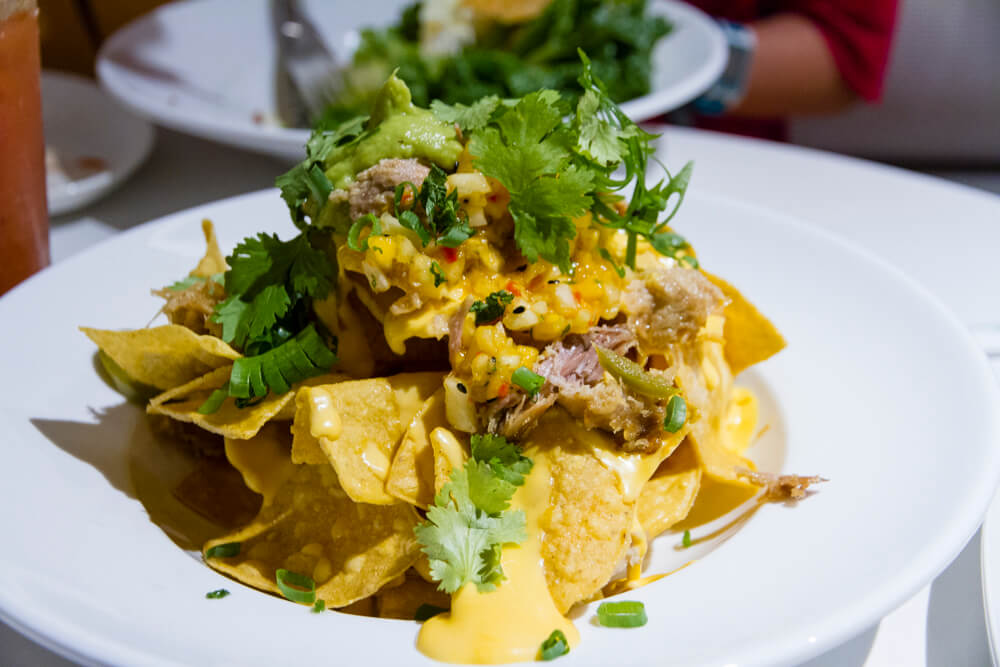 Fourth up was the heaviest dish of the night: Hawaiian Hurricane Chips.  It's basically nachos.  In this case the chips are topped with nacho cheese, kalua pig, avocado, tropical fruit relish, pickled jalapeños, scallions, and cilantro.  This was another promising dish, but it felt a little too heavy.  I think more pickled jalapeños would make it even better.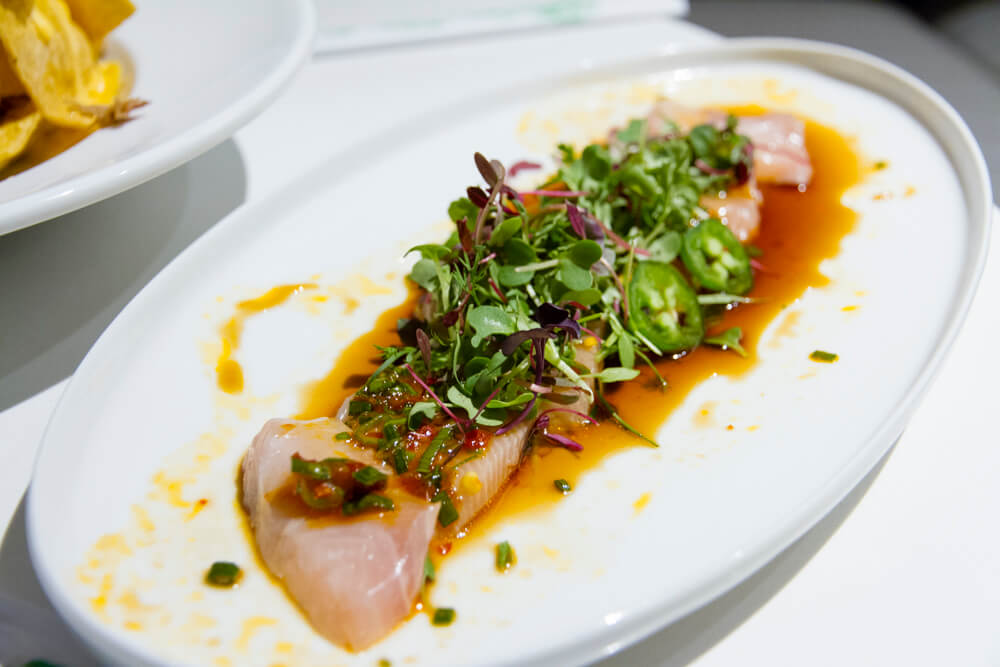 Our final savory dish was the highlight of the evening: the Kona Kampachi Sashimi.  Now, I'm not a huge Kona Kampachi fan, but the fish had a nice texture and tasted fresh.  In this case its lacquered in a ponzu/truffle oil/pepper sauce, topped with minced scallions, micro shiso, micro amaranth, and sliced fresh jalapeños.  We could have eaten this all night!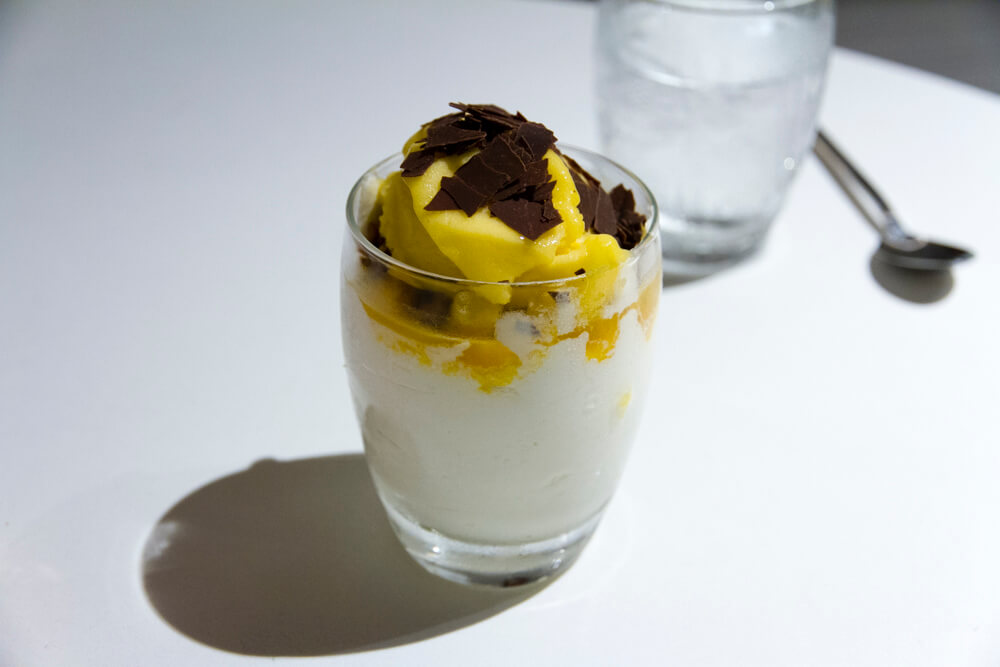 Last up was the Coconut Mousse: passion fruit seeds, graham cracker dust, chocolate shavings, mango sorbet.  It was a wonderfully light, sweet, tart, slightly bitter finish to our meal.
Breakfast
Breakfast service at the Hyatt Centric Waikiki will eventually be a mashup of buffet and ala carte dining.  During our visit, the buffet hadn't debuted yet, so only the ala carte menu was available.  This was fine with us.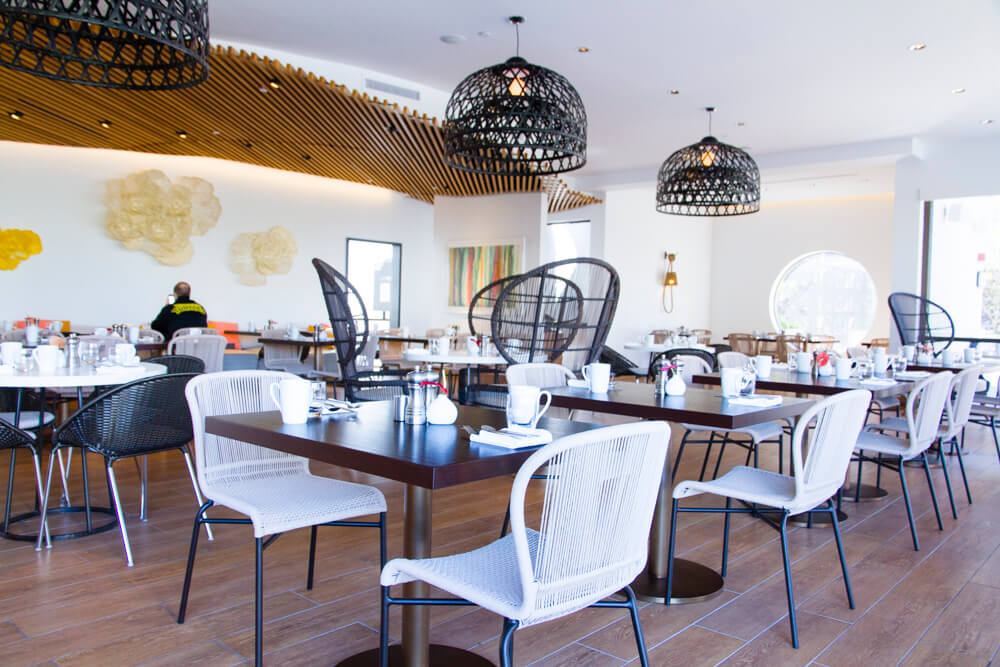 Mrs. Island Miler and I had a hard time deciding what to order, so we both ordered a savory dish and added on a sweet one to share.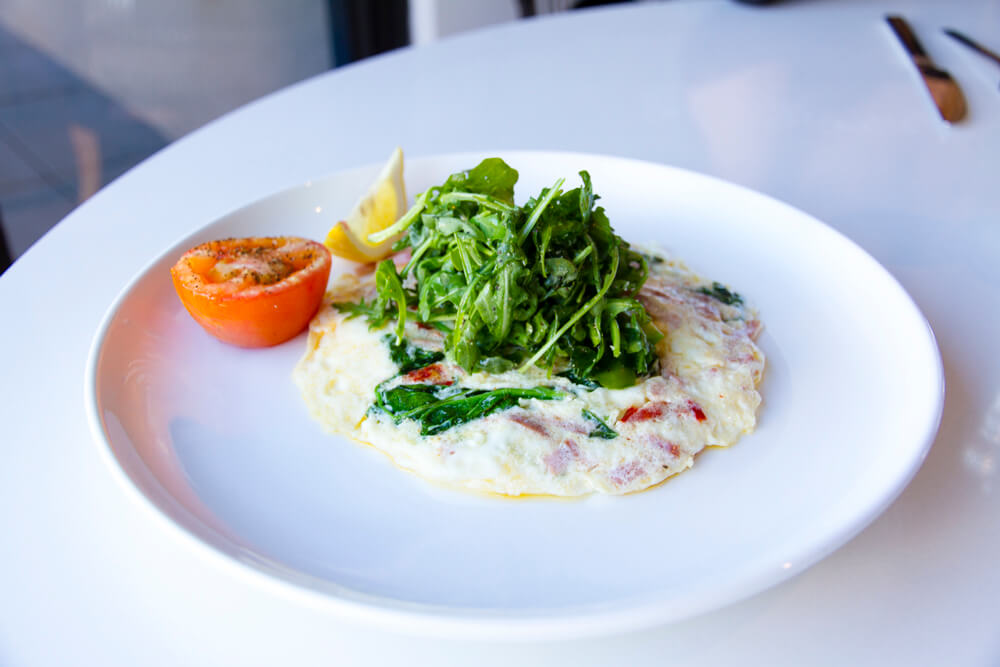 Since she's a healthier eater than I, Mrs. Island Miler went with the Morning Explorer Omelet.  Yes, it is an egg white "omelet" willed with turkey bacon and sun-dried tomatoes, and topped with avocado and arugula salad.  Not my kind of thing, but she enjoyed it, which is all that really matters.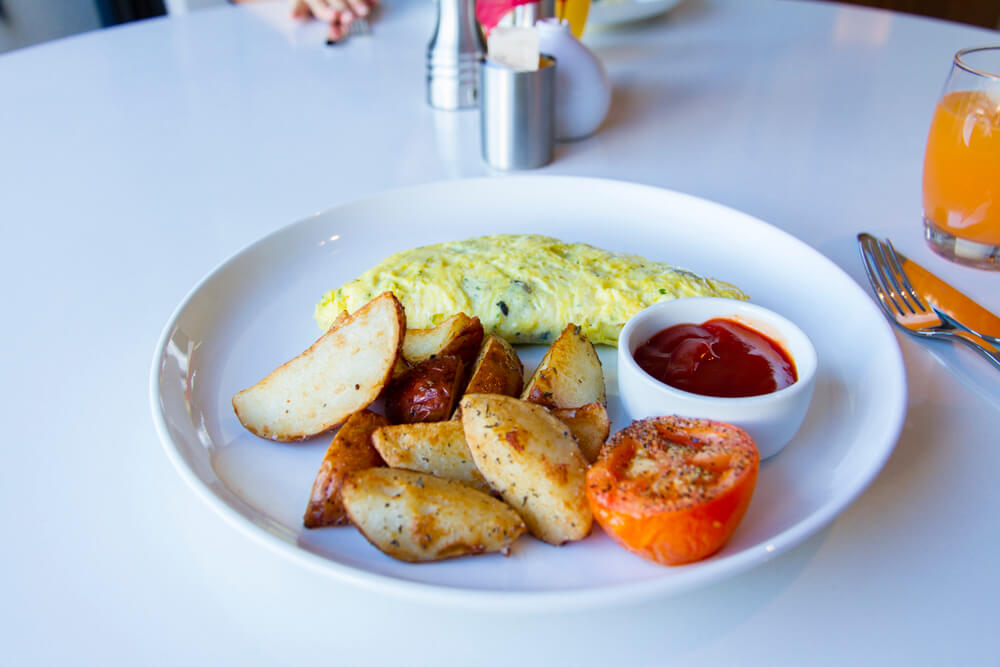 I went the other direction and ordered the Three Mushroom Omelet.  Don't be fooled, this dish isn't healthy! This omelet is filled with a medley of Hamakua Ali'i, cremini, and shimeji mushrooms; garlic butter; and swiss cheese.  It's accompanied by roasted potatoes and the house mango ketchup.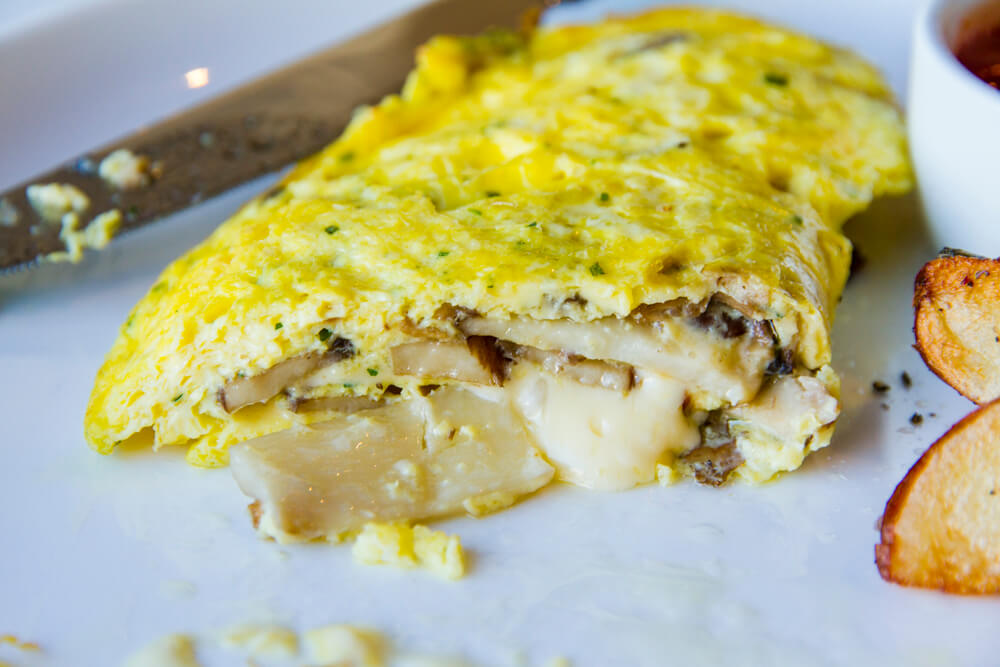 While the omelet isn't large, its stuffed with delicious, local mushrooms.  The amount of cheese inside was just right, too.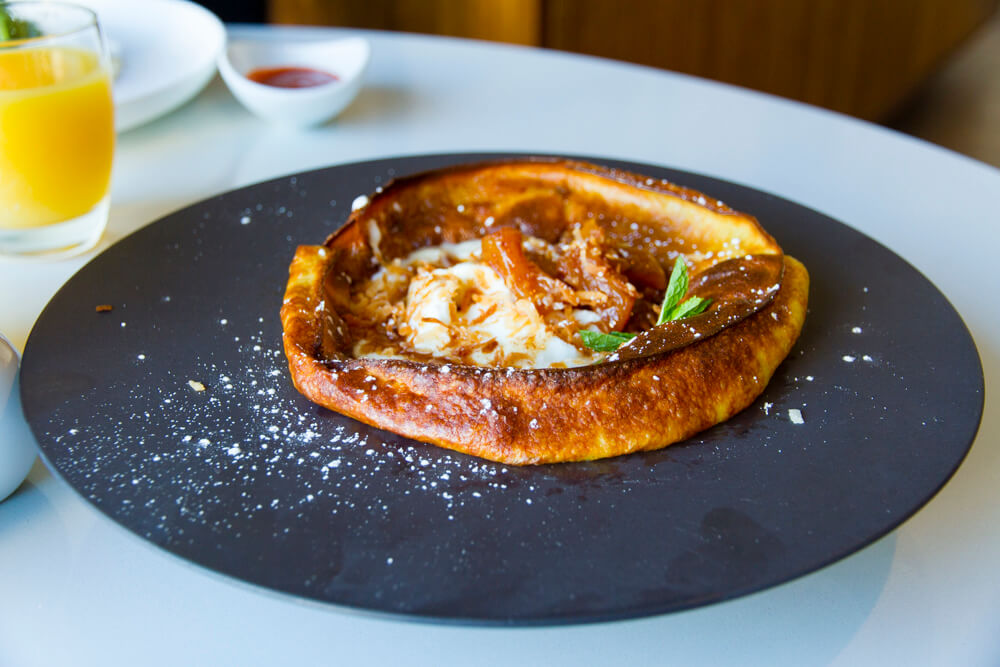 To close things out, we decided to try the Hawaiian Dutch Baby.  It's filled with a coconut-lilikoi curd, caramelized pineapple, local honey, and greek yogurt.  The dutch baby was perfect, however, the greek yogurt was overwhelming.  We couldn't taste the curd, so perhaps it was forgotten?  If it was there, there needs to be more of it, and a tad more honey would be greatly appreciated too… Either that, or less Greek Yogurt would work as well.
Lunch and Room Service
It's worth nothing that lunch and dinner menus at The Lanai are identical.  Further, the entire breakfast and dinner/lunch menus are available via room service.  In fact, The Lanai's menu is the room service menu too.  Prices are identical in the restaurant and in-room, though a delivery fee does apply.  What that fee is, I'm not sure, as it wasn't listed on the menu.