Last updated on August 3rd, 2015 at 03:00 pm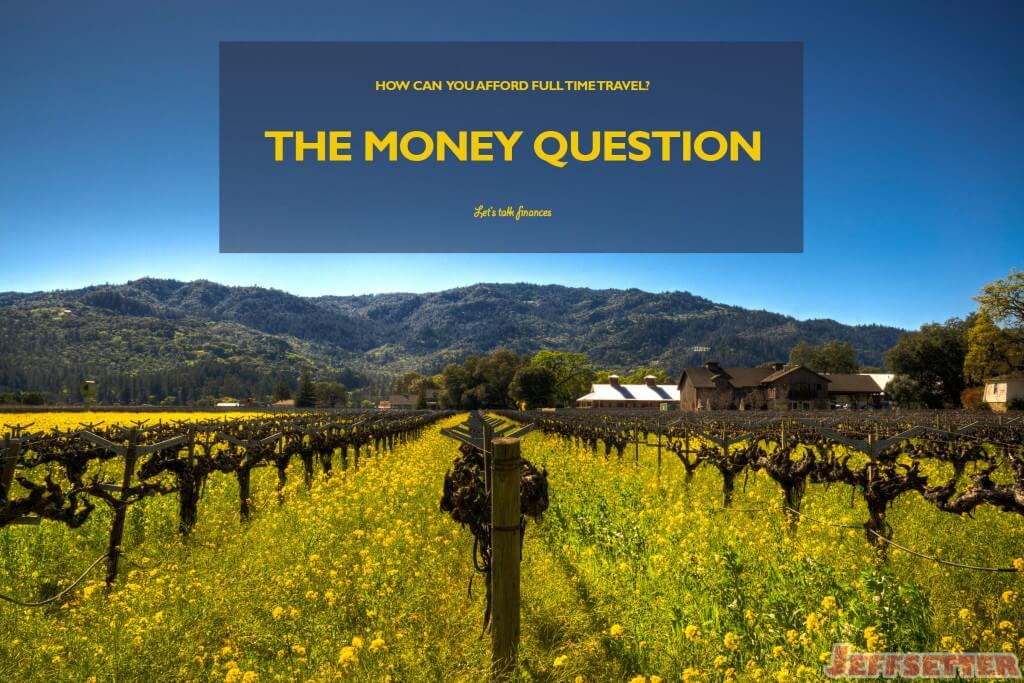 This post is part of our series on One Way Neverending – a journey that starts with selling all of our worldly possessions, becoming voluntarily homeless, and traveling the world. 
Posts in this series: Couple Pursues Dreams of World Travel, One Simple Realization, Spending a month on Maui, Start a Business See the World.
"How are you going to pay for it?"
That is the question that everyone wants to ask. Of course, all but the closest of friends are afraid to ask.
Rightfully so, because we should never talk about money. Or sex. Or drugs. Or rock and roll. If there is a big elephant sitting in the middle of your room? Keep calm and carry on, old chap.
Today, you won't have to ask the question, but I will give the answer. It would be remiss of me to talk about traveling the world without talking about how it will be funded.
I will not be speaking of exact amounts, because frankly I don't know the exact amounts. Instead, I will share percentages of where I believe our income will come in while traveling. You will also notice that percentages add up to over 100%. Why? Because we plan on spending less than we earn while we travel. The last thing to note is that this has nothing to do with points and miles. This is for covering our out of pocket expenses related to travel. Points and miles are significantly reducing the amount of money we pay along the way, and afford us better accommodations while still reaching our budget.
Making money based on physical labor or providing local services: 0% of our travel budget
First I want to start off by talking about what we will not be doing to make our money to fund our travel. While we will not be using these methods to find an income, I am still mentioning them because this is the traditional way to fund travel for many world travelers. For those of you looking to fund full time travel, this may be a viable option for you.
We will not be funding travel by performing physical labor. That means no construction jobs, indentured servitude for passage, or other methods of physical labor that my white collar mind can't think of right now.
Service jobs will not be on the docket, either. It is common to hear stories about backpackers teaching English to earn an income while traveling. Or working at a resort for accommodations. Any number of service jobs, really. We will not be doing this in the foreseeable future.
At some point this may change. Amanda is looking to get her PADI Scuba instructor certification. She also might want to work the tasting room at a winery in whatever area of paradise we happen to be visiting. For now, though, we are not counting on this as an income source.
Consulting retainers for my business: 40% to 100% of our travel budget
My work can be done from anywhere in the world. Email does not need to happen in real time (in fact, I prefer to email asynchronously), and phone calls can be made through wifi connections. Heck, with my T-Mobile plan, I don't even need Skype to make Wifi calls. For everything else, there are Google Hangouts and Skype. My physical presence has factored very little into my ability to consult with businesses for the past 18 months, and that will not change while we are on the road. I hope.
Some of this income will be continuation of existing projects with clients, many of whom I have worked with for years. I have also lined up exciting new consulting projects that will help us along the way.
One off projects: 40% of our travel budget
There are many times when I work with businesses that need short term help solving the problems they are facing. These problems can be solved through workshops, training sessions, video calls or written reports. During our travel experience, I expect to line up one or two of these projects each month to keep my mind sharp and income coming in.
Appearance fees: 10% of our travel budget
Sometimes people will pay me to speak at their conferences, or teach their teams certain aspects of digital marketing. I like these projects, because they cover travel expenses and often lead me to new destinations that I would not have previously considered.
Teaching at the University and training institutes in Minneapolis: 50% of our travel budget
Twice a year I will be routing our travels back through Minneapolis so that I can continue teaching. These classes take up about 50 hours of time per session, and I am working to figure out the best way to time my visits.
Teaching is very important to me, and will not give up because of our travels. The relationships I have formed with former students is strong, and it is great watching them excel in their careers with their improved confidence in the field of digital marketing after taking the course.
Plus, my family is in Minnesota, so I am able to turn these trips into a family visit at the same time. Win-win scenario!
Sales from online training courses: 50% of our travel budget
In addition to teaching in person, I have created a successful online course teaching advertising on Google AdWords. PPC Course has had 100+ enrollees to this point and I am looking for it to grow significantly to close out the year. I will also be launching a course teaching Google Analytics in the next 2-3 months.
Jeffsetter and Jeffalytics blog income: 0% of our travel budget
I will not be expecting a significant source of our income to come from either of my blogs. Jeffsetter is pure entertainment at this point, with a few ads to cover operating costs. Jeffalytics (my digital marketing blog), has been a tremendous feeder program into all of the other income streams I am talking about here. It helps fill my classes at the university, brings in warm consulting leads, and is a major feeder for my online courses.
I will be maintaining these blogs to keep other opportunities coming in, but I am not counting on them for direct income.
Investments: 0% of our travel budget
We do not plan on cashing out investments, dipping into retirement accounts, or tapping savings to fund our travel. While these may be used for cash-flow at some point, that would only be temporary. Both Mrs. Jeffsetter and I are adamant about this one. We will not mortgage future stability for fun in the present.
Real estate dividends: 35% of our travel budget
Our rental property produces consistent income, which will be used to fund our travels. Or it will go to savings if we have excess in other areas.
We are confident we can sustain full time travel on a budget
Mapping out this process has been helpful, even for me. We have a diversified income stream that will continue as we travel. There is some income that comes in on auto-pilot, and others that require attention to thrive.
My plan is to still spend 40+ hours working while we travel, but it will just be distributed differently. I may work early mornings or later in the night. But I will also take several days off and be away from the computer.
Why map this out so explicitly? Because I know that a lot of readers are considering this type of travel for themselves. I wanted to show you that it is within reach, and also provide a perspective on how it can be done. Of course, this is just one perspective, from a couple at a very specific stage in life (established professionals with no children).
You may need to make adjustments for your stage in life to make this a reality. Or you may not be interested in this type of travel at all. The good thing is that you have options ;).
One piece of advice for anyone looking at this as a possible option is to start working today on building connections, skills and potential income streams that will serve you well on the road.
Or just jump into it and see what happens if you are less risk averse.
There is really no right or wrong way to do things. There is no manual for full time travel (although there are a buttload of blogs on the topic).
It all starts with a desire to do something drastically different, and it succeeds with commitment to making it your reality.