There's been a lot of buzz around Marriott's loyalty program integration lately, but it seems like an announcement is coming sooner than we thought.  In fact, it appears as if the new Marriott Rewards is coming on Monday.
Ever since Marriott announced its acquisition of Starwood, there has been a lot of speculation and apprehension as to what the combined loyalty program will look like.  Starwood loyalist, in particular, are concerned that the hospitality giant will gut their beloved program.  But, recent rumors have been somewhat reassuring in that regard.  After all, if the rumors are true, Marriott will be keeping all of Starwood Preferred Guest's current elite tiers.  However, the rumors leave MANY questions unanswered, though it looks like we won't have to wait long for answers to those questions.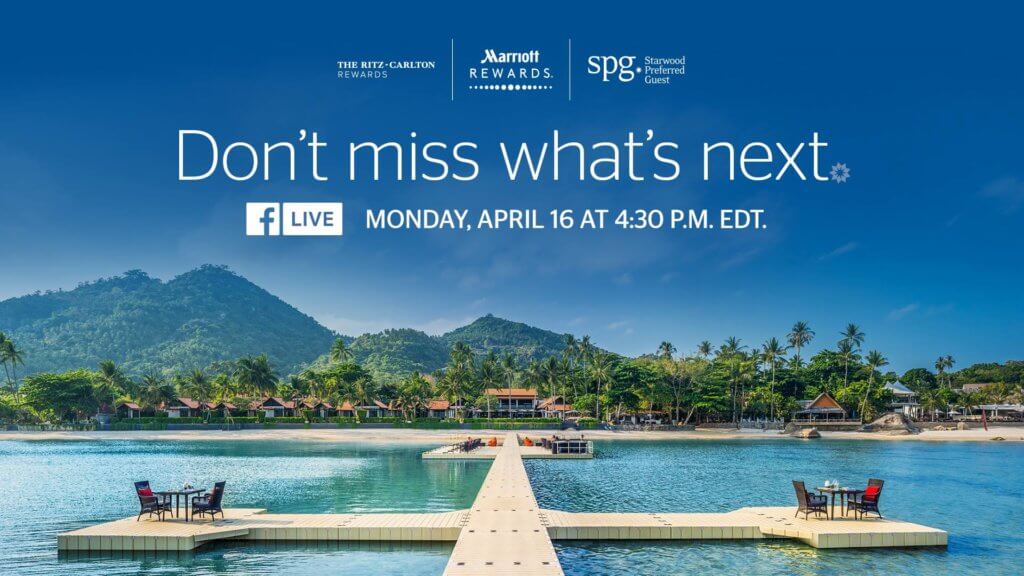 Don't Miss What's Next
I'm not sure how I missed this.  Perhaps it's because I haven't been on Facebook much?  But it appears that Marriott will be making a major announcement regarding loyalty program integration on Monday, April 16, 2018.  Few details on the announcement are available.  However, we know the announcement will take in New York and will be live streamed on Facebook.  The announcement will take place at 4:30 p.m. ET, 10:30 a.m. Hawaii Standard Time.
Implications for Me
Details on the program integration are something many of us have been waiting for for years.  And, though I'm on the Marriott side of the program, I have a lot of apprehension going into this change.  Why?  Because I'm nearing some major milestones in the program.  As a seven-year member that travels infrequently, I've been able to amass 375 lifetime nights via stays and credit card spend.  And in that time, I've accumulated a total of 1,043,000 lifetime points.  What this all means for me is that I'm set to earn Lifetime Silver Elite status (lol) very soon.  And at an average of 50 nights per year, I should be able to achieve Lifetime Gold Elite in the next few years as well.
Of course, those thresholds could change in the combined program.  And that would suck big time for me, especially since I'm so close!  What's more, my strategy does rely quite a bit on earning EQNs through credit card spend and other opportunities.  So if those options change or go away, well things could get a lot harder for me.  At that point, I may even need to walk away from elite status, depending on how the new credit cards look.  But, those credit cards may or may not be part of the discussion either, so we'll just have to wait and see.
The New Marriott Rewards is Coming on Monday, Final Thoughts
Finally getting insight into what the future of Marriott's loyalty program will look like is exciting.  However, the program integration, as I've said many times before, is a great source of anxiety.  It all but guaranteed, after all, that the new program will have built-in devaluations; especially since Arne Sorenson himself has stated that a goal of the new program is to reduce program-related costs for hotel owners.  But Team Arne also acknowledge the importance and the concerns of SPG members.  So seeing how all of these concerns are balanced will be very interesting.
But my primary concerns heading into this are surrounding elite member benefits and lifetime qualification.  It would be great to see my current benefits as a Marriott Rewards Gold Elite (lounge access, etc.) preserved under the new program as a Platinum.  Further, I'm hoping that lifetime qualifications remain similar so I can remain on-track to earning those statuses.  I've got my fingers crossed, but I'm not holding my breath.  As we've all learned from all the airline mergers, it's best to hope for the best but expect the worst.