We didn't visit Haleakala list past trip, but we are talking about Maui.  It's also the National Park Service's 100th anniversary.  So why not talk about Haleakala National Park?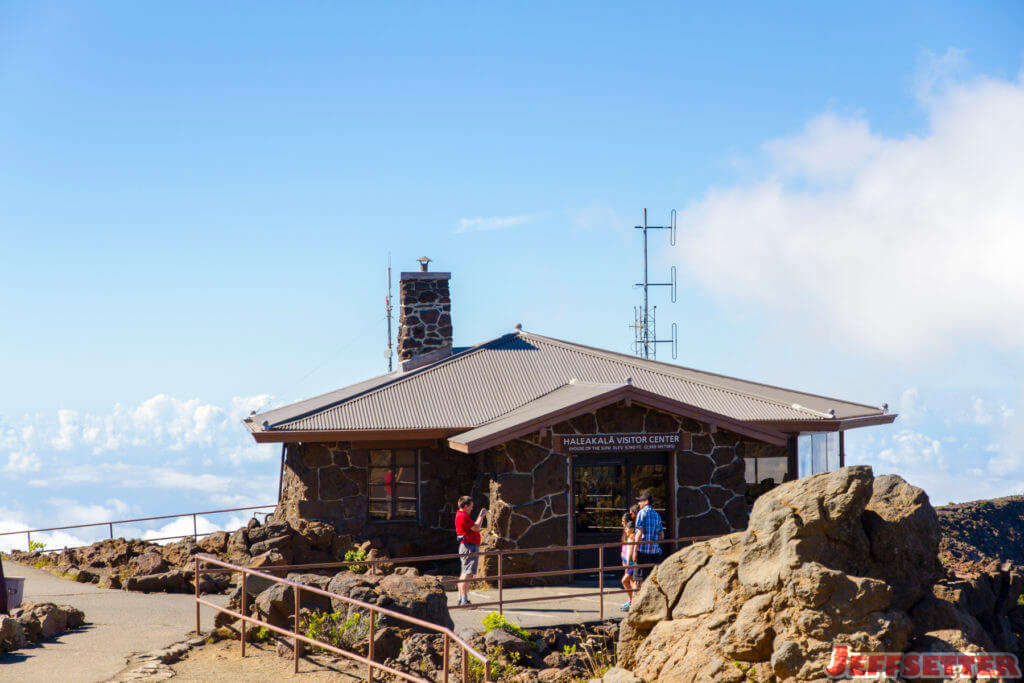 Many visit the Park, whether it's to the summit area or the Kipahulu district.  For those visiting the summit, the main draw appears to be the spectacular sunrise and sunset.  The crowd get's CRAZY busy during these times and often runs out of parking.  If you want to experience sunrise or sunset at the summit, I highly recommend you go EARLY.  Arriving at least an hour before sunrise is what I'd recommend.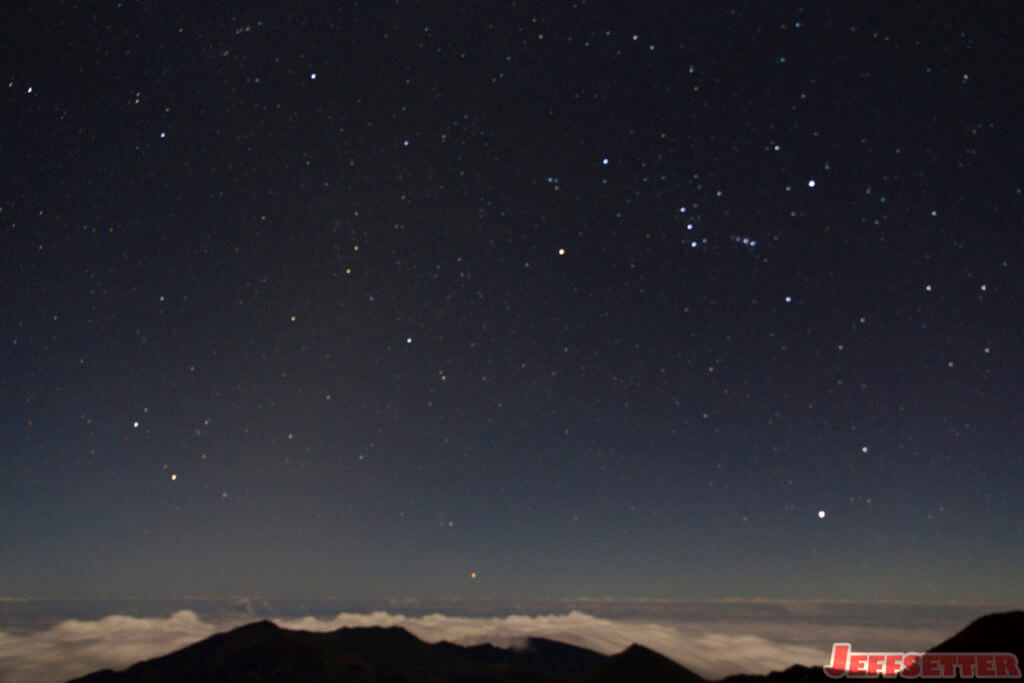 Why an hour early?  For one, to get parking before the tiny lot at the summit (not the Visitors Center).  Another reason to arrive early would be for stargazing.  My above photo didn't come out so great, but it is an excellent place to try your hand at astrophotography, too.  What time you have to leave your hotel, however, will greatly depend on where you're staying and your level of comfort driving the winding road in pitch black.  Approximate drive times are as follows:
Kahului: 50-55 minutes
Kihei-Wailea: 1 hour 10 minutes
Lahaina/Kaanapali: 1 hour 30 minutes
Kapalua: 1 hour 40 minutes
Do check with weather websites to see what time the sun will rise on your planned date.  And if you're not a morning person, plan your trip accordingly.  While Hawaii doesn't have seasons like elsewhere, sunrise and sunset times do change throughout the year.  So if you want to wake up a little later, then plan on visiting during the winter.  But a winter visit will bring other issues, too.  Remember, Haleakala's summit is a high altitude environment.  Oxygen level are low and it gets COLD.  Snow and ice are possible during the winter.  Icy conditions may even cause road closures.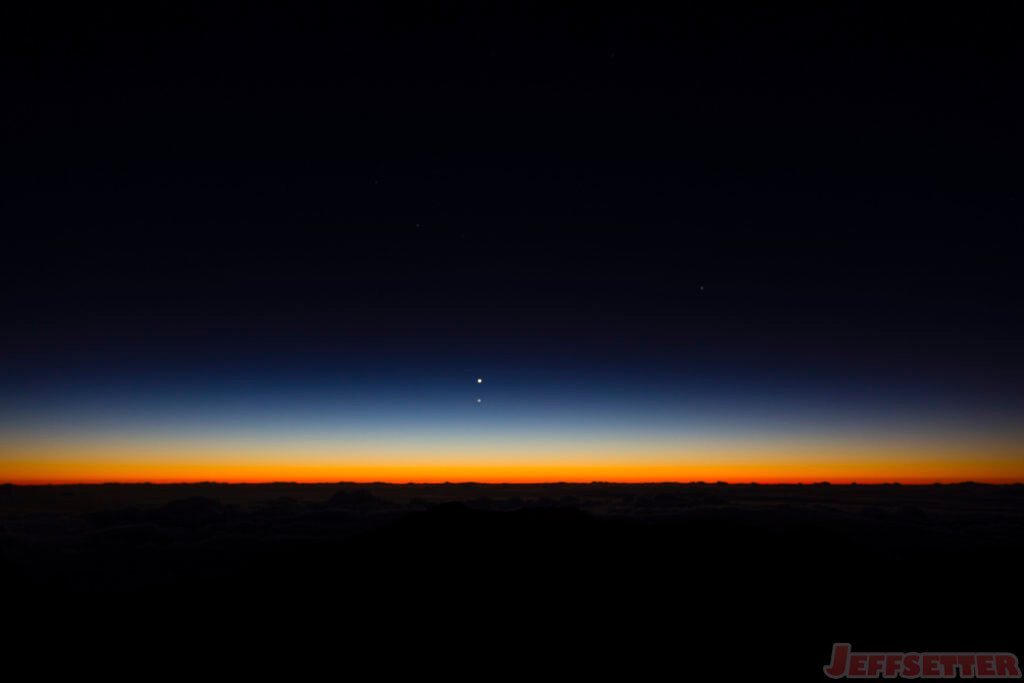 Even during the summer, though, nighttime temperatures at Haleakala's summit can near freezing.  The cold temperatures can and are often amplified by winds at the summit too.  What might be 25 mph winds down at sea level may accelerate to hurricane force winds at the summit.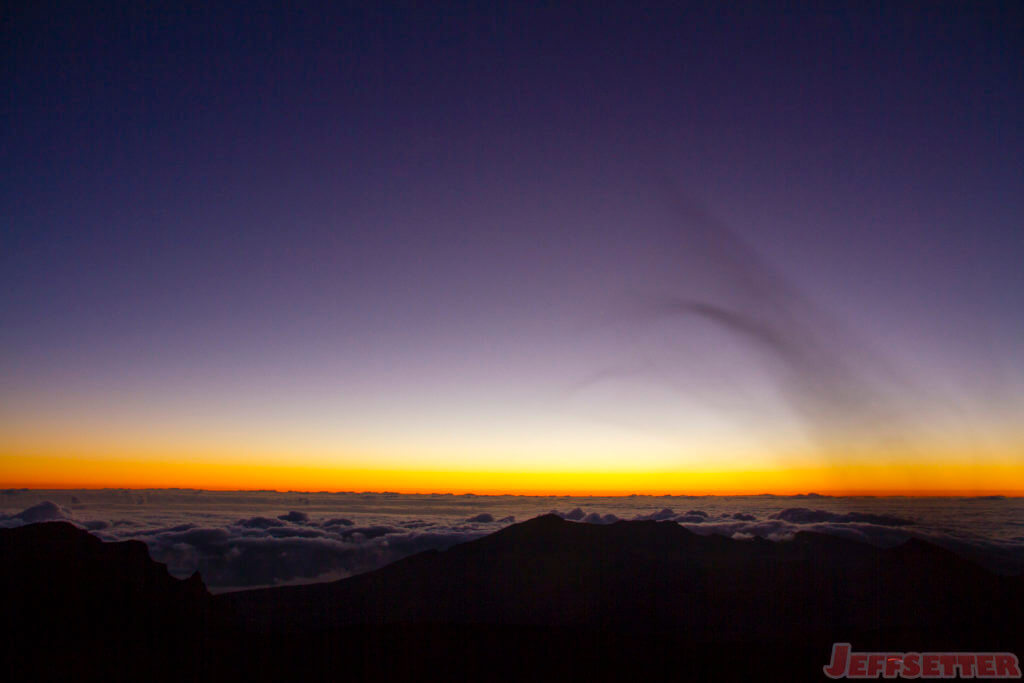 Check out the could in the above photo being whipped over the summit.  The cold temperatures and strong winds can cause extreme wind chills, so dress accordingly.  And no, bringing your hotel's robes and/or comforter aren't really going to help.  I can't tell you how many people I've seen doing this.  Those winds that are causing you to freeze?  They may also sand blast your face with all the little cinders around the summit.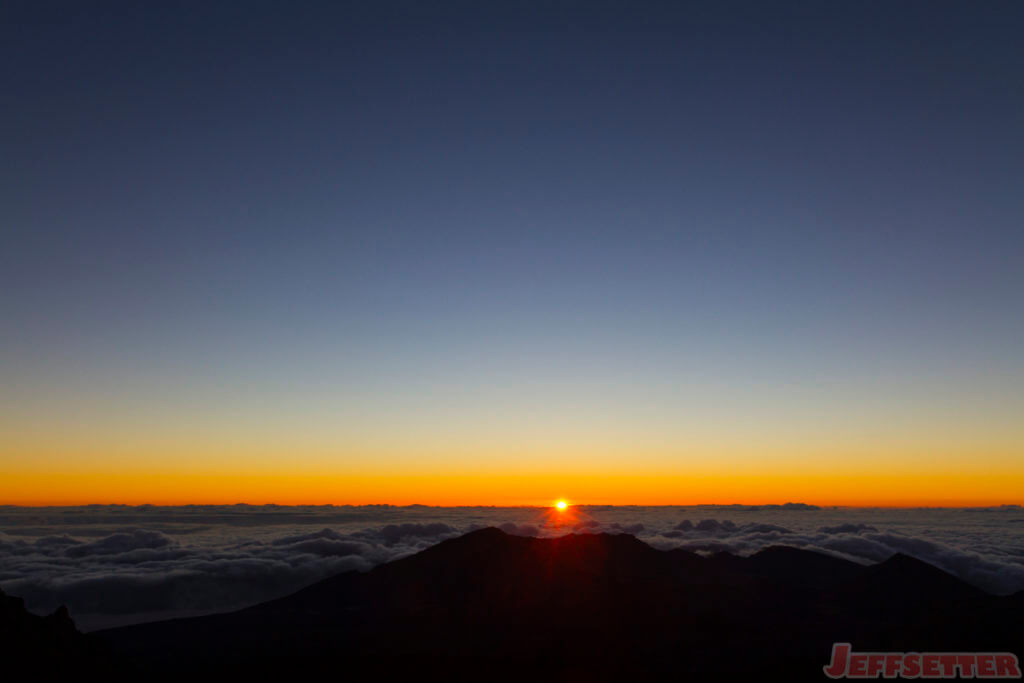 But you'll likely forget all of this once the sun begins to peak over the horizon.  Even the claustrophobia inducing crowds won't bother you anymore as you gaze upon this spectacle.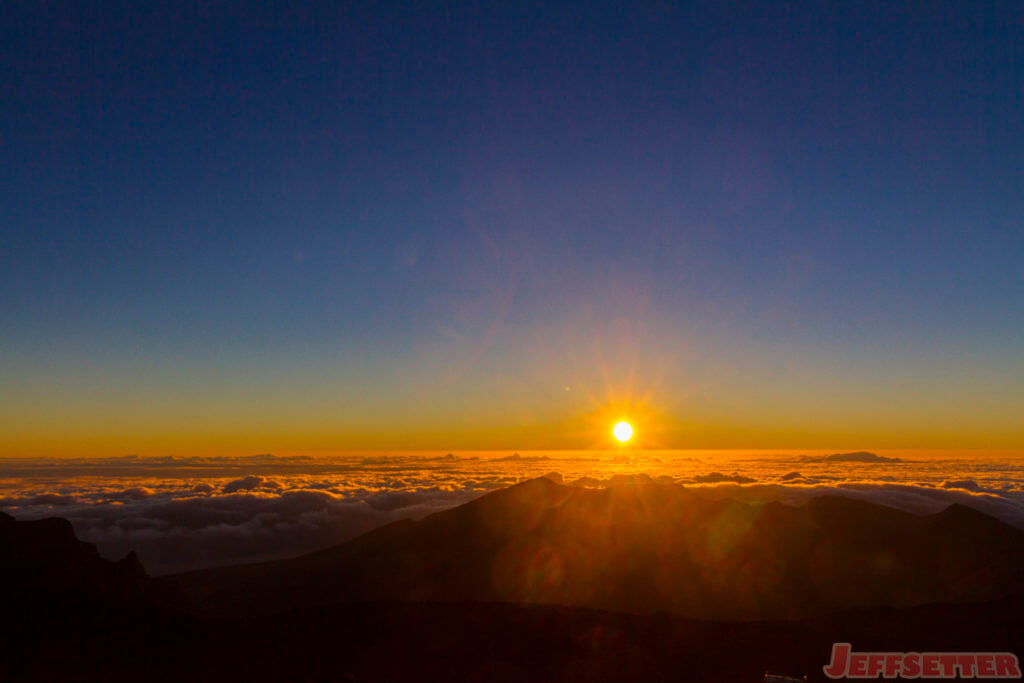 Even after the sun has risen, the temperatures on Haleakala's summit may continue to remain low for a while.  During our last sunrise experience, we jumped back into the car immediately after and turned on the heater.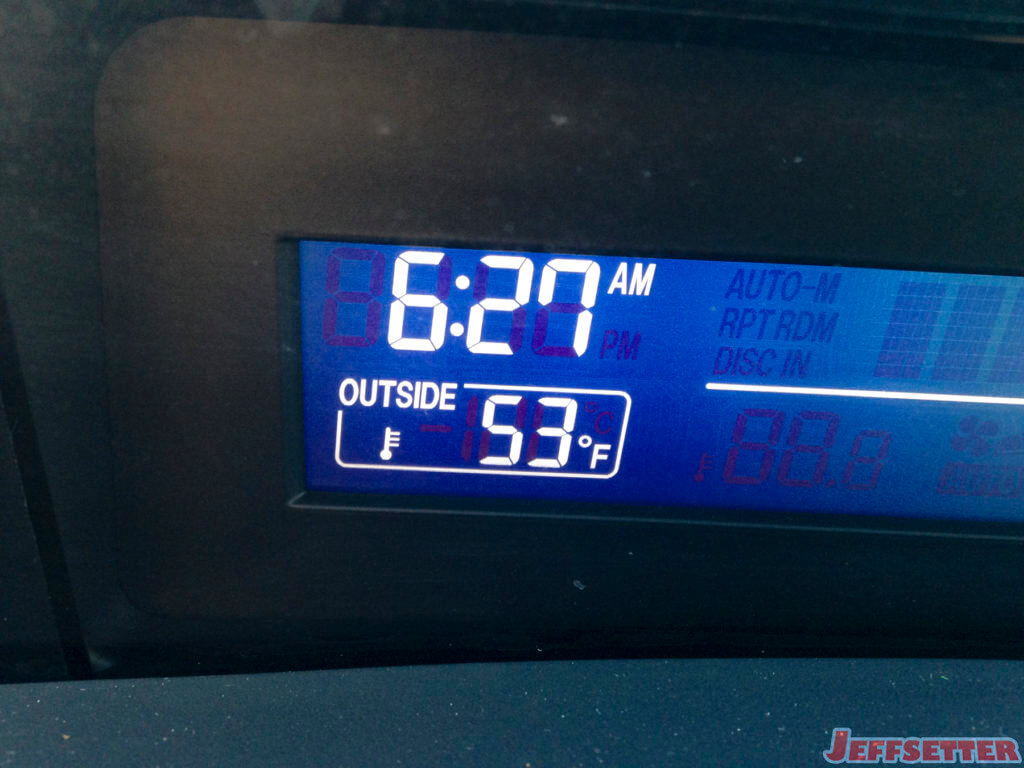 At almost 6:30am, the outside air temperature was still at 53 degrees.  But as the sun rises higher, the summit will continue to warm.  Do plan on the temperatures remaining around 20 degrees below the sea level temperature through out the day.  Once the sun has risen, I'd recommend heading back down towards the Visitor Center to gaze into Haleakala's "crater."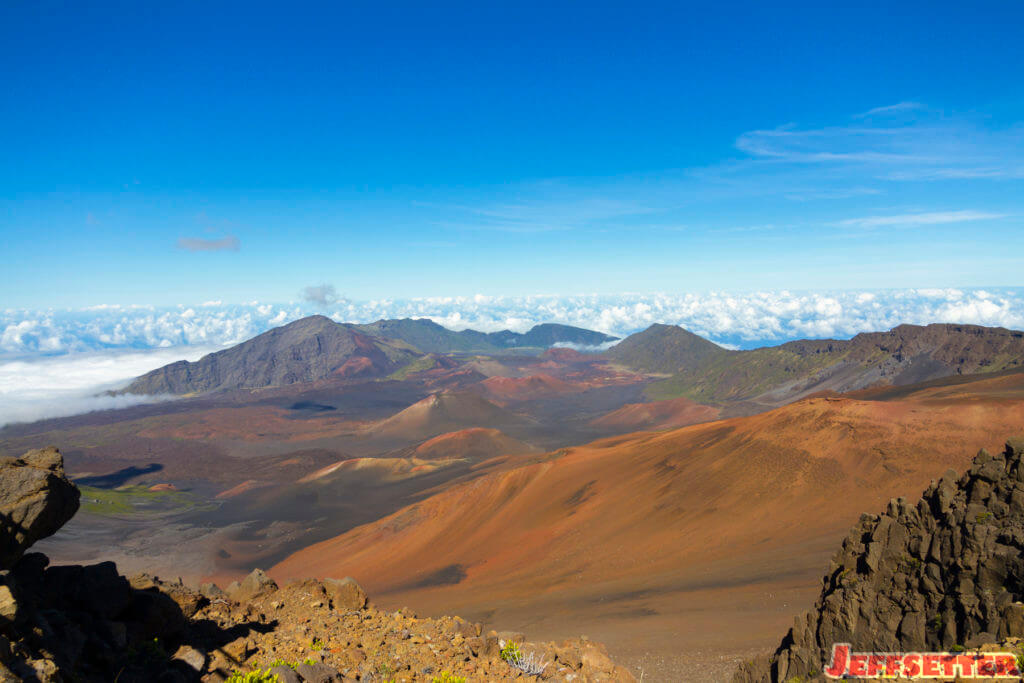 If you're so inclined, you can actually go hiking in the crater, but it is a long, arduous journey.  The martianscape that is Haleakala crater is primarily cinders, so it can be very slippery.  I don't know this firsthand, but I do have a friend that completed a crater hike.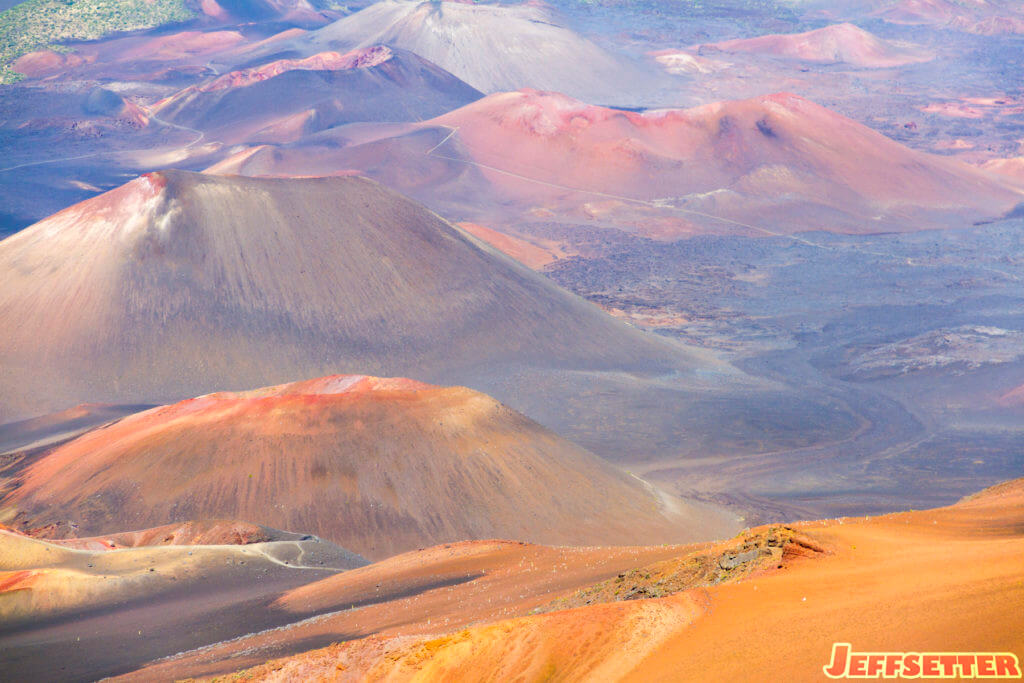 And despite the cool temperatures, you'll easily get hot hiking.  Remember, at 10,000 ft there is far less atmosphere protecting you from the suns rays.  And the dry air up there will also cause you to dehydrate quicker.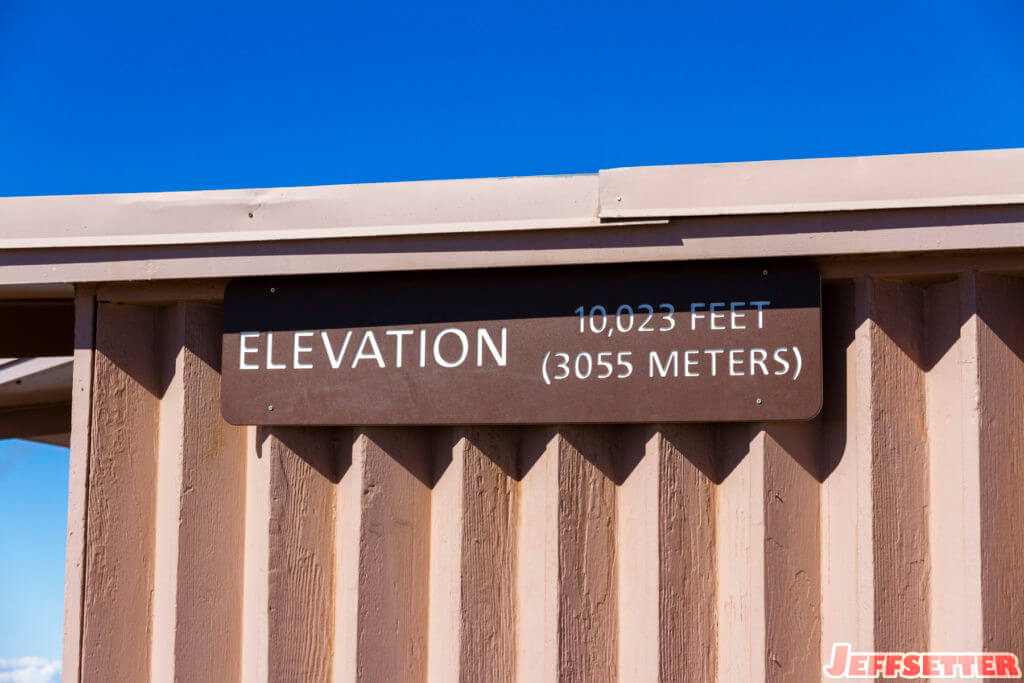 So if you're hiking, do remember to wear sunscreen and bring plenty of water.  Do also layer so you can add and remove layers as needed.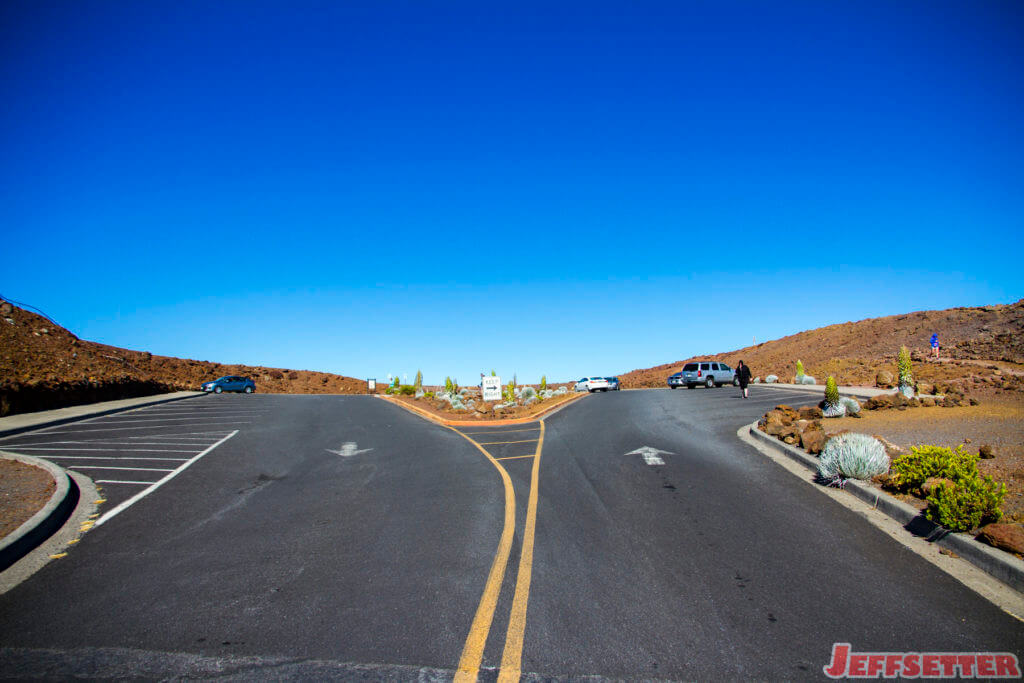 Remember my mention of a tiny parking lot earlier?  The above photo is of the summit parking lot.  It's a couple-minute drive from the Visitor Center parking, and as you can see there aren't many stalls.  That's why it's so important you arrive early for sunrise and sunset viewing.  But just because you visit during the day doesn't mean there isn't anything to see up there.  On a clear day, you can definitely see the summits of Mauna Loa and Mauna Kea on the Big Island.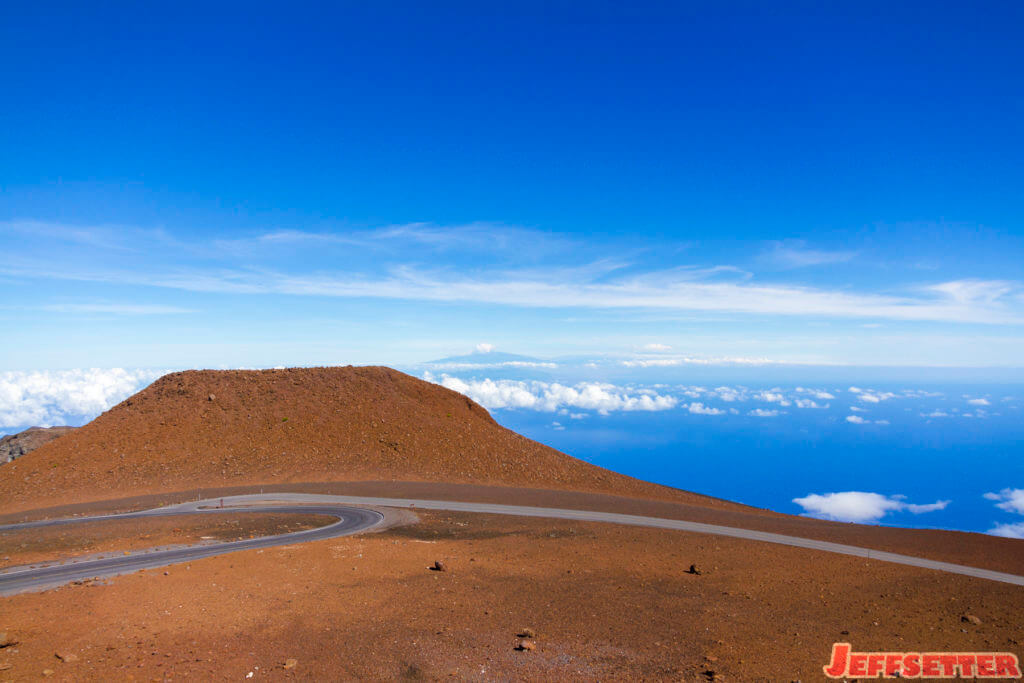 In the parking lot picture, you can see some silvery-white balls all along the road.  What are they?  These are what Hawaiians call Ahinahina (which means grey).  In english they're call the silversword.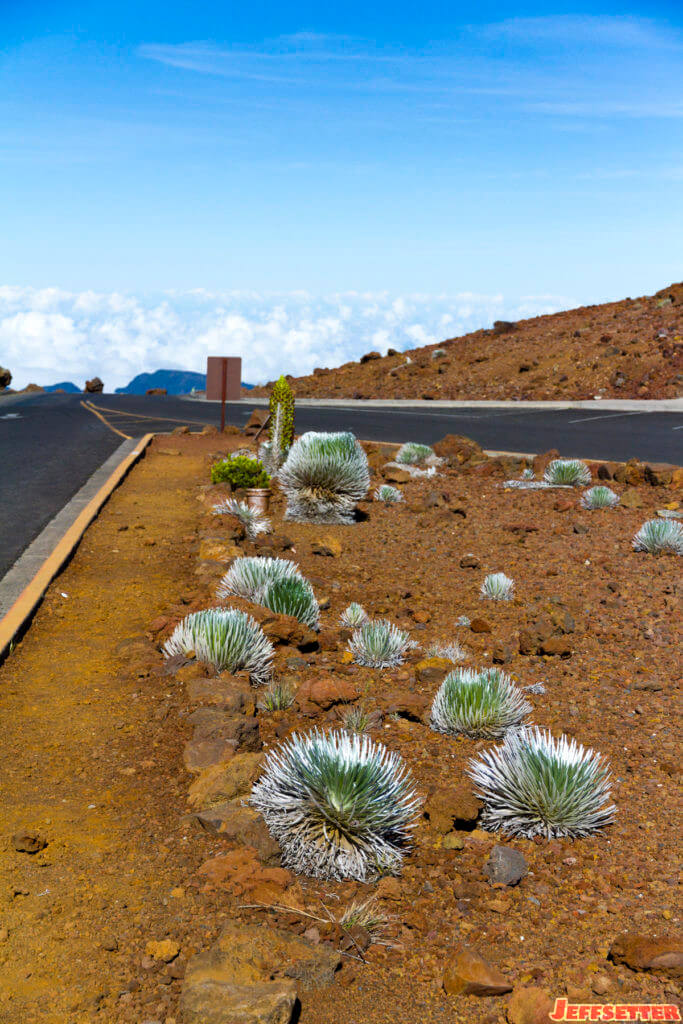 These critically endangered plants are endemic to Hawaii and are found only on the slopes of Haleakala and Mauna Kea.  They're named after their silvery leaves that protect the plants from the intense sunlight at altitude.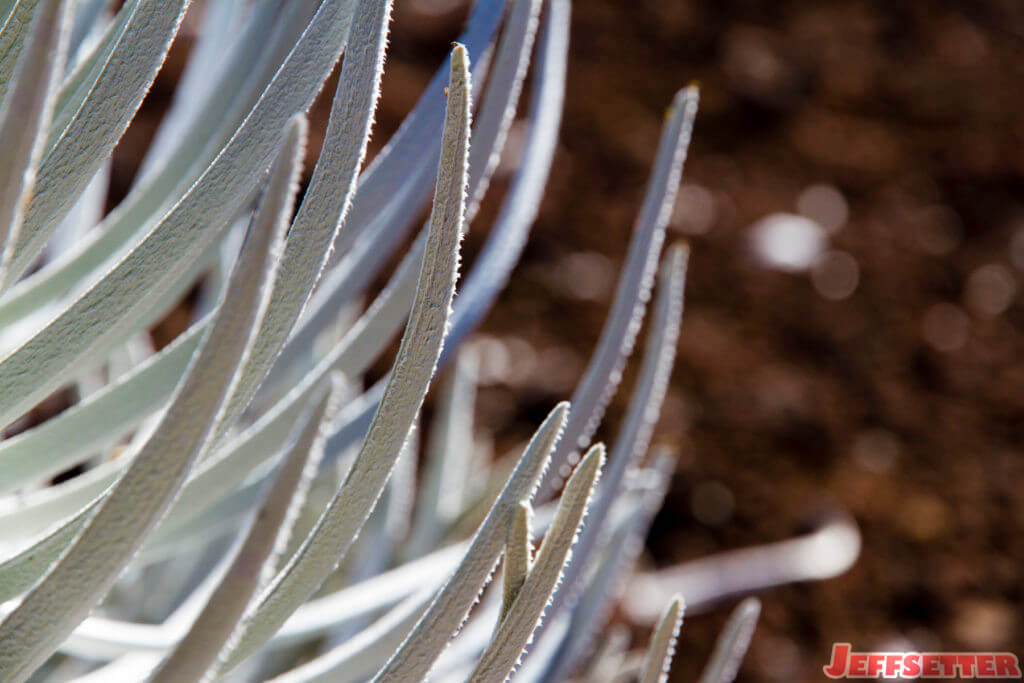 And while they look tough, they are in-fact extremely delicate.  Walking too close to them can easily kill them.  Making matters worst is the fact their reproductive cycle is really long; it can be decades before an Ahinahina flowers.  The plants, by the way, flower only once, and then die.  So if you're fortunate enough to see one, especially one in bloom, please keep your distance.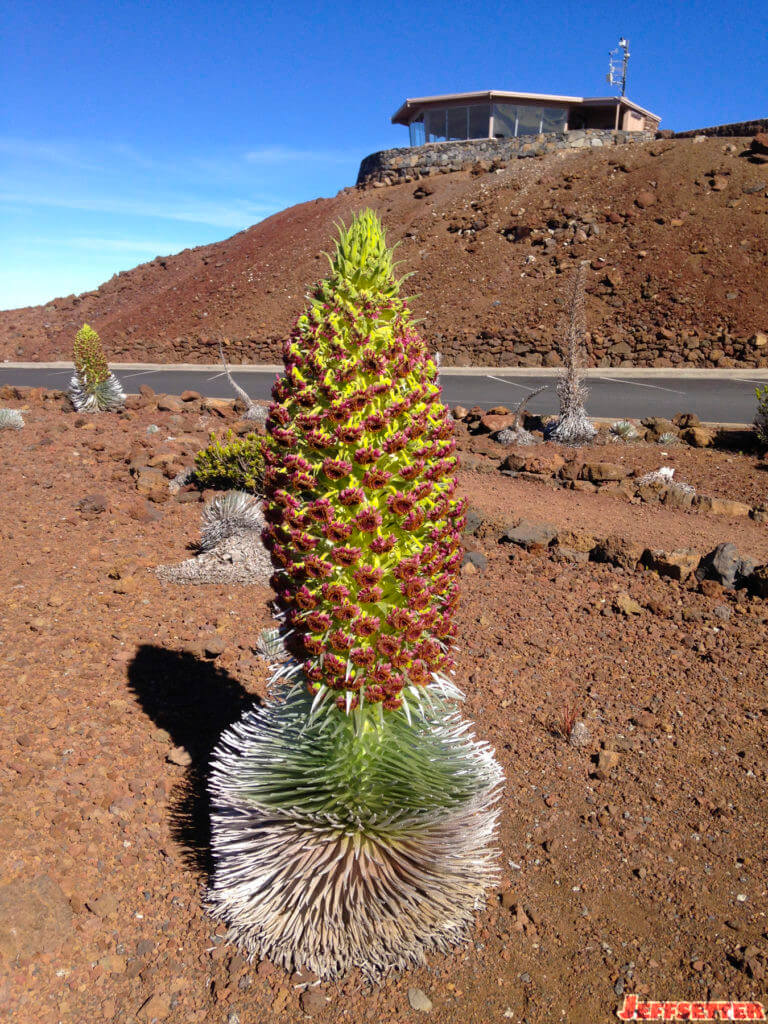 Beyond hiking, watching the sunrise/sunset, and viewing the Ahinahina, there really isn't much to do at the summit.  There are more hiking trails and camp sites further down the mountain if you like.  There are even cabins for rent, though getting one is very difficult.  And remember, you park entry fee ($20 per car) is good for 3-day.  Better yet, the entry fee is good for both Haleakala's summit AND the Kipahulu district, which is home to the Pipiwai Trail and to Pools of Oheo.  So it would actually be best to plan your sunrise/sunset viewing and drive to Hana within a day of one another to maximize your value.  But more on Kipahulu later.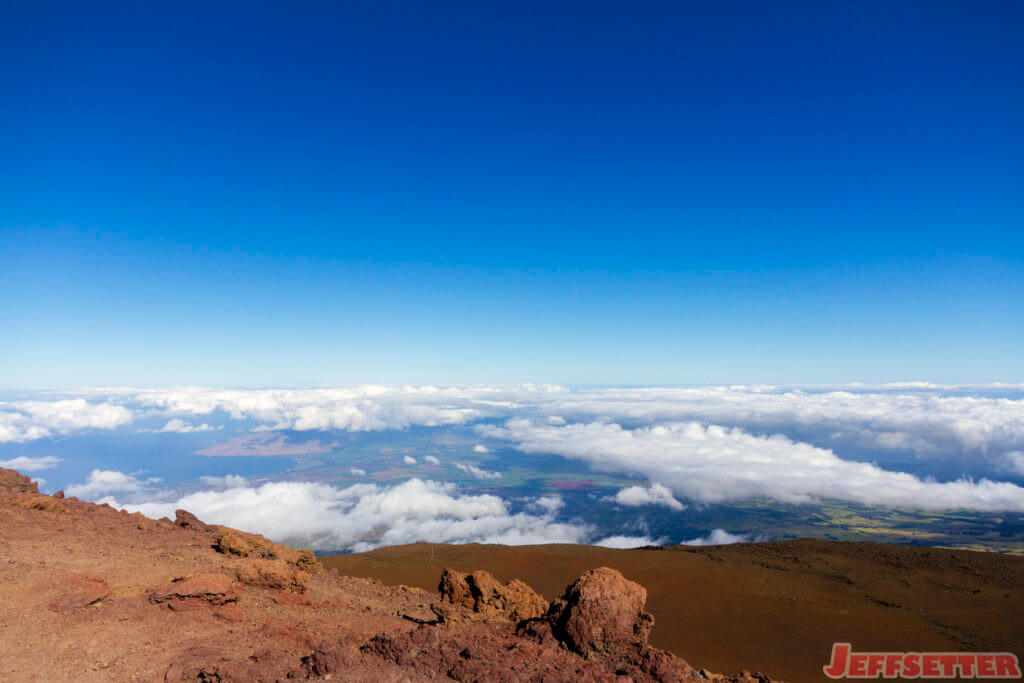 While it may seem cliche to visit Haleakala, especially for sunrise/sunset, it's something I highly recommend everyone do at least once.  The views and experience truly are breathtaking.  My pictures do not do them justice at all.  And yes, it can be a pain with far drives, crowds, etc., but it's worth it.  Just be sure you come prepared.  Dress appropriately, research you hotel departure time, and be respectful of the native flora and fauna (yes, Nene geese can be seen on Haleakala too).