For a unique alternative to  French Polynesia, visit  New Caledonia.
Visiting New Caledonia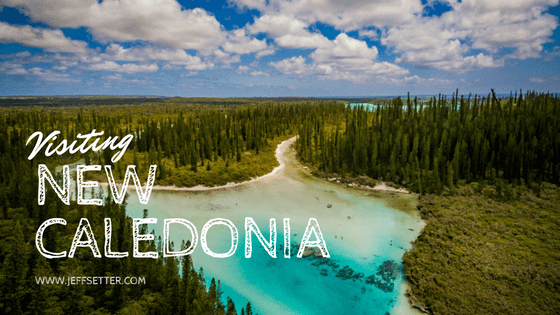 Getting There
Unless you are flying from Australia or New Zealand, New Caledonia is one of those distant and exotic travel destinations dotted in the center of the world's largest ocean.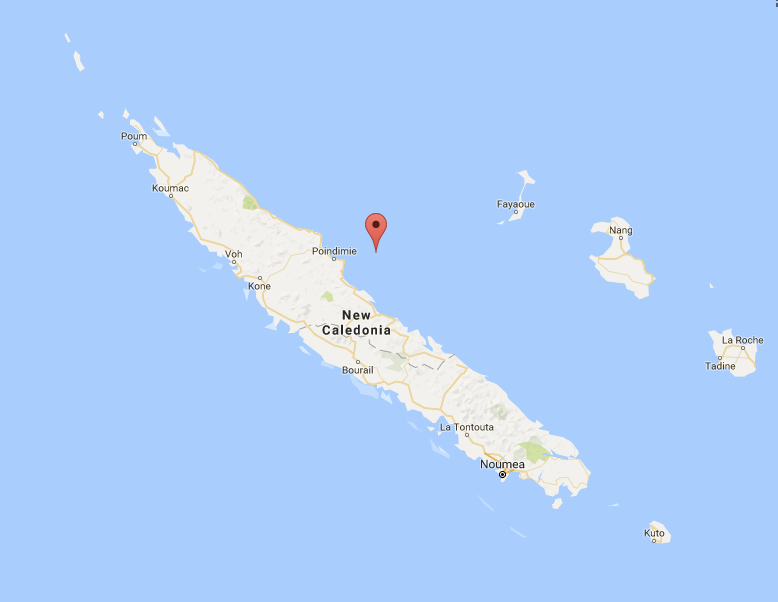 To get to New Caledonia, you'll most likely you will fly into Noumea (NOU) on the largest island of Grand Terre. You can expect a travel time of around 25 hours from Paris (flying through Japan), and about the same from the US (flying through Auckland or Australia).
We happened to be in New Zealand and flew from ALK to NOU which was much shorter, but still about a 3-hour flight. However, when compared to 25-hours, 3-hours is nothing.
Note: Compared to most international flights, baggage limits are much lower to New Caledonia. To avoid any unwanted surprises, be sure to check your flight's requirements.
Alternatively, you can also take a cruise ship to New Caledonia. Most cruise ships originate in Australia (Brisbane and Sydney) and New Zealand (Auckland, and Dunedin). However, several cruise ship companies have routes originating in New Caledonia including Oceania Cruises, Silversea Cruises, Princess, Holland, PONANT Yacht Cruises & Expeditions, Celebrity Cruises and Royal Caribbean International. As always, if you need help matching a cruise line to your travel style, then feel to reach out to us.
Why visit?
Considering the large time commitment to travel to New Caledonia, you may be thinking is it worth it. Mr. J questioned the value of traveling to this remote location, but I managed to convince him that it would be worth it. However, the topic is still debated between us to this day.
Look at this natural, secluded piece of paradise!!! How could you say no to a place like this?!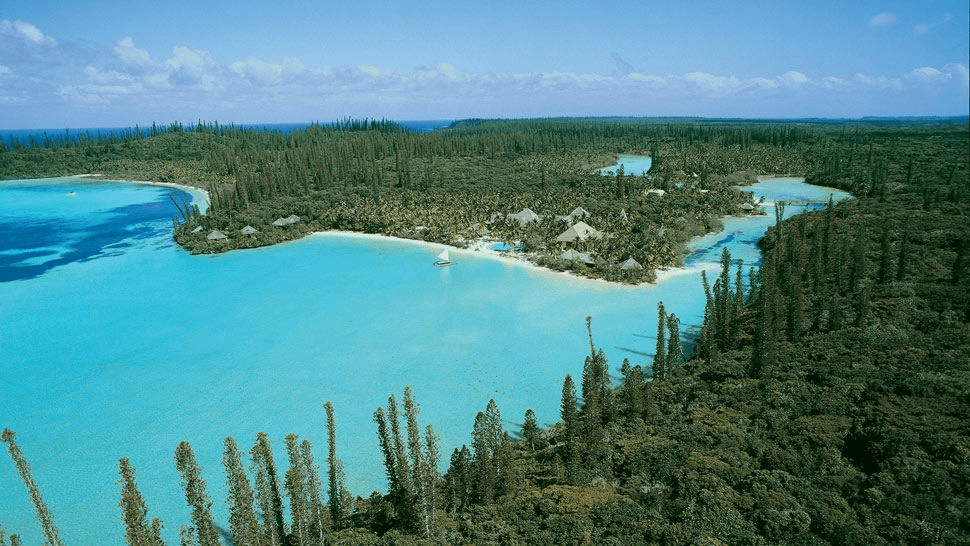 Yes, that is our resort which was completely worth the long travel days, if you ask me!
Bonus: Like French Polynesia, New Caledonia is a French territory, so the food is just as amazing as the view! The blend of French cuisine with local foods is delicious.
About
New Caledonia is made up of several islands with the largest being Grand Terre.  Noumea, the capital, is home to the international airport NOU.
When you are looking at where to visit in New Caledonia, there are five general areas to consider. Four of the five are on Grand Terre itself:
Noumea – the capital
The Great South
The West Coast
The East Coast
The fifth area is known as 'The Islands', which can be a little misleading since Grand Terre is also an island. The Islands typically refer to the smaller islands surrounding Grand Terre and  include:
L'ile des Pins
Ouvéa (great diving)
Tiga (traditional tribal life with no restaurants or hotels)
Lifou (great for hiking and known for its vanilla plantations)
Maré (snorkeling and avocado festival)
When we decided to visit New Caledonia, I had my heart set on the Isle of Pines. A friend told me about this beautiful island after I told him about our visits to French Polynesia. Accordingly, we planned to spend most of our time on the Ile des Pins but bookended the trip with a couple of days in Noumea.
Where to Stay
During our visit, we stayed at both the Hilton Noumea and the Le Meridien Noumea. The Hilton Noumea bookended our trip to the Ile des Pins. We chose the Hilton because we were able to use Mr. J's points to keep the cost of our trip down. We then stayed at the Le Meridien Noumea for one night due to a canceled flight. You can read all about our unexpected delay and pleasant surprise here.
I would recommend the Le Meridien over the Hilton if you are looking for more of a resort stay. For more of a condo style stay that is also close to downtown, we suggest choosing the Hilton.
When it comes to selecting accommodations on the Ile des Pins (Isle of Pines), the choice is pretty easy as you only have three options. We chose the Le Meridien Ile de Pins because it was the highest rated, and we were able to use a Starfriends rate thanks to my friend who was working at Starwood prior to the Marriott acquisition.
The Le Meridien Ile de Pins was fantastic! The staff was great, and the beach and natural pool were amazing.
Caveat:  I am biased towards Starwood. I have always had a preference for Starwood properties which started when I was traveling a lot for work.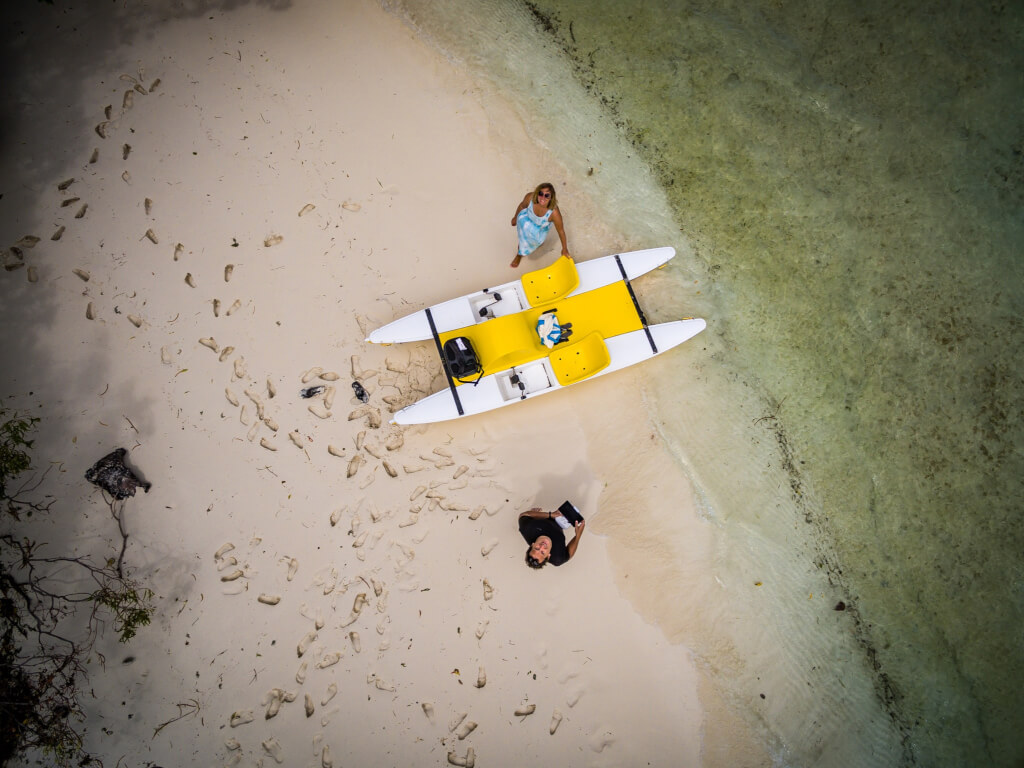 What to do
Generally speaking, you can expect island type of activities like diving, snorkeling, beaches, boating and other water sports.
Probably the most well-known sight on New Caledonia is the Heart of Voh located in the Great West region. New Caledonia Tourism offers some great suggestions for activities and sights in New Caledonia.
Noumea
We did not spend much time in Noumea since the focus of our trip was relaxing on the Ile des Pins. We enjoyed a local park and the Jean-Marie Tjibaou Cultural Centre during our unexpected layover.
Enjoy our Noumea Layover post for details.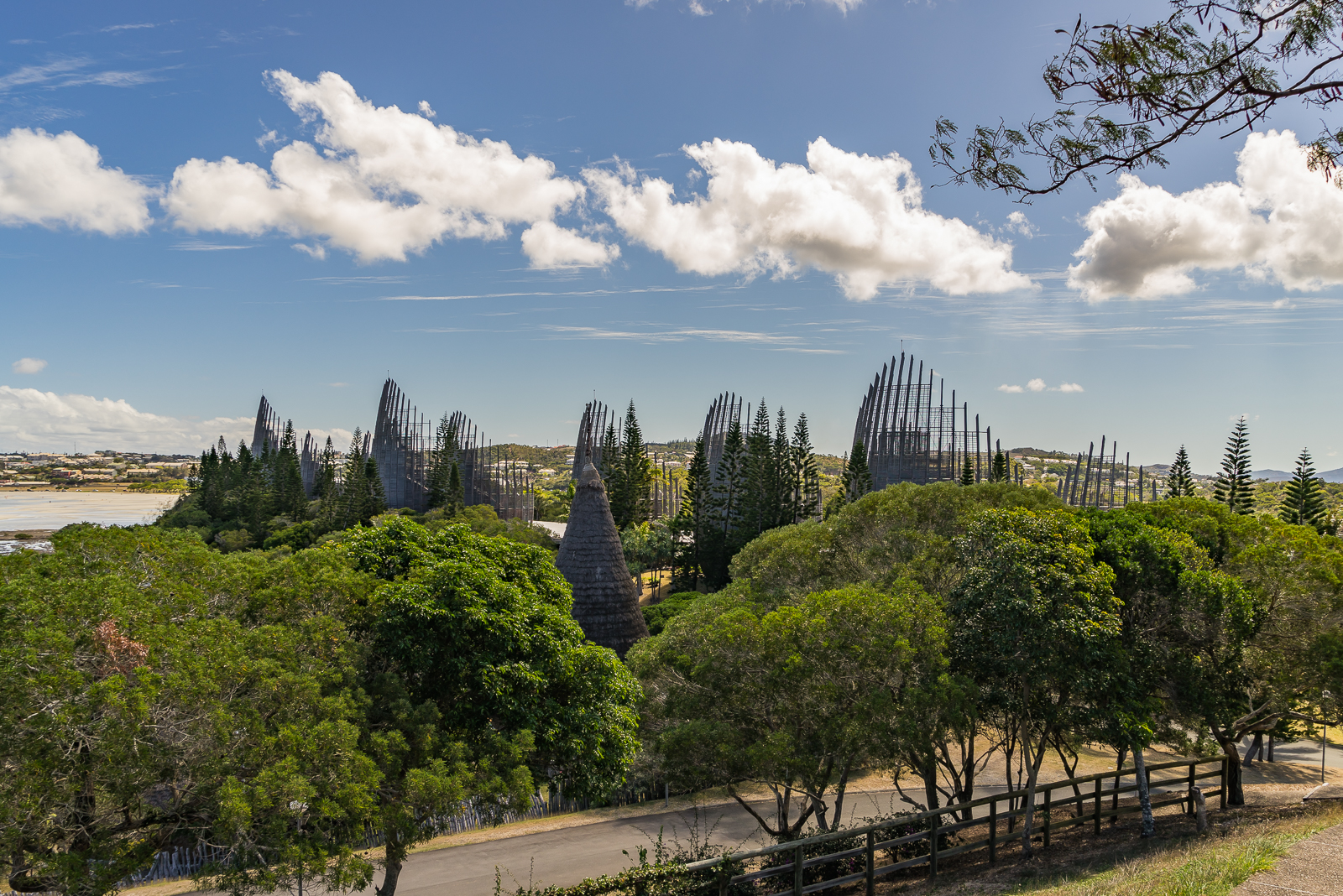 The Le Meridien Noumea offers a beautiful resort next door to a casino. You can hit the tables or simply enjoy the sun on their private beach.
Ile des Pins
As noted, we specifically went to New Caledonia to visit the Ile des Pins. There is not a lot to do on Ile des Pins, but relax and enjoy the beauty of the unique landscape.
Mr. J brought his drone and got some great shots.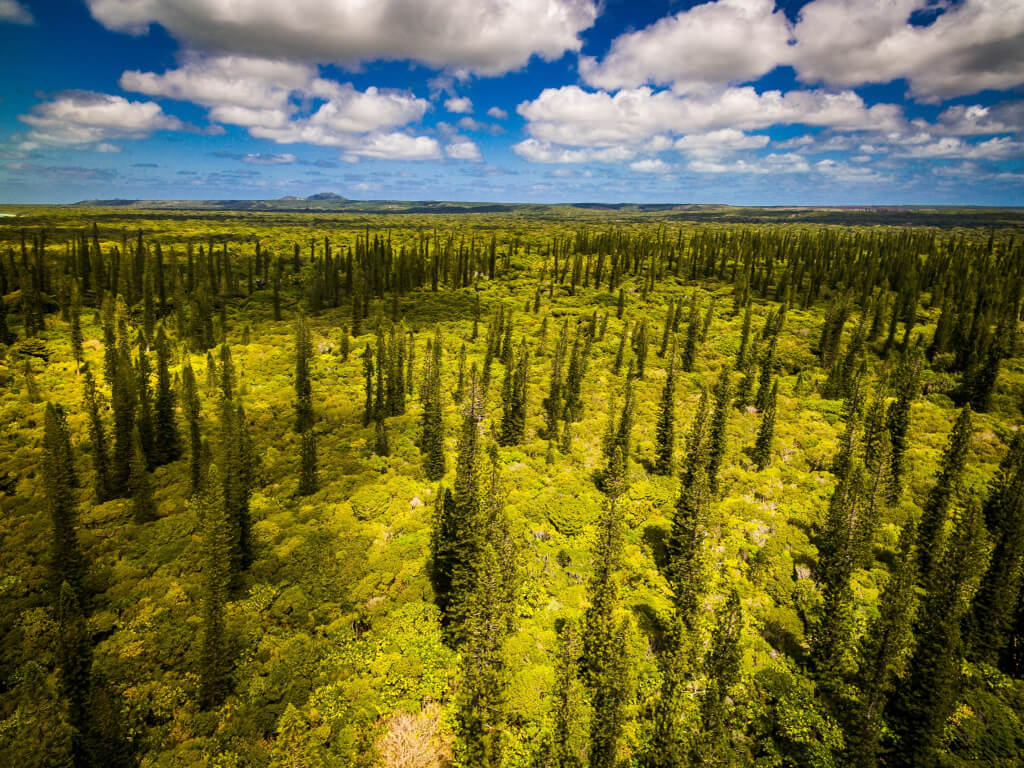 Mostly, we just relaxed and enjoyed the beach, the natural pool, snorkeling, paddle boating (yes, a paddle boat not a SUP) and hanging out at our resort.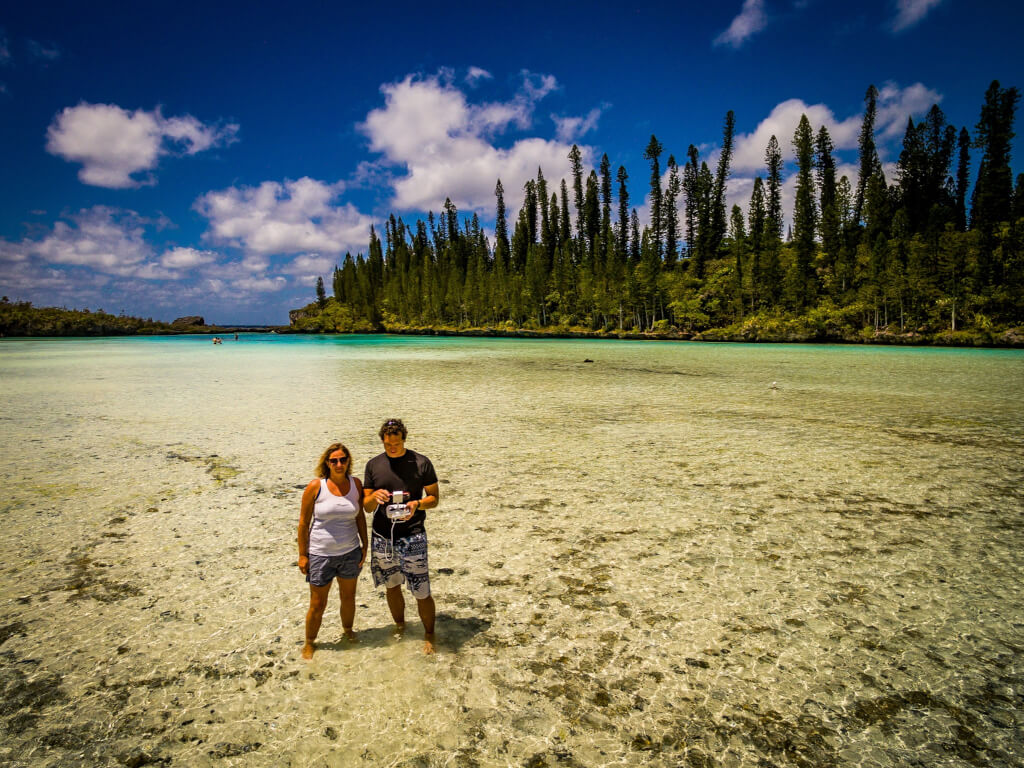 Side note: As you can tell, I am nervous of Drone as he (Drone) tried to kill me in Bora Bora. Unfortunately, Drone's joints became weathered due to all his flying on beaches, so he has since retired. Mr. J is considering buying a new drone, but if he does I get naming rights (you all are my witnesses to this agreement.) I digress, back to New Caledonia.
A few more pictures of the remote island of Ile des Pins.
If you need a break from the beach, then you can check out the few sights on the island which include the following:
Visit the Oumagne Grotto, aka the Cave of Queen Hortense – a unique cave located out of the sun.
Take a ride on a pirogue outrigger for a water perspective of the island. It is best to ask your hotel about booking one, especially if you are not fluent in French.
Book a private excursion with a guide to explore the entire island.
Explore the Vestiges Penal Colony which are the remains of what was once a penal colony from the 1870s.
Recommendation
If you are coming from the States, then you will probably want at least a 10-day holiday, given the travel time needed to get to this remote island. I would say that the resorts we stayed at were very nice and comparable to some of our stays in French Polynesia.
Personally, I would go back again in a heartbeat. However, it would take a lot of convincing to get Mr. J back, unless we were already on that side of the world.