I just got back from a quick three-day weekend trip to the Big Island. A trip report is coming soon, but my biggest takeaway from our first trip this year is my question of why are tourists so poorly behaved these days?
Hawaii has a complex relationship with tourists. On the one hand, tourism is one of our primary industries. On the other hand, tourists' behavior has increasingly become a hot topic issue. I've heard stories and have seen some of this myself on Oahu. For example, more recently, tourists have been zipping around on electric scooters with complete disregard for pedestrians or traffic laws. Oh, and there's the fact that tourists are constantly jaywalking and ignoring traffic signals in Waikiki, along with the drunk idiots causing a ruckus at all hours of the night.
But during our time on the Big Island, things began getting a bit more personal.
Why Are Tourists So Poorly Behaved These Days?
During our time on the Big Island, we stayed at the Hilton Waikoloa Village, which itself was a mistake for a number of reasons. One of them was our fellow guests. In fact, our interactions with a number of them left me wondering why are tourists so poorly behaved these days? Some incidents were a little more minor than others. For example, when I was walking through the corridors with my suitcases, groups of visitors walking abreast together often refused to make space for me to pass them without colliding with them.
While snorkeling in the hotel's lagoon, many tourists had complete disregard for others. Those in peddle boats and the like would often come right at us, meaning we had to keep an eye out for them above water rather than them making sure they didn't run anyone over.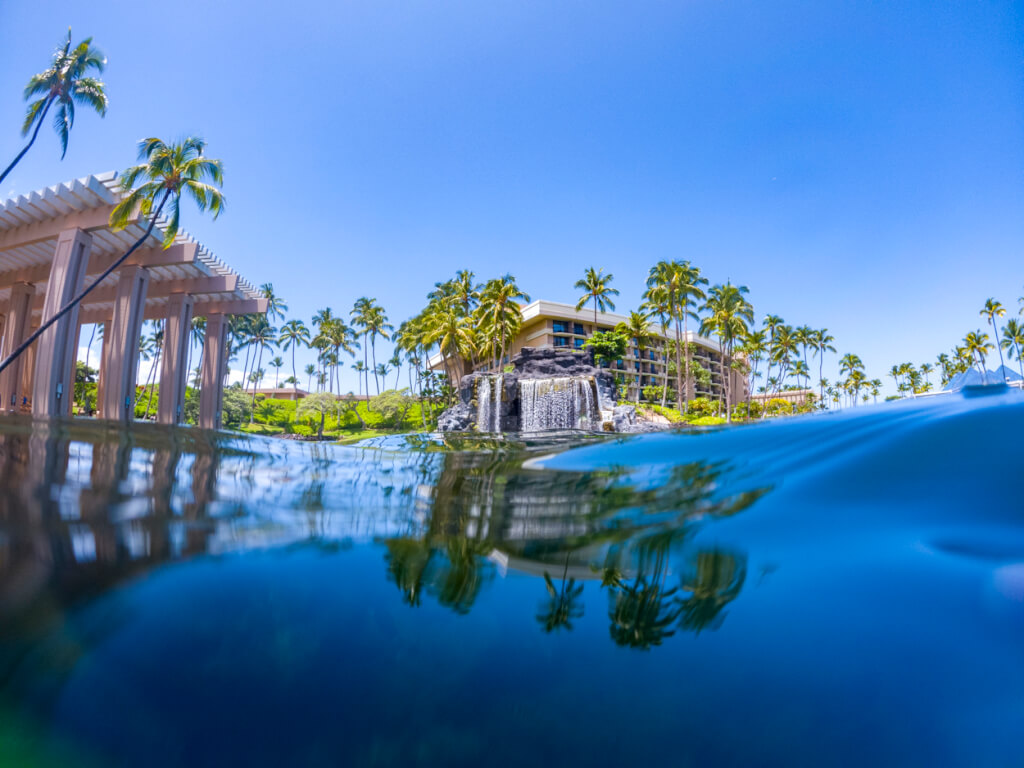 In another instance, a family crammed into the same elevator as Mrs. Island Miler and I, whacking us in the process because we all barely fit. Then, they filed out of the elevator and didn't even bother to offer to hold the door for us – we had our bags as we were checking out.
While waiting for our car at the valet, an older dude came right up to Mrs. Island Miler and almost pushed her. On the road, I saw so many visitors blowing through four-way stops, cutting people off, and just exhibiting poor driving habits all around.
At the airport? A group of women on a "girls' trip" sat in the seating area with Mrs. Island Miler and me. The area was comprised of a sofa, two seats, and a coffee table. About half a dozen of them piled into the area, sat on the tables in front of us, and proceeded to talk LOUDLY with one another. They were also butt hurt when they were told to move elsewhere during boarding because they were in B Group rather than A.
Back on Oahu, another visitor let their daughter run all around the baggage claim. At one point, she squeezes in between me and the belt. Luckily, she left a little before my bag came sliding down. Seriously? Watch your kids!
Even More Questions
The fact that I have to ask, "why are tourists so poorly behaved these days?" is bad enough. But I also want to know why this is even the case? Do these people feel like they're entitled because they're on vacation and paying for an experience? Does being on vacation mean all common sense goes out the window? Do laws not apply to you when on vacation? And why are people surprised that locals hate tourists when this is the way you behave?
Why Are Tourists So Poorly Behaved These Days?, Final Thoughts
Look. I don't care what the reason is for poor behavior. There are NO excuses. When I travel, I do everything I can to be respectful of the place I'm visiting and the people that call the area home. It should be something EVERYONE does. And, I now there are a good number of people that actually do. But, lately, even pre-COVID, it seems like more and more people just can't behave properly anymore. Ironically, other tourists are among the top complaints from visitors to Hawaii. Go figure.