Southwest Airlines is trying hard to win over Hawaii residents. Initially, their strategy included really great fare specials. Now, however, they're giving us the opportunity to win free flights on Southwest!
While I'm all about supporting local, I've been avoiding our hometown airline as much as possible. Why? I can't rely on them, something that was reaffirmed during a recent work trip, but I'll cover that in detail tomorrow. That's why I personally fly Southwest Airlines whenever I travel within Hawaii. And though I see an increasing number of local people doing so, many still avoid them, likely because of the lack of assigned seating. As you'll recall, though, this is how things used to be on Aloha Air too! Whatever the case may be, Southwest wants you to give them a try – so much so that they're giving away tickets to Hawaii residents only.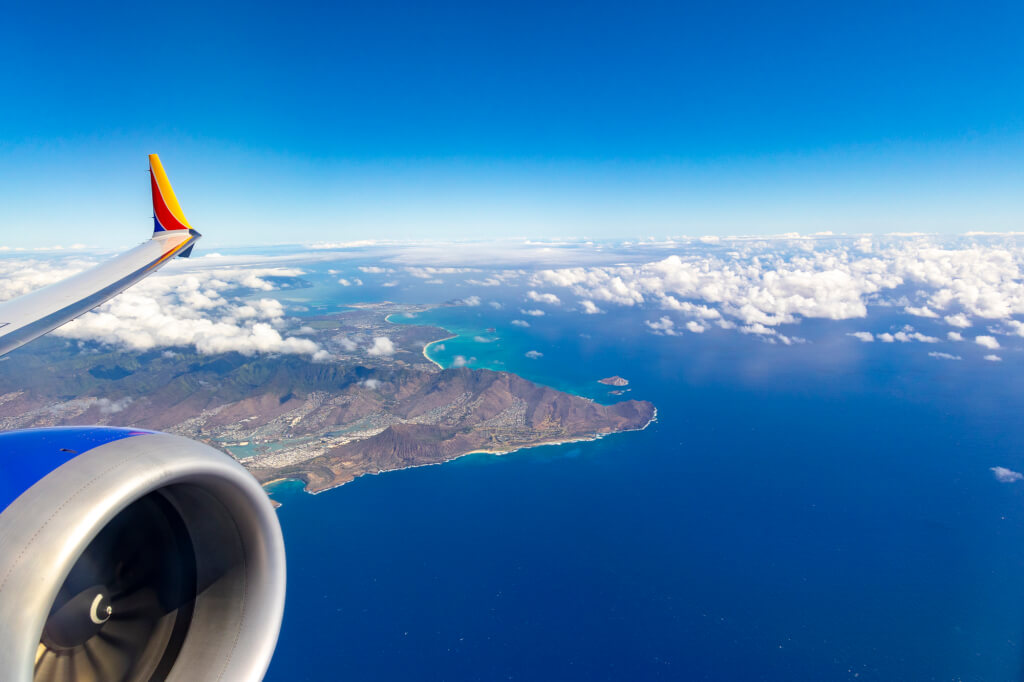 Win Free Flights on Southwest
That's right, Hawaii residents can enter to win free flights on Southwest! In fact, up to 200 Hawaii residents will win a roundtrip inter-island flight on Southwest Airlines issued as two one-way vouchers. All you need to do to enter is head to southwestontour.com, provide your first and last name, email address, and birth date, and agree to the promotion terms and to receive emails related to the promotion. Once you do that, you'll receive a digital scratch card that will reveal whether you've won or not.
If you win, you'll need to reconfirm your email address, at which point you'll receive an email with instructions on obtaining your voucher. It all might seem a little sketchy, as the email doesn't come from Southwest, and you need to download a PDF from a dropbox link, but I assure you, this promotion is 100% legitimate. How do I know? Because I've already won one of the free flights, I checked on the contest administrator (they're currently running Shell's promotion, too), and I thoroughly reviewed the program terms.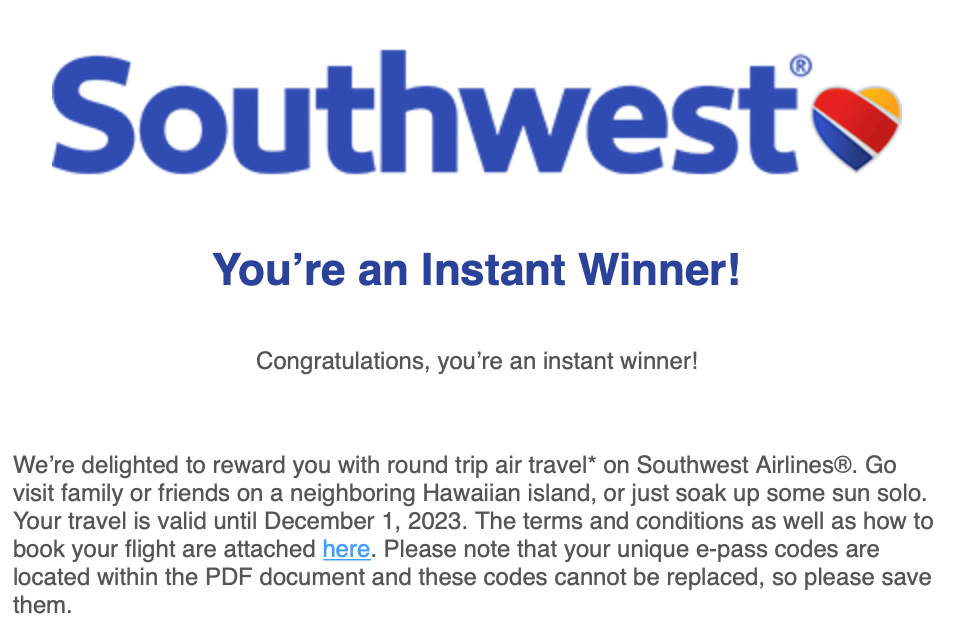 It's worth noting that this contest really is open to only Hawaii residents, though they never ask for your address, so I'm not sure how they check. You're also limited to one prize per person, household, and email address, though I'm not sure how they'd prevent more than one household member from winning, either. They don't even ask for your Rapid Rewards information. Further, you can only enter the contest once daily through December 18, so hurry up and enter if you haven't already done so!
All vouchers issued during the contest must be used by December 31, 2023. You will need to call to redeem your vouchers – online bookings aren't possible with them.
Final Thoughts
If you haven't already given Southwest a try, now's the time! After all, you can easily enter to win free flights on Southwest or take advantage of their $39 fares within Hawaii – but hurry, these prices expire on December 21, 2022. And even if you don't win or don't take advantage of their fare sale, I strongly urge you to give them a try. The State of Hawaii may be trying to give Hawaiian an edge over them, but I feel that Southwest is more reliable than Hawaiian, and their aircraft are more comfortable. You even get two free checked bags and in-flight messaging capabilities. How awesome is that?