Amex Twitter Sync Not as Promised
When it comes to finding new ways to pay with merchants, American Express has always been extremely innovative and on the cutting edge of credit card companies tapping into new mediums. This is likely because American Express is both the logo on the card and the bank supplying the funds, so there is no middle man to get in the way of their great ideas.
In the past, I have synced my American Express card with Foursquare to receive discounts, Skymiles dining and myriad other services offering cost savings or incremental points for using my Amex card for transactions. It is completely seamless and easy to do, so I don't see any reason not to sign up for most available bonuses.
American Express is at it again, this time encouraging you to sync your card with Twitter and pay via a twitter hashtag. Sounds like a fun way to pay, so naturally I signed up immediately. You can too at the Sync with Twitter page.
The steps are very easy to get started.
Sync your Amex card with your Twitter account
Tweet the special hashtag for your offer
Confirm your purchase via another tweet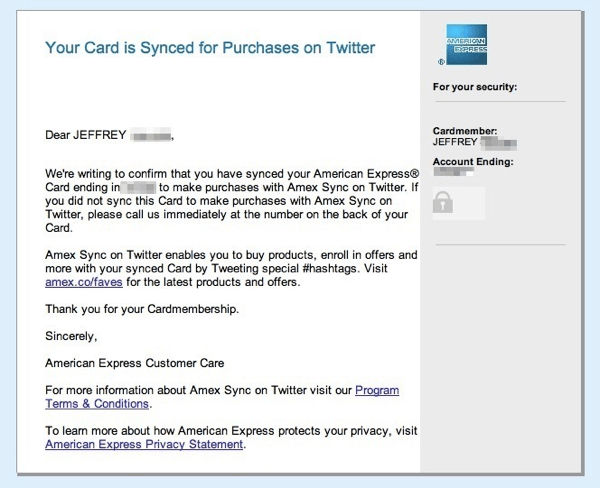 Twitter also sends a nice little message as well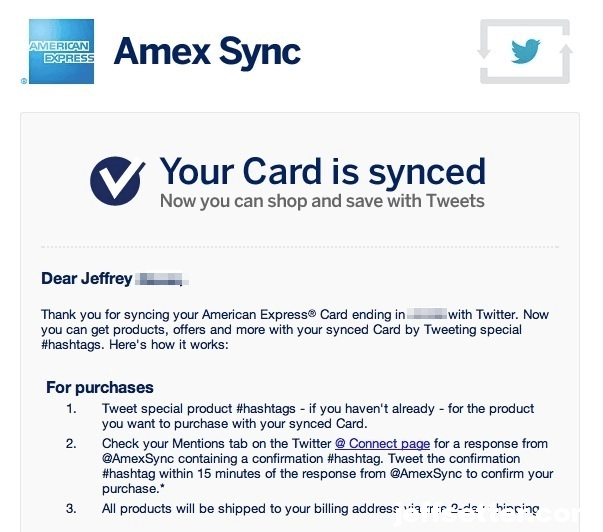 Seems easy, right? Wrong.
My experience trying to pay via Tweet
The excitement of Tweeting to pay for the first time

The quick rejection from Amex via automated message

American Express Twitter Sync Doesn't Work!

I tried to sign up for the $25 American Express Gift card promotion for Amex Sync, and apparently I wasn't the only one. In fact, so many people signed up for the promotion that American Express is no longer honoring their $25 gift card for $15 tweet promotion. While it was originally supposed to go until March 3, 2013, I was rejected from the offer on February 14, 2013.

The problem is that this offer is still listed on their website at the time I write this post! There is no mention of the promotion having a capacity limit on the website. It just says that it's valid through 3/3/2013.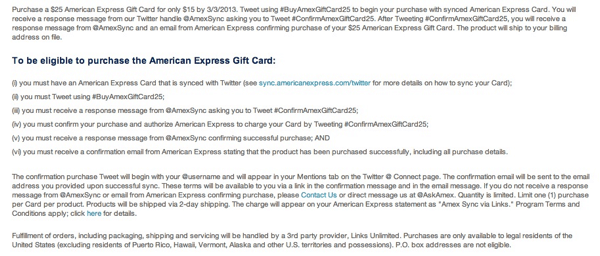 This is a very disappointing experience, because American Express got me to sign up for their payment program under a false premise. They use a strong offer get a lot of publicity from tech savvy cardholders and then they immediately pull the rug out from everyone.
While I know that it comes down to some marketing manager for American Express having a certain budget to give to this promotion, and that budget has dried up, they have made two major flaws in their process:
The website still says that the promotion is available, even though it is clearly not AND
To run out of a coupon redemption budget 3 weeks early, without any terms and conditions is a major error in judgement and projection
Either the vendor who ran the promotion or someone at Amex is likely going to be fired or slapped on the wrist for this.
What Amex Should do to Make it Right
This promotion to Sync with Twitter gives me $10 for free. It's a strong offer and actually got me to sign up for this novelty service when I generally would not have used Twitter for payments.
American Express was willing to give me $10 to try a new payment method. That is their acceptable cost per acquisition of a new customer for this payment method. As a marketer who works to acquire new customers for my clients, I know that this is actually a fairly low cost per acquisition.
Obviously, someone at American Express was willing to give me $10 to try the service, but they also had a cap in place for how many people could use it. They drastically underestimated how much response they would get to the offer, and ended up having to end the promotion 3 weeks early. That is some major mismanagement of the promotion.
Worse yet, even though the promotion is no longer available, they still have their website up that promotes the $25 gift card for $15 promotion. The only way that a consumer can understand that the promotion doesn't work is by signing up for the service, tweeting the hashtag and then receiving an automated message that it is no longer available.
Congratulations American Express. Instead of paying me $10 to use this service, you got me to use it for free! You also pissed me off and inspired me to put my frustrations in writing. All to save $10.
I understand that the marketing manager behind this promotion is probably losing sleep right now over the promotions success. She/he probably did not start out thinking that this promotion would be so successful. They also did not even dream that they would come close to hitting their budget for number of promotions redeemed, so they scrambled to find a solution to make sure they don't go over budget.
In haste, they just decided to reject all future redemptions of the offer in the most unfriendly and impersonal way possible. It stings.
I started out writing this post to talk about how awesome my experience was with Twitter payments through Amex. Now this post is about how badly they mismanaged the process.
How to make it right?
All I ask for is that you remove or modify the website page about the promotion and honor the initial deal to anyone who tries to use your service. In other words, give me the $10. It's the right thing to do, even if it puts you over your budget.
I empathize for what the Amex team is going through right now, but as a consumer, I'm also annoyed at the way that this was handled. Hashtag #probablynevergoingtopayviatwitteragain