We're now midway through September, the last month in Q3 2018.  So, it is time to register for the Chase Freedom Q4 2018 bonus categories.  And, thankfully, this quarter's categories are a lot better than the previous two!
Chase Freedom Q4 2018 Bonus Categories
The Q4 2018 Chase Freedom bonus categories are warehouse club stores, department stores, and Chase Pay transactions.  Those are great bonus categories, as I'm sure most of us are able to easily make significant spend amounts there.  Especially during the holidays when shopping for gifts, parties, etc.  Plus, Chase Pay is useful for filling up your car at Shell Gas stations, making restaurant reservations via Tock, and shopping at certain merchants like Best Buy.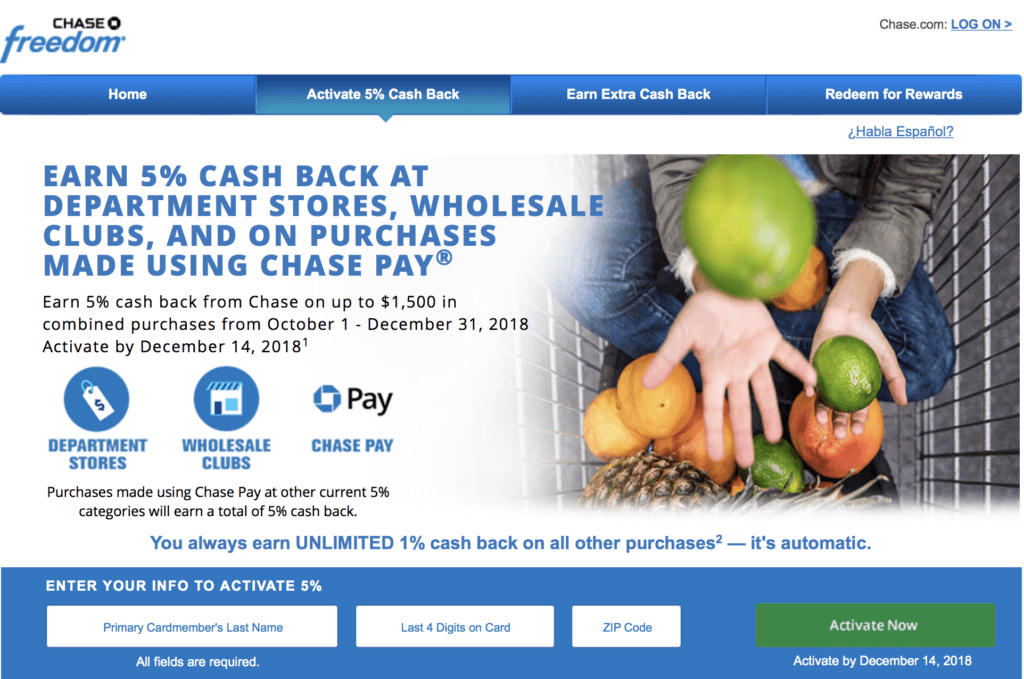 Registration + Limitations
In order to take advantage of the bonus categories, you'll need to register here.  Registration closes on December 14, 2018, but you're going to register sooner to maximize this promotion, right?
As a reminder, the 5% quarterly bonus categories have a spending limit of $1,500.  That translates to a maximum of 7,500 bonus points.  And if you maximized the quarterly bonus for every quarter this year, you'd earn a total of 30,000 bonus points.  That, by the way, is good enough to get you a free night at any World of Hyatt hotel in Las Vegas, inclusive of MGM properties.  Heck, it'll even get you two nights at the MGM Grand Las Vegas!
Chase Freedom Q4 2018 Bonus Categories, Final Thoughts
I'm very pleased with the Q4 2018 bonus categories.  I fill my car exclusively with Shell gas (via Chase Pay), so I'll easily spend a few hundred bucks that way.  And it's easy enough to spend another few hundred or more buying everyday items at Costco.  Then, the remainder will be easy to earn via spending at department stores or other Chase Pay merchants.  I'm thinking I should be able to maximize these categories, unlike Q3's categories.