Great news!  Chase Pay partners with Shell Fuel Rewards, bringing us a new payment option at the pump.  And the partnership brings with it some great value, at least for now.
Chase Pay is Chase's digital wallet, similar to Apple Pay, Android Pay, etc.  But, if you think Apple Pay's acceptance is poor, merchant acceptance of Chase Pay is even worse.  So much so that I find it difficult to use, which is a shame because Chase Pay is currently a Freedom bonus category.  However, recently Chase Pay formed a partnership with Shell Fuel Rewards.  And thanks to this new partnership, Chase Pay has become a bit more easy for me to use.
Introductory Offer
To commemorate their new partnership, Chase and Fuel Rewards have a great introductory offer.  Now, through the end of the year, you can receive a $0.35 per gallon discount when you link Chase Pay with Shell Fuel Rewards and purchase at least 5 gallons of gas.  The discount will be valid on the fill-up following you qualifying fillup.  That makes the Chase Pay offer far better than the Mastercard initial link offer, which is currently a $0.15 per gallon discount.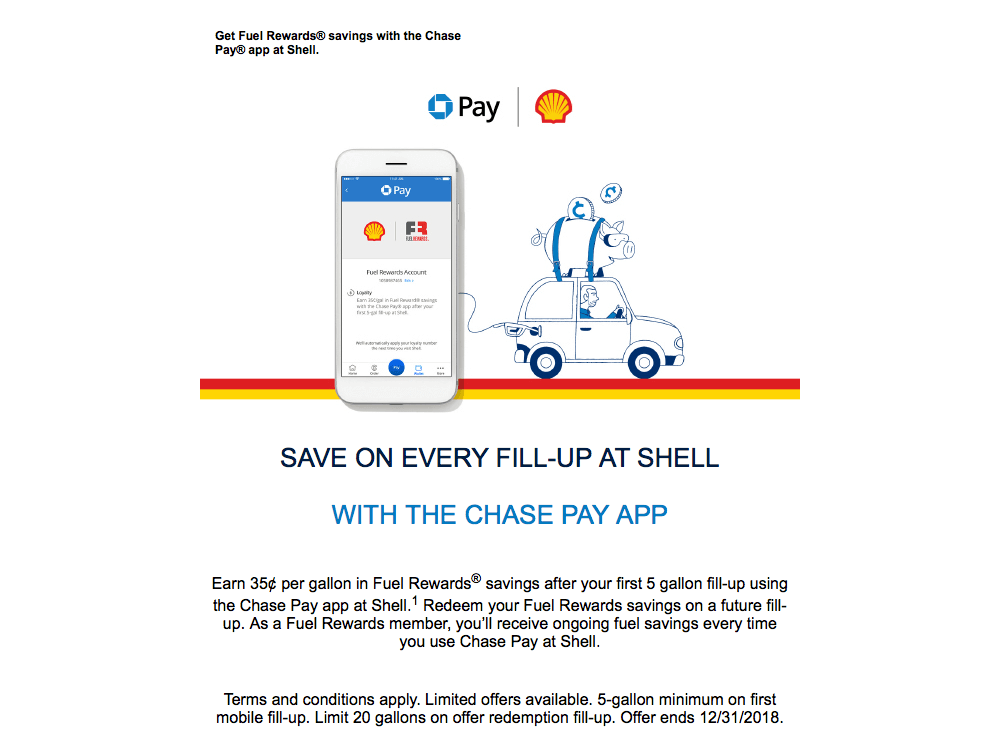 How to Use Chase Pay at the Pump
Up until now, to use Chase Pay, you'd need to pay through the app at a point-of-sale with a QR code, place an order through the app, or online.  But with Shell, Chase Pay works a little differently.  When filling gas with Chase, you'll at the pump, sort of.  Before you get started, though, you'll need to link your Fuel Rewards account to Chase Pay under the wallet menu.
Once added, the only time you'll look at your Fuel Rewards information in the app is to find a participating station.  Not all Shell stations are included after all, at least in my experience.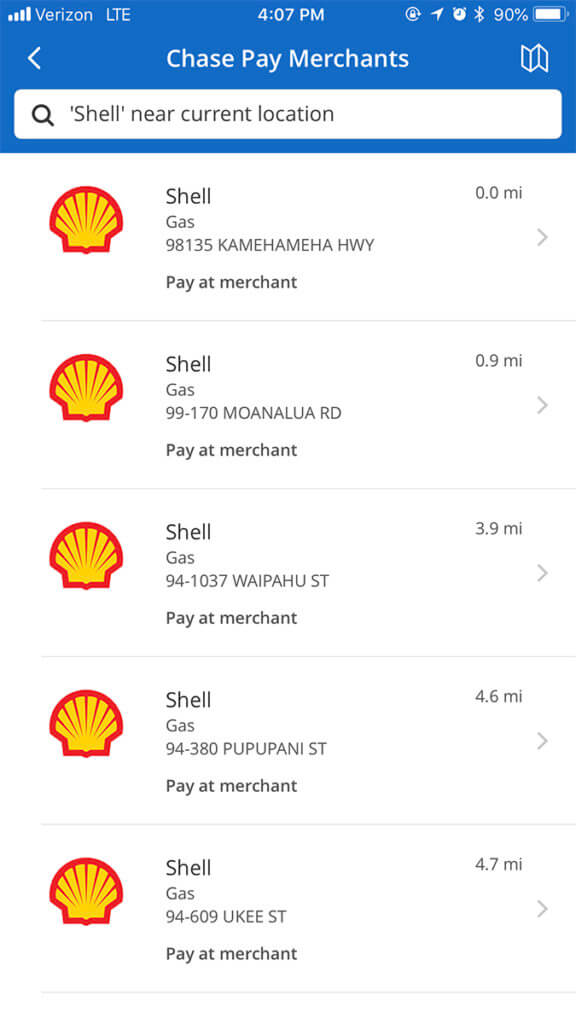 When you pull into a participating station, you'll need to tap the "pay" button at the bottom of the screen.  And if you're at a participating station, the app will then prompt you for your pump number.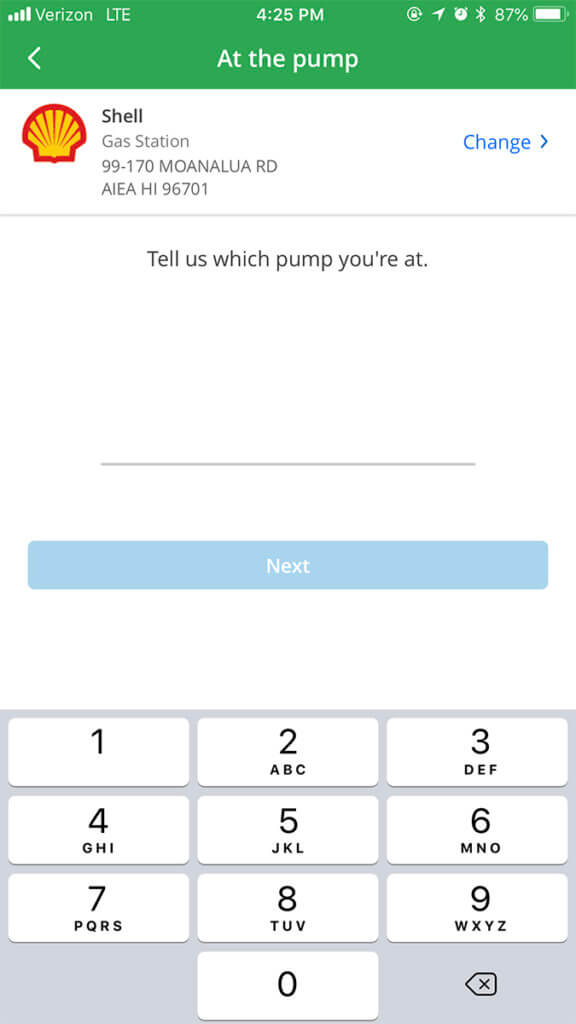 And once you enter your pump number, the app will generate a code.  The first time I tried this, though, the request failed.  Upon my second attempt did process the request successfully and presented me with a code.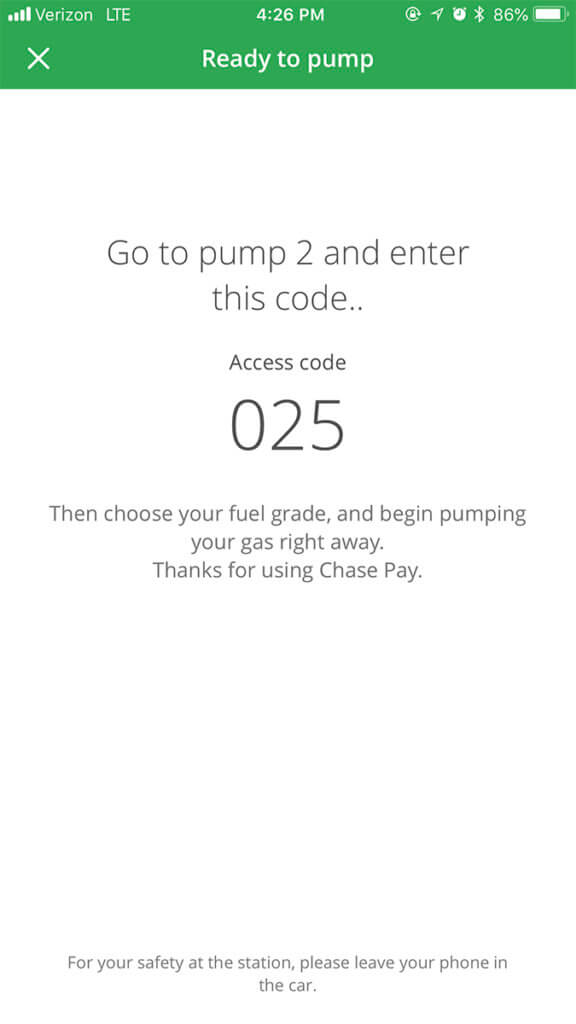 This code, which changes every time you use the app, must then be entered into the pump.  The pump will automatically prompt you for this code, and once you enter it, the rest of the process will go as normal.  You do not need to enter your Fuel Rewards number or swipe your card, though, as it is already linked to your Chase Pay account.  So any Chase Pay discounts you have will automatically be applied to the transaction.
Chase Pay Partners with Shell Fuel Rewards, Final Thoughts
Honestly, using Chase Pay to pay at the pump takes longer than pulling out your credit card.  But, for now, at least, the extra time it takes to complete the transaction is something I'm willing to deal with.  And that's because Chase Pay transactions currently earn 5x Ultimate Rewards points when using your Chase Freedom card.  Further, the total transaction time may not be so bad, as having the pump process your Fuel Rewards number can take a while too.
Either way, using Chase Pay at the pump is a pretty cool process.  And aside from earning extra Ultimate Reward points this quarter, it has the added benefit of being safer.  After all, skimmers are becoming common issues at gas stations, so not having to swipe your card could save you some future headaches.  Plus, at least for me, Shell is already my fuel of choice.  My car seems to run better on it than others, so taking advantage of this offer doesn't require a habit change for me.