So you want to visit Hawaii?  The good news is Hawaii is served by a large number of daily flights from many destinations!  Because of the large number of options available, however, I'm going to focus this post domestic flights to Hawaii only.
The Hawaii market is served by the three large airlines, as well as by our hometown carrier Hawaiian Airlines, Alaska Airlines, and Virgin America.  And while JetBlue doesn't serve the islands directly, it does have a codeshare agreement with Hawaiian.
If you're originating on the US Mainland and want to fly non-stop to Hawaii, here are your options: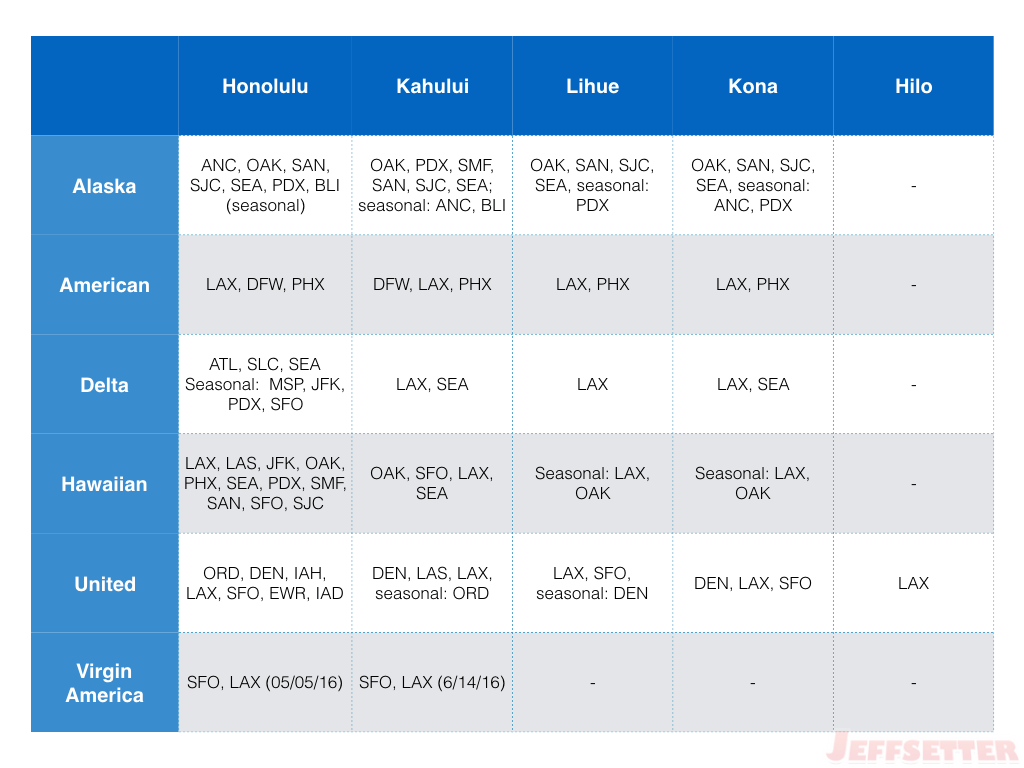 Your options get even better when you allow for a connection or two.  But even then, your options can be rather slim if flying into an airport besides Honolulu, in which case you must decide where you'd like to connect; at a large hub or in Honolulu.
Of course the biggest question is how to get to Hawaii on miles/points right?  For domestic carriers, these are the number of miles you'll expect to use.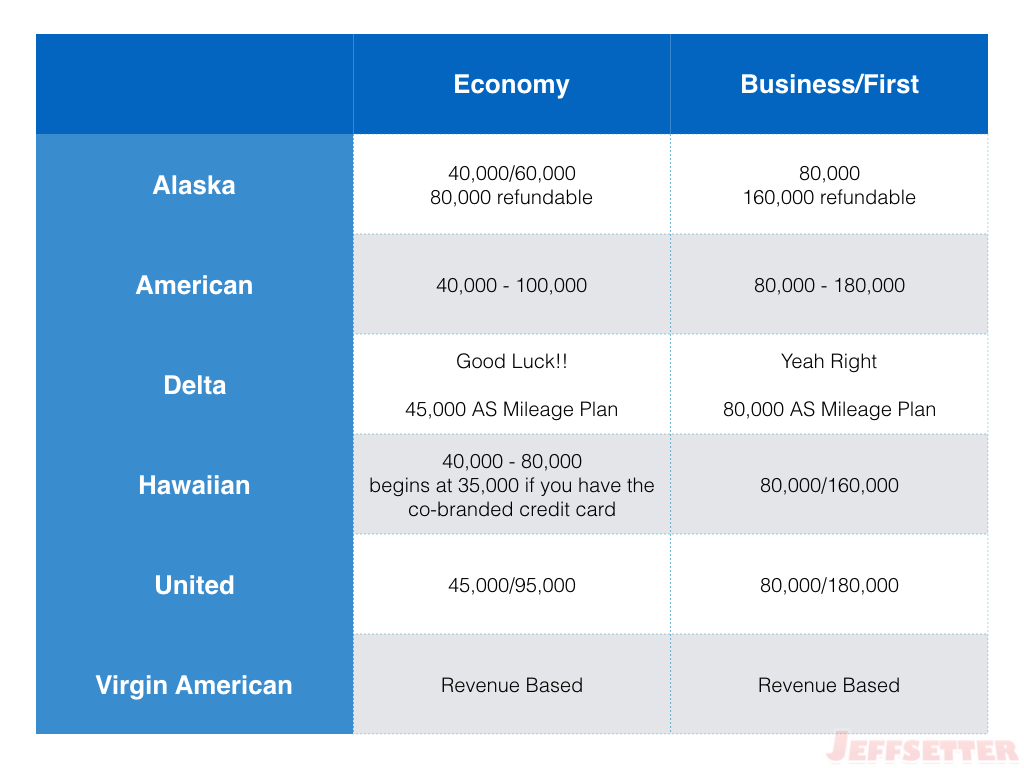 Delta SkyMiles doesn't publish an awards chart anymore, so booking an award flight with them is a shot in the dark.  If you really want to fly on Delta, it's probably best to redeem Alaska Mileage Plan miles.  Virgin America also doesn't publish an award chart, as they use a revenue based system, so award tickets vary greatly in price.
You could also use miles you have with foreign carriers for travel on domestic ones: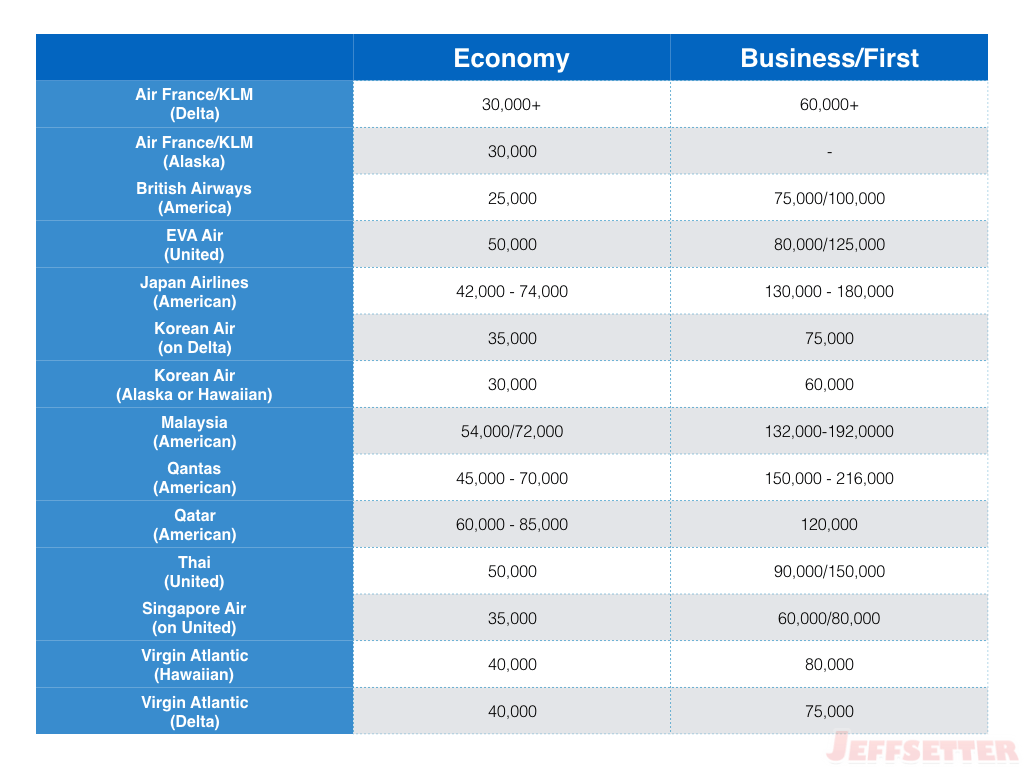 As you can see, there are some really great values to be had when redeeming miles from foreign carriers.  British Airways is great for economy class redemptions, but I'd look elsewhere for first class awards.  Korean Air on Hawaiian and Alaska is another great value with economy class tickets going for 30,000 miles and first class tickets going for 60,000 miles!  Singapore Air KrisFlyer is probably the best value for those that prefer United.
Redeeming miles aren't always such a great idea, though, since really cheap flights to Hawaii can be found.  Just last year I booked two tickets HNL-PDX, SEA-HNL for $800 total on Hawaiian.  If you don't already have the Hawaiian Airlines World Elite MasterCard, you can apply for it get a companion 50% off certificate, which will post to your HawaiianMiles account about a week after your card is opened.

You'll also receive 35,000 miles after spending $1,000 within the first 90 days and will get your first check bag free (cardholder only).  The 50% certificate is a one-time deal; cardholders will receive a $100 discount certificate upon each anniversary.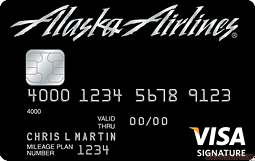 You could also get two roundtrip tickets for the price of one plus $99+tax (min. $121 total) to Hawaii on Alaska Airlines by using the Alaska Airlines Visa Signature's coach companion certificate.  It's an annual benefit in addition to the first check bag for up to 6 people on the same itinerary.
If you're going to go the Korean Air or British Airways route, the best cards to get are the Chase Sapphire Preferred, the Freedom, and the brand new Freedom Unlimited cards to quickly rack up those Ultimate Rewards Points.
The Sapphire Preferred earns 2pts/$ on bonus categories such as dining, hotels, transportations, parking, etc., while the Freedom offers 5pts/$ on specific categories that rotate quarterly, and the Freedom Unlimited earns 1.5pts/$ on all spend.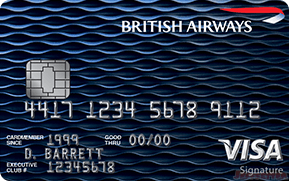 Of course, you can always get the British Airways Visa Signature card too, which has a current signup bonus of 50,000 Avios (100,000 after 1 year if you meet all minimum spend requirements).
Another card worth looking at is the American Express EverDay Preferred Card, especially if flying Hawaiian.  You may still want to get the Hawaiian Airlines World Elite MasterCard, but the Amex Everyday Preferred card brings some additional benefits.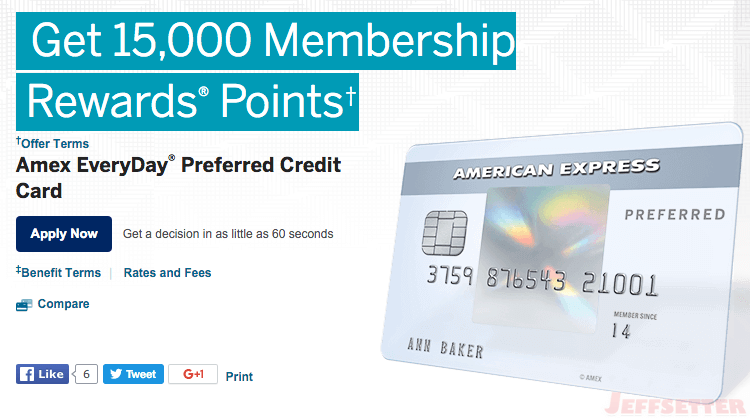 American Express Membership Rewards points transfer 1:1 to HawaiianMiles in increments of 1,000, while the EveryDay preferred card earns 3pts/$ on grocery store purchases, 2pts/$ on gas, and 1pt/$ on everything else with a 50% bonus if you make 30 transactions during the billing period.  So if you maximize usage of this card, you could effectively earn 4.5pts/$ on groceries, 3pts/$ on gas, and 1.5pts/$ on all other purchases, allowing you to quickly earn a lot of HawaiianMiles.
You could also quickly build up your miles by opening the Starwood Preferred Guest Card from Amex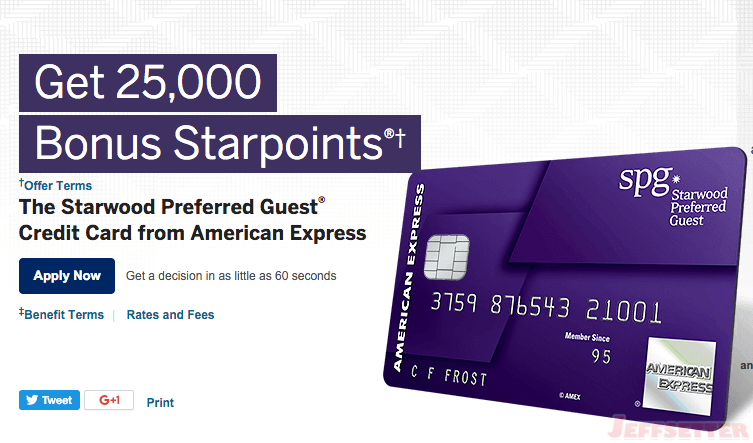 Unfortunately, the 35,000 Starpoint offer is now over, but you can still earn a 25,000 point bonus, and with Starwood's 5,000 mile bonus when transferring 20,000 points to participating airline partners, you can get 30,000 miles very quickly.
You could also signup for the remaining airlines' respective credit cards to receive their signup bonuses, but the ongoing value proposition isn't the best.
It's worth noting that Hawaiian is the the only airline that still serves a complimentary meal in economy on all of its domestic long-haul routes, though certain red eye flights get snubbed.  American will begin serving complimentary meals in economy on routes from Dallas to Hawaii later this year.  Hawaiian's economy seat configuration is probably my favorite at 2-4-2, as it allows the wife and I to sit together and not deal with other people being right next to us.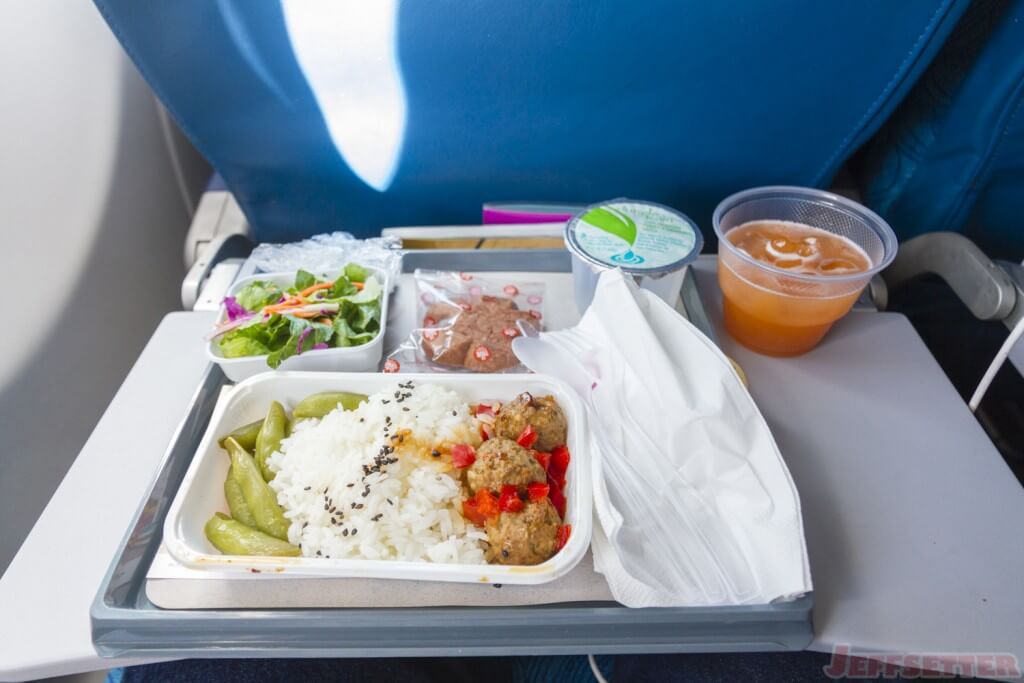 Hawaiian does not, however, have a lie-flat product in first class… yet.  Their current product is simply a recliner style first class seat in a 2+2+2 configuration, but the new lie-flat product is set to debut in September 2016, with retrofits of the rest of the fleet expected to be completed by the end of 2017.  This new cabin will be available on flights operated by Hawaiian's A330-200s only and will not be fitted to the airline's aging 767-300ERs.  Their A330s offer seat back entertainment throughout, but the content isn't free for economy passengers.
American offers lie-flat seats in first on flights from Dallas (767-300ER) and recliner seats on it's 757-200s and A321Hs from the west coast.  The A321Hs have seat back entertainment throughout, while the  other aircraft have no entertainment.  Delta, on the other hand, offers lie-flat first seats on most of it's wide body fleet to Hawaii, while their 757s have recliner seats.  United offers lie-flat seats in first only on flights to Hawaii operated by the 767-400, primarily from EWR, while it's fleet of 777s, 757s, and 737s have only recliner seats in first.  Virgin America's cabins are standardized across it's fleet, so you can expect the same trendy interior with recliner first class seats on flights to Hawaii with seat back in-flight entertainment throughout.  Alaska Air has a more subdued product with recliner seats in first, and instead of seat back entertainment, they offer streaming direct to your device instead.
No matter which airline you choose for your Hawaii travel, you have a variety of options available to you.  To ensure you get the best experience and value, make sure you compare the prices versus the award redemption rates and route yourself so that you get the best aircraft operated by the airlines.  And always, check Seat Guru to ensure you get a good seat on your flight.