After 40 years in business, a long-time Waikiki restaurant closed its doors at the end of September.  But less than a month later, Shorebird Waikiki reopens as Reef Bar and Market Grill.
When it closed its doors at the end of September 2017, Shorebird was a Waikiki institution of sorts.  Set right on the beach with fantastic views of Diamond Head, the restaurant was well known for its beach-side dining, cocktails, and grill-it-yourself concept.  However, the restaurant's owner, wanting to retire, chose not to renew his lease.  But, given the popularity of the restaurant, owners of the space, Outrigger Hotels & Resorts, sought to keep the concept alive.  And so after less than a month, the Shorebird Waikiki has been reincarnated as the Reef Bar and Market Grill on October 23, 2017.
What's Old is New Again
As previously mentioned, Outrigger chose to keep the concept of the new Reef Bar and Market Grill the same.  It's still a grill-it-yourself restaurant with a salad bar, as well as regular menu items.  Even many of the dishes and sides are similar, though not the same.  And while the layout of the restaurant is still the same too, it has been completely refreshed.  The restaurant now looks brighter, more contemporary, and even more inviting.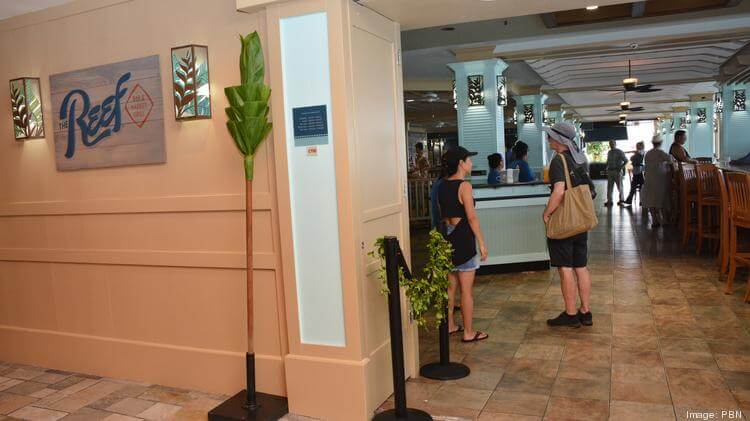 Of course, with these changes, as you may have already guessed also comes a change in price.  And as you may suspect, the price changes are a hefty increase in price.  In fact, here's a sampling of the price differences:
12oz Ribeye – Shorebird: $31.95, Reef: $40.00
Baked Potato – Shorebird: $3.95, Reef: $8.00
Sausage + Shrimp Kabob – Shorebird: $24.95, Reef: $36.00
You get the picture.  The most egregious price increase, however, to me anyway, is the garlic bread; $2.95 to $8.00.  $8.00!!  For bread!!!  I can buy a whole loaf of some of the best bread I've had in my life for $8.00.
But it's not all doom and gloom.  Yes, prices are higher, but the variety is now greater as well.  Whereas Shorebird had just two sushi appetizers, Reef now has seafood towers and a variety of hot & cold starters.  There are more options for things like sauces and rubs too.
Shorebird Waikiki Reopens as Reef Bar and Market Grill, Final Thoughts
As I've said previously, I never did dine at the old Shorebird.  It just seemed too touristy for me, and I much prefer the yakiniku concept if I'm going to be cooking my food.  At least everyone can sit around the table, eat, drink and cook all at once.  But, I get it.  Shorebird and Reef Bar are a novelty that has its place and its following.  So for those people, it's great that the restaurant is back in business.  Just be aware of the new prices and that the official grand opening is on November 1.