Knowing that I'd be doing some long-distance driving, I decided to splurge and rent from Silvercar Las Vegas.
Once we deplaned, we headed into the terminal.  Since this was my first time in Vegas, so of course I had to take a picture of the iconic sign.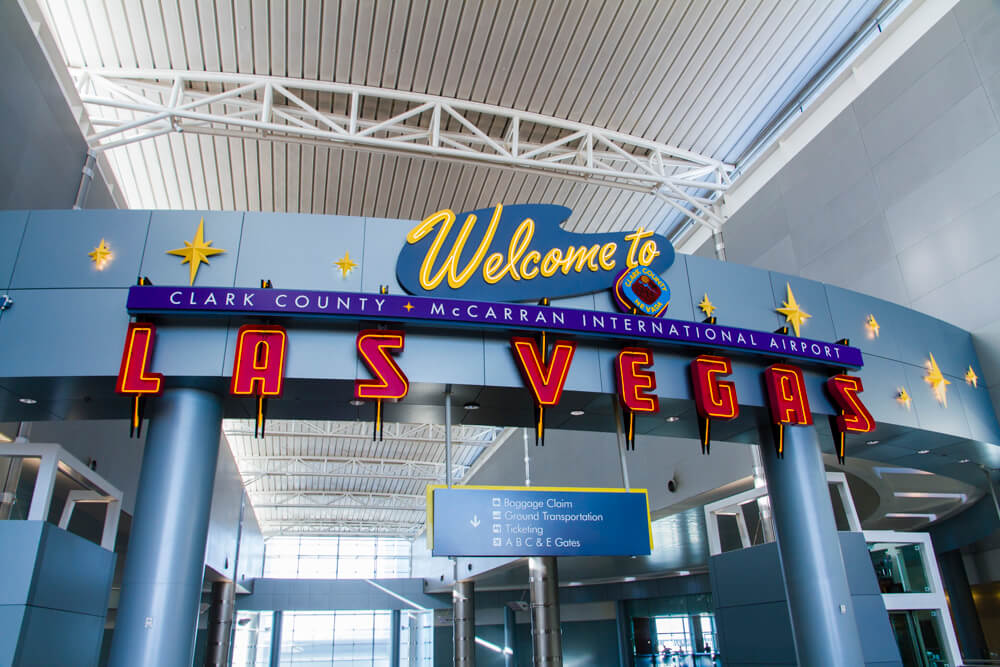 From here, though, we'd have to walk a bit to get to the baggage claim.  That's because in Vegas, Hawaiian uses the D Gate satellite terminal at Terminal 3.  So when you arrive here, you'll need to walk down to the tram station and catch the Red Line.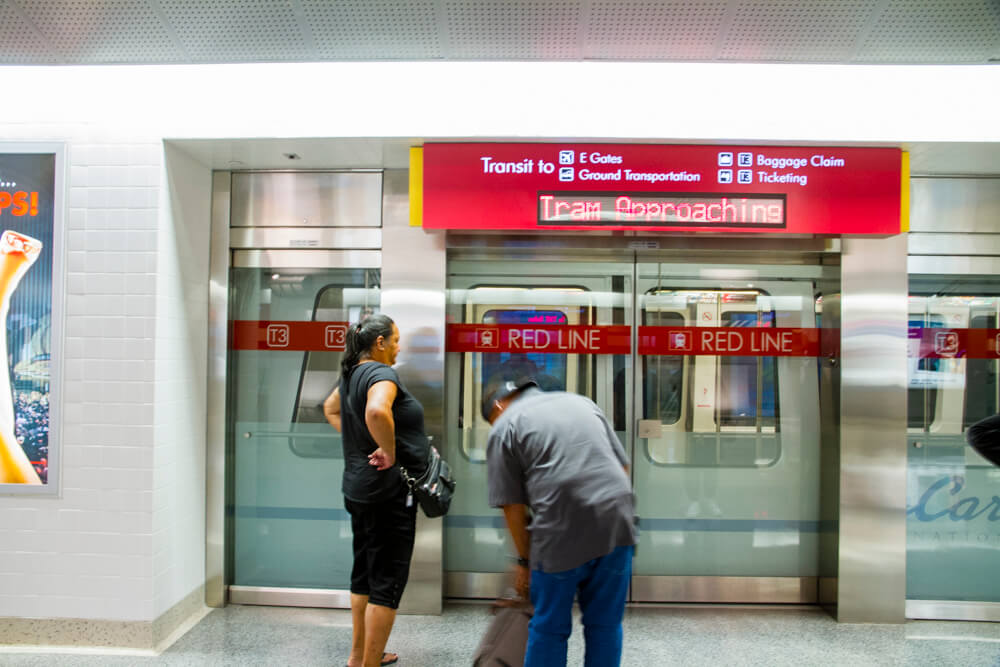 Once on the Tram, it's a quick ride over to Terminal 3, and then another walk to the baggage claim.  From there, we then headed out to the rental car shuttle stop.  The line that day was LONG.  Seemingly everyone on our flight was queued up for the shuttle, and we ended up waiting over 30 minutes to get on one.  Thankfully, we rented with Silvercar, so once we were on the shuttle, I texted them to let them know.  And when we arrived at the Car Rental Center, our Silvercar was just pulling in to pick us up.
The Silvercar Las Vegas Pickup & Return Experience
Our Silvercar host greeted us and helped us load our bags into the trunk of the car.  Our host said that when they can, they usually let customers simply drive the car off from there.  Unfortunately they were short staffed that day, so we had to ride with her back to Silvercar's facilities.  No biggie.  While we were on the way, though, she noticed the car's alignment was slightly off.  So once we got back to Silvercar, she had our car exchanged out for another one.  That took a few more minutes, but it wasn't a big deal either.
Our host was pretty adamant about us having a car with proper alignment when she heard we'd be driving out of state.  And then, she told us to give her a call the day before our longest drive, as they would be getting 2017 cars in.  We didn't take her up on her offer, but that was a really nice gesture for sure!  And from there, she simply showed me how to unlock the car with the app to begin our rental, and we were on our way.
Likewise, when it came time to return our car, we simply brought it back to Silvercar's facility.  Had we been leaving that day, we could have left our luggage in the car and been driven straight to the airport.  And I believe they meant the actual terminal this time and not the car rental center, but I'm not 100% sure.  We weren't headed in that direction, though, so we unloaded the car and headed back to the Strip.  Easy.
Our Silvercar
If you're familiar with Silvercar, then you know that (for the most part) they only rent one type of car: Audi A4.  Our car was a 2015 B8 series A4 2.0T Quattro.  This meant that our car was equipped with:
engine – 2.0-liter 4-cylinder turbocharged motor producing 220hp and 258 ft/lbs of torque
transmission – eight-speed Tiprtonic automatic
drive type – all-wheel drive (60/40 bias)
MPG – 22/31
climate control – automatic, dual-zone
seats – 8-way power adjustable, heated leather seats
lighting – automatic high-intensity discharge headlights with LED  DRLs
audio – 10 speakers, including subwoofer; am/fm/satellite; bluetooth connectivity
navigation – yes, included
cameras – reverse only
The vehicle also had a moonroof, but no USB ports that I could find.  Silvercar did, however, have a USB adapter in the car for us to use.  Not that I needed it… I always travel with my Anker car charger.  Unfortunately, what our car did come with that we didn't want was a funky smell that came out of the a/c vents.  Like, really funky.  But you don't smell after about 5 minutes and I was too lazy to change the car out, so whatever.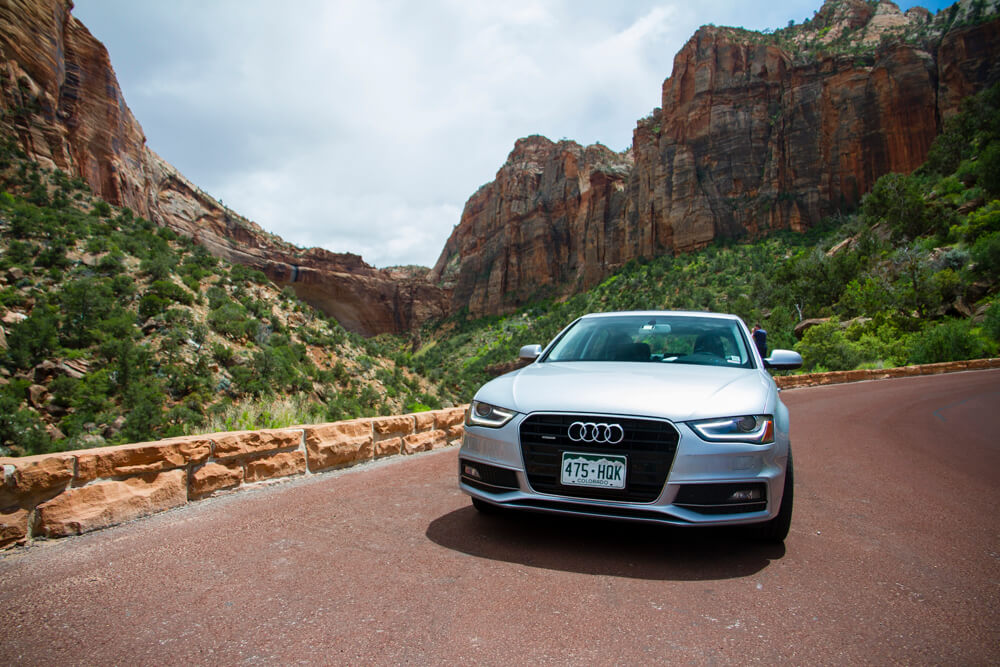 Driving Dynamic
Audi, having a long racing heritage, is often thought of making fun to drive cars.  And since Silvercar's cars are all 2.0T A4 Quattros, I thought the car would be fairly fun.  And you know what?  It wasn't bad.  The car had a decent amount of power and can definitely accelerate faster than my Scion FR-S.  Turbo lag wasn't a bit issue either, though it was there.  The steering was, well, numb, as was the ride.  That wasn't a terribly bad thing, though, as we primarily drove long distances on highways rather than go driving on some fun roads.
The thing that probably irritated me the most about the car's performance was the transmission.  This particular model is equipped with a standard, torque-converted 8-speed automatic transmission.  But, the transmission took forever to shift from drive to reverse.  The car would also roll back or forward like a dual clutch or manual when shifting from drive to reverse.  In fact, I thought it was a dual clutch transmission until I looked it up!
Back home Mrs. Island Miler drives a 2015 Subaru WRX, which also has all-wheel drive and a 2.0 turbocharge 4-cylinder, so of course I have to make some comparisons between the two!  That being said, the WRX weights about 300 pounds less than the A4, and produces 48 more horses and the same amount of torque.  And that difference in weight and horsepower do make a significant difference.  The WRX feels a lot quicker, and of course, handles much better.  Plus the WRX's power distribution is set to a 40/60 bias, the exact opposite of the A4, allowing it to oversteer more.  But one is a rally-inspired sports sedan, while the other is a near-luxury sedan, so not exactly the same despite similar specs.
Silvercar Las Vegas Final Thoughts
Admittedly, this isn't my kind of car.  I was also a little apprehensive of my rental experiences due to the very mixed Yelp reviews this location received.  But you know what?  The Silvercar rental experience is so much better and easier than the standard car rental experience.  Was it more expensive than the compact car I usually rent from a standard agency?  Sure, but I wanted a better car anyway for our road trip to Utah.  So the price ended up being similar to what I would have paid for an upgraded car with the other car rental agencies anyway; especially since I used my Chase Sapphire Reserve 30% discount code.
Did everything go smoothly?  Not really.  There was the matter of the car smelling weird.  But like I said, I could have tried to swap cars, but I was too lazy…  So that's on me.  The one thing I would prefer, though, is to be picked up from the airport rather than the car rental lot.  That line for the shuttle bus was awful and added a full 40 minutes to the process.  But, I realize this may not be possible due to local regulations anyway and isn't really a deal killer.
Overall I thought our Silvercar rental experience was a good one.  I'm happy I finally got to give them a try and will definitely be renting with them again in the future.