Heads up Silvercar renters!  Silvercar reduces Visa Infinite discount effective immediately and without warning!  How do I know?  I just tried to modify an upcoming reservation and they're saying my discount code is no longer valid.  And changes have happened on Chase's side too.  Oh, and they upped a fee too.
I love renting from Silvercar.  Lately, whenever I've traveled, I've always rented my car with them.  Yes, it can be a little inconvenient to have to go to a car rental center and then go to yet another facility, but to me, it's worth it.  They only rent Audi A4s, Q5s, and A5 Cabriolets, so you know what you're going to get each and every time.  Plus, they don't charge you extra fees for tolls, GPS, WiFi, ski racks, car seats, etc. either.
Visa Infinite Discount Change
When I was trying to modify an upcoming reservation for next April, the system kept giving me an error message.  Then, when I tried to book a completely new reservation, the system said the VINFINITE discount code is not valid.  So, I logged into my Chase Sapphire Reserve account to see if anything changed.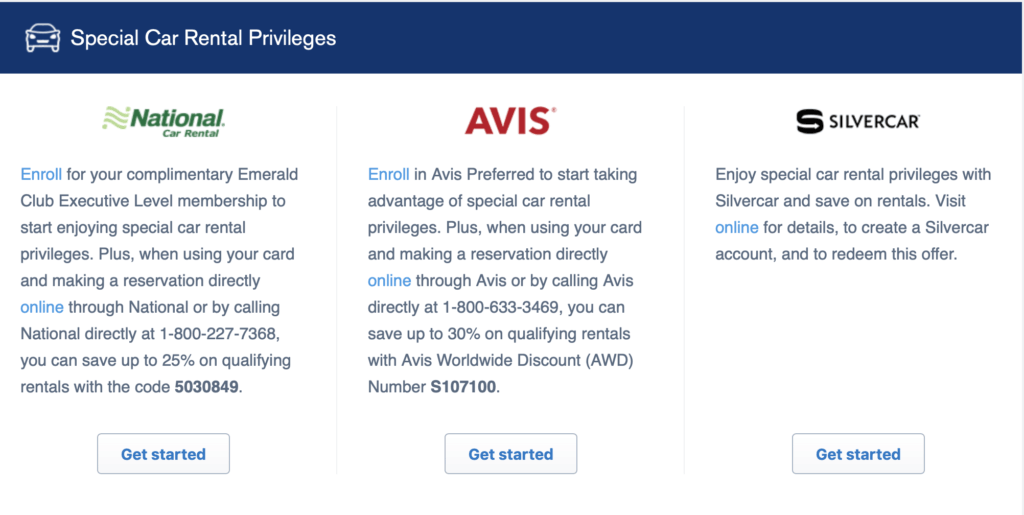 And, sure enough, the verbiage on Chase's site is different.  No longer is a discount amount disclosed, and clicking "Get Started" button brings you to an error page.  However, clicking the "online" link brings you to the following page.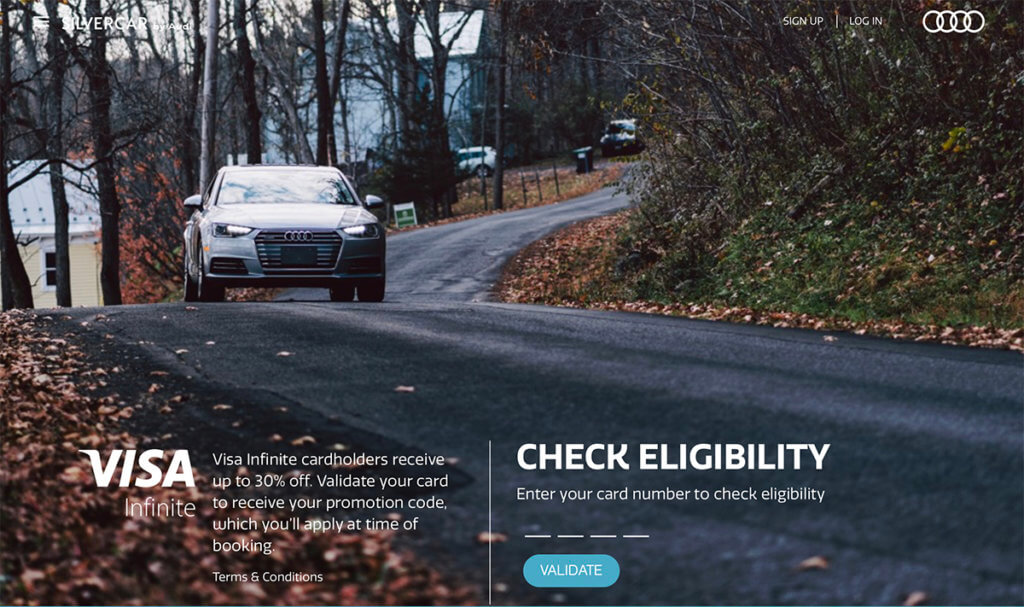 Silvercar's landing page, ironically, continues to advertise up to 30% off for Visa Infinite cardholders.  However, when I entered my card number to check eligibility, I got the following: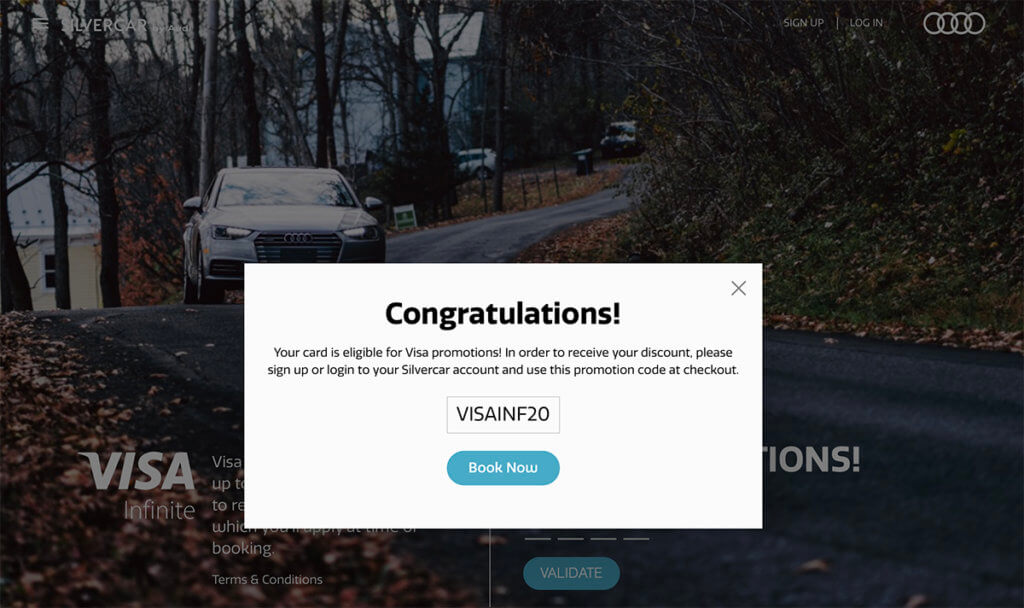 My new discount code is, apparently, VISAINF20.  And I'm guessing that 20 represents 20% off, not 30% off.  And, sure enough, when I punched in the code using the exact same dates, times, and location as an existing reservation, I got this: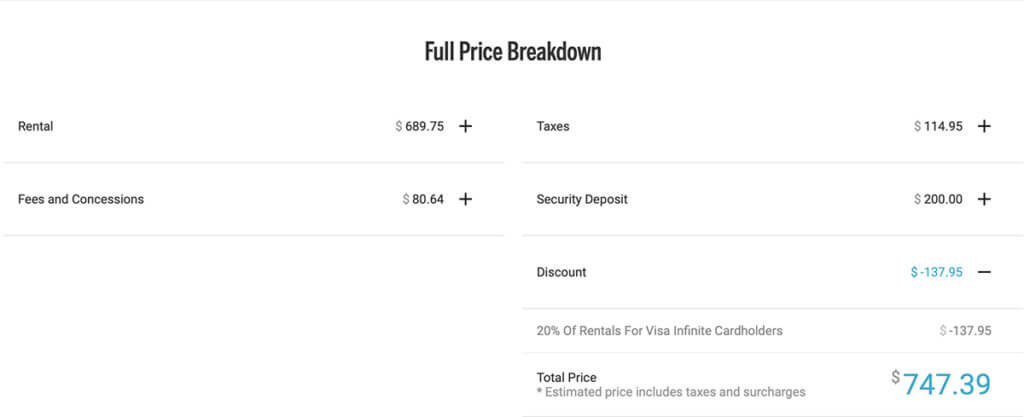 Yup, that's only 20% off my over week-long rental.  And, for reference, here's my existing reservation.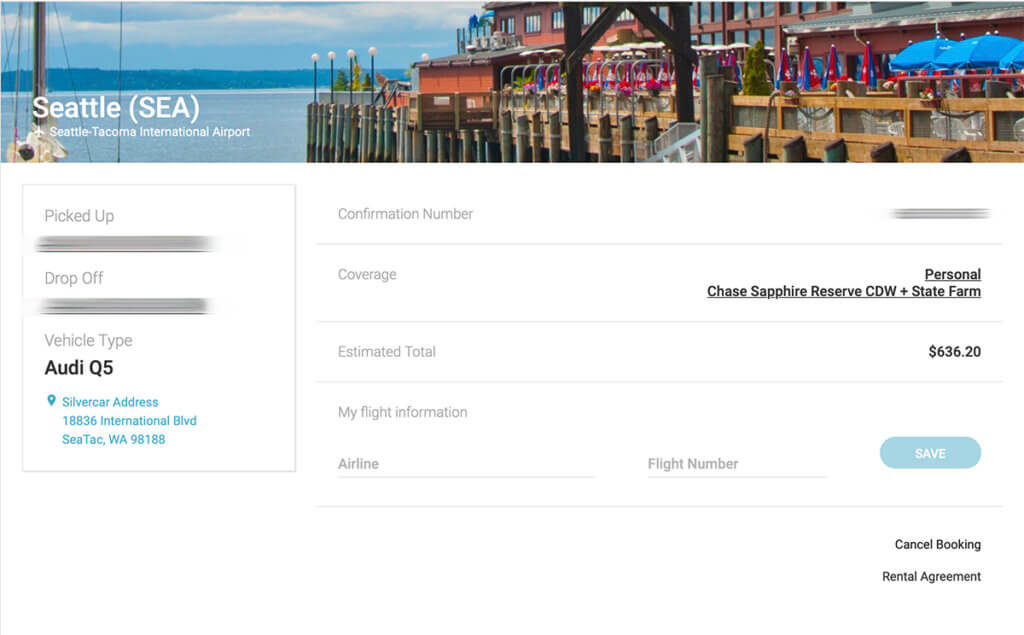 That's a price difference of over $100 for the same vehicle, same dates, and same location!
Silvercar Ups a Fee
But that's not all, upon receiving my invoice for the rental I just completed, I noticed the refueling service charge doubled!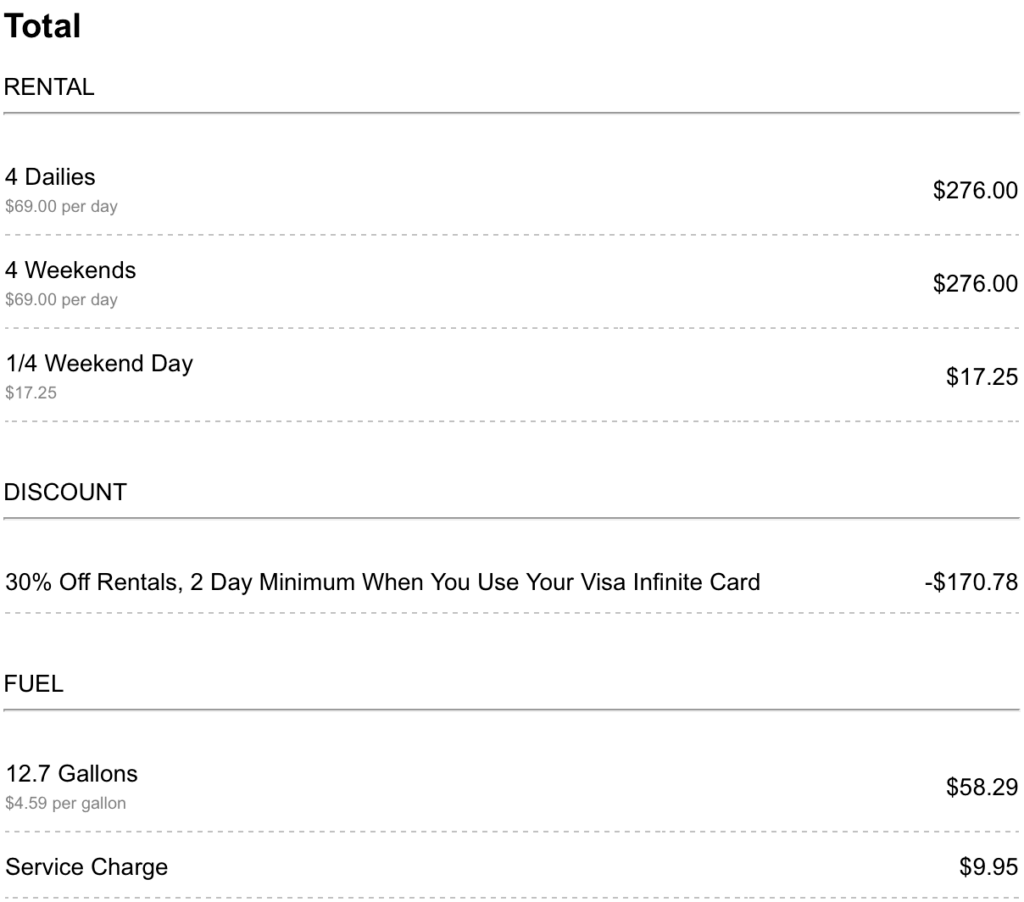 Up until shortly before I left for San Francisco SFO, they were advertising a $5 service charge for vehicles returned with less than a full tank of gas.  But now, that fee is $10.  And, again, no notification was sent regarding the change, nor had anyone mentioned it to me.  It's a small amount, yes, but it's irritating that nothing was communicated about the change.
It was also pretty different from my Silvercar experience just a few months ago in Seattle.
Silvercar Reduces Visa Infinite Discount, Final Thoughts
I've been a little wary of potential changes happening since Audi's takeover of Silvercar.  And, it appears, that my concerns weren't unwarranted.  Silvercar has increased one of its fees while simultaneously decreasing a discount benefit all without prior notice.  But, on the other hand, the last two cars I had with them were better equipped than my first few rentals.  And, I can't blame them for reducing discounts as they become more popular either.
But, with these changes, I can no longer blindly rent from them anymore.  A $100 difference is nothing to sneeze at, especially if similarly nice cars can be had for around the same price from other agencies too.  True, I could get slammed with extra fees for incurring tolls and what not, but I'll have to weight those out with the increase in rental prices from Silvercar going forward.
How do these changes affect you?  Will they change your car renting habits too?