In general, it doesn't seem that loyalty programs and credit card companies do a good job of sharing information with each other. Often the left hand doesn't know what the right hand is doing, and that creates an opportunity for points and miles earners to take advantage of holes in the system.
When it comes to receiving emails from loyalty programs, I am often underwhelmed by the accuracy of the information contained within the message. They either show out of date points balances, don't acknowledge status levels or don't even accurately reflect the card that you hold.
Most of the time these inaccuracies come from incomplete or out of date data sharing between the credit card company and the loyalty program, which affects the ability to deliver meaningful email messages. This is a problem that is not unique to the travel industry, but an issue with anyone who sends mass personalized emails to their users. It's just the reality of how email marketing works when data is being shared between organizations.
That's why I was so surprised when I received this email from Starwood the other day, because it provided an extremely accurate depiction of my status as an SPG Amex cardholder.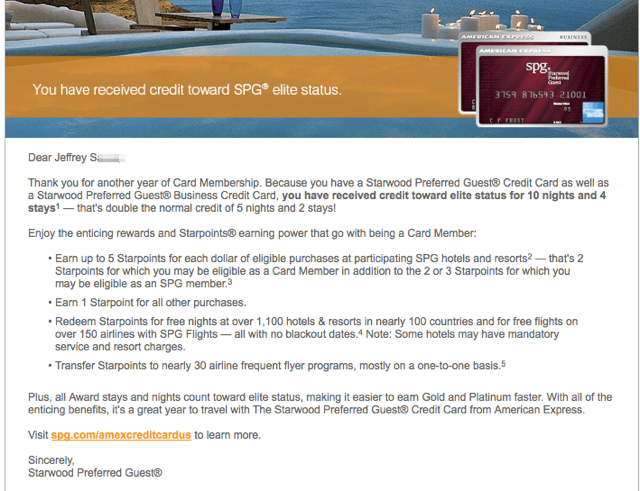 Not only do they acknowledge that I am a cardholder, but they know that I hold two SPG American Express cards, one personal card and one business card. The first paragraph of the message is composed around this fact, which means that they are consciously marketing to me as a person who has two of their cards.
This is a great example of using segmentation to provide me with a relevant and accurate email message. Starwood (specifically their email agency) likely wanted to craft an email and decided that rather than sending a single message to all cardholders, they wanted to send targeted messages to specific types of cardholders.
They personalized the message by creating 3 or 4 segments of cardholders:
Personal SPG Amex cardholders
Business SPG Amex cardholders
Personal + Business SPG Amex cardholders
(potentially) Lapsed SPG Amex cardholders – i.e. those who used to hold a card, but canceled it at some point.
It takes a little more effort to create email messages of this nature, and there are technical hurdles involved with getting this done, but the result is so much better than the sterile marketing junk that you normally see from loyalty programs.
This is smart marketing. Nice work SPG and American Express!
Maybe credit cards and loyalty companies are smarter than we think?
P.S. Since I do marketing for my profession, I thought it would be fun to post some thoughts on the messages we receive. Let me know if you like to see this type of post.