Since the Q5 joined the Silvercar fleet, I've wondered why not the Q7.  Well, I no longer have to ask, as the Audi Q7 joins the Silvercar fleet! 
Yesterday, I got an e-mail from Silvercar that the Audi Q7 is now available to rent!  And that's great news for those that need a bigger car.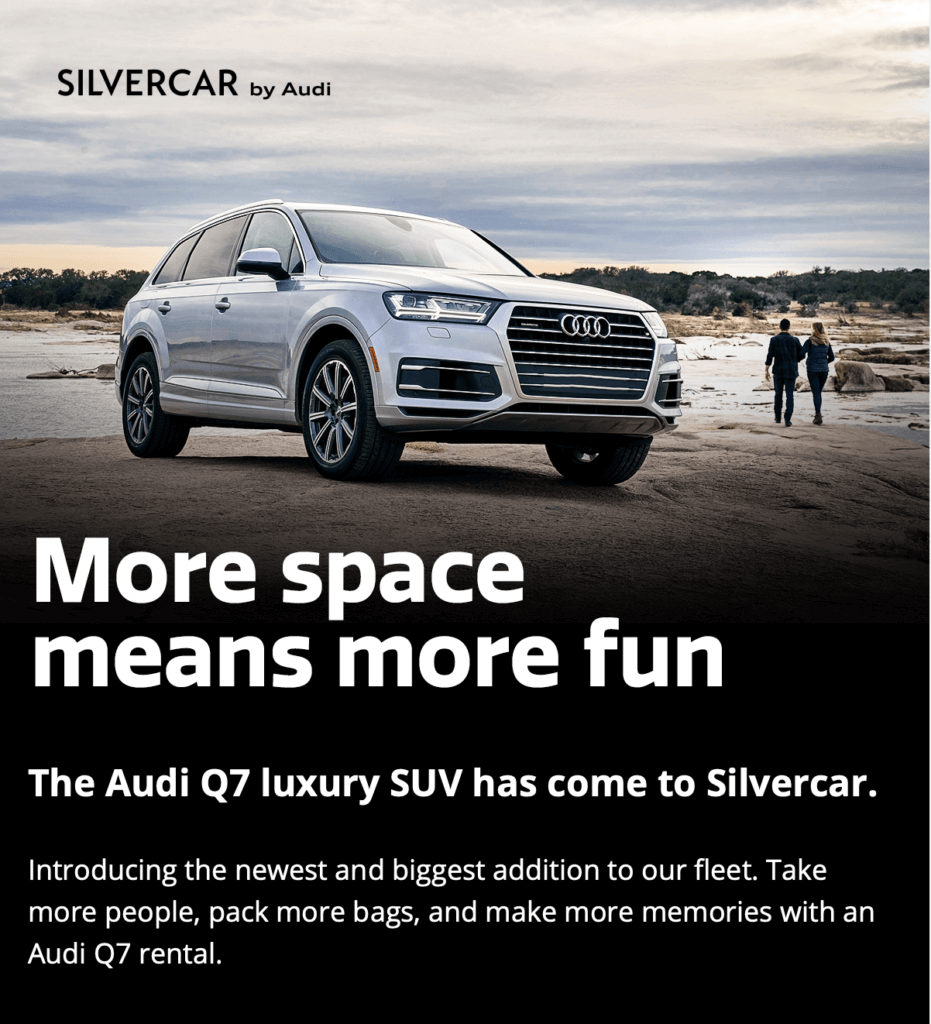 But Silvercar already offers the Audi Q5, you may say.  True, however, the Q5 isn't all that bigger than the A4; especially when you're looking at passenger volume.  As a result, to me, the Q5 is for people that need a bit more cargo space, wish to sit higher, or a combination of the two than the A4 provides.  The Q7, on the other hand, is for people that need more people carrying capacity or a lot more cargo space.   
The Audi Q7
Without a doubt, the Audi Q7 is the largest and most expensive vehicle in the Silvercar lineup.  And it's going to be the best option for families needing more space, as it's the only Silvercar SUV with a third row.  So here are the specs that matter for the Q7:
Seating Capacity: 7
Headroom and Legroom: front – 38.4″/41.7″, 2nd row – 38.8″/38.8″, 3rd row – 35.9″/29.2″
Cargo Capacity: 71.6 cubic feet with all rear seats folded, 37.5 cubic feet with the third row folded, and 14.8 cubic feet with the third row deployed
Fuel Economy: 25mpg hwy/19 city/21 combined
Fuel Capacity: 22.5 gals 
Engine: 3.0-liter six-cylinder producing 329 HP and 325 ft/lb of torque
Performance: 0-60 in 5.6 seconds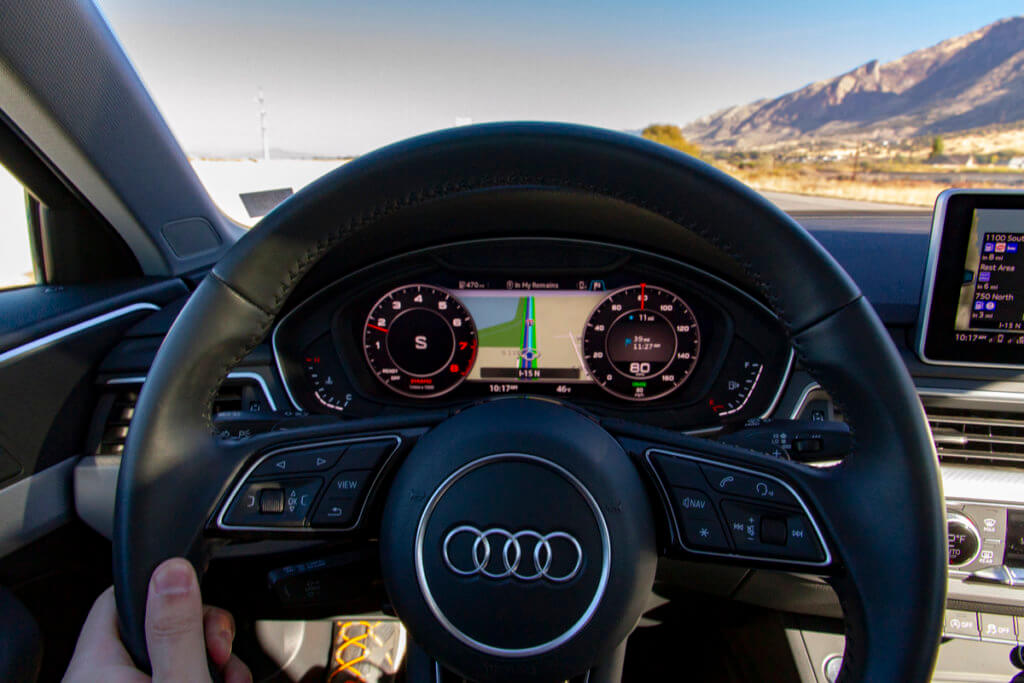 Comparison
Obviously, the Q7 is going to be your only Silvercar choice if you need to carry more than 5 people.  But if passenger capacity isn't a limiting factor, then what about overall space and comfort?  As a result, let's take a look at the two other Silvercar vehicles those without seating capacity constraints may consider.
Audi Q5
While far from being Audi's smallest crossover, the Q5 is smaller than Q7.  And while you might think that means less passenger space overall, that isn't necessarily the case.  You see, in the Q5, front seat passengers enjoy 40.2 inches of headroom and 40.9 inches of legroom.  For those in the back, the Q5 offers 37.7 inches of headroom and 37.8 inches of legroom.  Cargo capacity comes in at 60.4 inches with the rear seat folded and 26.8 inches in regular configuration.  
So, as you can see, the Q5 and Q7 both have a similar amount of passenger space.  Most dimensions come in at about one-inch less than the Q7, though the Q5 offers more front passenger head space.  Cargo capacity is also, unsurprisingly, better with the Q7.  The Q5, by the way, is quite a bit more efficient too, coming in at 27/23/25 mpg.  However, the Q7 is quicker, as it takes the Q5 0.3 seconds more to hit 60.  
Audi A4
You'd think that the A4 would do worse than the above two vehicles in every way, but not necessarily.  You see, while the squatter A4 has less headroom (38.9 inches), it bests the Q5's legroom with 41.3 inches up front.  Rear passenger space, though, suffers a bit, with 37.4 inches of headroom and 35.7 inches of legroom.  Cargo capacity comes in at 13 cubic feet; this is a sedan, after all.  And, in case you're wondering, yes, the A4 gets much better mileage than either of the Q-series models at 34/24/27 mpg, and matches the Q7's 5.3-second 0-60 time.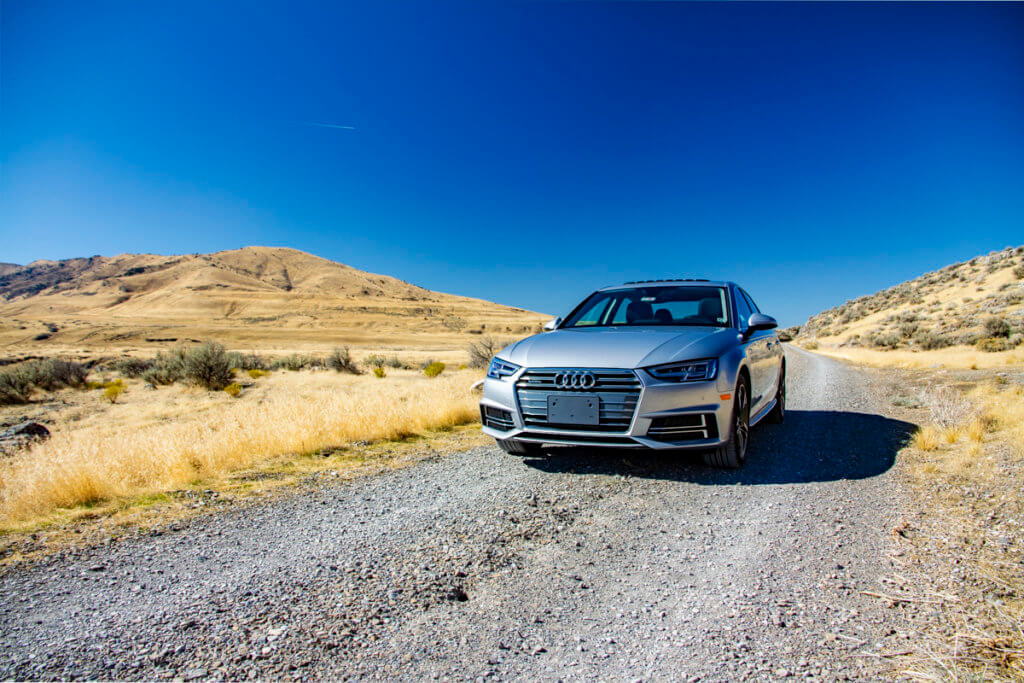 Availability + Pricing
Ok, enough of my blabbering and onto the stuff you really want to know!  The Q7 can be reserved now for reservations beginning on February 15 at the following locations: 
Denver, CO
Fort Lauderdale, FL
Los Angeles, CA
Miami, FL
Orlando, FL
Phoenix, AZ
Tough the above is a list of locations the Q7 is available at now, it is going to roll-out to additional locations through June 2019.  As far as pricing goes, I took a random sample of dates and locations and found a range of $67 to $109/day.  That places the Q7 as the most expensive vehicle in Silvercar's fleet to rent.  But hey, that makes sense, as it's also the most expensive Silvercar to buy if you were buying one yourself.  
The Audi Q7 Joins the Silvercar Fleet, Final Thoughts
I'm glad to see Silvercar has finally come to its sense and made the Q7 a part of its collection.  But, it's a vehicle I likely won't be renting.  It's more car than I usually need and one I wouldn't want to drive in downtown San Francisco or Seattle (once it gets to those markets).  Or Vegas for that matter but it might be perfect for a trip around Salt Lake City.  Plus, there's the question of if it's even worth renting from Silvercar anymore to begin with?  Only time will tell.  And, hey, for what it's worth, I'm still hoping Silvercar will add the RS3, S4, or even TT RS to its lineup.  Wishful thinking, I know, but being able to rent one of those cars would be a lot of fun!