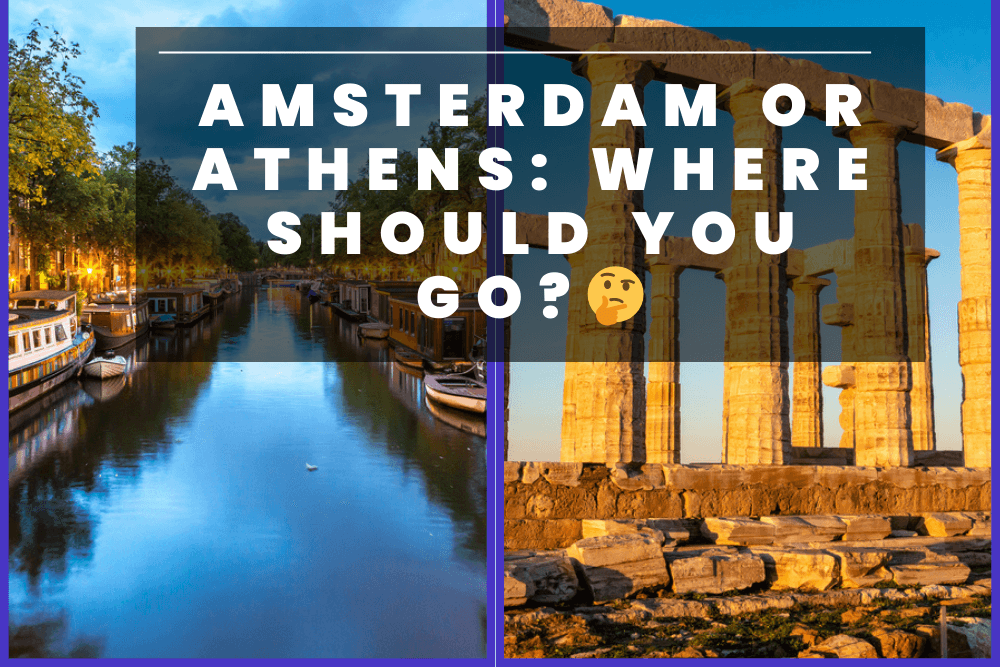 No matter how different, Athens and Amsterdam are both entrenched in history and culture, offering an unforgettable experience, albeit in contrasting manners.
Whether you're a history enthusiast looking to unravel ancient mysteries, a foodie eager to embark on a culinary journey, an art lover yearning for masterpieces, or a simple soul seeking natural beauty in a foreign land, both Athens and Amsterdam promise to satiate your wanderlust.
But since you only can pick one destination for your next trip let's see what makes Athens and Amsterdam so different!
Athens boasts ancient ruins such as the Acropolis, Mediterranean warmth, and delectable Greek cuisine. Amsterdam entices with its picturesque canals, a mix of modern and historic architecture, and iconic museums like the Rijksmuseum and Van Gogh Museum. Whether seeking a deep dive into antiquity or a relaxed canal-side ambiance, both cities promise unique cultural adventures.
While I've spent most of my life living in the second largest city of Greece, Thessaloniki, I've visited Athens more times than I can count and with each visit I found new places to explore, and each offered unique experiences.
This summer, I decided to visit Amsterdam for the first time; it was like nothing I've experienced. With both cities in mind, I believe I can provide a nuanced insight into both of them.
So, if you're still not sure where you want to spend your next vacation, I suggest reading my ultimate guide. Let's discover what these two destinations offer, whether that's the food, art and museums, beaches or charming canals, and much more!
Snapshot Comparison
Athens:
Ancient ruins of the Acropolis, the Temple of Zeus, and more.
Charming old-town streets of Plaka with neoclassical vibes.
The market of the Monastiraki Flea Market.
Mediterranean climate with hot summers.
Authentic flavors of traditional Greek dishes with live Rebetiko music.
Coastal areas and island-hopping opportunities.
Mount Lycabettus, is great for hiking and walking, it offers a panoramic view of Athens

Vibrant nightlife centered around Plaka and Gazi.
Amsterdam:
Explore the city's heart and discover Amsterdam's history through the canal cruises.
The only floating flower market in the world, the Bloemenmarkt.
Renowned museums and historical sights, from the Van Gogh Museum to Anne Frank's house.
Bike tours are a great way to navigate the city on two wheels.
The public transportation is reliable and the metro is easy to use.
The nightlife is famous for the Red Light district and trendy bars.
Unique café culture and cannabis treats.

Heineken's oldest brewery in the heart of Amsterdam.
Quick Overview & Comparison Of Athens And Amsterdam
If you want to quickly make up your mind then let's see which city suits your vibe!
If you are someone who enjoys combining gastronomy with history, Athenian tavernas will immerse you in authentic Greek flavors and melodies. The Psiri in Athens provides traditional Greek dining in its historical neighborhood, away from the main tourist trails.
If you are the type of traveler who enjoys quirky museums, Amsterdam's Cat Cabinet (KattenKabinet) is a unique tribute to our feline friends in a grand 17th-century canal house. Or if you want to discover how sex evolved throughout human history then Amsterdam's Sexmuseum right in the center of the city, with its extensive collection of paintings, pictures, and artifacts is worth a visit!
If you are someone who enjoys hidden architectural marvels, the Little Metropolis in Athens, constructed using parts from ancient pagan temples, is a quaint Byzantine-era gem. As well as, the Plaka district in Athens where you can enjoy the atmosphere of old-town streets.
If you enjoy navigating a city through picturesque waterways, then Amsterdam's serene canal cruises will enchant you and teach you about the city's incredible history and architecture. Plus Amsterdam is the perfect place to escape touristy crowds by visiting the Rembrandt Park for a scenic picnic.
If you are someone who enjoys the mysteries of ancient religions, the Temple of Olympian Zeus, once a monumental temple, tells tales of Greece's rich mythology. As well as the Temple of Hephaestus in Athens' Ancient Agora which stands remarkably well-preserved.
If you are the type of traveler who enjoys contemporary art, Amsterdam's Moco Museum showcases modern, contemporary, and street art from renowned artists. The EYE Film Institute in Amsterdam is a visual delight for all of you postmodern architecture lovers!
If you're dreaming of enjoying a serene escape by the sea, Athens' nearby beaches, like Vouliagmeni and Astir, offer golden sands and crystal-clear waters for perfect Mediterranean relaxation.
If you are the type of person who fancies cycling as the ideal way to explore, Amsterdam's bike-friendly pathways will make you feel right at home.
Which City Is Cheaper?
Both Amsterdam and Athens, with their unique flavors and experiences, might be calling out to you, but if you're wondering where you'll get more bang for your buck, then this section is for you!
Accommodation:
Amsterdam's city center, with its iconic canal belt, is dotted with a plethora of accommodation options. From boutique hotels to Airbnb rentals. However, this dreamy setting comes with a price.
Prime canal-side properties or accommodations in hip neighborhoods like Jordaan or De Pijp tend to be on the higher side. But if you're traveling on a budget you can still make things work, there are plenty of hostels and budget stays. Admittedly some might be less luxurious than others.
I traveled to Amsterdam with two of my best friends and we rented a three-bedroom hotel room, for less than 60 euros a night each, which helped us save some money. The hotel was close enough to the center, and we only had to take a 10-minute metro ride to reach the heart of the city!
Athens accommodations on the other hand won't have to cost you an arm and a leg, and depending on the area and the type of hotel you're staying in chances are it will be much cheaper compared to Amsterdam.
From budget-friendly hostels to mid-range hotels and luxury stays, Athens offers a rich tapestry of lodging choices. Areas like Plaka or Monastiraki are tourist hubs, so prices might be higher, but a short metro ride out can land you some fantastic deals.
Transportation:
The Dutch capital is the embodiment of a cyclist's utopia. Winding streets, dedicated cycle lanes, and flat terrain make renting a bike both an economical and delightful experience.
While cycling is a great option, if it isn't your jam, Amsterdam's comprehensive tram, bus, and metro system won't disappoint. I'd suggest investing in a day or multi-day travel card for unlimited rides. Boats and taxis are available but tend to be pricier.
Athens can be difficult to navigate because it's divided into seven different city districts. That being said, Athen's public transport system, especially the metro, is quite efficient and wallet-friendly. Additionally, buses and trolleys complement the metro lines. Taxis in Athens are reasonably priced by European standards, especially if you're sharing with fellow travelers, but they can overcharge tourists.
Activities And Attractions:
From the Van Gogh Museum to the Sexmuseum, cultural attractions in Amsterdam are top-notch but come with entry fees, some more significant than others.
Cruising the canals, while magical, can also add up. However, a simple stroll through Amsterdam's historic streets, or wandering the vibrant markets can be lighter on the pocket.
My advice would be to avoid Amsterdam in the summer if large crowds are not your thing. I didn't take my own advice, but I still managed to enjoy my stay even if all my photographs were filled with other people!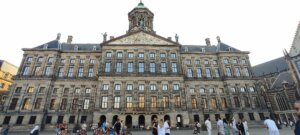 Athens boasts landmarks like the Parthenon and the Ancient Agora. There's an entry fee to these iconic sites, but the combined tickets offer good value. And let's not forget, that wandering through neighborhoods like Anafiotika or along the beaches of the Athenian Riviera is completely free!
Food And Nightlife:
I will be honest, coming from Greece, Amsterdam's cuisine didn't impress me, and while some traditional Dutch eateries offer meals at moderate prices they weren't always as appetizing.
But we're not here to judge the taste, not yet at least, so let's talk about pricing. Restaurants and even fast food in Amsterdam are a bit more expensive compared to Athens. Instead, Amsterdam is worth a visit just for its vibrant nightlife, be it in chic clubs, cozy bars, or the iconic Red Light district, but the cost generally leans towards the higher side.
Everyone knows how great Greek cuisine is, but it's also extremely affordable. Whether we're talking about street food like souvlaki, or "kalamaki" as they call it in Athens, to lavish spreads in traditional tavernas, Athens offers a gastronomic feast without a hefty price tag. Nightlife in areas like Gazi or Psirri is vibrant, and you can find plenty of affordable options to stay up all night enjoying local drinks accompanied by live music!
So, What's The Verdict?
While both cities offer invaluable experiences, when it comes to sheer cost, Athens emerges as the more economical choice. While the metro tourist passes might cost relatively the same both in Athens and Greece, and you will have to pay entry fees in most museums, the food, nightlife, and accommodation in Athens won't cost you nearly as much as it will in Amsterdam.
Which City Has The Best Food And Restaurants?
Food tasting is one of the best reasons to visit a different country, at least in my humble opinion. So, which city does food best, Athens or Amsterdam?
Starting off with Athens, for those who adore the rich flavors of the Mediterranean, the Greek capital is the perfect playground! From the heartwarming moussaka to the zesty tzatziki, every bite in Athens will have you asking for more!
You can spend a night eating at a high-class restaurant, but you can also enjoy cheap but still delicious fast food eating gyros, opt for cheap dinners with homemade traditional food, or seek out a small tavern by the sea!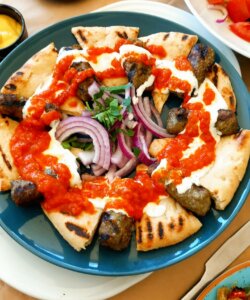 This might look like a simple dish but I promise you, you need to try Greek soutzoukakia!
So, whether it's a rustic eatery in Plaka or a luxurious rooftop overlooking the Acropolis, you're in for an experience that merges taste with culture. Athens is also the best city to save up on food without losing the taste and quality. Just remember to veer off the tourist track!

Admittedly, Dutch food is not for everyone, and it certainly can't compete with the diverse Greek cuisine but that doesn't mean you will find yourself starving.
The Dutch capital's culinary scene is a mosaic of international influences thanks to its rich sea-faring heritage. Beyond the iconic cheese and herring, Amsterdam presents a culinary diversity – think Indonesian satays and Surinamese rotis.
While the traditional Dutch stamppot might be an acquired taste for some, there's no denying the charm of a cozy 'bruin café' with its hearty winter dishes. As for restaurant quality, Amsterdam boasts everything from Michelin-starred establishments to bohemian riverside cafes. Price tags can be heftier compared to Athens, but there's a range for every budget.
So, What's The Verdict?
Perhaps I'm biased, but I truly believe Athens is worth a visit just for the food it offers! This city is a culinary treasure trove and most importantly you don't have to spend more than you can afford!
How Do The Culture And History Compare?
Both Amsterdam and Athens are two cities steeped in rich histories, yet vibrating with a pulsating contemporary culture. They are also very different from one another.
Dubbed the 'Cradle of Western Civilization,' Athens' ancient landmarks like the Acropolis and the Temple of Olympian Zeus stand as testimony to its profound influence on art, philosophy, politics, and architecture. The tales of legendary philosophers like Socrates, Plato, and Aristotle are not just legends but are interwoven into the city's psyche. Ancient Athens was the birthplace of democracy, a legacy that resonates even today.
But Athens isn't just about its golden past. Modern Athens hums with a vivacious energy. Street art adorns its alleys, contemporary galleries showcase avant-garde works, and traditional rebetiko music finds harmony with modern beats in its bustling nightclubs. This fusion of the old and new creates a dynamic cultural landscape.
Nestled in the heart of Europe, Amsterdam's canals have witnessed tales of maritime prowess, an age of enlightenment, and wartime tragedies. The Dutch Golden Age, spanning the 17th century, was when art, science, trade, and the empire flourished, its remnants still palpable in the stately canal houses and venerable museums like the Rijksmuseum.
Amsterdam also became a haven for religious refugees and thinkers, culminating in an ethos of tolerance and liberalism, which you can feel in the city's welcoming embrace today.
Fast forward to modern times, Amsterdam is the epitome of cosmopolitan charm. Whether it's the LGBTQ+ pride, the ecological initiatives championed passionately, or the bike culture defining the cityscape, Amsterdam's contemporary culture is progressive, inclusive, and green.
So, What's The Verdict?
Both cities beckon history buffs and culture enthusiasts, the question is whether you're drawn to ancient ruins, myths, and a buzzing city that feels modern and ancient at the same time. Or perhaps you're looking for a cozy northern atmosphere with picturesque architecture and historic canals.
How Do The Art And Entertainment Compare?
When it comes to vibrant expressions of art and unbridled entertainment, both Amsterdam and Athens can put up a strong fight.
Let's embark on a journey through their creative realms and see which one speaks to you the most!
Museums And Historical Monuments:
Amsterdam: Amsterdam's Museum District is an art lover's dream. Anchored by the illustrious Rijksmuseum, housing masterpieces from Rembrandt to Vermeer, it's a journey through centuries of European artistry.
Nearby, the Van Gogh Museum celebrates the life and works of the tormented genius, with "The Sunflowers" and "The Bedroom" being highlights.
Contemporary art enthusiasts have the Stedelijk Museum to explore, showcasing avant-garde pieces from the 20th century to today. Beyond art, Anne Frank House narrates a heart-wrenching tale from the Holocaust, making it an essential historical visit.
Athens: Stepping into Athens feels like leafing through an age-old history book. The iconic Acropolis, with the majestic Parthenon, offers panoramic views of a city where ancient temples, theaters, and public spaces evoke its glorious past.
As you can see in the photograph, Athens is a mosaic of ancient ruins, churches, and old houses, with the Acropolis at the top!
For an immersive experience, the Acropolis Museum curates artifacts from the Ancient Greek civilization, while the National Archaeological Museum flaunts treasures spanning millennia. Modern and contemporary art finds a home at the National Museum of Contemporary Art, representing the city's evolving artistic narrative.
Of course, that's just the tip of the iceberg. Sprinkled across Athens you will find Old Orthodox churches, museums, and art galleries!
Festivals:
Amsterdam: Amsterdam bubbles with festivities year-round. From the tulip bloom in Keukenhof gardens during spring to the King's Day, where the city turns orange in honor of the monarch, there's always a reason to celebrate.
Pride Amsterdam, a vibrant celebration of love and diversity, lights up the canals, making it one of the city's most cherished events. The Amsterdam Light Festival during winter is another visual spectacle, illuminating the city with dazzling installations.
Athens: Festivals in Athens are a testament to its rich heritage and vibrant present. The Athens & Epidaurus Festival showcases classical Greek dramas in ancient amphitheaters, reviving age-old traditions.
The Apokries, or Carnival season, is a blend of masquerades, dancing, and feasting, culminating in Clean Monday, where Athenians fly kites and relish special delicacies. Athens Jazz Festival in Technopolis is a mecca for music enthusiasts, bringing global jazz talents to the city's heart.
Nightlife:
Amsterdam: As the sun sets, Amsterdam awakens with a different energy. The city brims with bars, clubs, and theaters, promising diverse nighttime adventures.
From the iconic Red Light District, which is as much about its unique history as its vibrant bars, to electronic dance meccas like Paradiso (open 24 hours) and Melkweg, Amsterdam caters to every taste.
But be prepared for huge crowds around the Red Light District, especially during peak seasons, remember to always be respectful, and taking pictures in the Red Light District is a strict no-no and can get you into trouble.
For a cozier vibe, Jordaan's brown cafes offer intimate settings with traditional Dutch music in the backdrop.
Athens: Athens' nightlife is legendary. Begin with a sundowner at a rooftop bar overlooking the illuminated Acropolis, then make sure to visit the districts of Gazi, Psirri, and Exarchia that buzz with tavernas, bars, and clubs.
Traditional "rebetadika" venues, celebrating rebetiko music, offer an authentic Greek experience. For those inclined towards modern beats, Athens' clubs host international DJs, making you dance till the first light of dawn.
So, What's The Verdict?
I must admit that Amsterdam and Athens are quite similar, not only because they are the perfect cities for those who want to spend most of their day visiting museums, but they also have a similar coffee culture that you don't often find in Northern countries. Athens and Amsterdam are also both great party cities, so we might have a tie here!
How Does The Natural Sights Of Athens And Amsterdam Compare?
Both Athens and Amsterdam, while primarily celebrated for their historical and cultural wonders, don't shy away from flaunting their natural treasures.
Athens: Athens' topography is a dynamic combination of hills and valleys. The iconic Acropolis Hill isn't just a historic marvel, but also a vantage point offering panoramic vistas of the sprawling city, framed by distant mountains and the shimmering Saronic Gulf.
Mount Lycabettus is another natural highlight. A hike or funicular ride up this limestone hill rewards you with a serene chapel, a bustling café, and arguably the best sunset views over Athens.
If you're interested in the Attica region, where Athens is nestled then you need to visit the Athenian Riviera, a stretch of coastline from the southern suburbs of Athens to the tip of the Saronic Gulf, which boasts azure waters, sandy beaches, and upscale resorts.
Vouliagmeni Lake, with its therapeutic waters and lush surroundings, is a tranquil retreat. For the adventurous, the nearby mountains like Parnitha offer hiking trails amidst rich biodiversity, ancient ruins, and the hauntingly beautiful Tatoi Palace.
Amsterdam: Amsterdam's charm lies in its intricate network of canals, which not only defines the city's layout but also its unique character. These waterways, lined with tall, narrow houses and interwoven with bridges, offer picturesque views, especially during sunrise or sunset.
I truly wish I had taken more photos of the canal trip, but I simply couldn't take my eyes away from the view!
While Amsterdam's elevation lacks dramatic highs, the interplay of water, architecture, and greenery creates a serene urban landscape. The Amstel River, flowing through the city, provides idyllic spots for picnics or leisurely boat rides.
The countryside surrounding Amsterdam is as Dutch as it gets. Think vast tulip fields bursting in colors, historic windmills standing tall against the horizon, and flat landscapes interrupted only by canals and cycling paths.
The Waterland and Zaan Region, just a short trip from the city, transports you to a world of quaint villages, traditional farms, and the iconic Zaanse Schans with its historic windmills.
Amsterdamse Bos, the city's largest park, offers forested areas, waterways, and recreational activities, making it a green haven for nature enthusiasts.
So, What's The Verdict?
While both cities are steeped in history and culture, their natural sights offer contrasting experiences.
Athens thrills with its blend of towering hills, archaeological ruins, and coastal beauty. Amsterdam, on the other hand, is a testimony to harmonious living with nature, where waterways become an extension of daily life and the countryside showcases Dutch traditions against a scenic backdrop.
So, what truly calls out to you? The calming embrace of canals and tulip fields of Amsterdam, or the Mediterranean warmth, ancient ruins, and trips to sandy beaches?
What Is The Best Season To Visit Athens And Amsterdam?
If it's an ideal balance between pleasant weather and manageable crowds you seek, spring and autumn both for Athens and Amsterdam would be the sweet spots. But why is that?
Spring
Arguably the best time to visit Athens is spring because the weather is pleasantly warm but not scorching. The flora around the ancient sites is in full bloom, adding a lush contrast to the city's stone structures. Tourism isn't at its peak, so you can enjoy the Acropolis, Agora, and other attractions without the maddening crowds.
Similarly, Amsterdam streets are lined with blossoming tulips, daffodils, and hyacinths during spring. The Keukenhof Gardens, a short trip from the city, is a riot of colors. Spring in Amsterdam is nothing short of magical, with longer days and mild temperatures, perfect for canal cruises and bike rides.
Summer
The Mediterranean summer is not for everyone, and unless you're planning on visiting a few islands while you're staying in Athens the heat can become unbearable, especially for those of lighter complexions. While the city's beaches and rooftop bars come alive, the ancient sites can feel like a furnace by midday.
Warm days, bustling terraces, and vibrant nightlife. This is peak tourist season, meaning Amsterdam is buzzing with energy. From open-air concerts to cultural festivals, the city is at its liveliest. The large crowds and overflowing shops during summer in Amsterdam can end up overwhelming.
Autumn
This can be a great time to visit Athens since the temperatures drop to comfortable levels, making sightseeing enjoyable and it's still warm enough to enjoy Athenian beaches. You get to also attend the Athens International Film Festival if you swing by in September.
A romantic charm envelops Amsterdam. Trees along the canals take on fiery hues, and the city's parks transform into autumnal paradises. However, keep in mind that you can end up spending more time indoors because of the occasional rainy spells. But the city's indoor attractions whether that's the museums or coffee shops make up for the grey sky!
Winter
While winters are usually less crowded and mild in Athens, with temperatures rarely dipping below 10°C (50°F), the city loses some of its vibrancy during the colder months. Shorter days also mean you have to plan your outdoor activities accordingly.
It gets much colder in Amsterdam compared to Athens, while temperatures rarely drop below 0ºC (32ºF) the wind can make it feel much colder. Nonetheless, visiting Amsterdam during winter is actually worth it. The canals sometimes freeze over, turning into natural ice-skating rinks. The Festival of Lights in December and January illuminates the city, creating a dreamy atmosphere.
Which City Is The Safest?
Athens has always been viewed as a safe city for tourists. Like any major city, especially one frequented by tourists, Athens has its share of pickpockets. Popular areas like Monastiraki, Omonia, and Syntagma Square can be hotspots, particularly when they're crowded.
It's also worth mentioning the occasional protests and demonstrations in response to the government. You may experience more traffic, and bus schedules may be delayed.
Overall, keeping an eye on your belongings and avoiding flashy displays of wealth can serve you well. Most Athenians are warm and willing to help, especially if they see you fumbling with a map or struggling with the language.
Amsterdam, for the most part, is incredibly safe. The city prides itself on its low crime rate and high quality of life. Just like Athens, Amsterdam's popularity among tourists means pickpockets are at play, especially in areas like Dam Square, the Red-Light District, and around Central Station. A little vigilance goes a long way.
The Dutch are generally friendly, and given the city's compact nature, it often feels more like a village than a bustling European capital.
So, What's The Verdict?
Both Athens and Amsterdam rank high on the safety scale for tourists. While the nature of petty crimes might vary slightly, general precautions apply universally: be aware of your surroundings, and avoid risky areas, especially at night.

Closing Thoughts
Choosing between Athens and Amsterdam truly depends on your travel desires. Whether it's the allure of ancient ruins or the charm of canals, both cities promise unforgettable experiences.
My advice? Explore both cities, if time and budget permit, and let their unique spirits enchant you in their own ways. Safe travels!