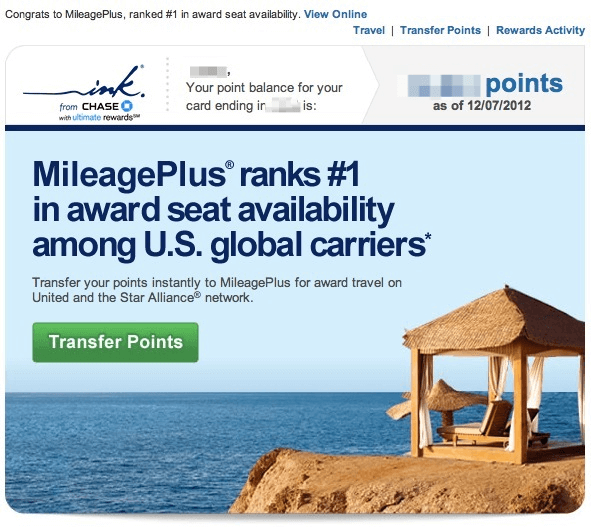 Yesterday I received a seemingly targeted call to action from Chase to transfer my Ink Bold card Ultimate Rewards points to United Airlines. I say that this is seemingly targeted, because I did not receive the same message for my Chase Sapphire Preferred card.
While I am not going to take them up on this offer (well, I'm not sure I can even call it an offer, since it's just calling out standard functionality) because I don't have use for United miles currently, I am surprised that they would send an email of this nature without really giving incentive to make the transfer. Maybe if it offered a 10 or 20% bonus I would be more interested.
I'm also surprised that they only feature united as a transfer partner and don't mention other airlines or even hotel programs. While it's nice that they show my mileage bonus in the email, the small amount of Ultimate Rewards points in my Ink Bold account are so small that it wouldn't even cover a coach award ticket on United. They should have sent this to my much healthier Sapphire Preferred account.
I am currently hoarding around 200k Chase Ultimate Rewards points that I hope to transfer to United for a first class cabin international flight, but until that day arrives, I am going to avoid committing these miles to any single airline.
Another interesting thing I learned in this email is that United is ranked #1 for seat availability by major carriers. While this sounds impressive, all it really means is that Delta and American Airlines are pretty far behind. United won that award for simply being the least bad of the options. Congrats to you on that, United!