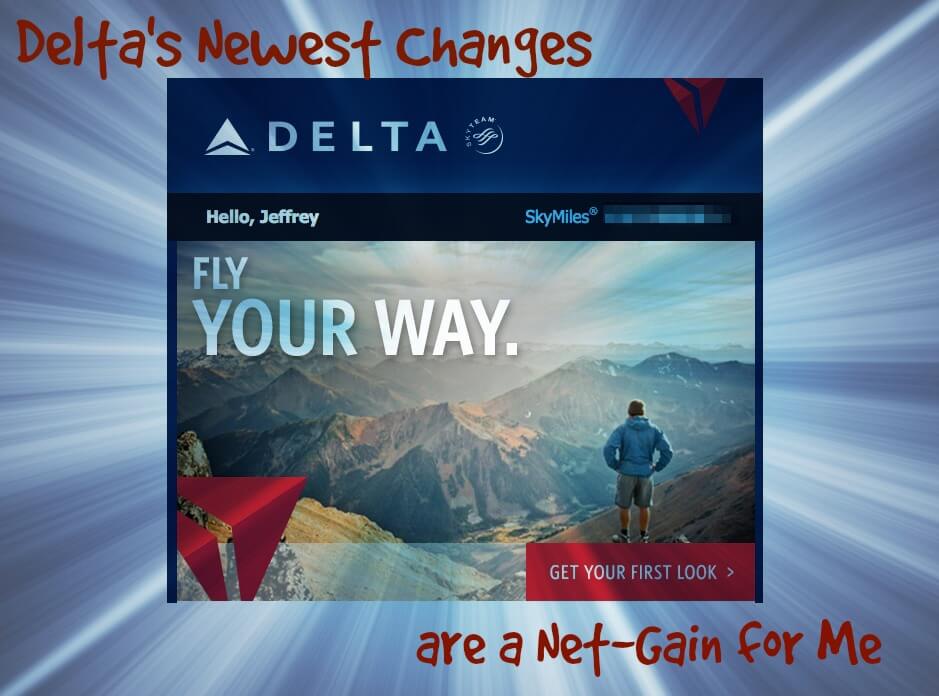 Delta has made yet another announcement about the changes to the airline in 2015.
Most of the articles I have read on the topic are fairly negative, claiming that these "improvements" to the Delta program are hardly anything to write home about.
While they are likely correct that these changes do not represent a major improvement over the programs that Delta already has in place on their aircraft, I have a differing opinion on what the changes mean to me as a passenger on Delta.
These changes are rather positive for me.
What are the changes?
Delta One

First of all, Delta is re-branding many of the seats and services that they already have in place with new names. For example, the International BusinessElite class will be called Delta One. This also applies to some trans-continental flights from JFK-SFO and LAX.
This appears to be just a name change for the product, with most other features staying the same.

First Class
Domestic first class doesn't appear to have changed. Hopefully they will be offering more of the Luvo meals, which are delicious.

Delta Comfort+
Delta Comfort+ is the renaming of Economy Comfort class where you get more leg room on flights.
While Gold and Silver elites lose out on the ability to book these seats well in advance, as a Platinum medallion I don't lose anything with this change.
In fact, I actually gain quite a bit, because Delta is giving complimentary adut-drinks to passengers in this class. Rather than having to print out a coupon on a boarding pass to get a free drink on flights in economy comfort, we just get them.
I am happy with this change, because I have not printed out a paper boarding pass since mobile boarding passes started being accepted at airports. In fact, I don't even have a printer anymore.
Make no mistake, this is a net-gain for all elites flying Delta. No frequent flyer in their right mind prints out a paper boarding pass, since 1) at least 50% of the time they are away from their home when checking in and 2) if you fly all of the time you don't want to unnecessarily print paper boarding passes every time you fly.
As a Platinum Medallion, I spend about 50% of my Delta flights in Economy Comfort. Maybe 50% of those flights are in the late afternoon/evening, and at those times I might want to enjoy an adult beverage. Or maybe you want to have a snack on a flight lasting more than two hours.
Right now I have to use a drink coupon (called "have one on us") or pay cash to get a refreshing beverage in these seats. Then I may have to pay cash to get a snack as well.
This change makes many of these items free, as they should be.
Main Cabin and Basic Economy

The rest of the changes are not really changes at all. Just a different name for the same product that has been in place.

Delta's re-Branding is mostly words
Overall, these changes are hardly going to impact the Delta flying experience for most passengers. Instead, they are just a re-branding of the collective products that Delta offers into a new package.
However, there is a benefit tucked into this announcement that gets me excited, because it is tangible.
Maybe I'm just cheap, but as a flyer who gives Delta thousands of dollars each year, I am glad to see they are not making me pay extra to have some red wine on a flight.
And now on roughly 25% of my flights, around 10-15 flights a year, I will be able to have average wine and skunky beer with a clear conscience :).
That is a net-gain for me – even if the rest of the items are the same as the present, with a different bow attached.